I am having a very slow brain day. Hence why this pastel crelly nail art full of cute bunnies is posting a day later than I'd intended. It has been four years since I painted a rainbow Easter mani with crellies. I have a lot more of them now so I even had to choose what to include. I picked two that I hadn't used before and then went full on rabbits-ville with the stamping. In retrospect some of the shades didn't turn out as pastel as I'd hoped they would, but it's still Easter to me!
The addition of the iridescent flakes in Vanessa Molina's "Twilight Sparkle" just pushed the nail art on my thumbnail into a different order. In my second retrospect for this post, I could have added a few layers of iridescent flaky topper into the other polishes to get them to match. Next time…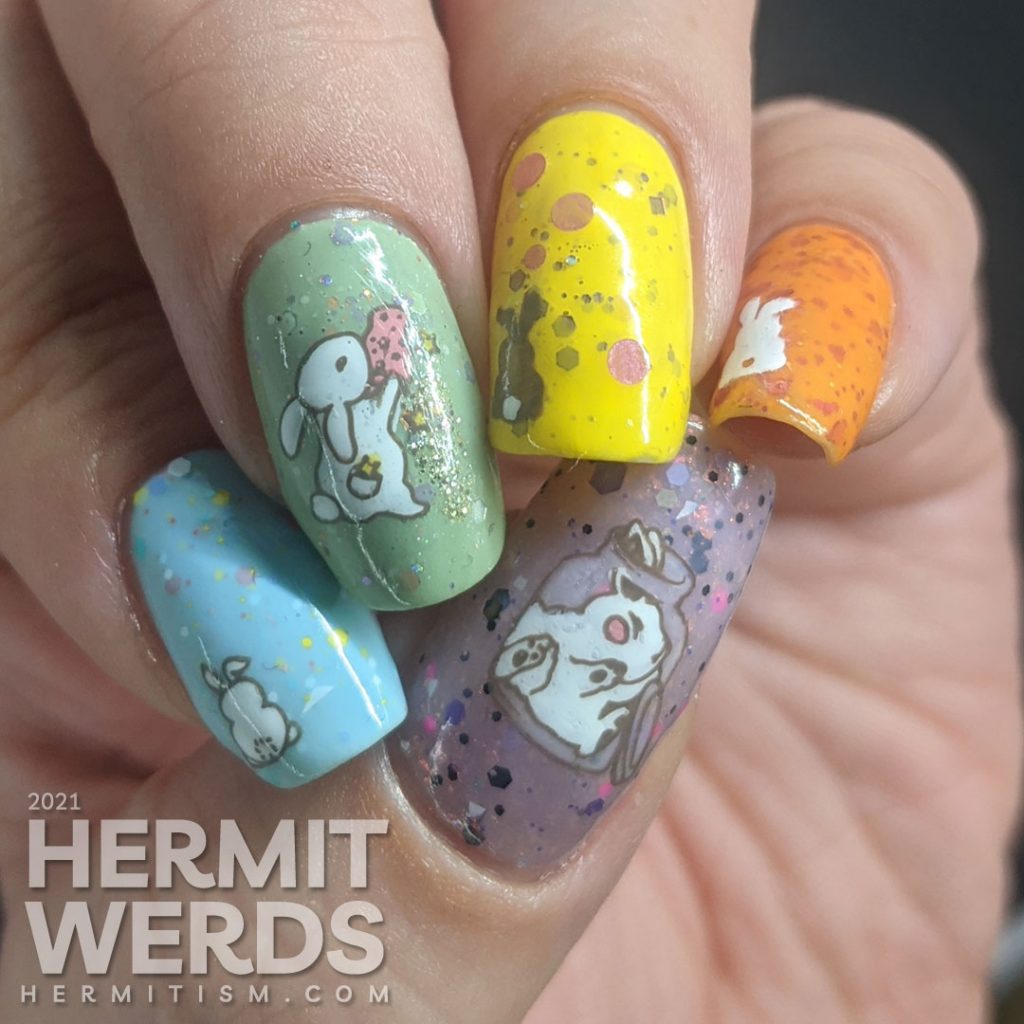 Nail art products used
Base Polishes:

Stamping Polishes:

Advanced Stamping Polishes:

Stamping Plates:
I've been hoping to use "Meadowsweet" for an Easter mani ever since I bought it. Goal achieved. Although…I feel like the original batch and swatches of it were more pastel and this one is more of the usual sunshine yellow. I am tempted to add a few drops of white to soften it…
(Does that count as a third retrospect?)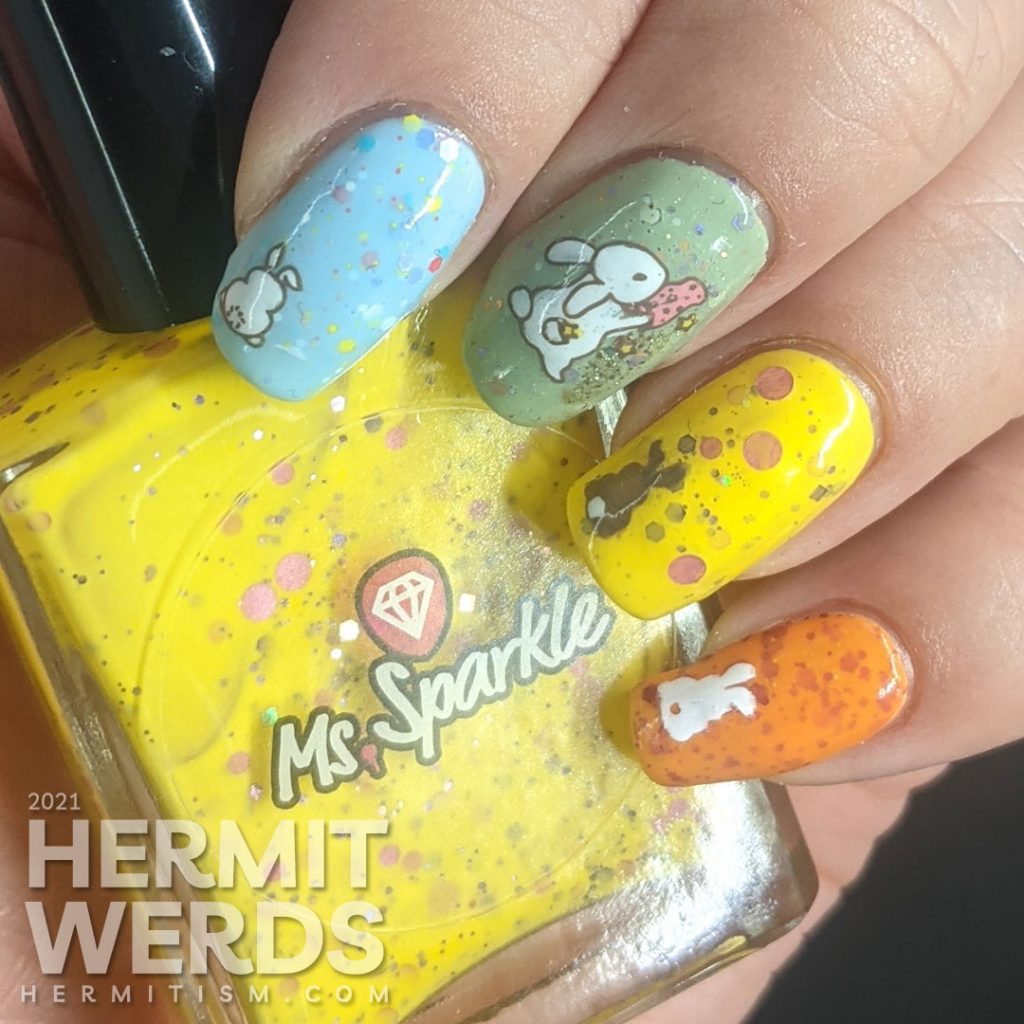 How do you make Easter preserves? 😆
Well, everyone hopefully had a magical-ish Easter at the start of the month. And now it's time to pop all the rest of your Easter goodies into storage for next year. Someone put a lid on that rabbit. He'll be fine until next year…
I am joking. Seriously never store a live rabbit in a jar. That's cruel. But I will admit that I bought the stamping plate for that specific image because I thought it was so cute! 😜
Yes, I am a monster. This is why there's so much Halloween nail art on the site. You (maybe) knew what you were getting into. Are you backing away from me or have we reached the far away photo?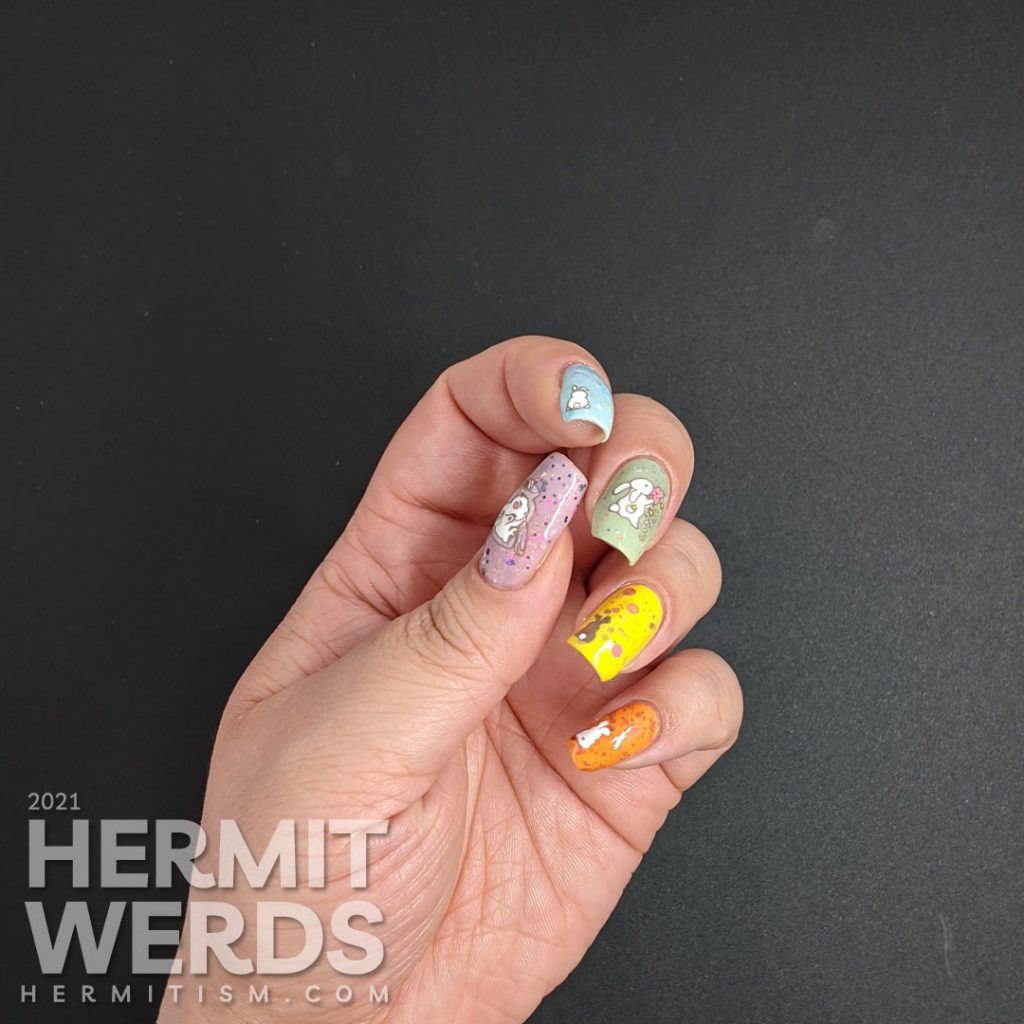 Far away it is. Until next time, friends! Stay weird! 🙋‍♀️