Didn't I tell you guys that I'm terrible at noticing landmark moments? We passed the 200 blog posts mark a few posts ago and I missed it!  Other things you might be missing if you don't follow my Instagram feed is that I posted images with my monthly favorites for August and September. It's a fairly new thing that I hadn't been doing before because, well, I wasn't prolific enough. Picking a favorite out of the 11 manicures I posted in July just seemed ridiculous to me. I guess I could have done it seasonally? I was getting tired of looking at how much nail art I had done in a month and feeling like it wasn't enough. I have so many ideas!
So I challenged myself to step it up in August and September. I was very prolific, but I was fueling it with Instagram challenge prompts and I wasn't feeling some of them. Sometimes it was my fault, like getting stuck on having to use the American flag for a flag prompt when there are so many other flags and symbols I could have used. Sometimes it was because I had already done several manicures with the same prompt (hello, nautical). I pulled way back in October and only finished twenty manicures. That's still a lot. But, again, they were prompt driven and someone else was coming up with the prompts. If you were following me in March, I started a series on My Little Pony's mane six. I did two, totally busted a nail, and never finished. I wanted to try again in October, especially because the movie was coming out (so good!), and did not get around to it. In short, I have entire series of nail art that I want to do that I keep pushing aside for challenge prompts.
And I like these challenges. They are very community-based, even though only a small portion of the nail art community does them. I like seeing what other people come up with and the conversations I've had because of it. But maybe too much of it is my fear that no one will find me if I am just posting on my lonesome again. It's a ridiculous thing to feel when you already have around 400 Instagram followers, but there you are. Instagram really has messed with its algorithms and changed how people find each other. That fear is not entirely unfounded.
I'm happy that I'm learning to be more prolific. I used to whine that I wanted to be able to enjoy what I have on my nails for at least two days. That would be nice, but there's so much more I want to do! If I sit around patting myself on the back too long, I'll be mourning the nail art I could have done instead. So. November is going to be what it is. I am already half a week ahead on getting things done before they are due painting-wise. I can hopefully widen that gap and use the space to start pursuing those nail art series I've been wanting to do. And in December I will–gulp–cut back even more on nail challenges so I can focus on those series. The real reason I'm okay with November being challenge-driven is that I have a different challenge for myself: product usage.
I want to have at least tried all of the bigger ticket polishes and stamping plates I own in November. I've been working on this goal for a while already as you may have noticed in a few of the things I've said in previous posts. I still have a ways to go. I've now tried all of my CICI & SISI, Ejiubas, ILNP, Mundo de Unas, Pretty Serious, Turtle Tootsie, and Zoya purchases. I want to make a good dent with my larger Bundle Monster stamping plates and completely conquer my Celestial, Colores de Carol, Cupcake Polish, Ms. Sparkle, and Shinespark Polish polishes and my KADS, Moyou London, and UberChic stamping plates. I've been carefully planning out what I do for each challenge prompt and I think I can do it without adding too many extra manicures (not that that is a bad thing).
Meanwhile, Beauty Bigbang has reached out to me to see if I want to review some products for them. I have accepted and picked out a few Christmas stamping plates to review at some point. For now, they have given me a discount code for you (hermi) for 10% off your order. I think if it's used for six different orders they will sponsor a giveaway for my followers. I get nothing but the products I review so… We'll see if I like this review thing and if Beauty Bigbang likes how I review…things…
Sorry this is such a picture-less post. I will hit you up with a favorites post for the last three months soon and then it will be very picture heavy. Woot! Meanwhile, here is a photo of my 4 1/2-year old stepdaughter's first time painting my nails. We didn't do clean up and the white is my reusable white gel base that I couldn't take off for her. I really love the ladder-like shapes she made.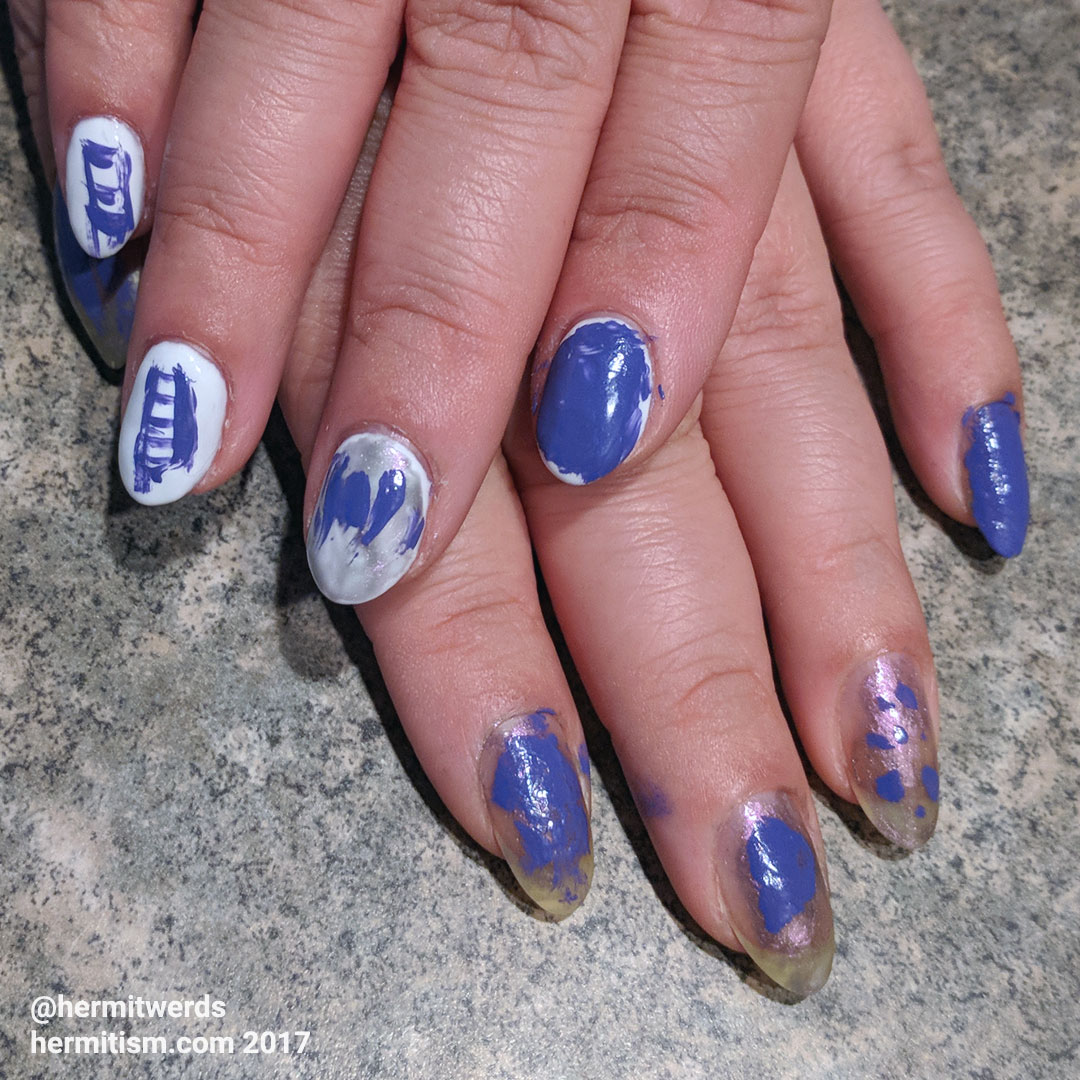 Polishes used for the featured image nail:
Base Polish:
Pure Ice's "All Vamped Out"
Stamping Polishes:
Mundo de Unas "Fuschia" and "White"
Stamping Plates:
UberChic 11-02 (hashtag), YZW-N07 (vines)
Btw, has anyone else noticed that I haven't done any origami in months? I guess that's my answer on whether or not I should worry about posting what I finish because no one seems to be missing it. LOL
TLDR: I am going to be moving away from challenge-driven nail art and focusing on my own nail art series in December. Meanwhile, I have partnered with Beauty Bigbang (10% discount: hermi) for some product reviews and also plan on conquering my bigger ticket un-used nail product pile before the end of November.
Edit: the graphic Beauty BigBang sent me said my code was worth 15% off, but it is apparently 10%. Sorry!