I usually avoid mixing freehand with stamping because the line quality typically ends up being too different. I think I got away with it this time. Maybe. This nail art comes from the blend of #clairestelle8challenge's Cemetery prompt and #firedazedoct2017's Skulls and Roses prompt. Huh. Maybe I should have pluralled my skulls. Well, too late. The nail art is done. I like how dark this is and I love how the brighter metallic red of "B a Cherry Lollipop" works over the darker red of "Kensington Palace". Neither polish is for sale anymore, but if you're willing to brave the uber staining I've experienced with KleanColor's metallics, they do have a dark red and any of the oranges or pinks would work almost as well. Possibly better since the difference between the two will be more obvious.
Now this would have worked better if my nails were as long as they were last month, but I did not find that length to be very livable. I started by drawing a layer of tombstone outlines with writing. Then I painted black jelly polish over it. Then I added a second round of tombstones but filled this in with different shades of grey. I added more black jelly polish on top and added a dark green jelly ("Strigformes") on the bottom and sides where I wanted my rose vines to go. From there, it was all stamping and decals.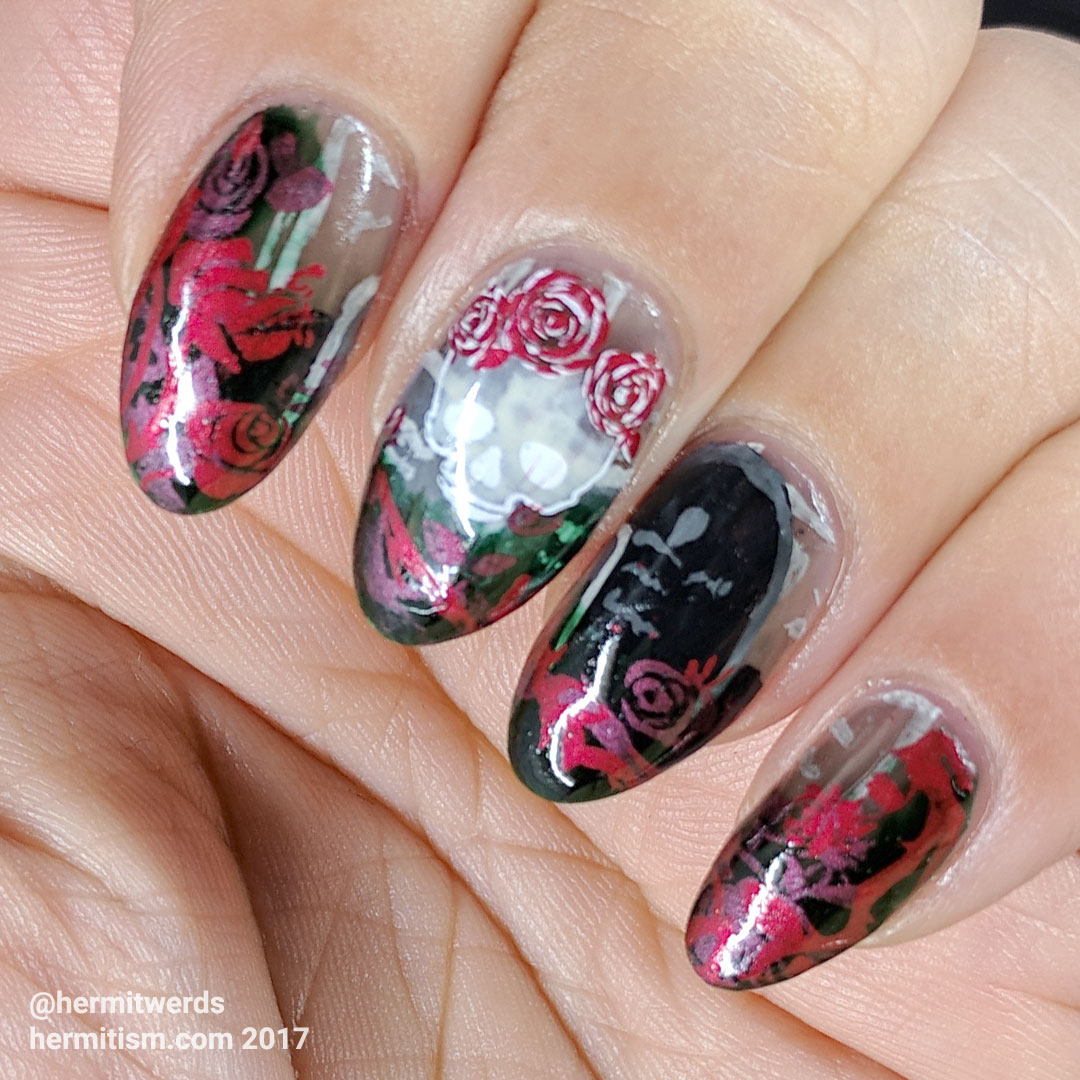 This is another case where I am glad I checked myself and did not paint white behind the light color of the advanced stamping decal. Otherwise the skull would have been too stark for the rest of the nail art. And, yes, I went back and selectively double stamped on top of it to get the red roses. Clear stampers are so very lovely.