I've fallen into a pattern when it comes to Chinese New Year. It's always a good idea to paint one in red/gold/black colors. They are the tradition and are a better resource for others later on. However, I like bringing rainbows where people use neutrals (or in this case a fixed set of colors) so I like to also paint a design in that zodiac's lucky colors. I hadn't yet gotten to the lucky mani for the tiger zodiac so I was more than happy to paint this design for the last prompt on the last round of @AZNailArtChallenge on Instagram.
I use Your Chinese Astrology as my source for lucky colors so we're working with blue, orange, grey, and white. I noticed on another site that white was considered unlucky. 🤷‍♀️ As I am not Chinese nor can read the language and perform proper research form the source, I am just trying to keep the source I'm using for lucky colors consistent. 😆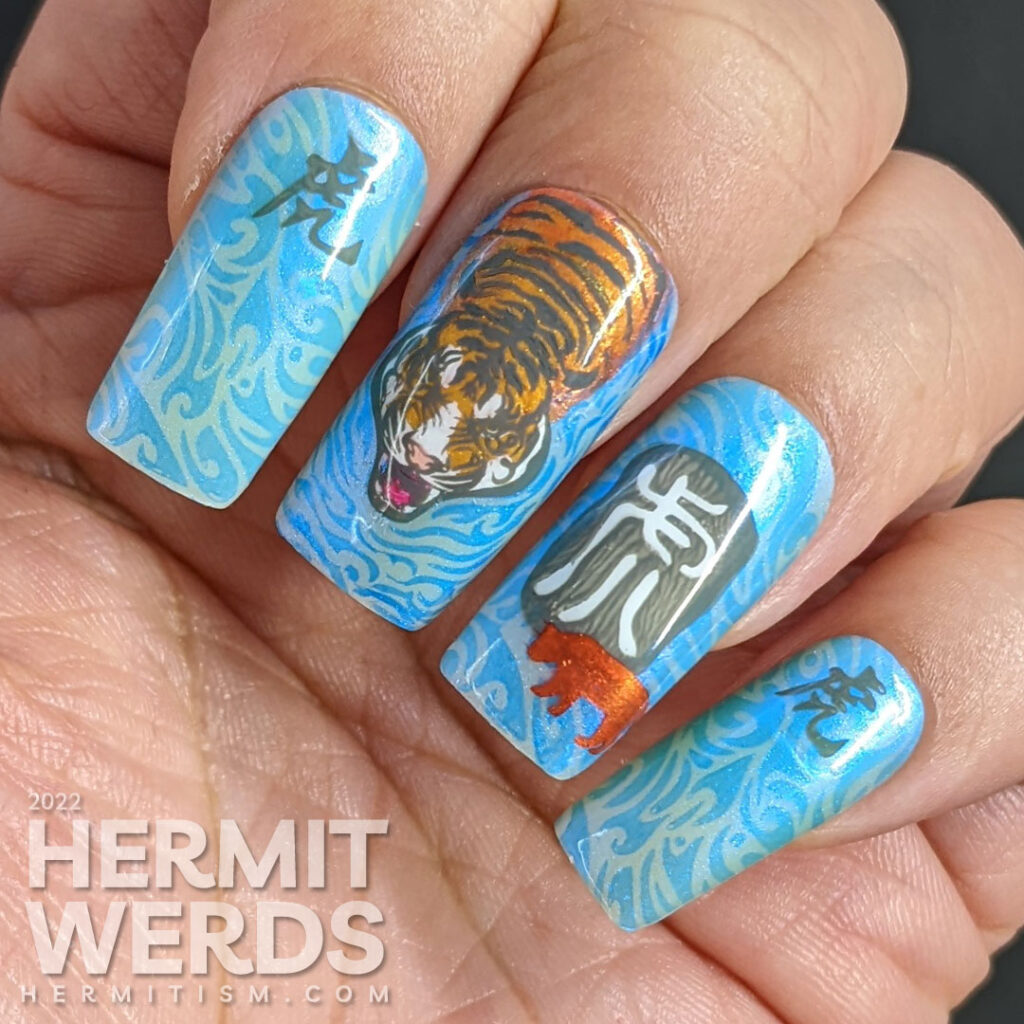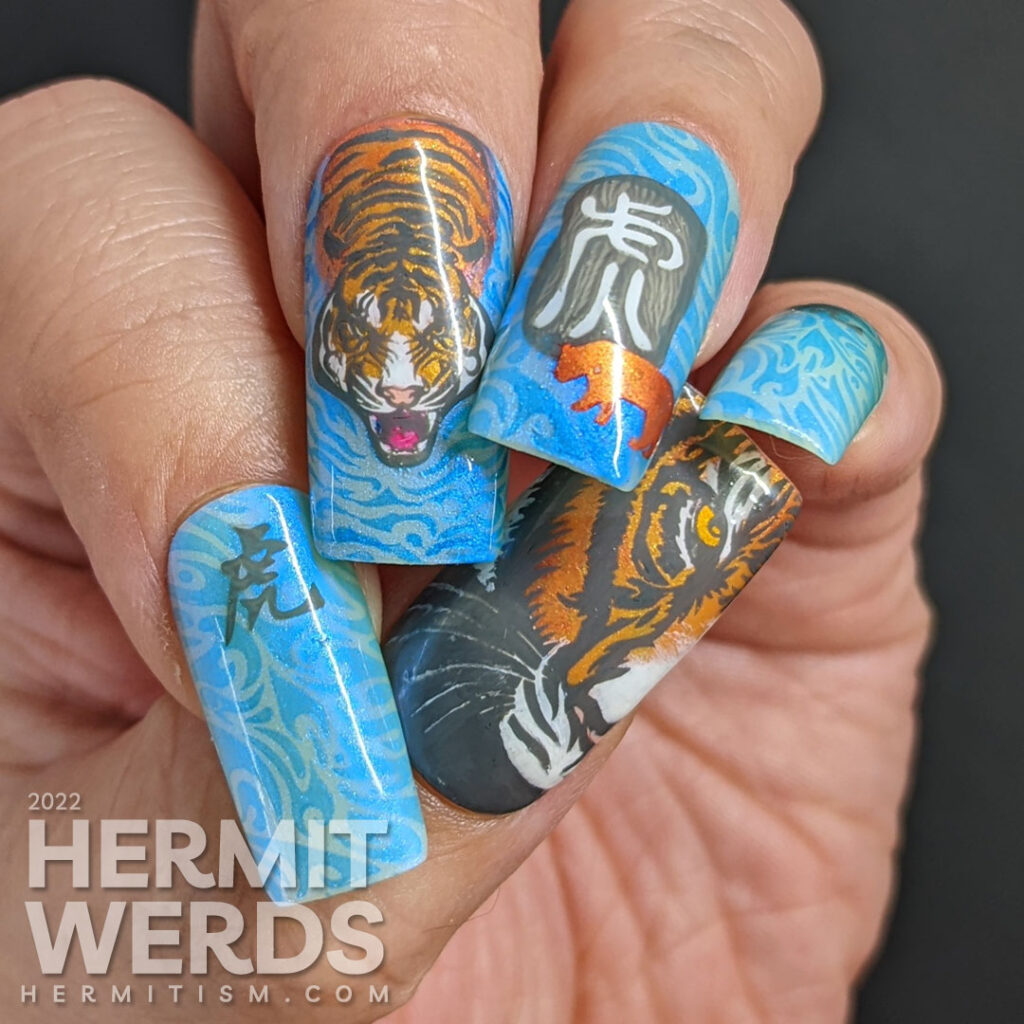 Nail art products used
Base Polish:

Stamping Polishes:

Advanced Stamping Polishes:

Freehand Painting:

Stamping Plates:
Items in italics are debuting on the blog for the first time.
Just like the look I posted on Thursday, I am using falsies and the images are just too small to cover all that length. Last time I decided to go with angular half-moons (french tips can also work), but this time I decided to dust off my freehanding skills and use them to extend the images to cover the rest of the nail.
And now a mini tutorial…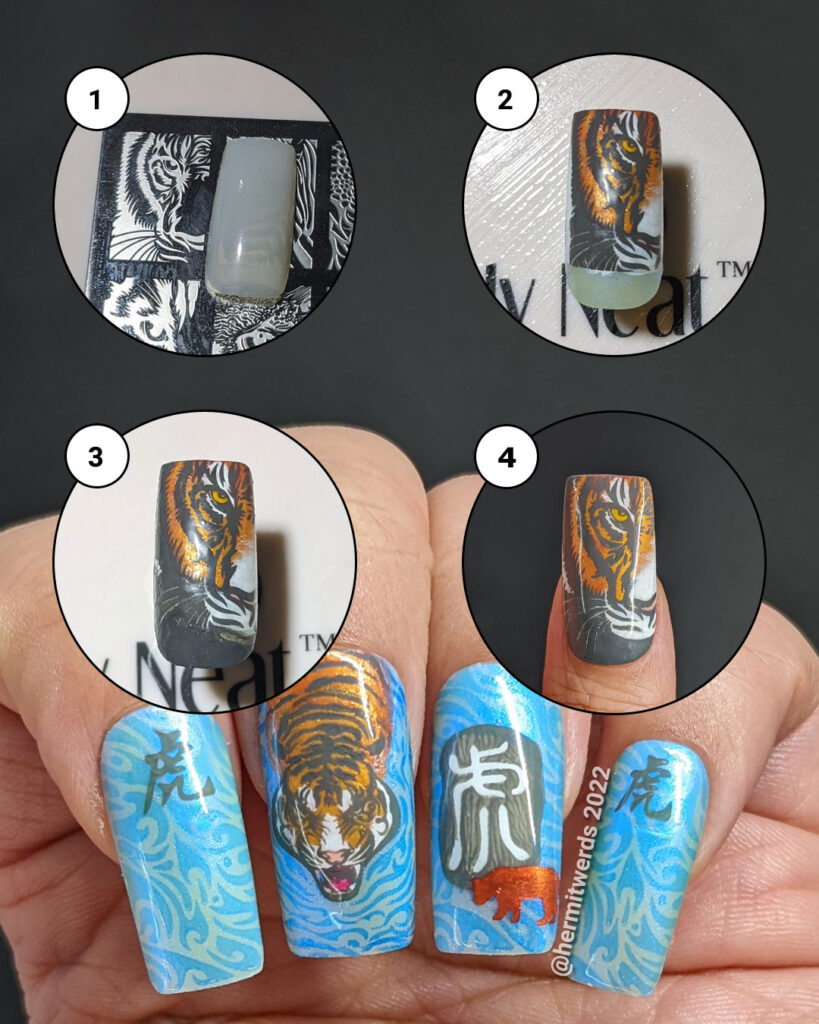 Lucky Year of the Tiger mini tutorial
The first step is filling in your reverse stamping decal, but we all know what that looks like. So here I'm showing the stamping plate and the nail. It's definitely not going to fill up the vertical or the horizontal except at the narrow end.
Stamp it on your nail. I decided to position it at the narrow point because the bottom part of the image will be easier to extend.
Fill in the background. Leave the areas you don't want to fill empty if you'd like.
Fill in the rest. I added a little more pink for the nose and the rest was white. If your edges get to crazy go back with more of the background color. Then smooth it all out with as many layers of top coat as it takes!
I also had to extend the image of the tiger swimming (or surrounded by flames). I first started with more blue lines, but it looked funny to me, so I extended the orange part of the tiger and painted the lines on as if they were stripes instead.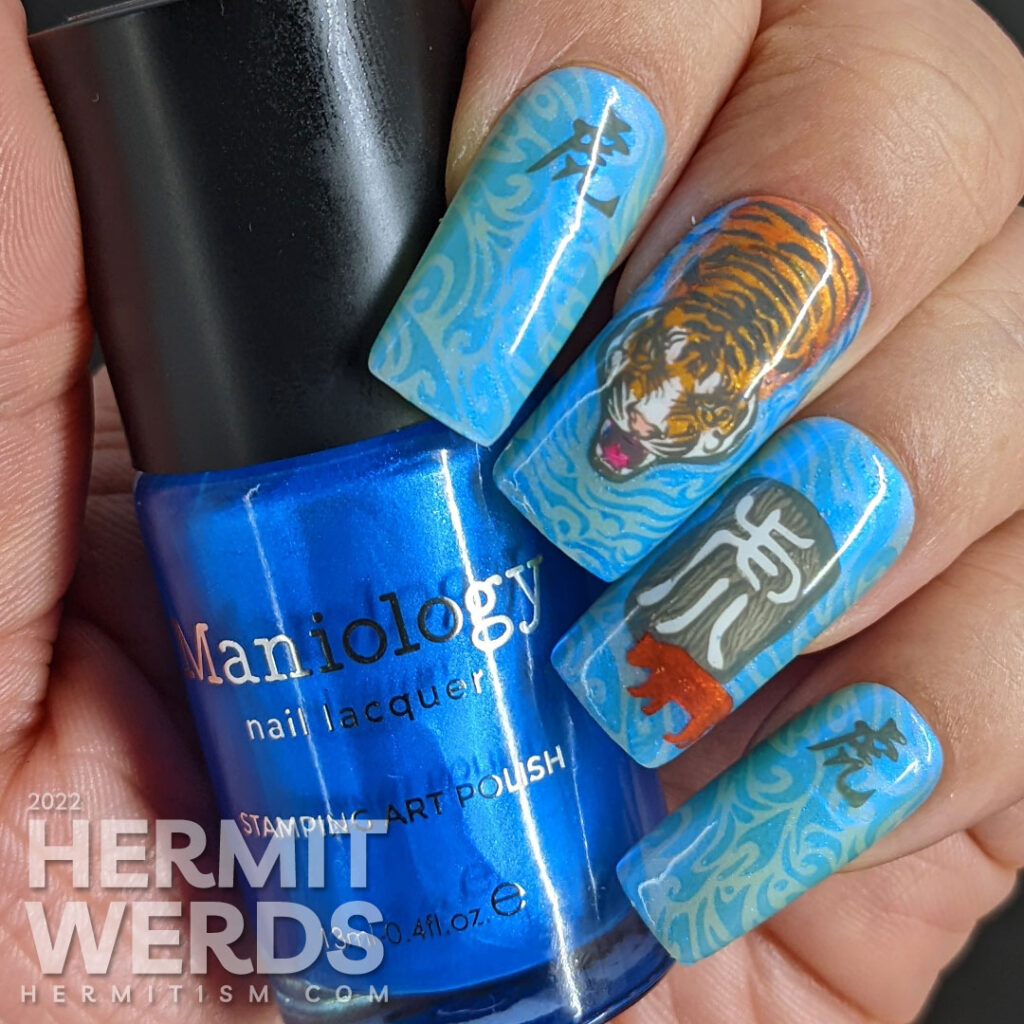 #AZNailArtChallenge – 'Z' is for Zodiac
We have a lovely mix of Western and Chinese Zodiac in the final collage. Whichever zodiac the nail artist pursued, it was a great finish to a long-running challenge. The AZNailArtChallenge posted its first collage on February 17, 2017 and ran for three rounds with both Leonie (@leonies_nailart) and Ellen (@nails.by.ell). Leonie went on to run the last two rounds solo. I am very grateful for the time and effort they spent on this fun challenge. It takes a lot of work and I do believe collaborations like these are one of the pillars holding the nail art community together.
I was interested in the prompts from the beginning and it looks like I maybe painted my Rarity nail art for 'D' is for Diamond and likely missed the cutoff because of a time zone difference. So the first time I was in a collage was for 'E' is for Easter. Ah, memories. 😁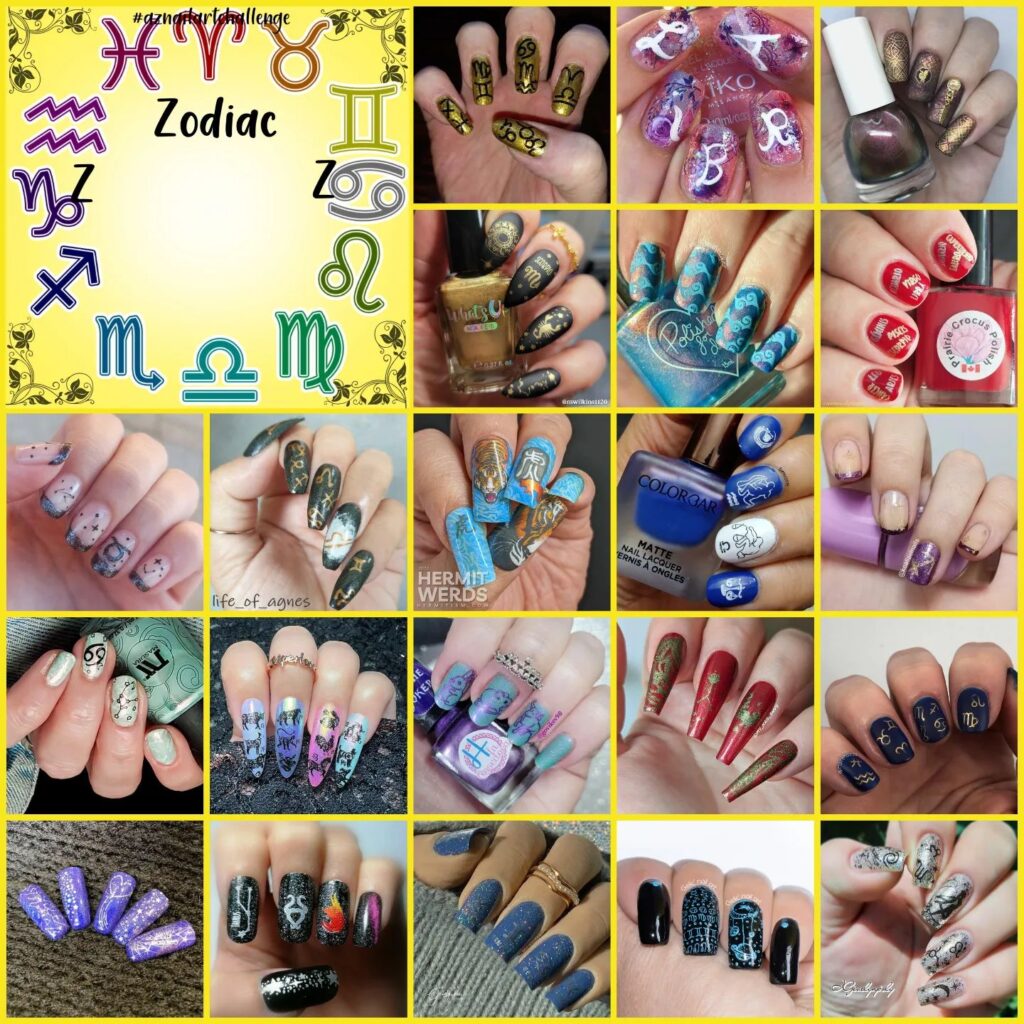 5th Round of A-Z Nail Art
I can't believe it's over! 😭 I wish I'd been able to paint all the manis when they were due, but moving was more important (and stressful!) than my hobby. Prompts marked with a '*' are make up prompts.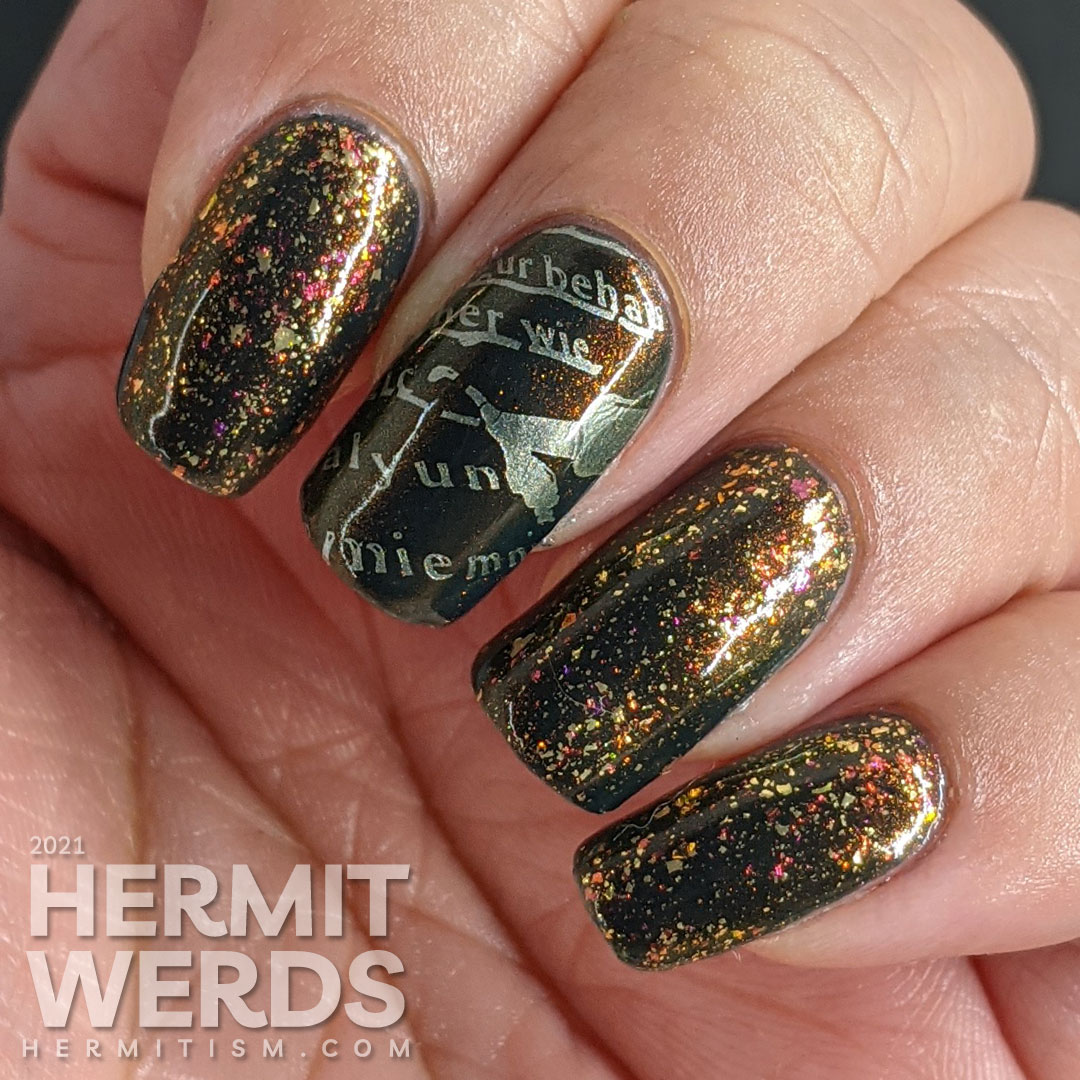 Final Tiger nail art photo…far away…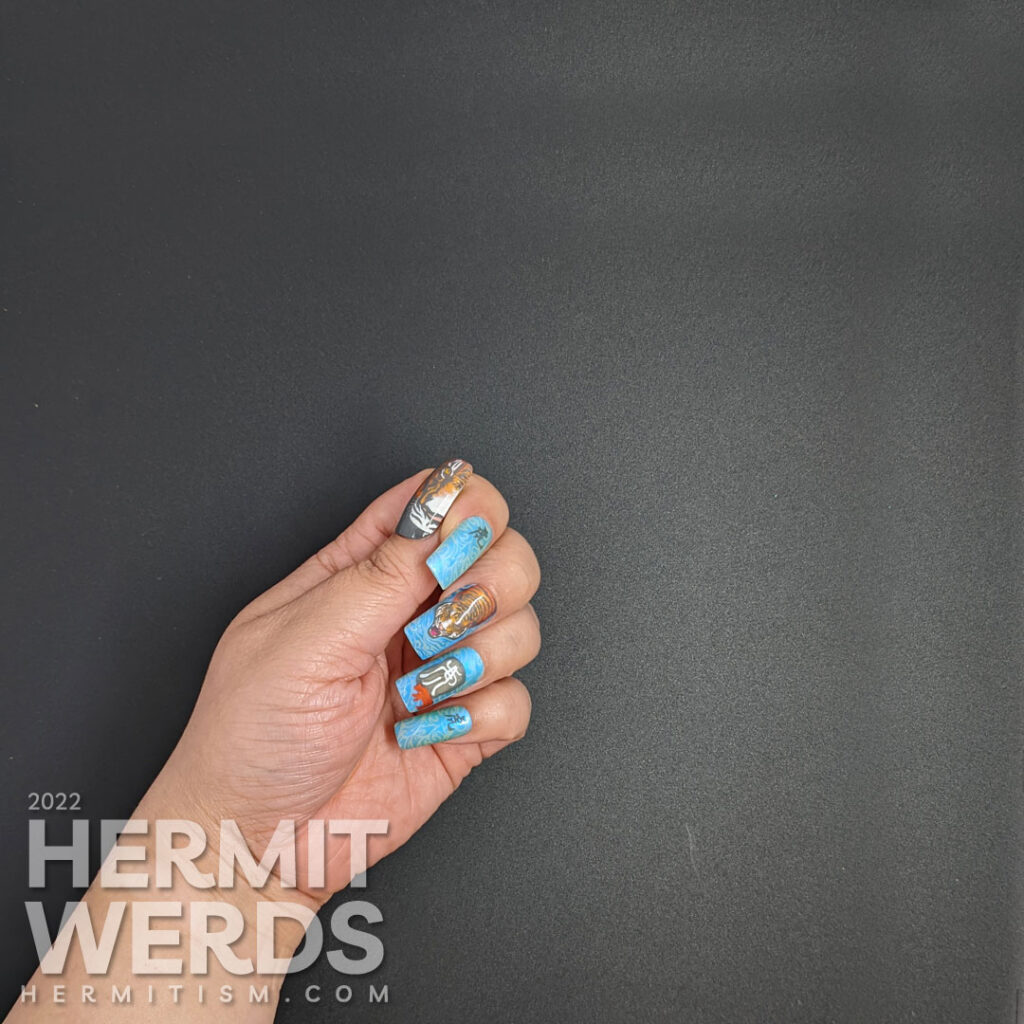 Until next time, friends! 🙋‍♀️
---
All the times Cats Conquered Space…
Sometimes sets just start themselves and so I have found myself with enough nail art combining cats and space and more ideas to continue painting them together to make it a collection. Oldest to newest.