Halloween tends to really bring my love for cats out to play. It's probably why 2 out of 3 nail arts have featured kitties so far. I doubt I'll be able to keep such a pawsome ratio up with Inktober going on as well, but hopefully there will be one last feline to post before the month ends. Meanwhile…we have mermaid cats.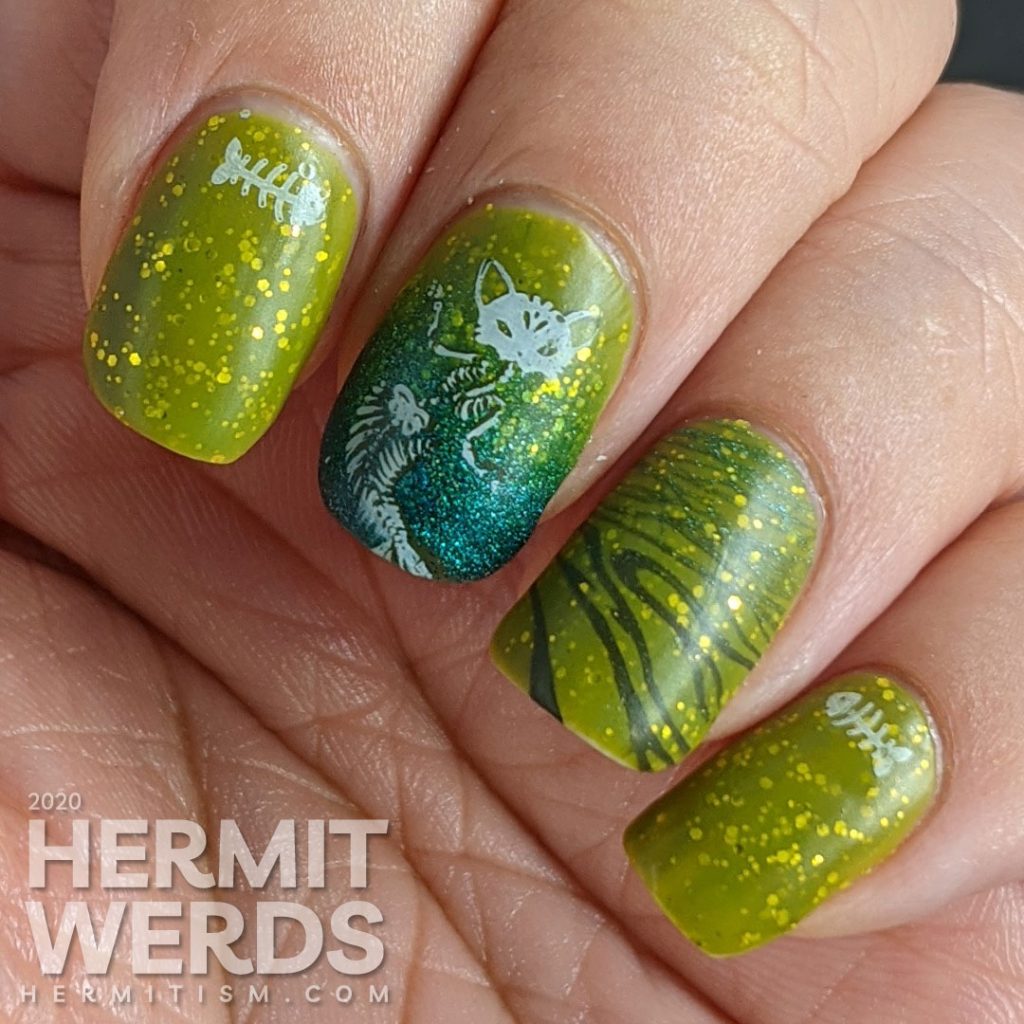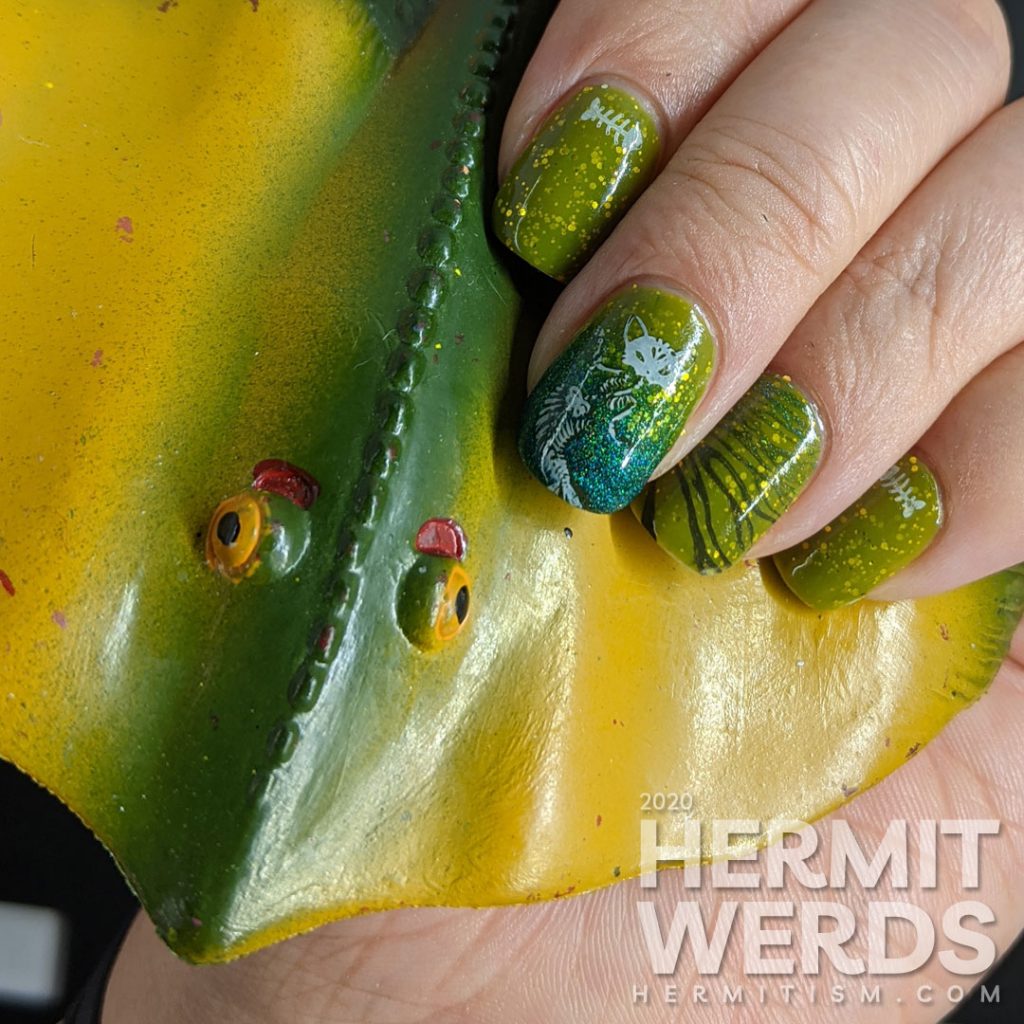 Does my prop look monstrous? It's just a stingray figurine I found in the thrift store. Keepin' with my ocean theme. 😜
Still #Pantone2020WinterChallenge
The color scheme for this design may not be too surprising if you remember the prompts Ine posted for last week. It's Cardamom Seed and Bayou! My match for Bayou isn't as close as I'd like (Black Heart's "Teal Galaxy"), but I think Femme Fatale's "Flower Thickets" works great with Cardamom Seed. And it's still for sale at Beautometry, the store that sent me an email about this release so that I found myself spending money someplace other than the indie monthly collaboratives just for this one polish. Yum.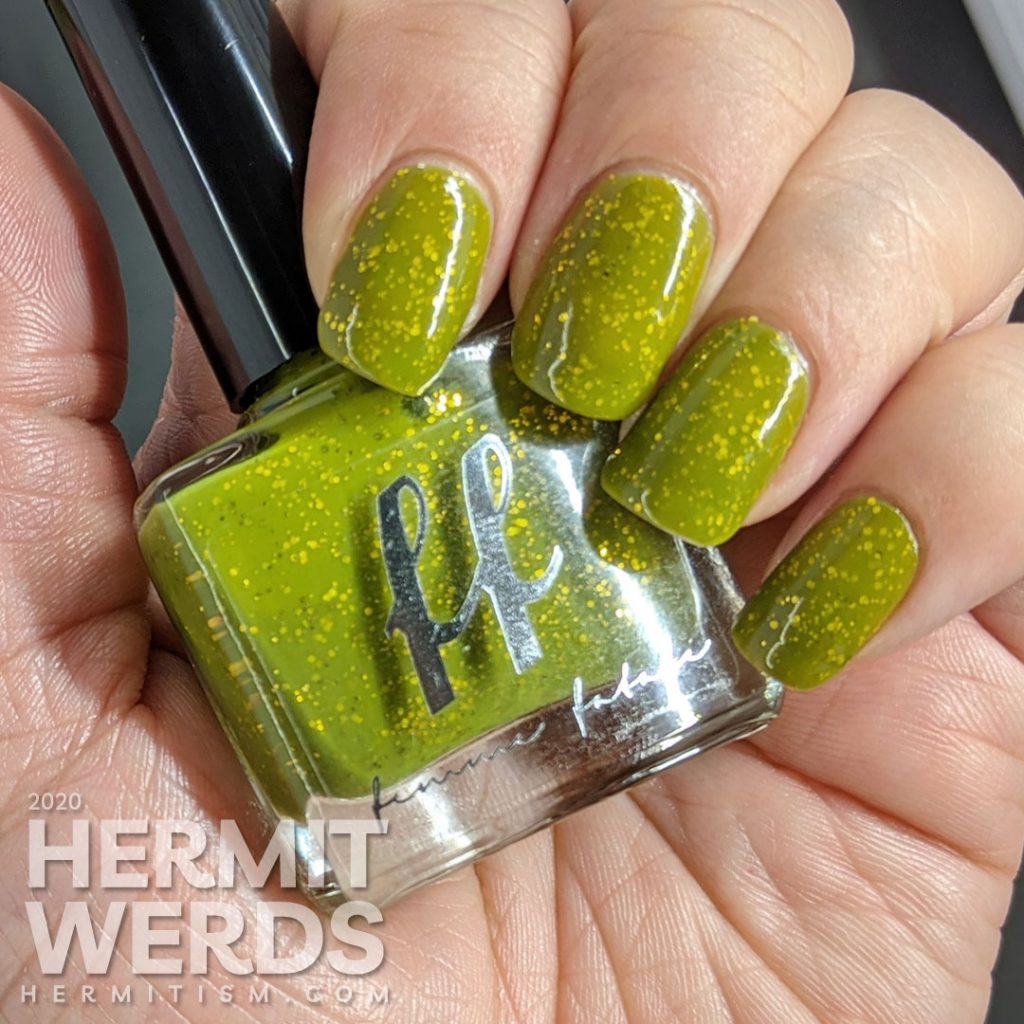 Products used
Base Polishes:

Black Heart's Galaxy Effect "Teal Galaxy", Colores de Carol's "Malachite", and Femme Fatale's "Flower Thickets"

Stamping Polishes:

Black Heart's "Teal Galaxy" and Maniology's "Coconut" and "Crisp"

Stamping Plates:

Esmaltes da Kelly All Hallows' Eve (large cat mermaid), Hit the Bottle Embrace the Darkside 02 (small cat mermaids), Mezerdoo C27 (waves), and UR Sugar UR-L007 (fish bones)
While I'm throwing bottle shots out there, here are some more. I have no idea if you can find the Galaxy Effect polishes at Hot Topic anymore, but the Maniology polish is from this month's Mani x Me box.
And now let's get a little Sesame Street…
Near…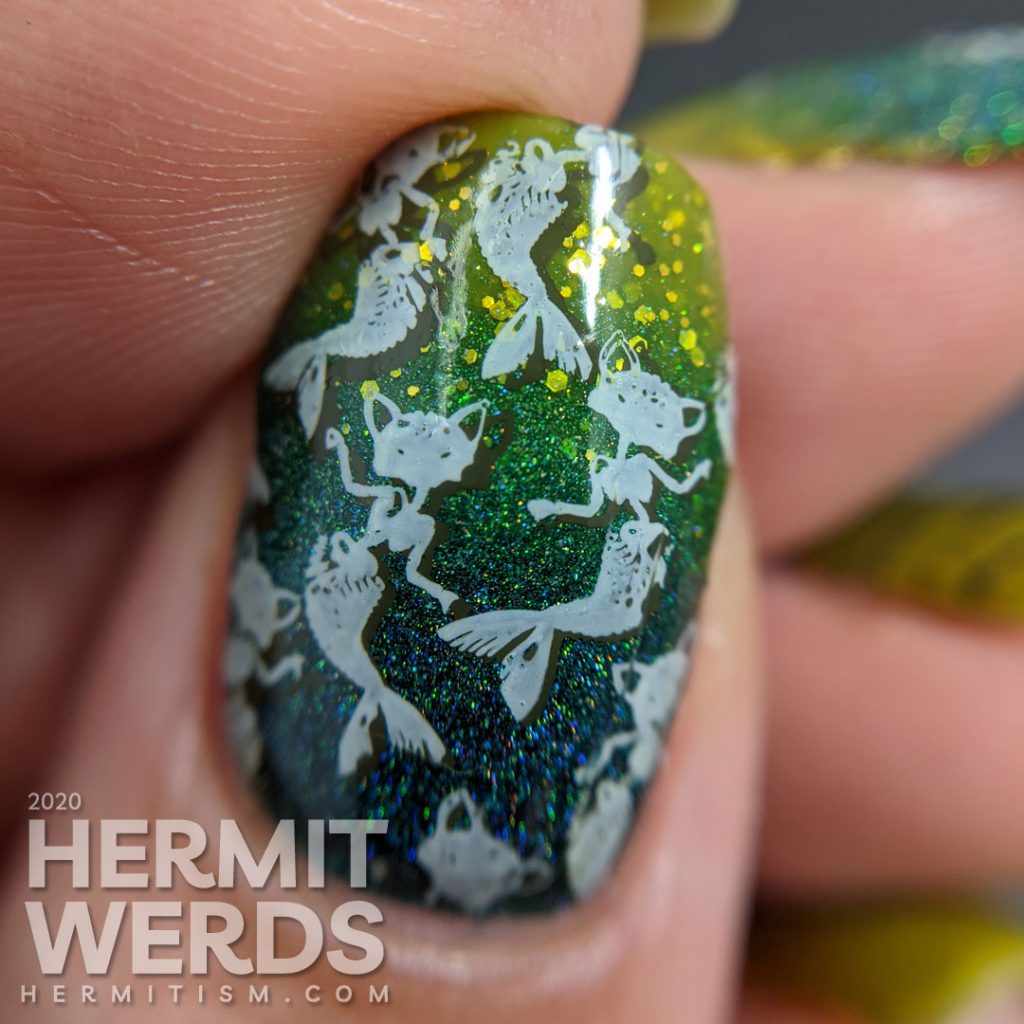 Far…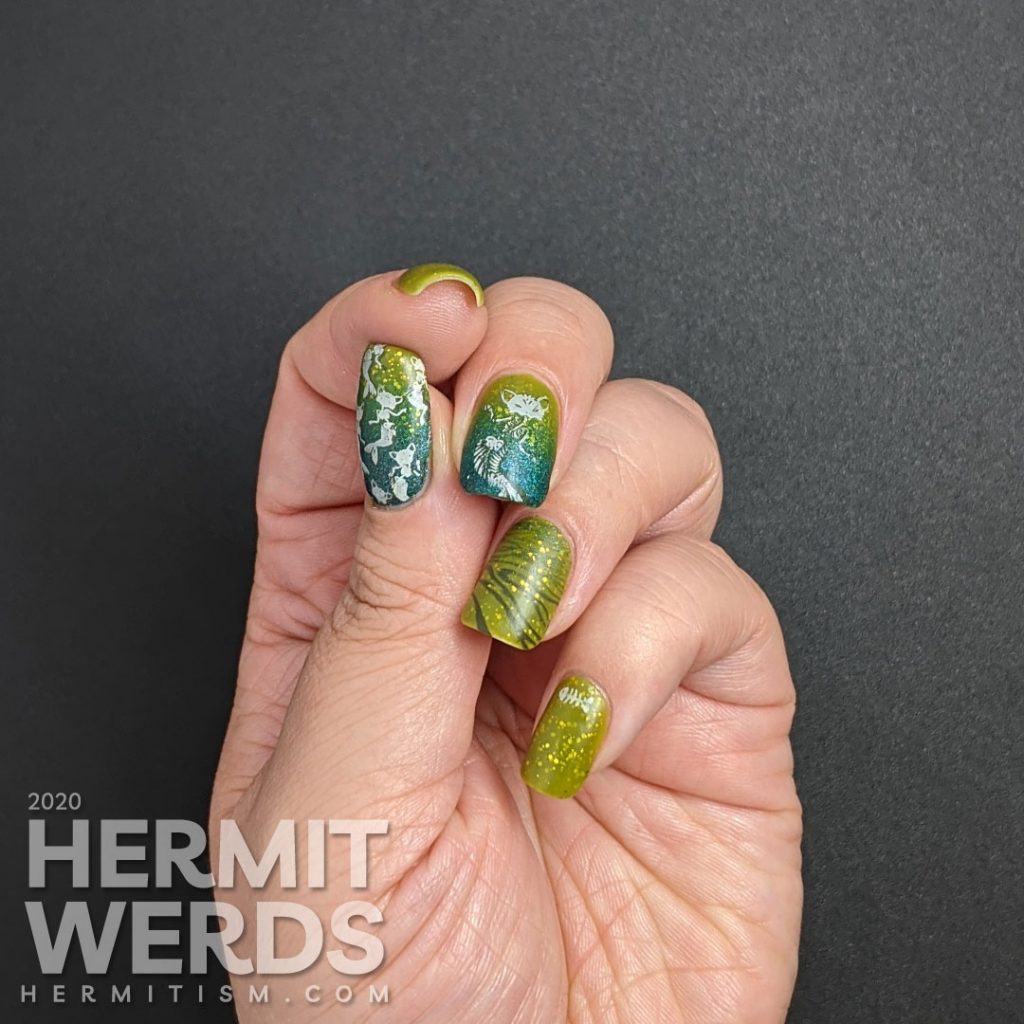 Together…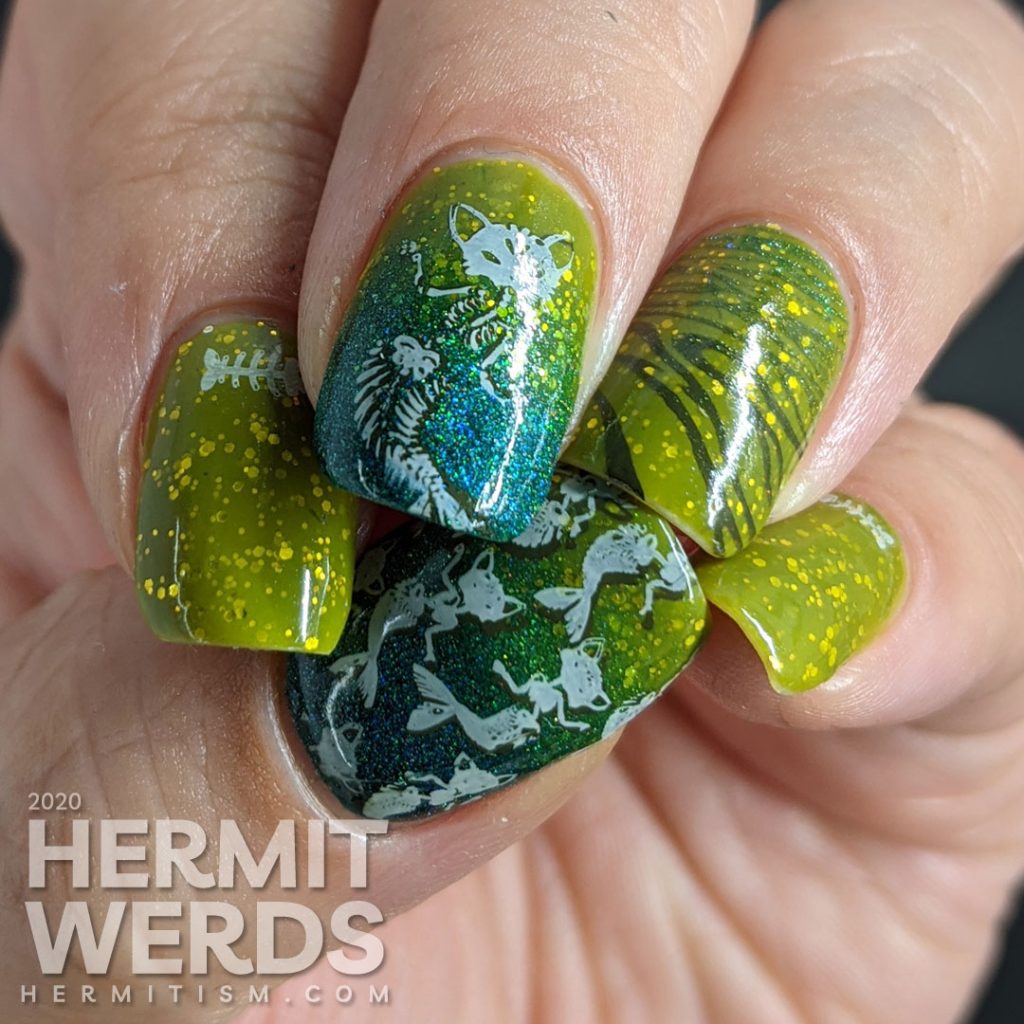 Today's blog post is brought to you by the letter 'U'. As in "Undead". And that's as close to Sesame Street as we're going to get. Until next time, friends! 🙋‍♀️