Previously I said I had two color-combo goals for October. One was gold and the other is today's salmon and teal graveyard design complete with reaper (graveminder) and zombies lurching in the distance. Don't worry. I'm sure all they want is a hug. LOL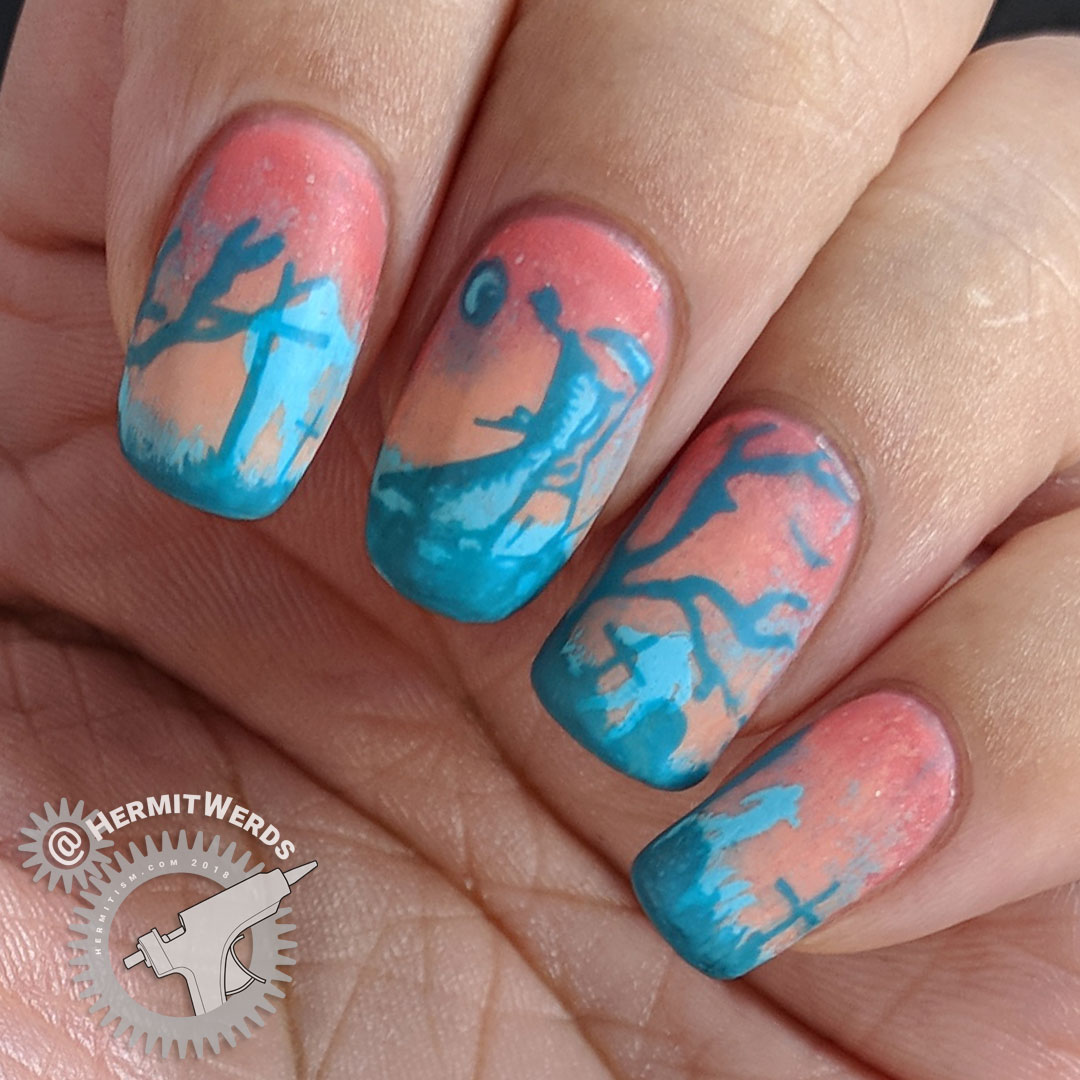 I've been wanting to work on creating more depth in some of my nail art. This one has only three layers: the background gradient, the zombies, and the foreground of gravestones, trees, and reaper. It's a good start, but hopefully sometime I'll produce designs with four or five layers. I would like to feel more confident in my landscapes and my skies always feel like less than what I wanted them to be. Also, all the gorgeous spooky landscapes I've been seeing everyone create is making me hungry for more of my own.
Products
I've used all three stamping plates quite a bit when it comes to my stepdaughter's nails because they have a great assortment of tiny images. She's growing fast, but it's still hard to find things that fit on her nails. We used some Disney Princess water decals last time and I had to melt off part of Aurora's crown and Ariel's hair. 🙁
I kinda wish I'd gone with a more pink than peach mid-tone in the background, but either way this turned out great. High contrast for the win!
How about a macro? You can see that Sally Hansen's "Re-teal Therapy" is not a perfectly opaque polish for stamping, but it still worked for my purposes.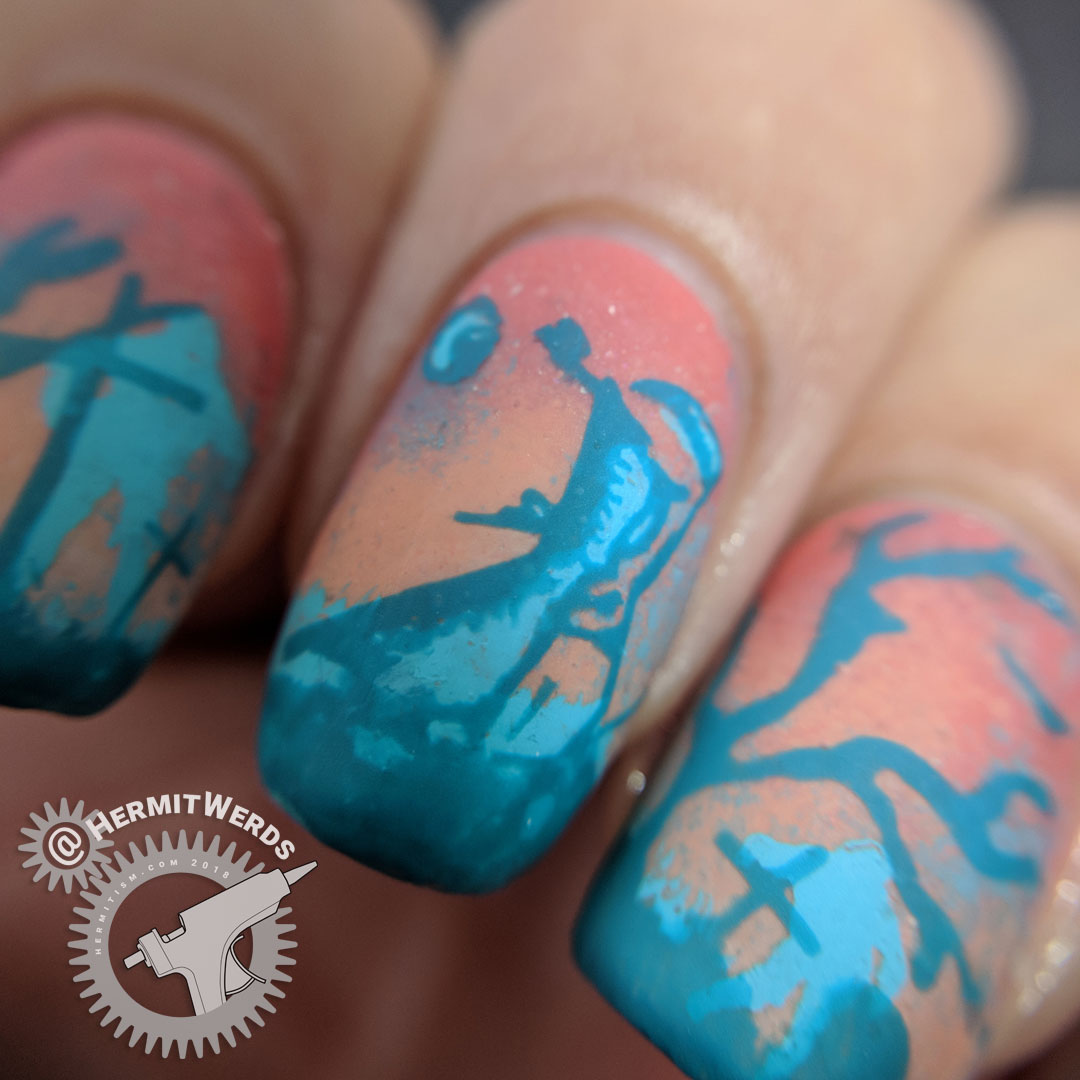 The Graveminder
Has anyone else noticed that all the inspired by a ___ Halloween challenges were for movies this year? I didn't see a single book and last year I think there was only one. I suppose it's much easier to have a horror movie in common than a book, but I read more horror than I watch. I get too upset when characters are blatantly stupid and that happens more in movies. Indeed, when we went with a friend to a Halloween-themed park, I pointed out that she was doing the white person thing and dooming us all when we walked further into the building where the screaming was rather than retreating.
I also may have accused one of the actors of sexism when he "attacked" my friend and I and let my husband sail on by unmolested. 😉
Anyway. While I didn't base this mani on the book I'm currently reading, I got the title for this nail art from it. It's called Graveminder by Melissa Marr. Its pacing is slow so it's taking me a looong time to get through it, but it has an interesting premise: A small town has made a deal with an entity that keeps it safe, but also causes native born citizens to have a feeling of dissatisfaction no matter where they go until they return. And even if they manage to die outside the town, their body must be returned or else people will begin to die. A subtle trap, but still a trap.
Two people have a major role in keeping terms of the agreement: the Graveminder, who tends the dead and keeps them from wandering, and the Undertaker, who is her protector. Since the book starts as the roles are being transitioned (via murder) to the younger generation who were kept in the dark about everything, I'm learning along with them what everything means. I'm 40% through and have had my expectations overturned twice already. And, of course, one of the dead is already walking and killing people. Marr very specifically says that she is not a zombie though, so I'm interested to see how that works out.
Since I haven't finished the book, I can't recommend that you read it. (It was published in 2011 and both failed to launch a series and has some very frustrated reviews on Goodreads, so…) But it's an interesting not zombie but kinda zombie concept so I'm enjoying it so far. Now if you really asked me to recommend a zombie book that feels different from the typical, I'd say The Girl With All the Gifts and The Boy on the Bridge by M. R. Carey make an amazing duo. It even launched a movie called The Girl with all the Gifts that can be watched for free on Amazon Prime. I might have to watch that again before the month is up…
One last look at this mani in glossy mode: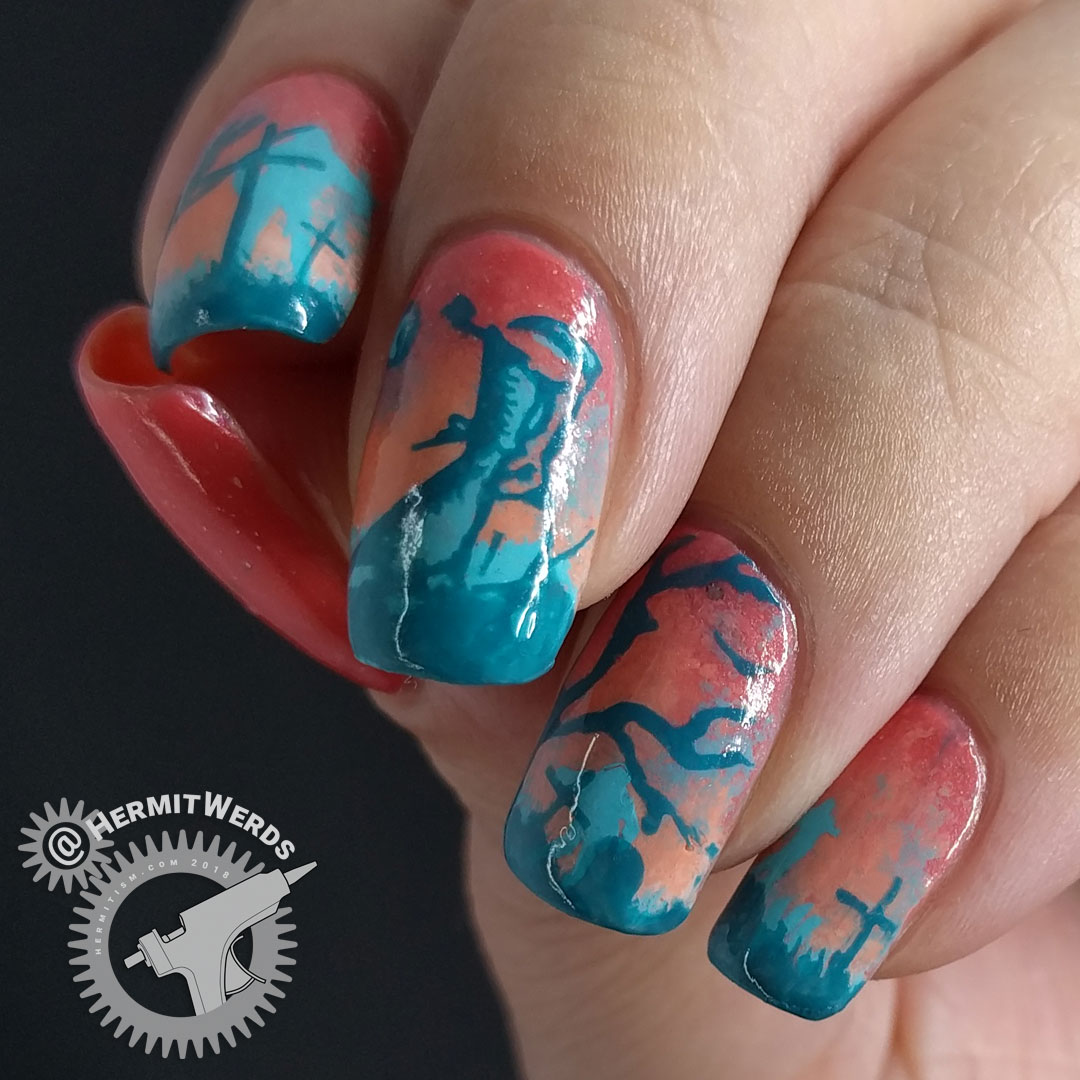 And, finally, a quick macro of this beautiful indie polish by Colores de Carol. I'm sorry to say that "Ava" is no longer available, but there's always a chance she'll bring back the collection. I love this salmon pink and hope to use it much more in the future.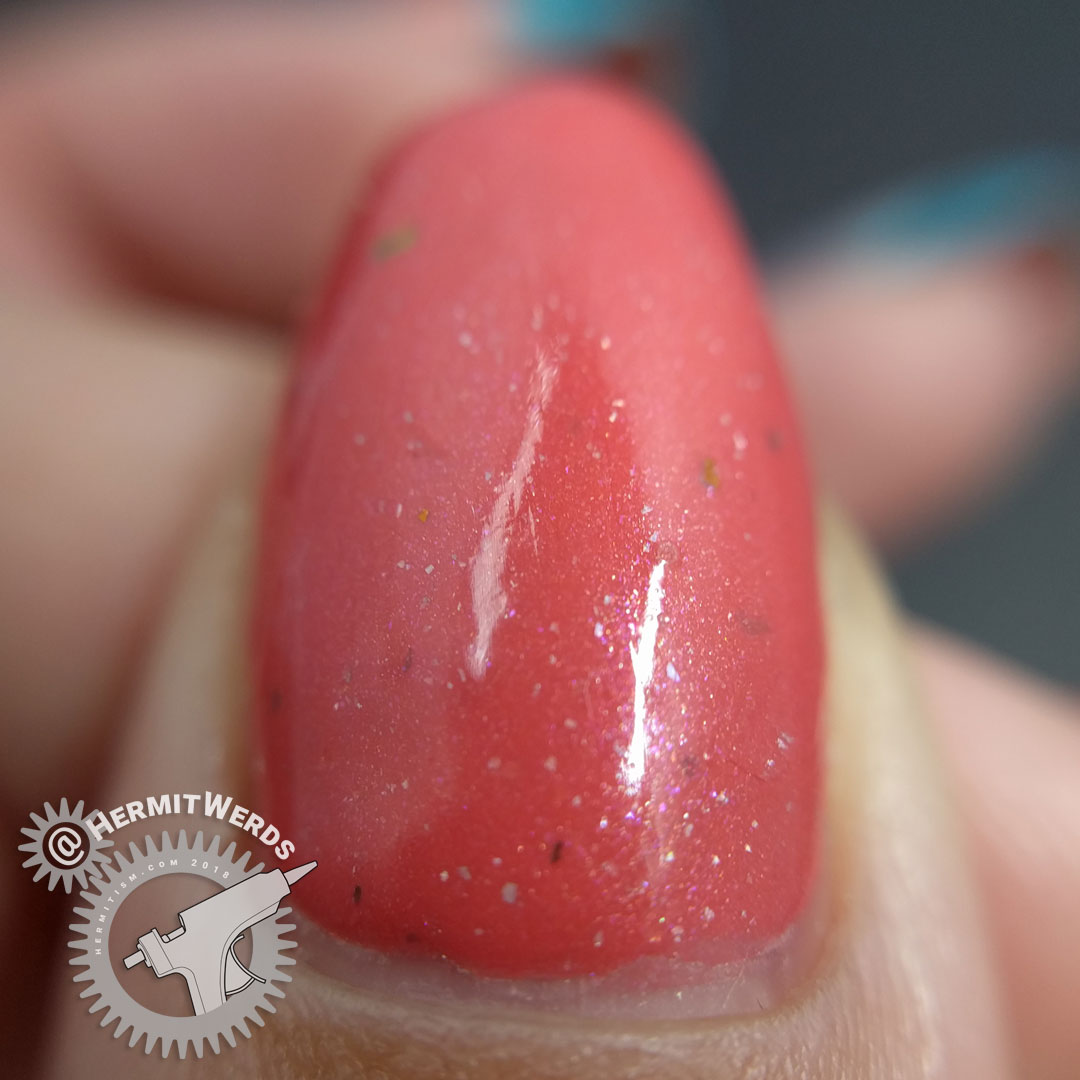 Challenges
This nail art brought to you by… Graveyard for #GlamNailsChallengeOct and the month-long Halloween theme for #NailChallengeCollaborative.