Here's something that should have been posted clear back at the beginning of November (but at least I only have one last catch-up post left!). Today's look features an orange and purple thermal polish that I wasn't sure I would love until I tried it and now we're married. LOL Okay, that's probably too far, but I'm very glad I planned to use very simple and complementary stamping decals with it because the transition on this polish is just too gorgeous and over the top. Exactly like runway fashion.
Nail art products used
Base Polish:

MTK Design's "Simply Meant to Be"

Stamping Polish:

UberChic's "Pure Black"

Advanced Stamping Polishes:

Jenna Hipp's "Ain't Life Grape?" + "Jenna and the Giant Peach" and Sinful Colors' "Truth or LavenDare"

Stamping Plate:

Beauty BigBang "Character XL-003"
Items in italics are debuting on the blog for the first time.
I usually like to fill in my decals as evenly as possible, even when I'm playing with transparency. However, with this nail art being for a color challenge, my palette was limited and I wanted the thermal to shine. That meant everything had to complement it and I thought with the almost abstract way the runway models were drawn lent itself well to having the hair/dresses fade out into the base polish. So I deliberately painted them so they'd fade out at the end and I think it served this nail art well.
I finally tried using my hair dryer when taking thermal polish photos. It at least means I only have to deal with ice water for the cold. I suspect on natural nails this polish mostly sticks to the muter shades, but the hair dryer brought out the really warm warms and the ice water the really cold colds. So keep that in mind as you look at the photos. All the colors are possible, but the muted shades are what you'll see the most irl.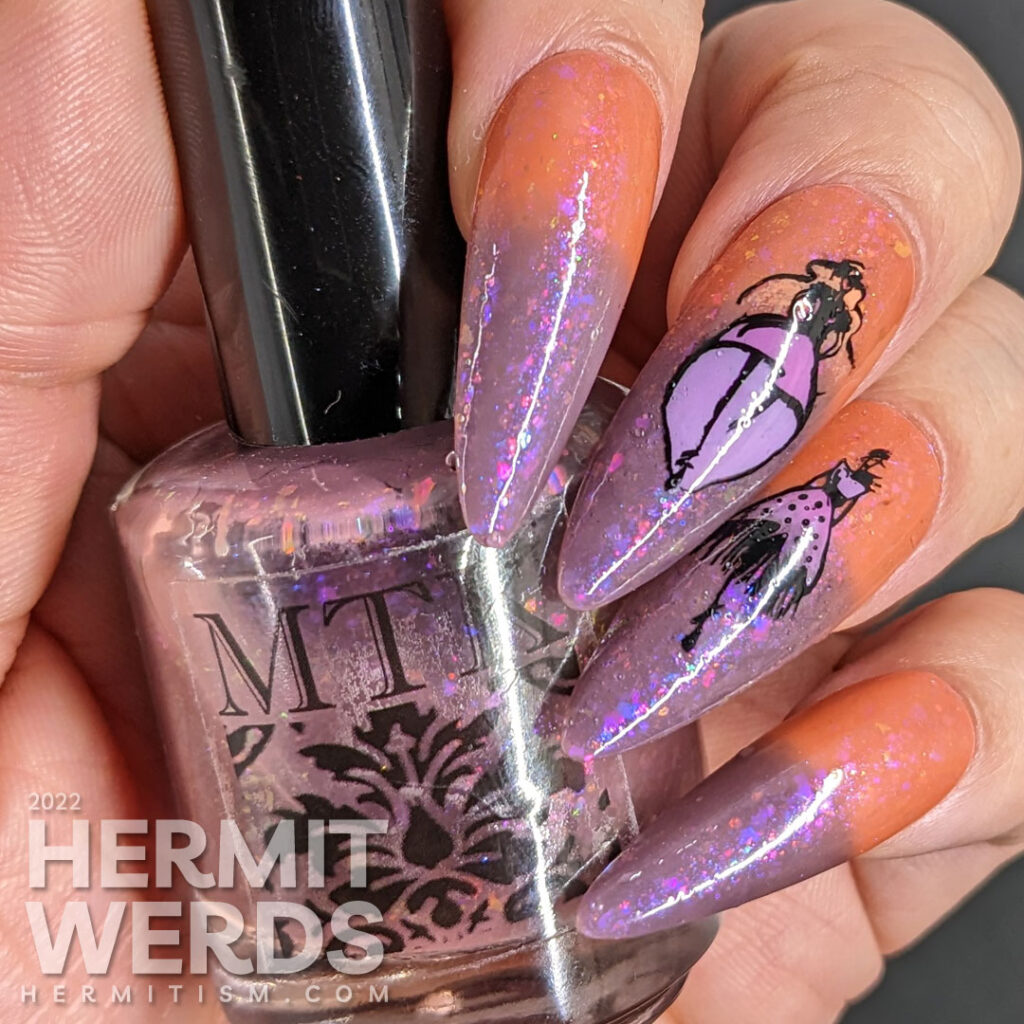 @WhenColoursCollide – Orange, Purple, Black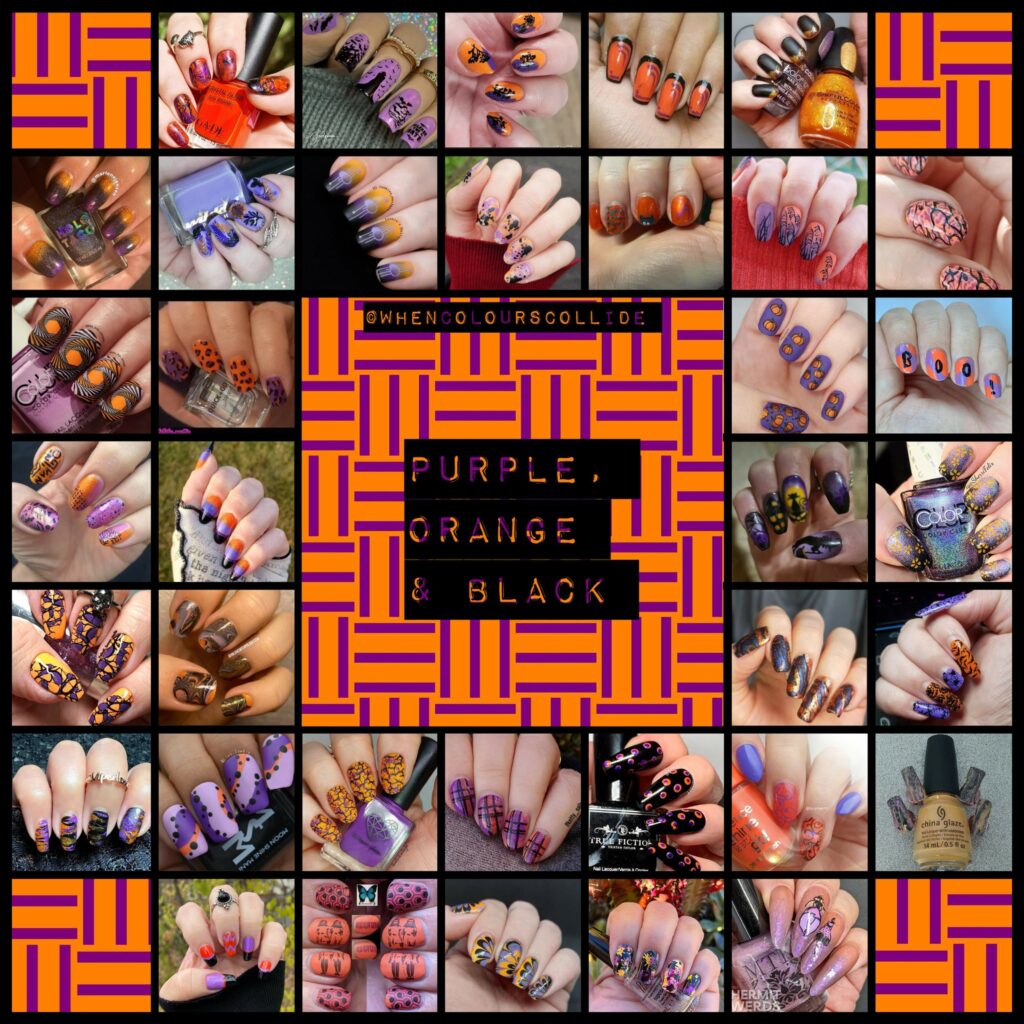 Final runway nail art photos
This macro felt very dramatic, so I wanted to share the whole thing.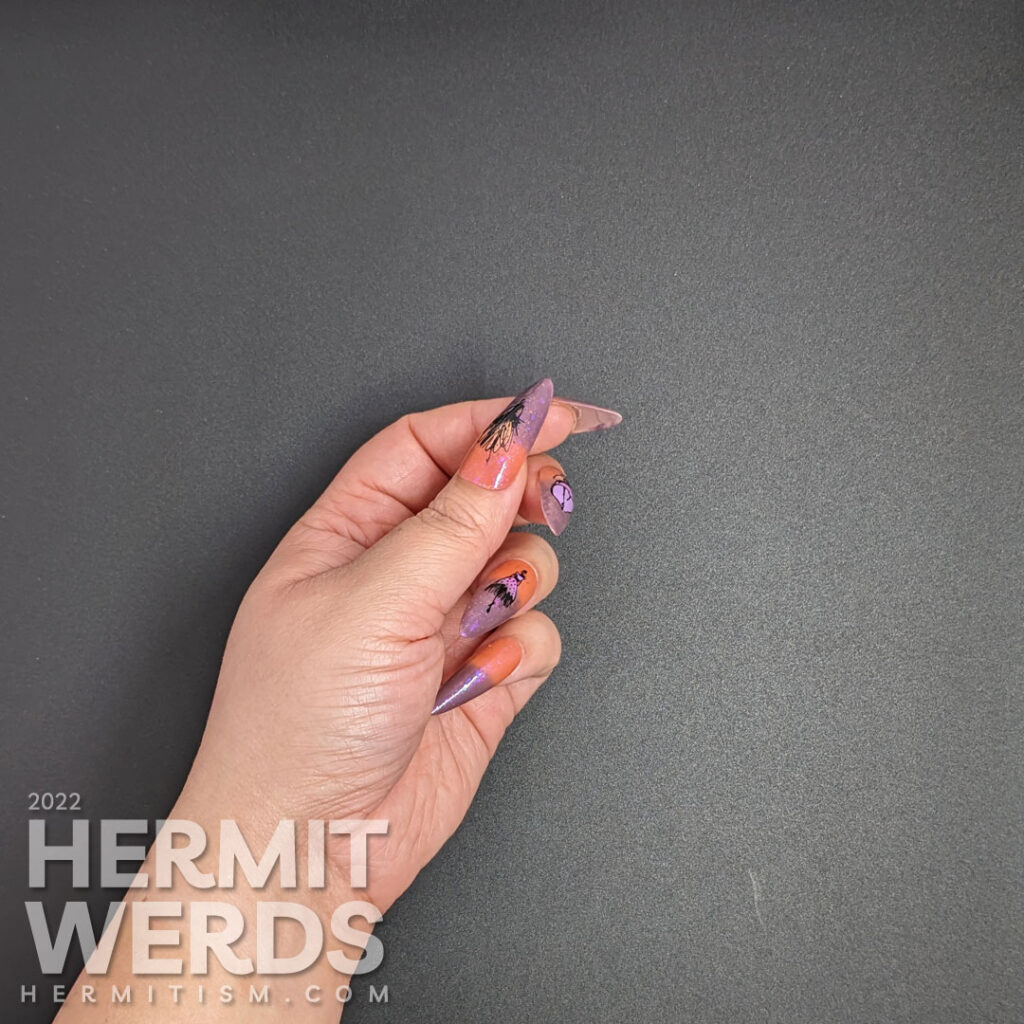 Until next time, friends! 🙋‍♀️