The last time I combined animals and music I was painting the Bremen Town Musicians. It feels like I painted them ages ago, but it's only been a few months! I already knew that I really wanted to use UR Sugar's UR-L007's singing animals as Christmas carolers and then I found out the lovely Elise (@osmovaraa) was hosting this month's #NailsWithIgFriends with a Christmas Eve prompt. It was a match made in heaven. These animals are so cute! I hope whoever designed them is proud.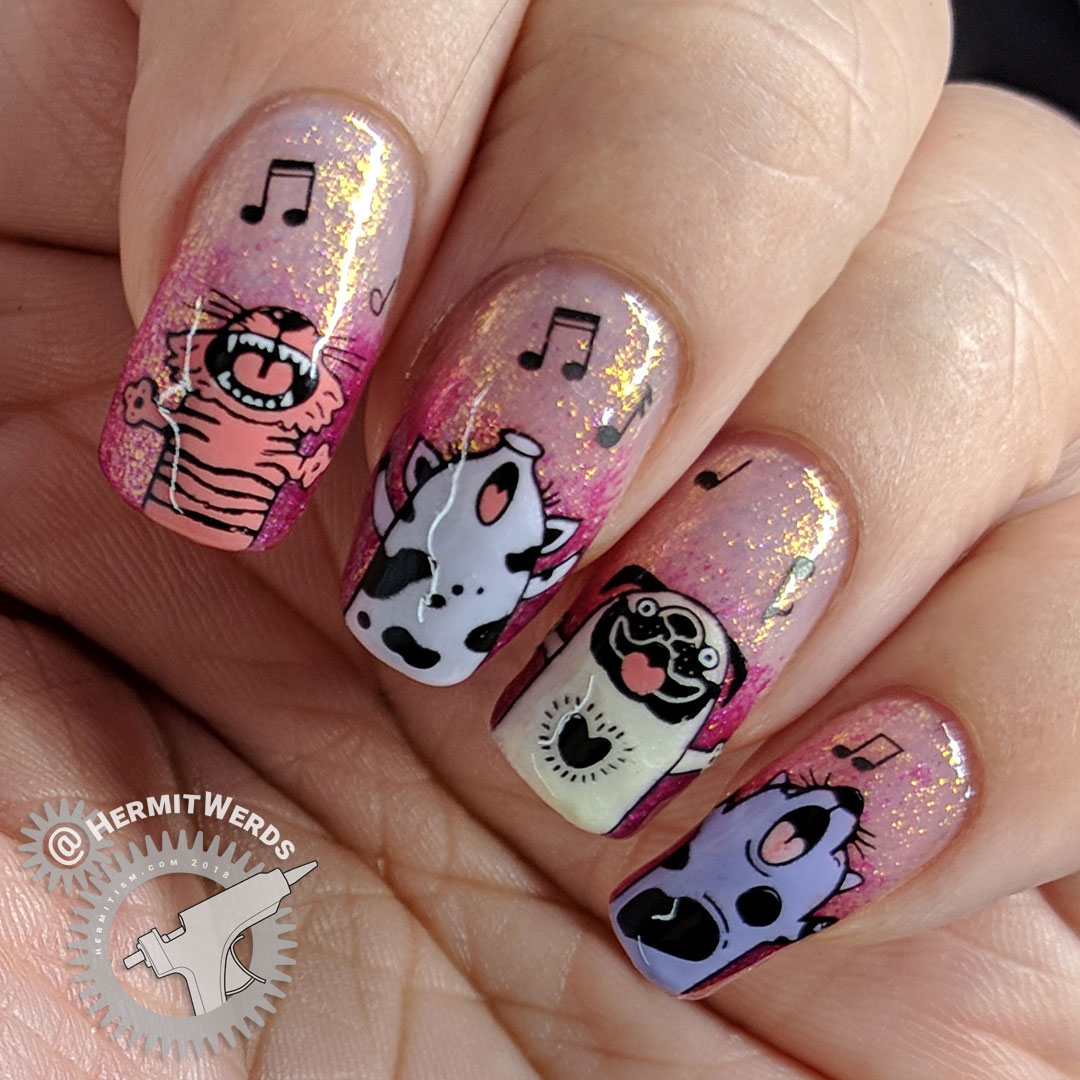 My first battle was which of the animals to pick from the roster (there's also a bear, rabbit, and panda). I went with all the cats and the pig was just too cute. Pugs aren't generally my favorite kind of dog, but it had a lot of heart. 😉 The sheep also felt obvious because it really looked like it was singing its heart out. Then the real trial began…what colors did I want to use? I'd initially planned to knock out more unused Sinful Colors polishes and go with a dark blue background, but I've already passed my goal for the year and I have several designs this months with blue backgrounds. I wanted something brighter, and I'm not afraid to overuse baby boomer french tips because they work so well for my aesthetic.
Hmmm…I had two unused China Glaze polishes left. Maybe they'd look good together?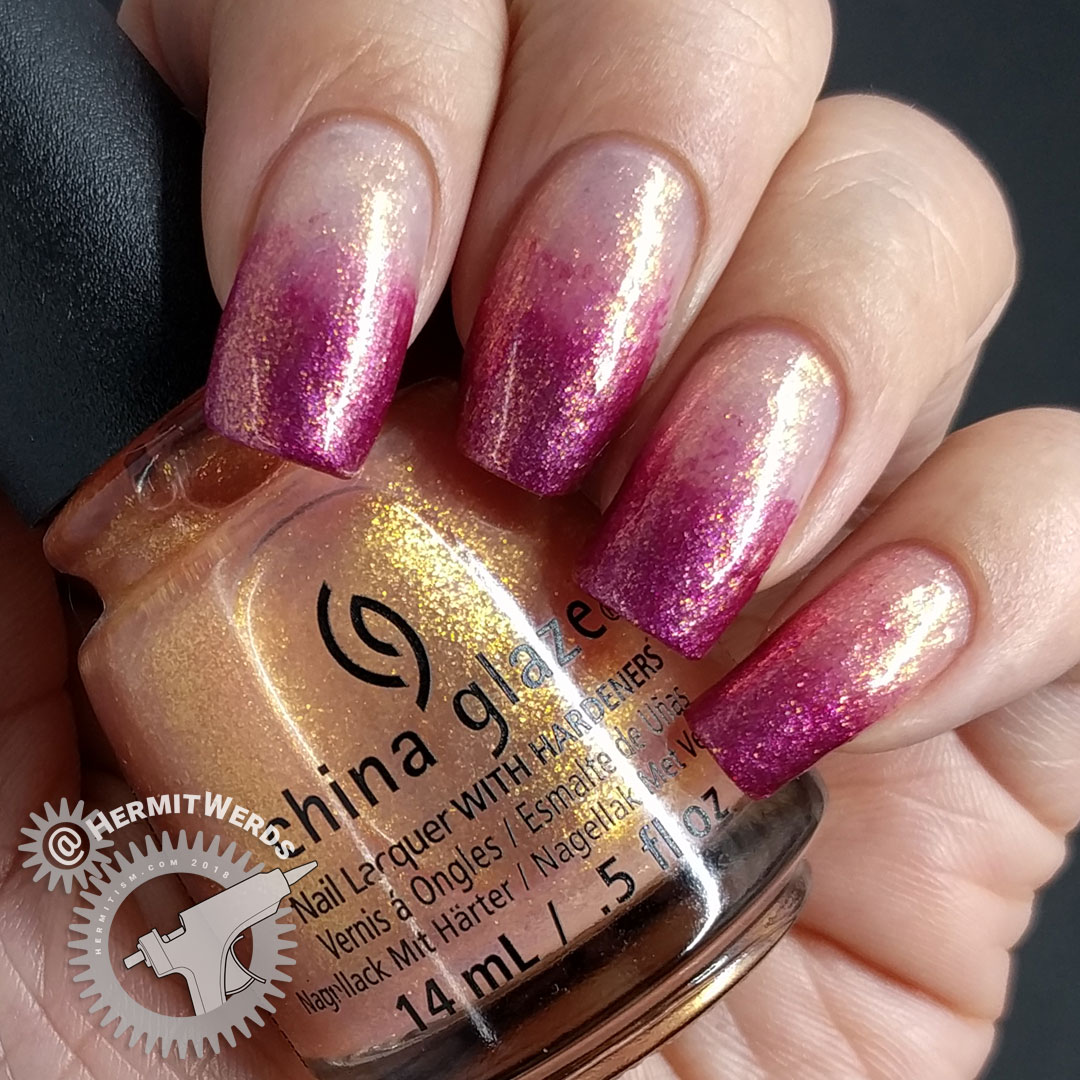 Yessss. You have no idea. I came so close to de-stashing "Sun's Out, Buns Out" because I'd tried swatching it over several polishes and didn't like the results. It was already on a shelf away from all my other polishes, poised on a the brink of being good-bye-ed.
Yeah, not happening now. I can't just sub in a gold either because this is both orange and golden. Originally I'd been swatching it over full swatches of polish, but the gradient is more flattering. I think a good range of oranges, red/pinks, and purples will also look super yum with it. I'm excited to try.
Then I had to pick the colors for my animals. I was trying to figure out how to make the browns not look like sadness against everything else when I remembered it wasn't my job to accurately represent nature. Oh, yeah! Once I'd switched my strategy to picking colors that my eyes wanted to see against the base colors, I plucked out six bottles and paired them with the animals I thought they'd fit with best. This is how lavender pigs and coral tigers are made.
Products Used
Base Polishes:

China Glaze's "Rose My Name" and "Sun's Out, Buns Out"

Stamping Polish:

Mundo de Unas' "Black"

Advanced Stamping Polishes:

China Glaze's "I Just Cant-aloupe"; Revlon's Parfumerie "Fresh Linen" and "Lavender Soap"; Sinful Colors' "Starfish" and "Truth or LavenDare"; and Walmart's light pink

Stamping Plates:

Challenge Prompt:

#NailsWithIgFriends – Christmas Eve
The decals do cover up a lot of the baby boomer french tip part, but you can still see it pretty well when the nails are slightly tilted….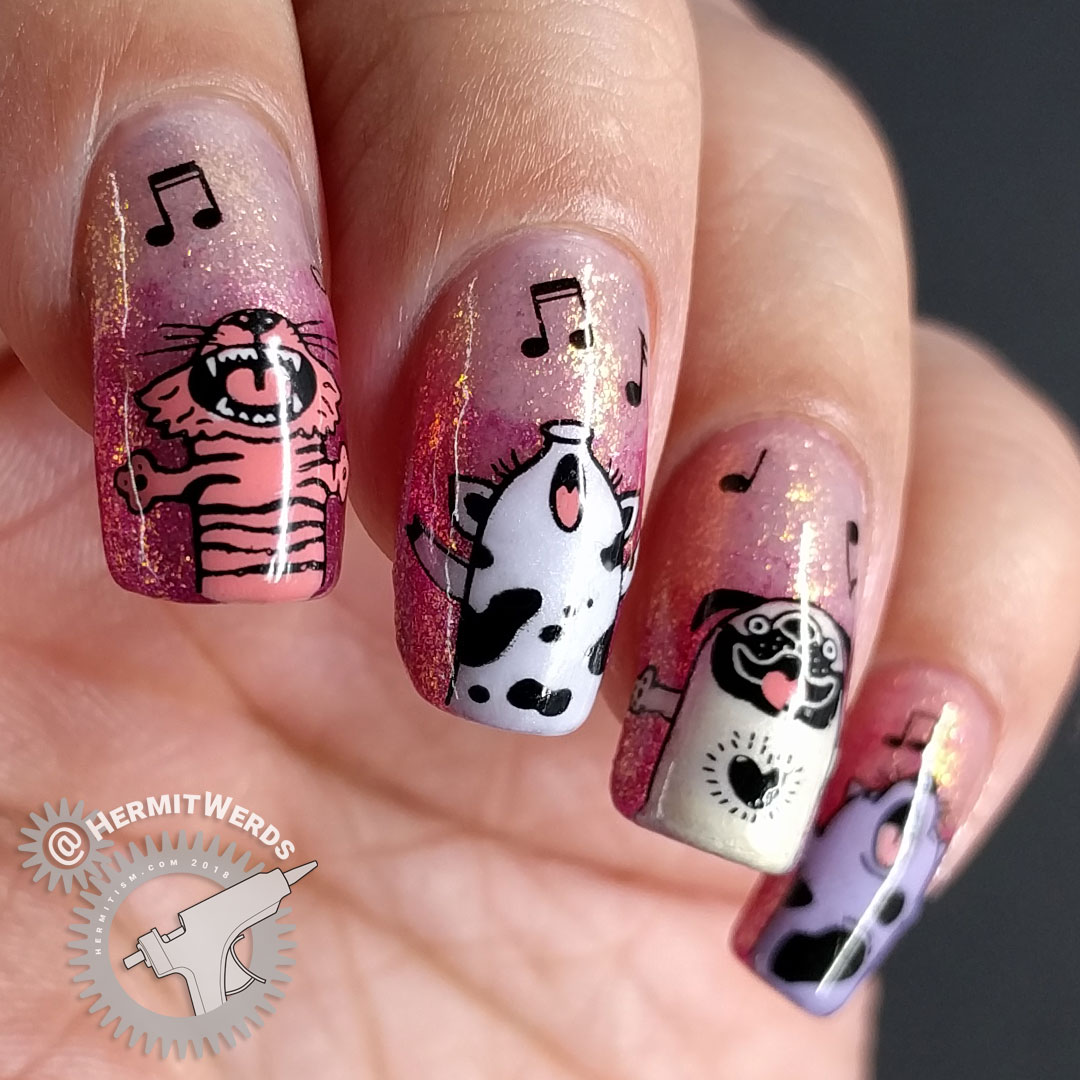 But let's not pretend that I am not most in love with those faces.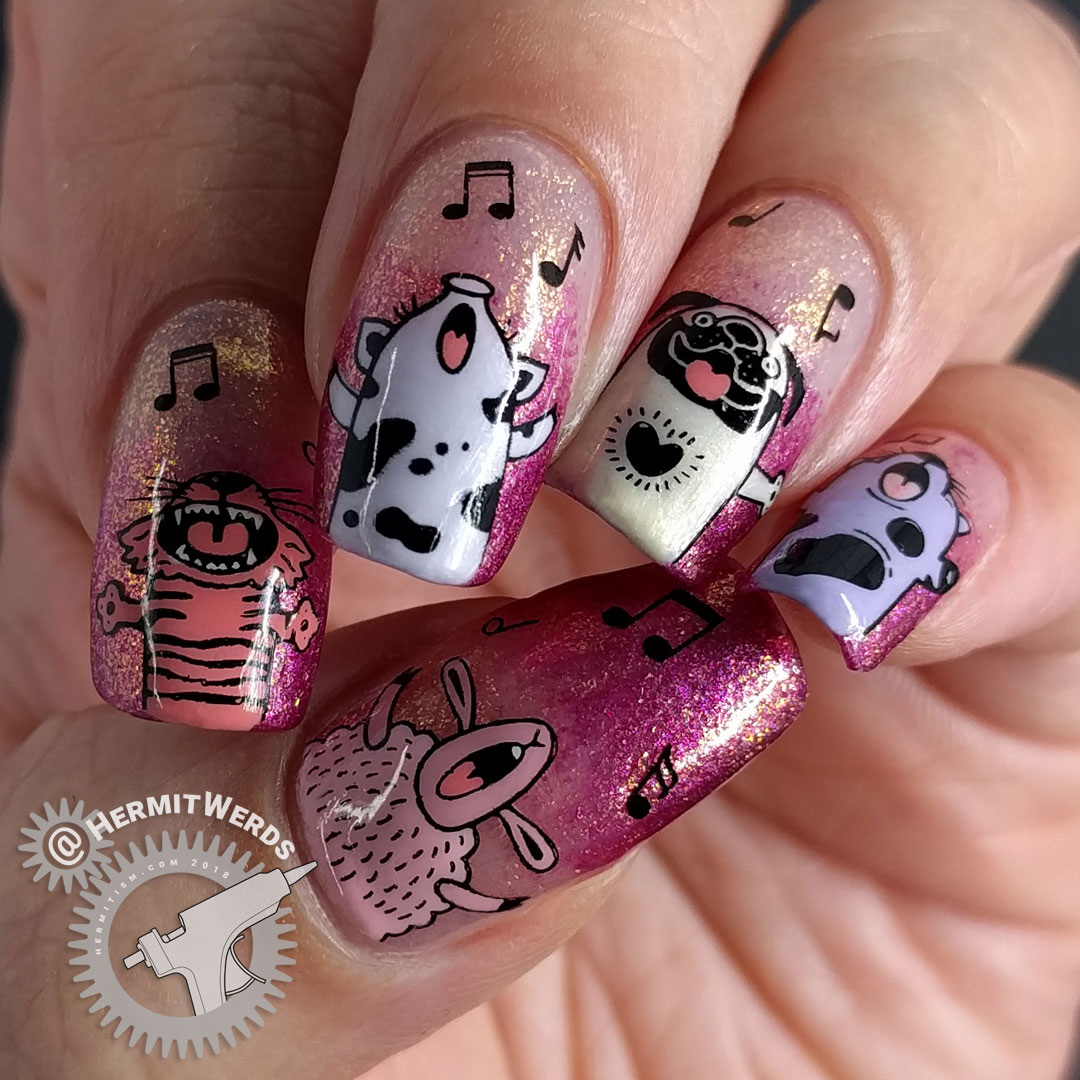 So I finished my nail art barely in time and turned it in, but once I'd looked at it without stars in my eyes…I worried. I didn't have any obvious Christmas themes anywhere. Not even a scarf or snowflake to say "Hey! It's winter!" I mentioned this to Elise and she very generously offered to let me add more stuff and resend her the picture right before she put together the collage the next day. I was worried that adding more elements would distract from the goodness I had so it was decided that since we were both happy I should leave well enough alone.
I still feel a teeny bit guilty. But they have fur! They don't need hats to go outside. Well…maybe the pug? 🤔
I'm going to end with a macro shot of the sheep to silence all my worries. Too doofy good.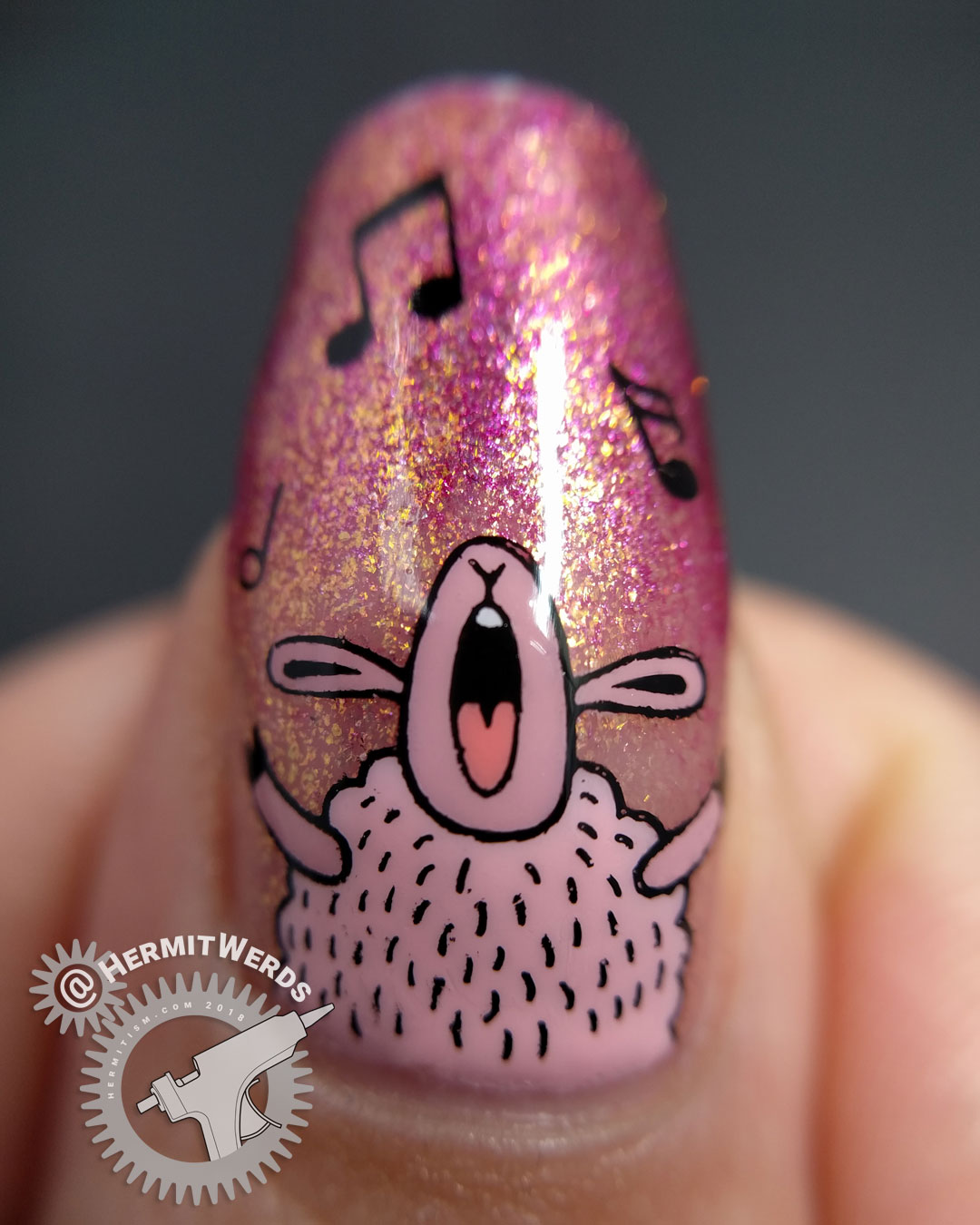 Nail Challenge
Since Elise (@osmovaraa) posted the collage today and her day starts much sooner than mine, I'm sure a lot of the ladies have already posted their individual designs on the group tag. Be sure to check them out! Next month's #NailsWithIgFriends host is Raluca (@babyralukutza) so be sure to watch her account if you want to participate next month!