Allergies mean that I can't have a live Christmas tree, but I don't think I'd want one now anyway. My last mini faux tree was given away two years ago. It's a lot simpler without them (although I admire my mother-in-law's year-round tree that she decorates for each season). I think if I were to have a Christmas tree again it would be made of alternative materials like lights or hanging ornaments.
(Meanwhile the only Christmas decoration I have out is my giant spider's Santa hat. I just like Halloween better. 😉)
Anyway, this design really feels like what I would want to use for Christmas decorations now. I've seen some pretty fantastic reindeer candle holders that I'd love to get my mitts on, but beyond that…well…I love steampunk. I don't have to wait for Christmas to have a light display. I just have to make it look wicked cool. 😎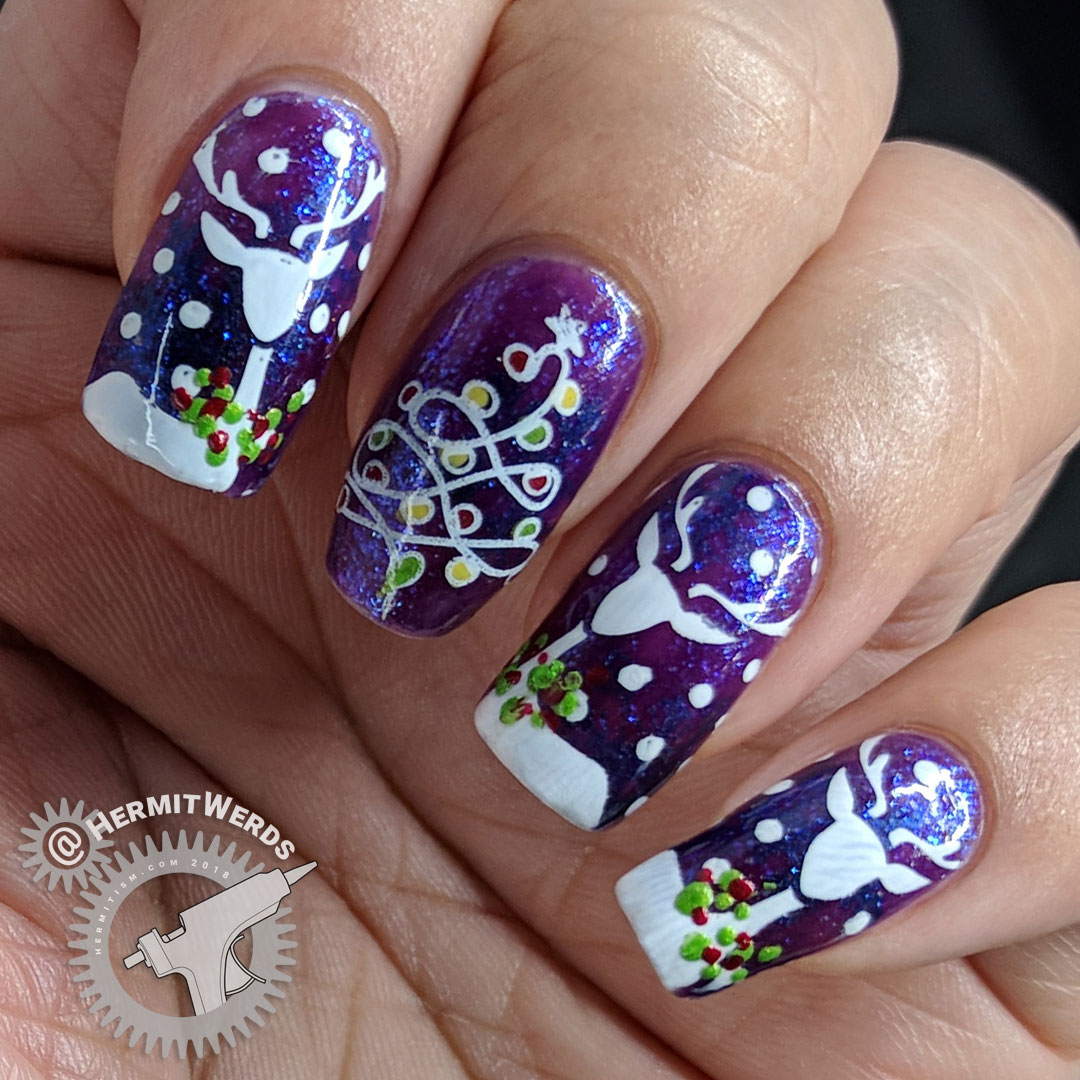 Products Used
Base Polishes:

Sinful Colors' "Decem-brrr"

Stamping Polishes:

Mundo de Unas' "White" and Sinful Colors' "Hot Spot"

Advanced Stamping Polishes:

Bonita's "True Diva", OPI's "I Just Can't Cope-acabana", and Sinful Colors' Nail Art "Worn Before"

Dotting Tool Polishes:

Bonita's "True Diva" and Sinful Colors' Nail Art "Worn Before"

Stamping Plates:

Born Pretty Christmas-L004 (string light christmas tree), Ejiubas EJB-03 (snowflakes & reindeer)

Challenge Prompts:

#GlamNailsChallengeDec – Christmas Lights
#NailsUnitedDecChallenge – Wreath
#AZNailArtChallenge – 'V' is for Vixen
Three challenge prompts done. Woo! And this caught me up on prompts. Let's hope I don't fall behind again.
I tried stamping some snowflakes with Sinful Colors' "Hot Spot" which is a not very opaque dark blue metallic polish. I can actually see the snowflakes irl but the way the camera picks them up against the shimmery "Decem-brrr" turns them into soft blue blobs. Which actually ended up looking pretty cool so I'm still happy. You can kiiinda see it with a macro…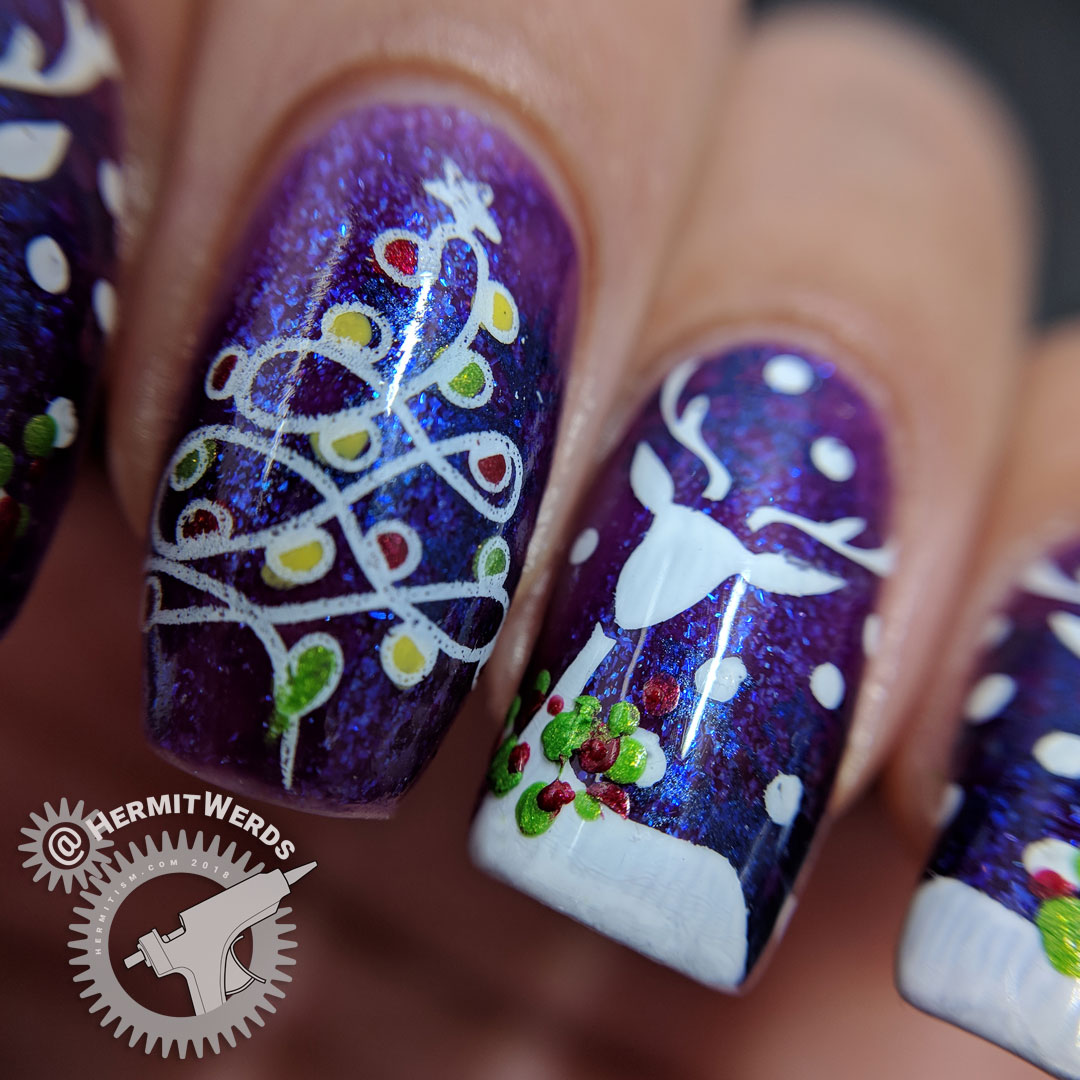 But, yeah, doesn't really want to show. It doesn't help that "Decem-brrr" has all those blue flecks in it. They're gorgeous. I probably would have de-stashed this polish without them because they are what makes it special.
Anyway, here's a last shot without the wreathes I added with a dotting tool. I was really worried I'd mess them up so I took plenty of photos before I started. but I think they turned out okay-ish. I'm not the best with dotting tools and I should have kept still longer so they could dry properly. I didn't so a few are smeared.
Ha ha to me sitting still. 🤪
Challenge Collage
#AZNailArtChallenge has a collage of course. So many reindeer! I've already painted three designs with them and I have one more to go before the year ends. More attention must be given to penguins next year. I have one tiny penguin astronaut on my Galactic Snowstorm design and that's it. So many penguins on stamping plates not getting used…