So the @HalloweenForeverCollab picked Disney (or other animated shows) villains in neons or glow in the dark and, well, how does one pick a single villain out of so many wonderful prospects? Easy. You just go straight for Ursula and can't convince yourself to paint anything else. (Admittedly I already have a glow in the dark Maleficent nail art done).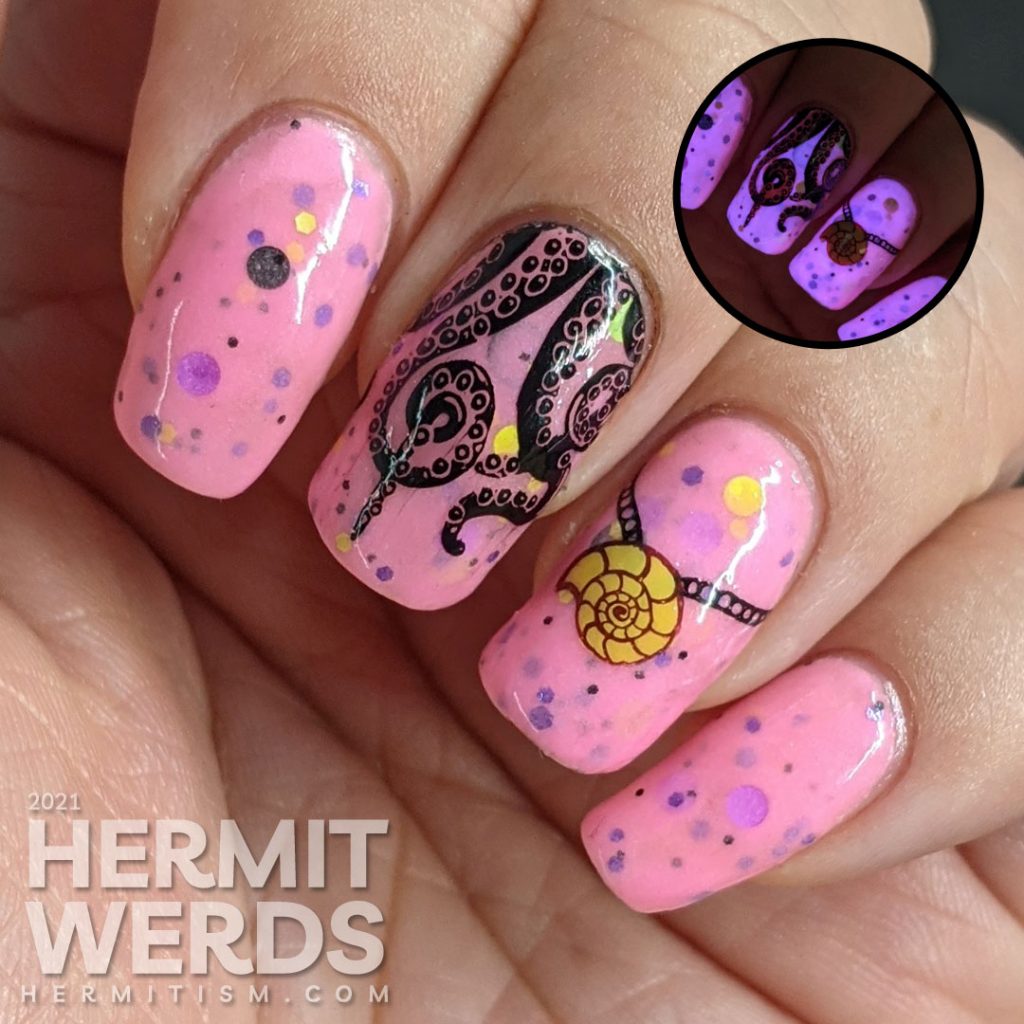 I regret painting grey clouds on my thumb. I wish I'd made them pink. But nonetheless Maniology's Mani x Me box for June had this great image for Ursula's attack on the ship after she gets the trident from Triton. I really need to rewatch the movie again sometime. Especially since Disney's getting ready to fuck up I mean film their next live action remake and it's The Little Mermaid!
I'm…trying really hard to feel excited and hopeful but they do not have a good record here.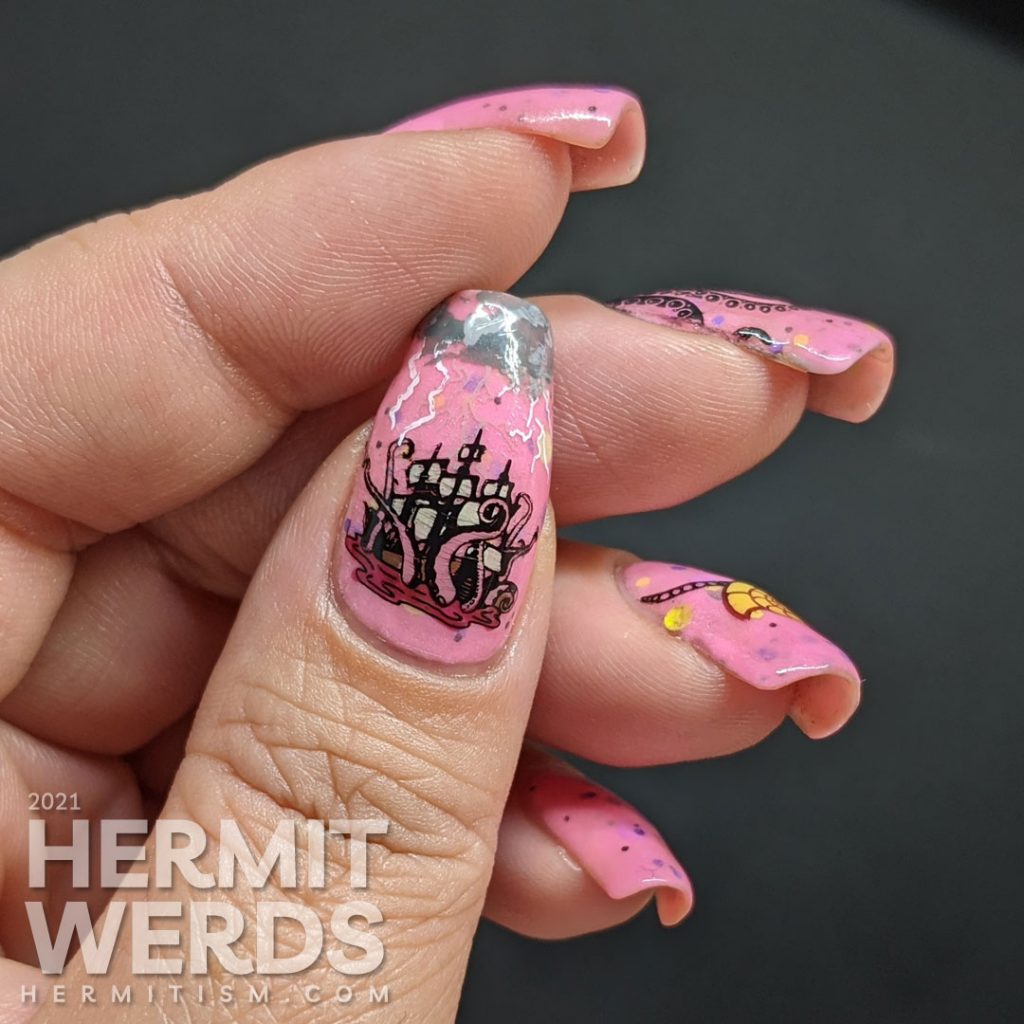 Halloween Forever Collab
I'm pretty sure the Evil Queen, Ursula, and Maleficent were the most popular subjects as far as the nail art went, but there are a few other villains in the mix and a good chunk of the group went with glow in the dark. So this collage is my favorite of the year so far and you get two because one is for the glooow. I do not yet know the next prompt so I guess I'll end with urging you to check out the group tag.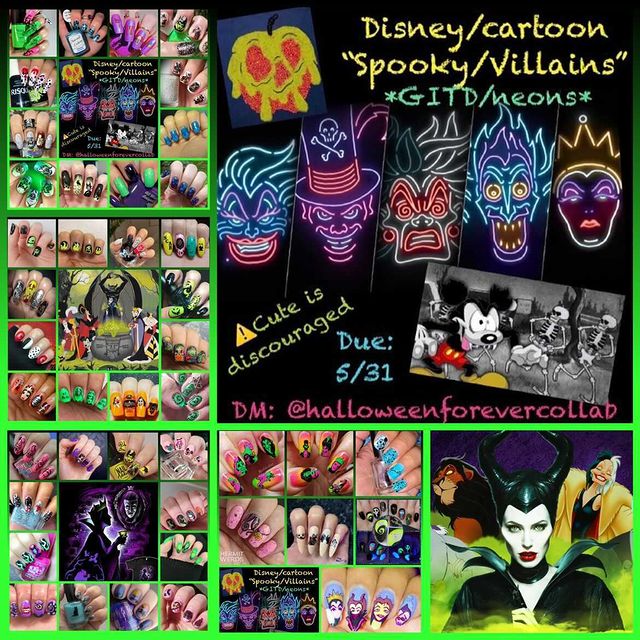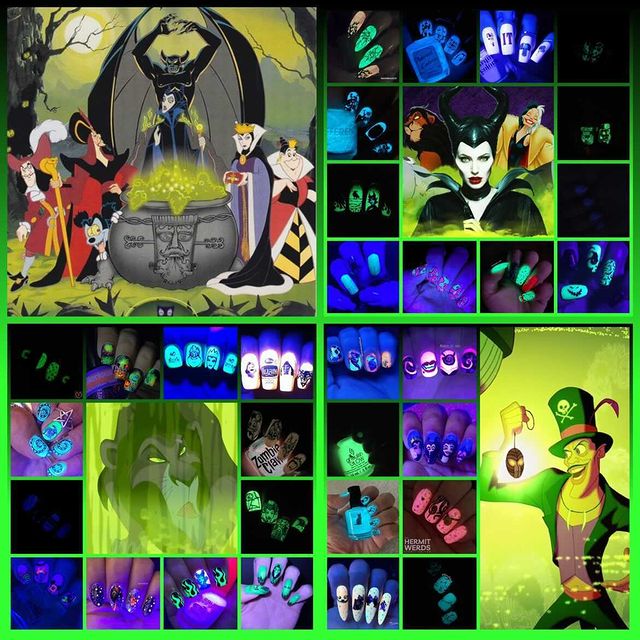 Nail art products used
Base Polish:

Familiar Polish's "Pastel Goth"

Stamping Polishes:

KADS' "13 Brown" + "06 Grey" and UberChic's "Essential White" + "Pure Black"

Advanced Stamping Polishes:

KADS' "Raspberry Wine", L'Oreal's "Walk on the Beach", NYC's "Lincoln Square Lavender", OPI's "Never a Dulles Moment", and Zoya's "Nyssa"

Stamping Plates:
I don't have a stamping image of Ursula herself (although there are plates out there with things like that, try Mundo de Unas' site if you're looking) so I had to get creative. Along with the attack scene, I figured any octopus tentacles would do and shells like the necklace where she stores Ariel's voice are pretty common stamping images. I snagged a fancier chain from the Harunouta stamping plate, removed its pendant, and dropped a shell decal on top. Easy peasy.
Once again Familiar Polish provided and my glow in the dark polish of choice was clearly set to be "Pastel Goth". Sadly, it's not in stock right now, but the neon yellow and blue one I have used previously are. Below you can see it with a UV light. What's neat about the light is that some of the glitters in the crelly are fluorescent and will also react.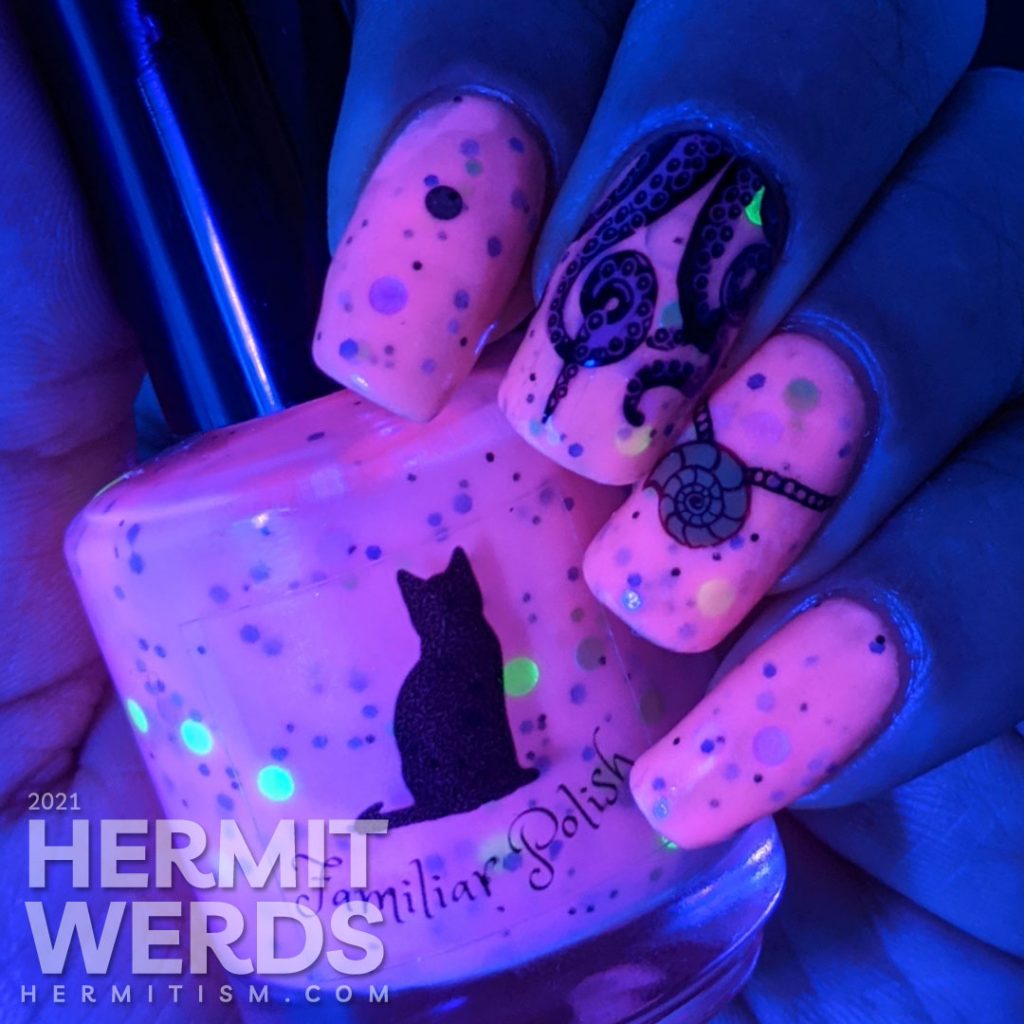 However, the polish remains stunning even if it's just storing up regular lighting. You can see below that as the effect fades it becomes a lighter purple-y pink. But I got a bold pink when the polish was more charged up (which you can see in the second photo from the top).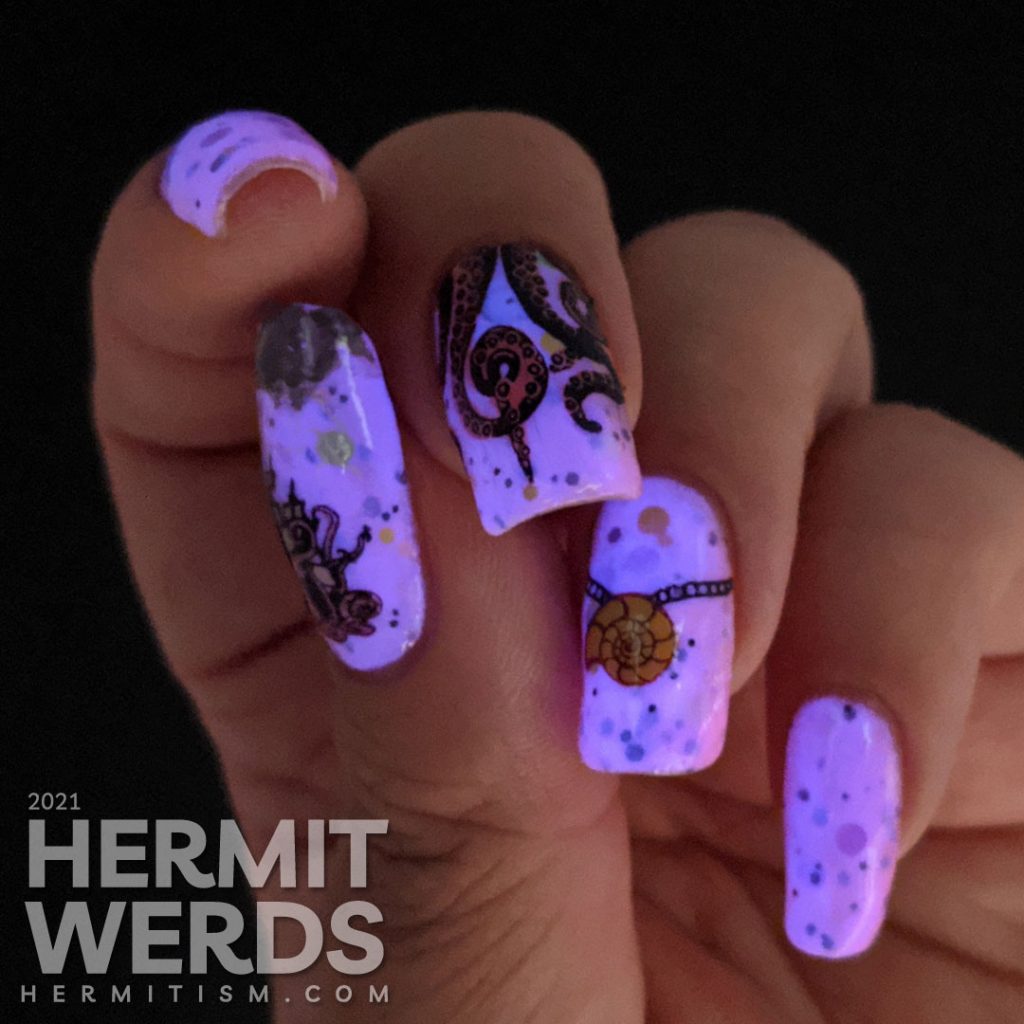 The tentacles are nicely visible from far away and that's all that matters to me. 😂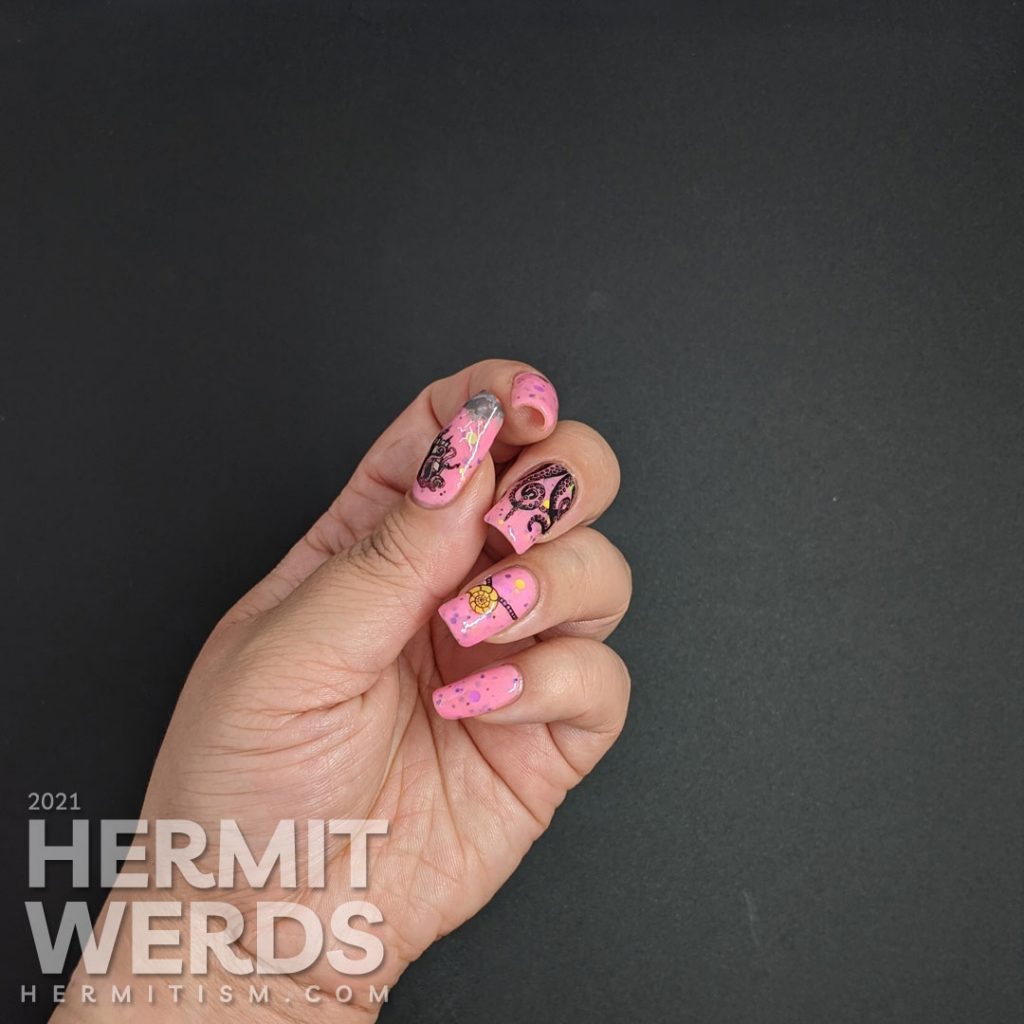 Until next time, friends! Glow on! 🙋‍♀️