What is it like to be a zombie? I really like to get in their (fictional) heads and find out. Like…are they in a kind of fugue state until something triggers them into eat mode? Is there an end game? Most zombie-related entertainment seems to focus on the pure monster side where the characters can kill with impunity and survival at dramatic cost so those questions are left unanswered, But there are a few that depart from this trend like the zombie book I read last year where one zombie could think and it was mostly about it outsmarting everyone. Great fun. Lots of killing. A Rational Zombie by Virlyce if you're curious.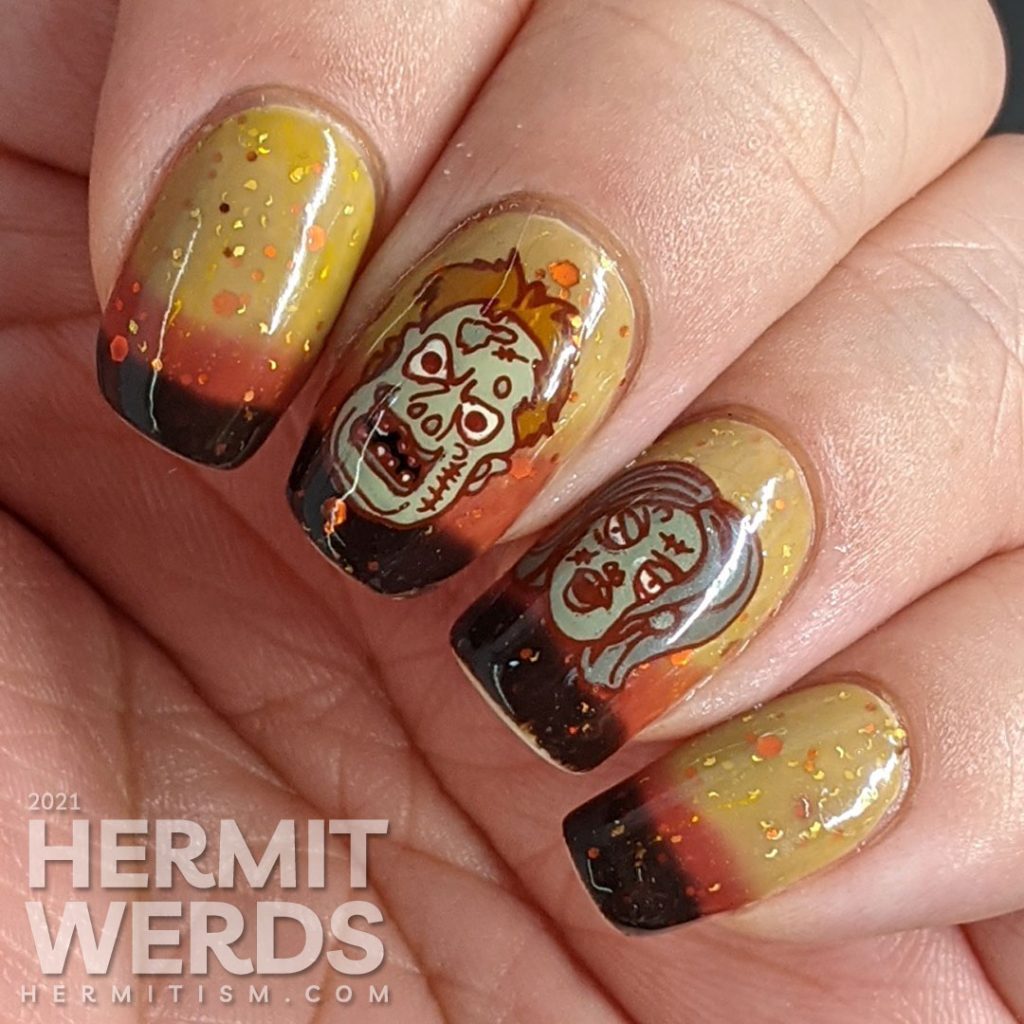 I am still trying to work my way through my previous Familiar Polish order, but last week's busyness threw everything off. And then Delia came out with a second release that had more amazing glow in the dark polishes and I set a freaking alarm for it (which turned out to be wise: she sold out of most things and now others are just waiting for a restock).
Meanwhile the shift on this tri-thermal is great. I had all of the colors showing at various times of day, but it did chip sliiightly more than most indie polishes. I suspect it's the compromise for not having to fish around for the glitters because the other polishes are not chipping.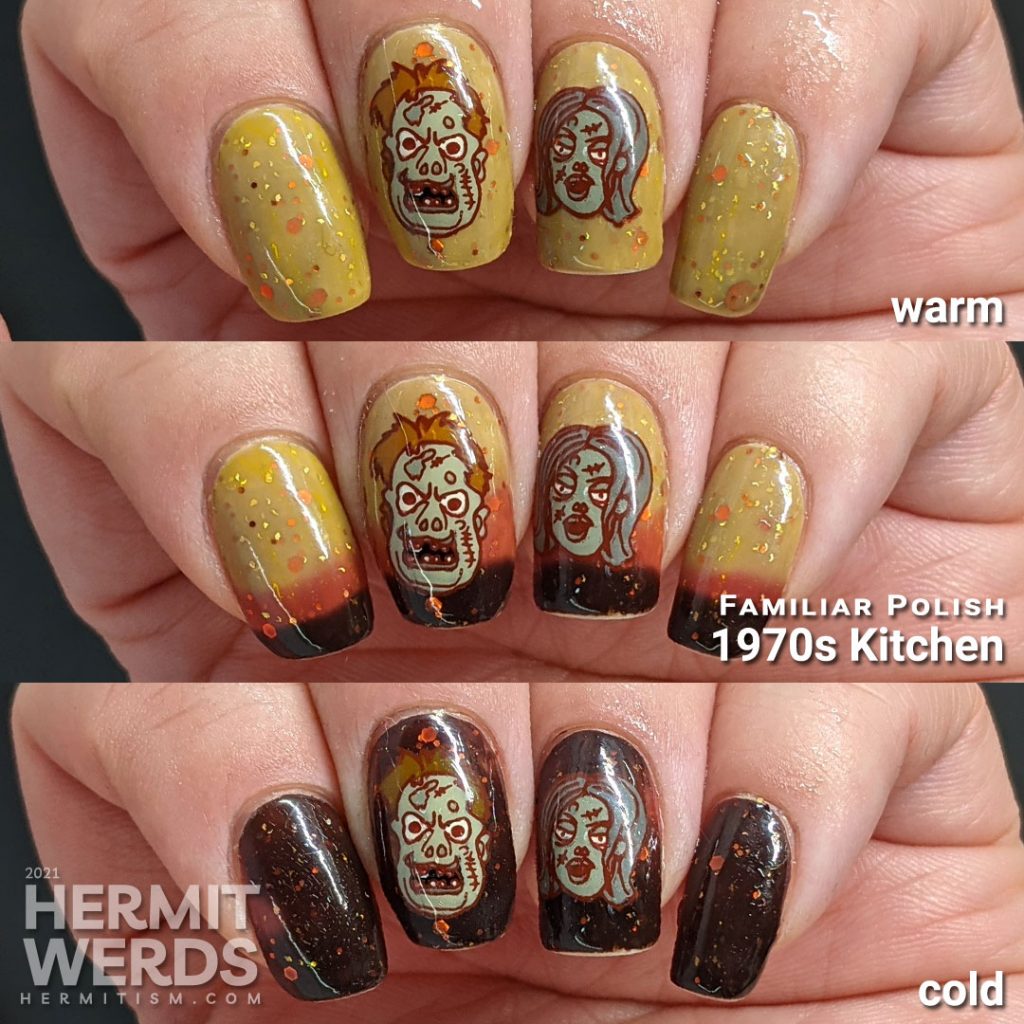 AZ Nail Art Challenge – 'Z' is for Zombie
For someone with such a large Halloween stamping plate collection, the hard part about a zombie prompt is picking what to use. I went with BP-126, a circle stamping plate with cartoonish zombie heads that I've been meaning to get around to for years. It's a testament to the zombie variety out there that only one other person used the same plate as far as I can tell.
Check out the group tag to see everyone's beautiful zombie nail art. Meanwhile, the AZ challenge is going on a small break as it gets ready to restart. I'm going to feel a little lost all May without it.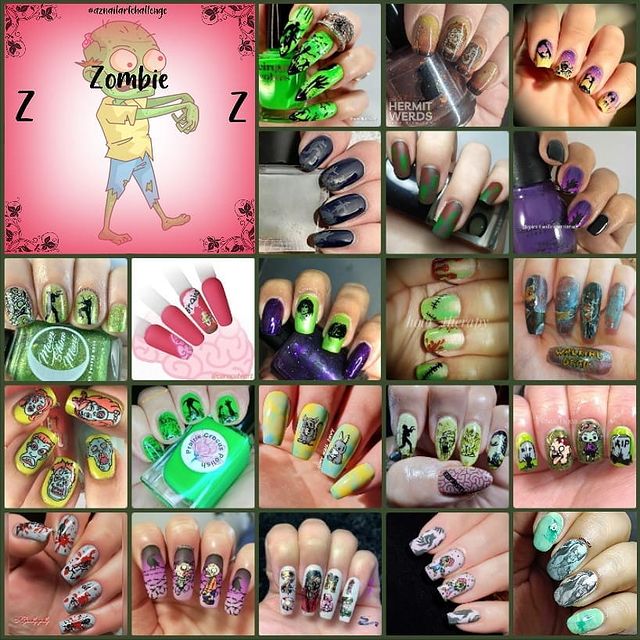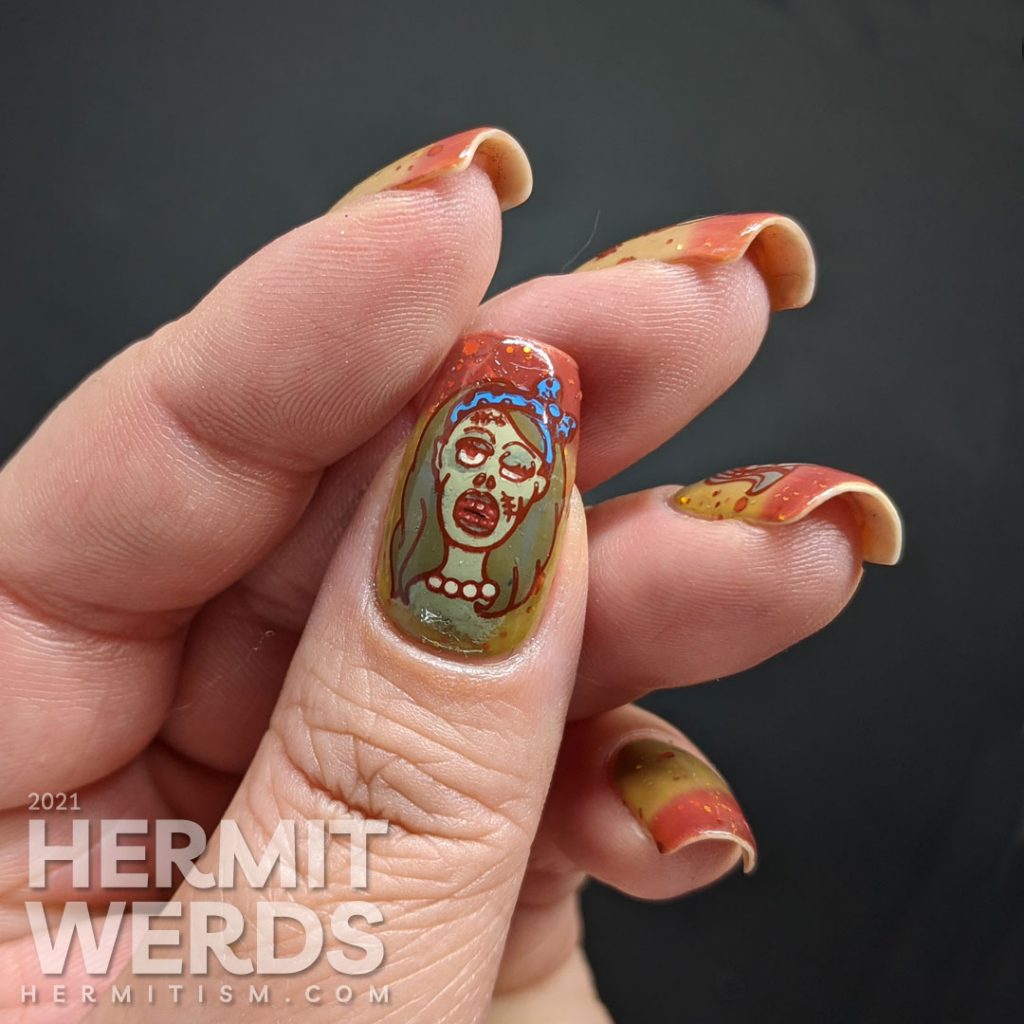 Nail art products used
Base Polish:

Familiar Polish's "1970s Kitchen"

Stamping Polish:

Born Pretty's "Sunrise" (press sample)

Advanced Stamping Polishes:

A lot of these were mixed to create more shades…
Bee's Knees Lacquer's "Thunderbird Feather", Essie's "Sew Psyched", Maniology's "Coconut", Pretty Serious' "Overcast", Smacker's "Skellington", and Zoya's "Ireland" + "Robyn"

Stamping Plates:

Born Pretty "BP-126"
I love how this one turned out. I think my only regret was using black inside the zombie's mouths. Should have gone with a red-orange because the black is jarring. And now…lots of photos…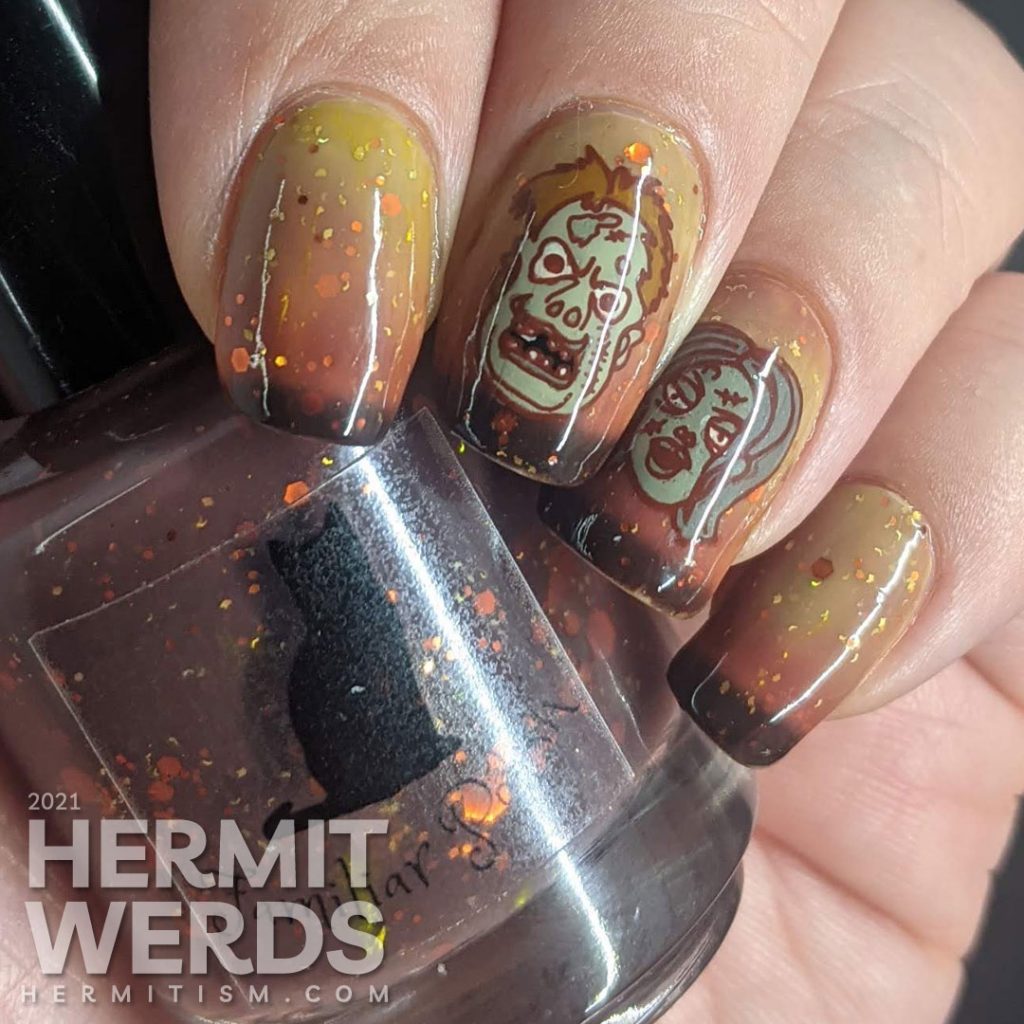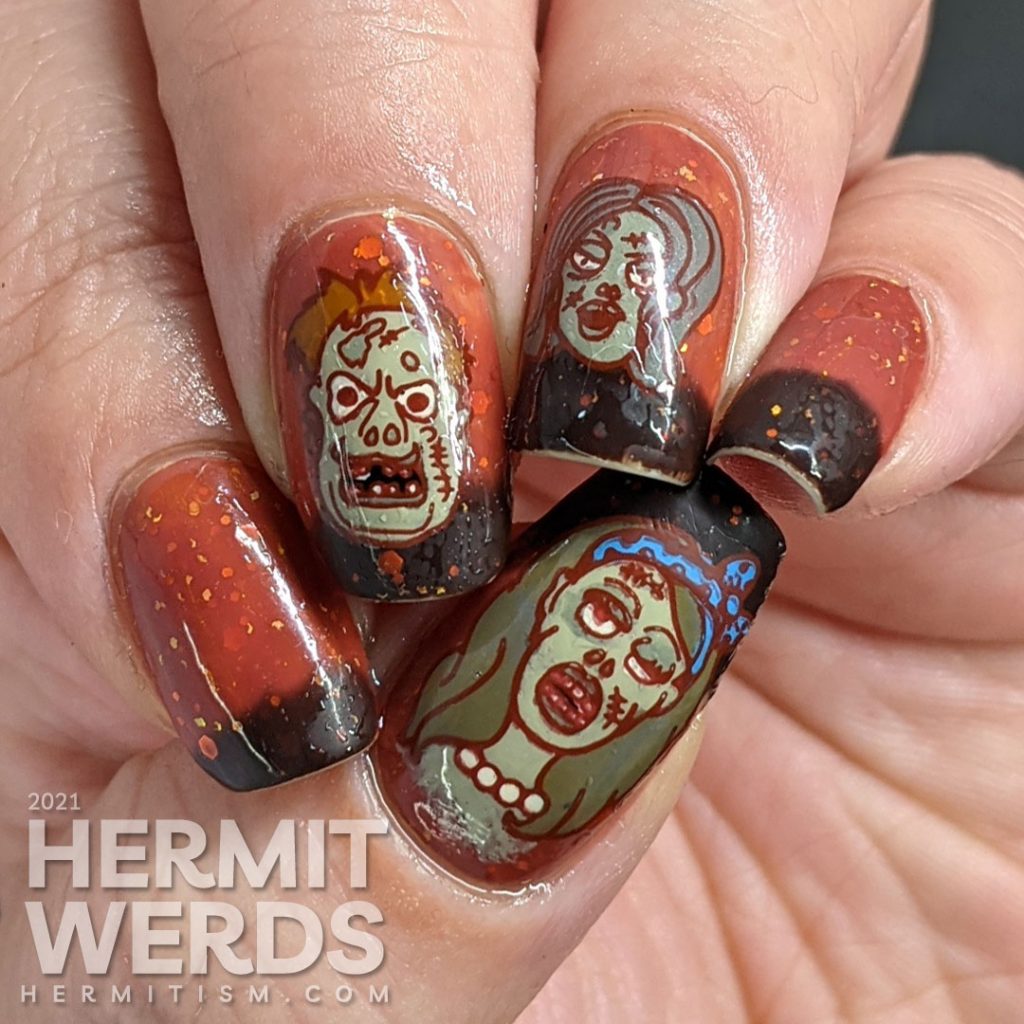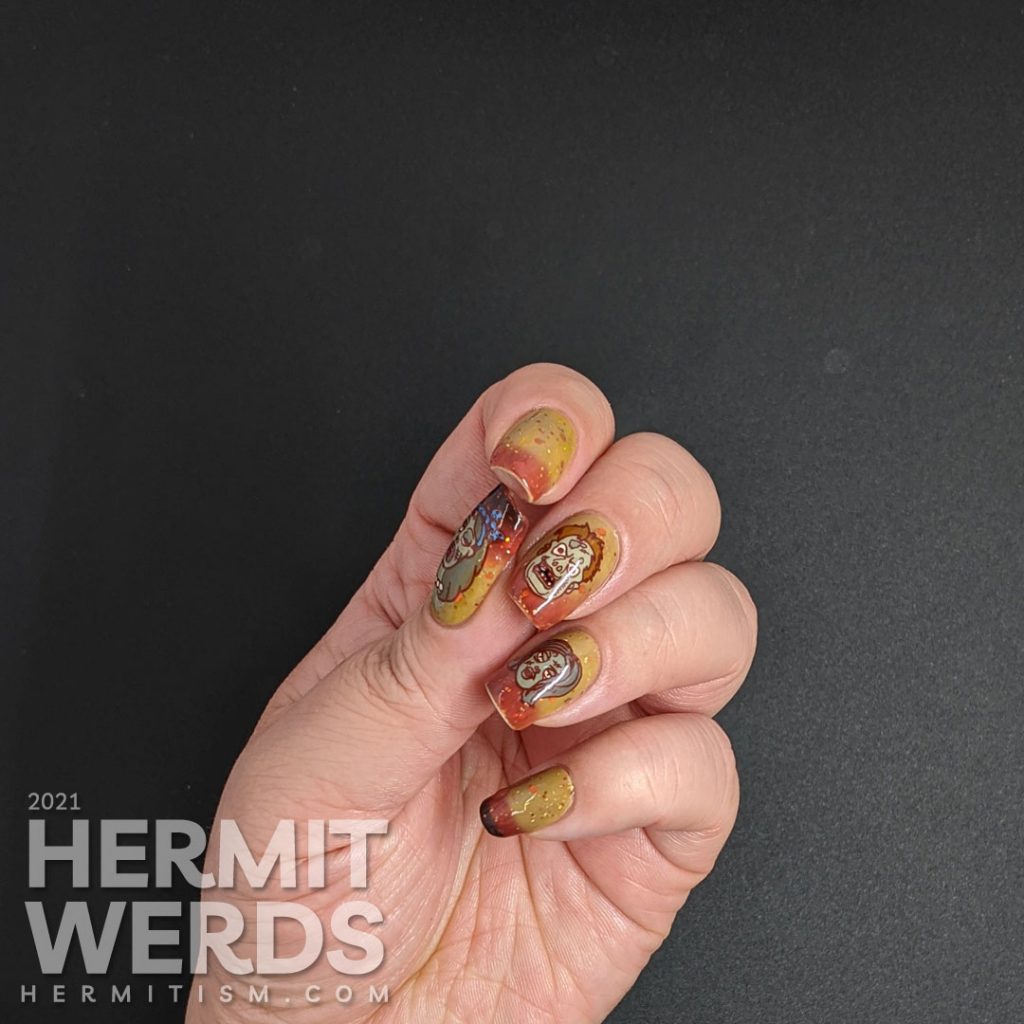 Until next time, friends. Stay unzombified! 🙋‍♀️