This marks the first back-post of the ABC Challenge. I have been following it since it started, but was too lazy to get a blog started when it meant work and getting my sadly broken computer functioning again so I could edit the photos. I've decided to go in reverse order so we're staring with 'G' is for Grain.
I did the typical thing where I thought I had looots of stamps connected to my subject and this will be great. Wrong. I had three stamps to use. Clearly I've been spending too much time dreaming about owning nail plates I haven't purchased yet.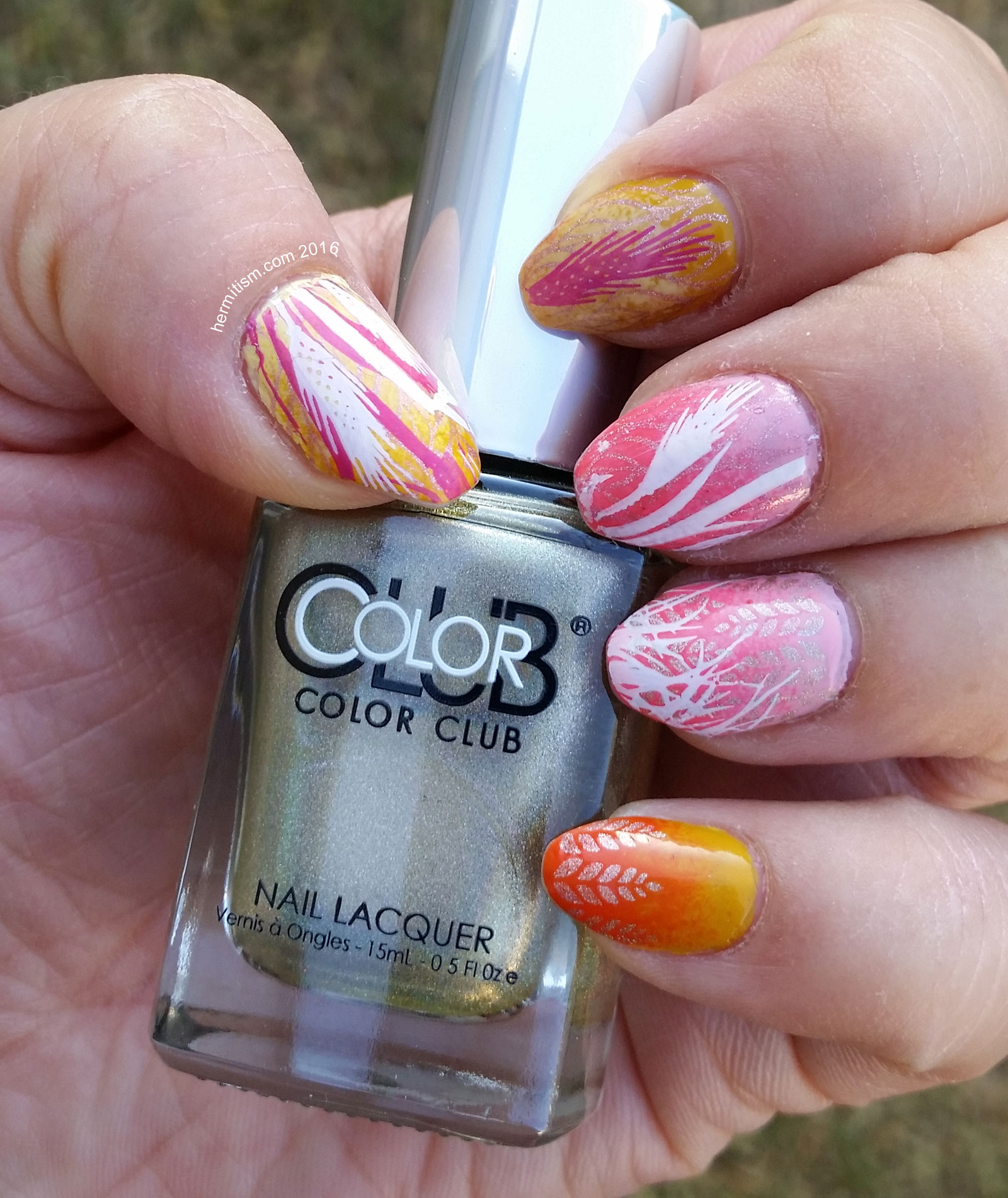 After a decent amount of time sulking over my not-large-enough collection of metal, I painted down my base colors and gradients and began overlapping my stamps as best I could. I used the linear holographic polishes from Color Club to create texture and the finer-printed Ejibaus grain stamp created my focal point in the stronger pink and white. I figured I had to because the line styles of the different stamps didn't match very well. The Born Pretty and MASH plates are very icon-like and the Ejibaus and Bundle Monster plates had a much more organic feel. This is not my favorite manicure, but it was an excuse to use my new mustard yellow polish and I combined it with the pink as a secondary personal challenge.

Nail Polish: Sinful Colors' "Daisy Daze", Butter London's "East End", Walmart's pink, Sinful Colors' Neon Collection 2015 "Bright B4 Ur Eyes"
Stamping Polish: Sinful Colors' "Snow Me White", Color Club's "Kismet", Color Club's "Miss Bliss", Revlon Parfumerie "African Tea Rose"
Nail Plates: Born Pretty's BP-L003, Ejibaus' EJB-02, Bundle Monster's Secret Garden – BM-706, MASH-44
As a side note, not all of Revlon's Parfumerie polishes have a very strong scent, but "African Tea Rose" does and it is very sweet. I both love and hate it for that because sometimes it's too strong and cloying for me. When I first noticed the collection in the store, I mocked it because I thought it was silly to want to smell your polish when everyone else is talking about using a well-ventilated area. It is silly, but I found I rather like that I can sniff my nails throughout the day so I bought the whole collection. These polishes have been discontinued so I only see them in places like Big Lots and Amazon anymore, but that's not such a big loss. The scents don't last very long in a lot of them and at least half have terrible, streaky formulas and are not fun to work with.