I've been trying to find the right design to use for this gorgeous orange holographic polish (Shinespark Polish's "Poppy Topaz") and somehow it kept not happening for me. I thought for sure I'd get to it in October, but it didn't fit any of the Halloween designs I wanted most to paint. Then I thought I'd manage it in November, but I hardly posted any nail art that month.
So I'm using it now, in April, even though it's such a rich shade I would not have thought to use it for spring. Turns out that, while I feel like I should apologize to the nail art community for my lack of season-appropriate colors, I'm just in love with having it on my nails.
I apparently really like to pair orange with things flying in the sky as proven by last year's kite nail art.
Products Used
Base Polishes:

Shinespark Polish's "Poppy Topaz" and Sinful Colors' "Rorange"

Stamping Polishes:

Born Pretty's "Orange Autumn" (press sample), Color Club's "Cosmic Fate", and Mundu de Unas' "Geranium"

Stamping Plates:
I'm calling the hot air balloon a double stamping, but in reality it's a triple stamp. I tried using the "Poppy Topaz" as a stamping polish, but it wasn't opaque enough so I ended up having to go back with an orange Color Club polish, "Cosmic Fate", instead. I really should use more of my Color Club holos for delicious holographic stamping.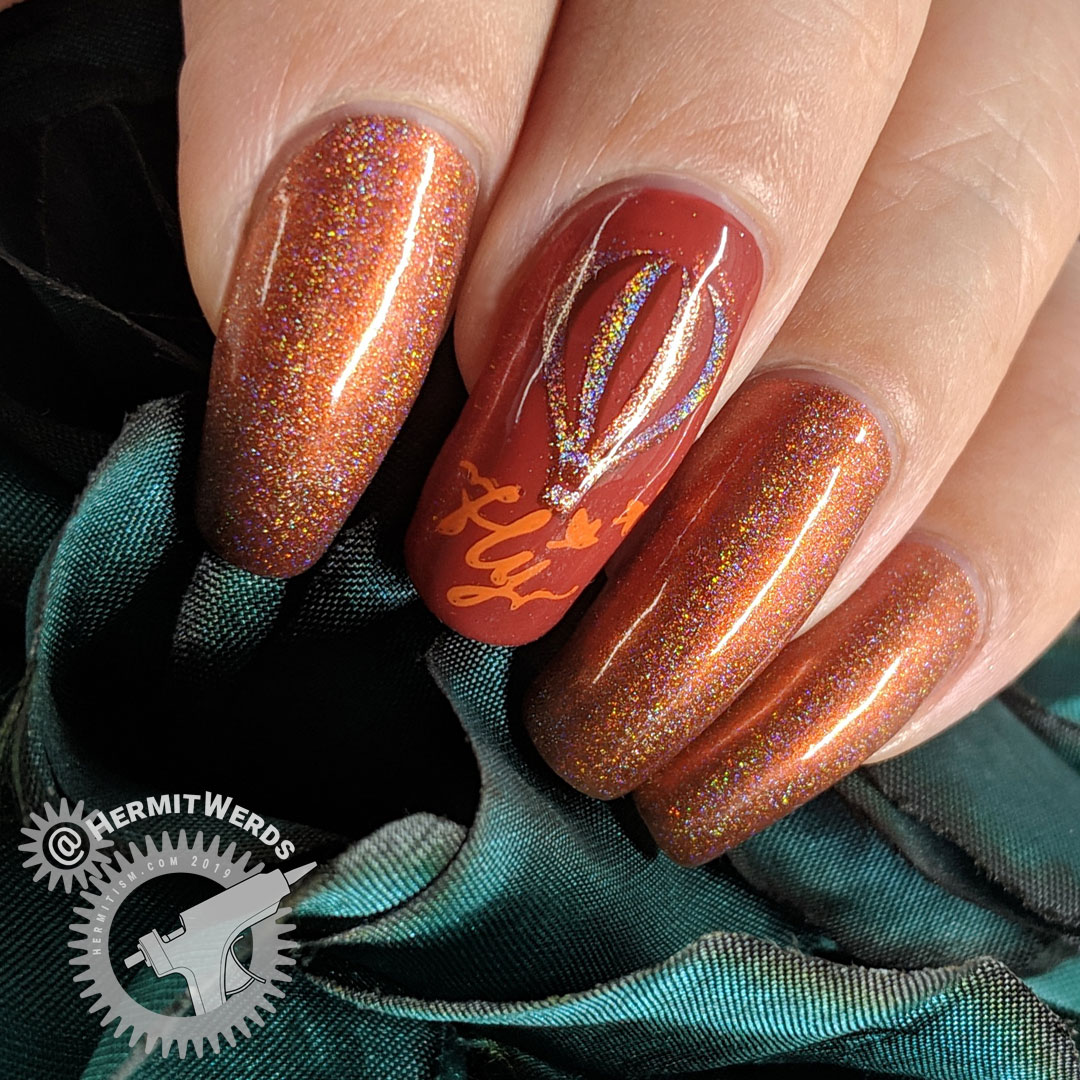 Nail Challenges
This nail art combo was brought to you by #FireDazedApril2019's Hot Air Balloon and #ColoursWithinWomen's Orange (plus the limitation of only having design elements on one nail). Check out the collage below to see a lot of gorgeous orange nail art.