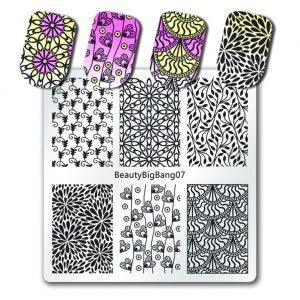 Today I am reviewing a stamping plate Maggie from Beauty BigBang sent me: BeautyBigBang07. Beauty BigBang currently has five different floral-themed stamping plates, but this was one was my favorite because I liked the heart-shaped pattern I used today and I looove the kind of sunburst-y art deco pattern in the plates lower right corner.
The quality of the stamping plate is equal to the stamping plates I reviewed last year. They do not come with a plastic backing, but there are no sharp edges to worry about. The etchings are of good quality; however, my nails are really long right now and the full nail pattern just baaarely fit on my thumbnail at 2.5cm long. I really don't want my nails longer since it makes it hard to type so I do not consider this a downside, but size is a limitation depending on your nail goals.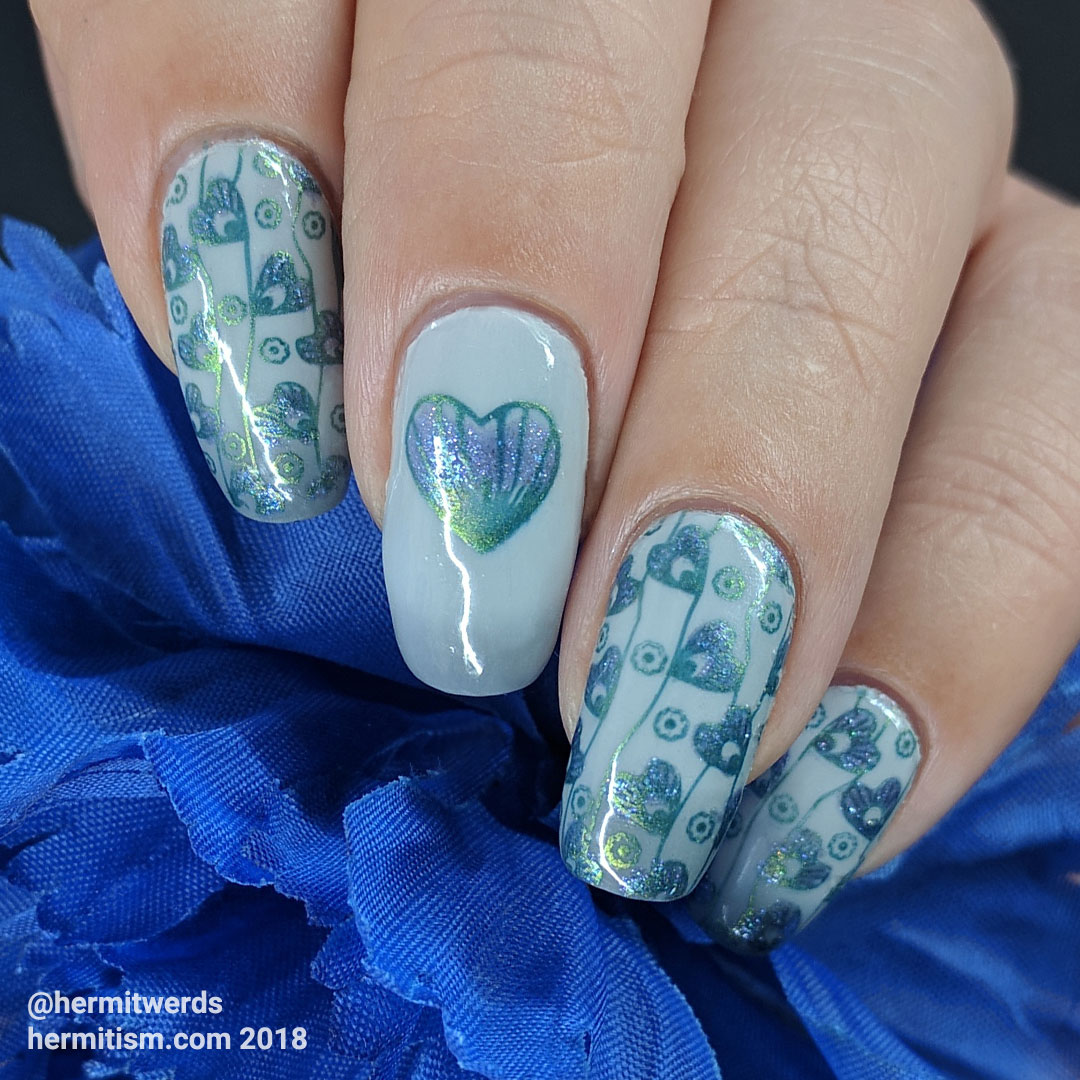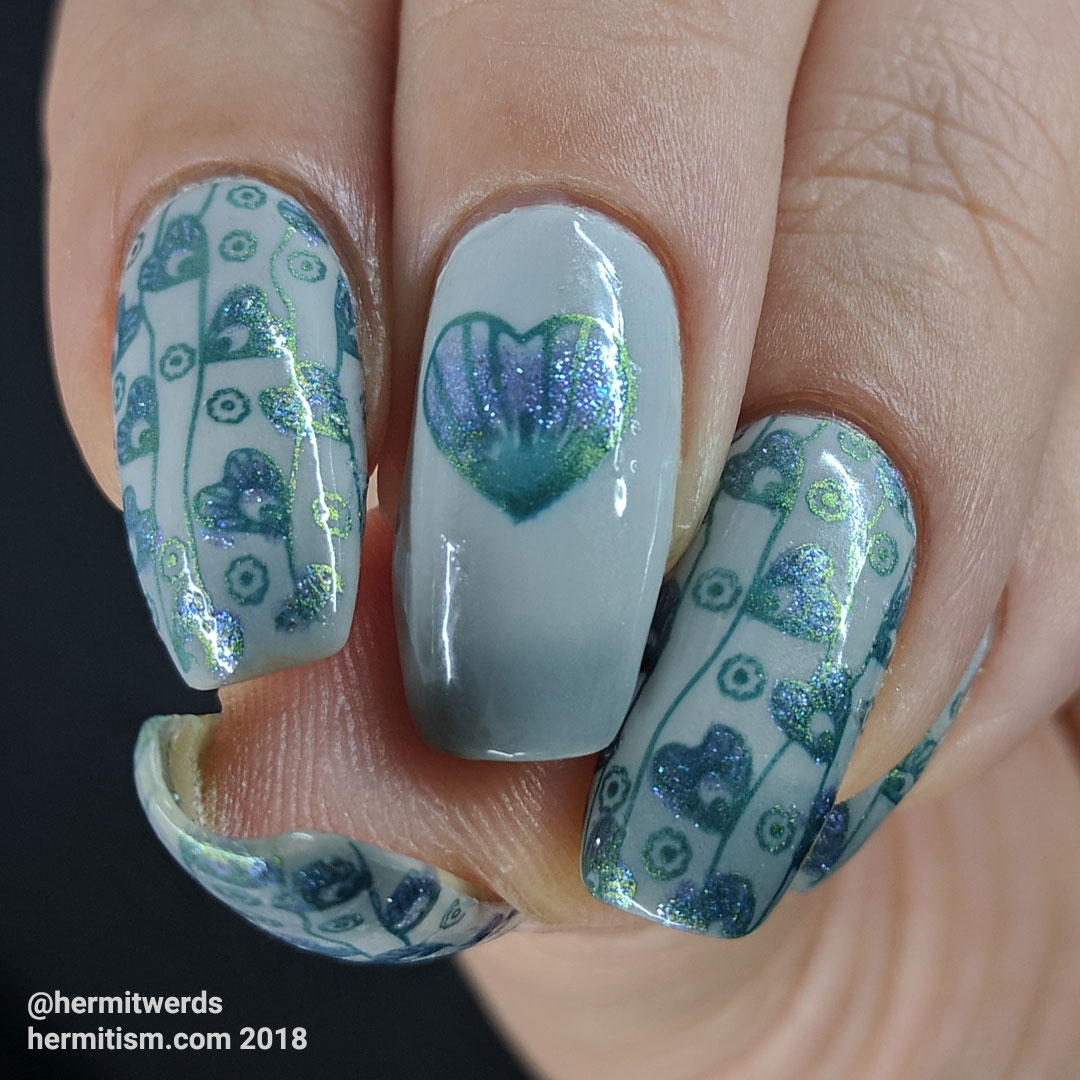 Since this stamping plate only comes with full nail patterns I had to search through my collection to find a heart that complemented the pattern. I found a match on one of my big acrylic circle stamping plates. Then I filled in the decals with a sheer and glittery blue polish that really complemented the blue/green chameleon stamping polish I used and I was done. My goal of putting together a totally heart-filled nail art that didn't feel super girly or Valentine-y was achieved. Granted, if I had had this last month I would have used a different color scheme and it would have so fit that other bill. It's possibly just in how I think, but I feel like this is the most versatile of their floral plates because I can think of lots of ways to use each pattern.
I think that's important when you're buying things or even when they're being sent to you for free to review. And maybe that should be my standard now. Can I think of at least three ways I can use every new nail thing that I get? And am I excited about those things?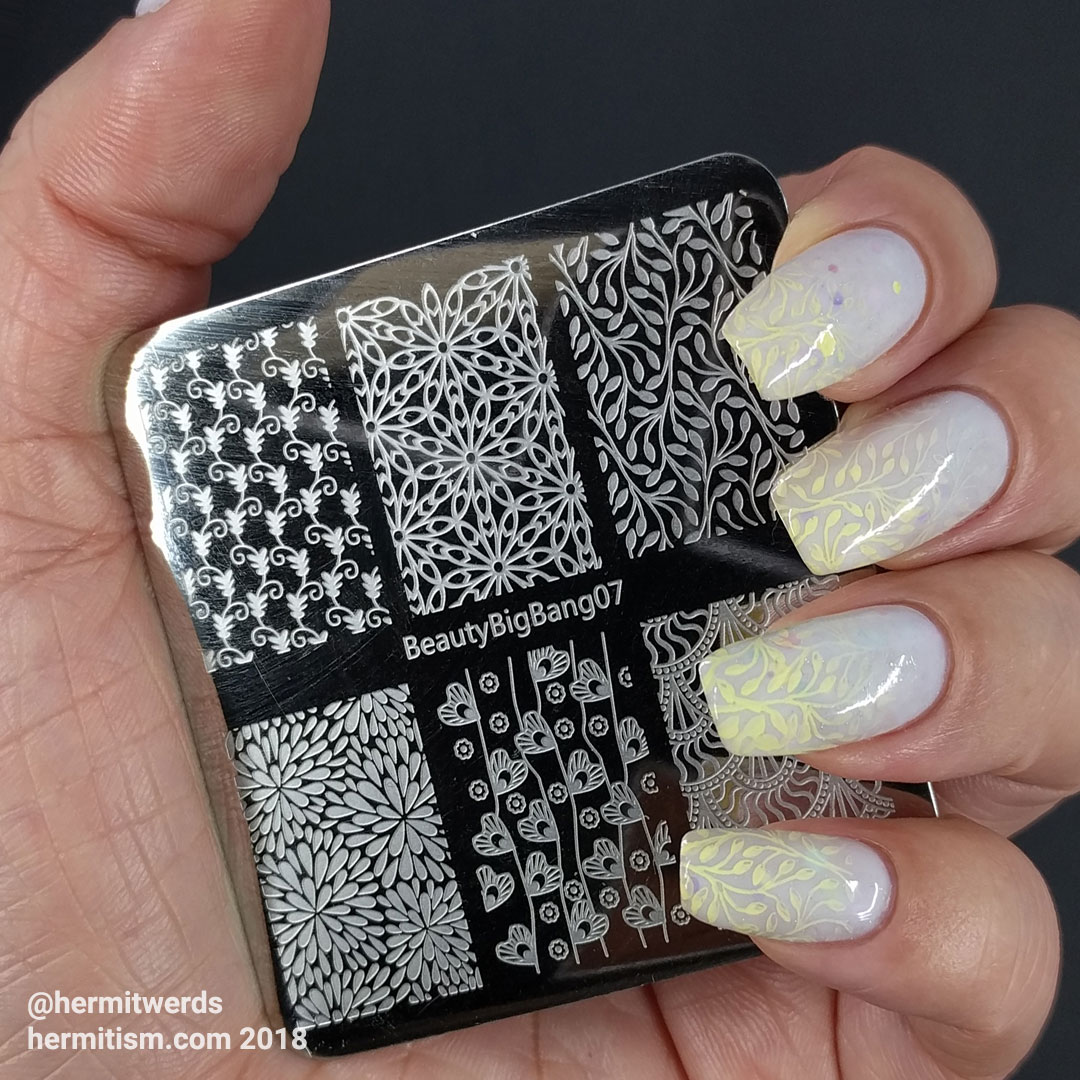 What's this? Did I just use this stamping plate in another nail art. Yep! And this is just a sneak peak. I will be posting about this one later tonight. I wanted more texture in the design and this stamping plate was already sitting on my desk. This sort of thing may happen more than I want to admit. Anyway, I used the leaf design in a gradient. The trick to the gradient is that I wanted it to fade out so it's a gradient stamp with half clear polish. I won't lie, it took a few tries on some nails to get a satisfactory amount of gradient-ing. Fun! :D
If you're interested in buying this stamping plate at Beauty BigBang, be sure to use my discount code, hermi, for 10% off your order.
Finally, since this is the first time I've used this thermal polish, I thought I'd include a swatch photo of it as well. This is not a product sold by Beauty BigBang and I purchased it with my own money. However, Beauty BigBang does have some cool thermals that I'd like to try out. ;)