One of my friends has a hedgehog and he brought her in to work (that's actually a picture of her below). She was adorable. During our regular morning meeting, she ran around the table from person to person and gave hedgehog love (because he wouldn't let her disappear up his sleeve). I can now say that I have been washed by a hedgehog. I wish I could bring my cat to work too, but it would make her very unhappy. (People usually know they are allergic to cats and complain whereas hedgehogs…not many people know if they are allergic. Also: more containable.) Designers of nail stamping plates looove cats. There are lots and lots of choices out there. Hedgehogs, however, can be found as well (I have three in my nail plate collection) and I've been meaning to dedicate a set of nails to them for a while now. Goal achieved.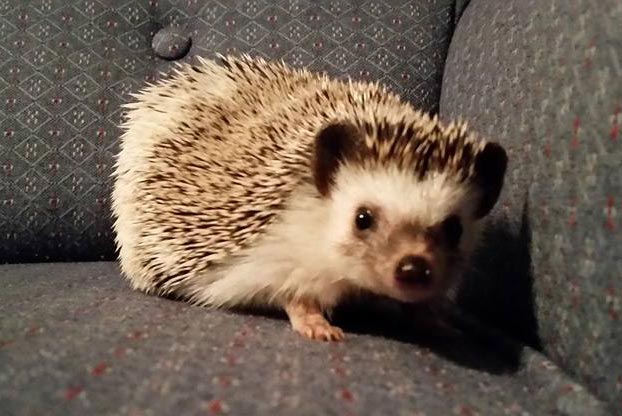 My order of A-series plates arrived and one of them has a fantastic swirl pattern. It inspired me to add woodsy fairy tale in a shadow box style to the hedgehog theme. I started with sponging on a white to blue gradient and layered "Pool Party" on top to give it shimmer. I left it like that for two days because I was tired and it was really pretty. (Should have taken a picture of it. Sorry.) I will probably use this combo again, although dries very slowly and has a tendency to dent.
Today I used nail polish remover to smooth down the damage from the previous two days and re-applied some gradient and the "Pool Party". Normally I do both hands at the same time so I can be done faster. I decided to try something new and do all my nail stamping on my right hand to be sure my plan would work out. I'm glad I did because I ended up wanting to change the order of stamping on my thumb and added grass. I am still debating on whether or not I should have used a lighter brown, but I am really happy with how this turned out. I may have to be a day late for the 26 Great Nail Art Ideas challenge just so I can enjoy this longer. I liked last week's nail art so much that I left it on for a week so this is not without precedence.
(In case you were wondering: The hedgehog is blue because my friend is also a big fan of Sonic the Hedgehog.)