To my surprise, I really haven't painted that much snake nail art for the blog. Then I realized I had two snake-y Witches of S designs drawn out and they hadn't been painted yet. In my head, though, I've added them to my count and so I've done sooo many. LOL Sadly, not the case and I really only like the cobra design anymore out of the done and dusted bunch. But now I looove this one. And not just because it glows in the dark and has a hidden message, but also because it's a little bit black magic too.
(Also this doubles for Halloween and St. Patrick's Day nail art, so… 🐦🐦🤘)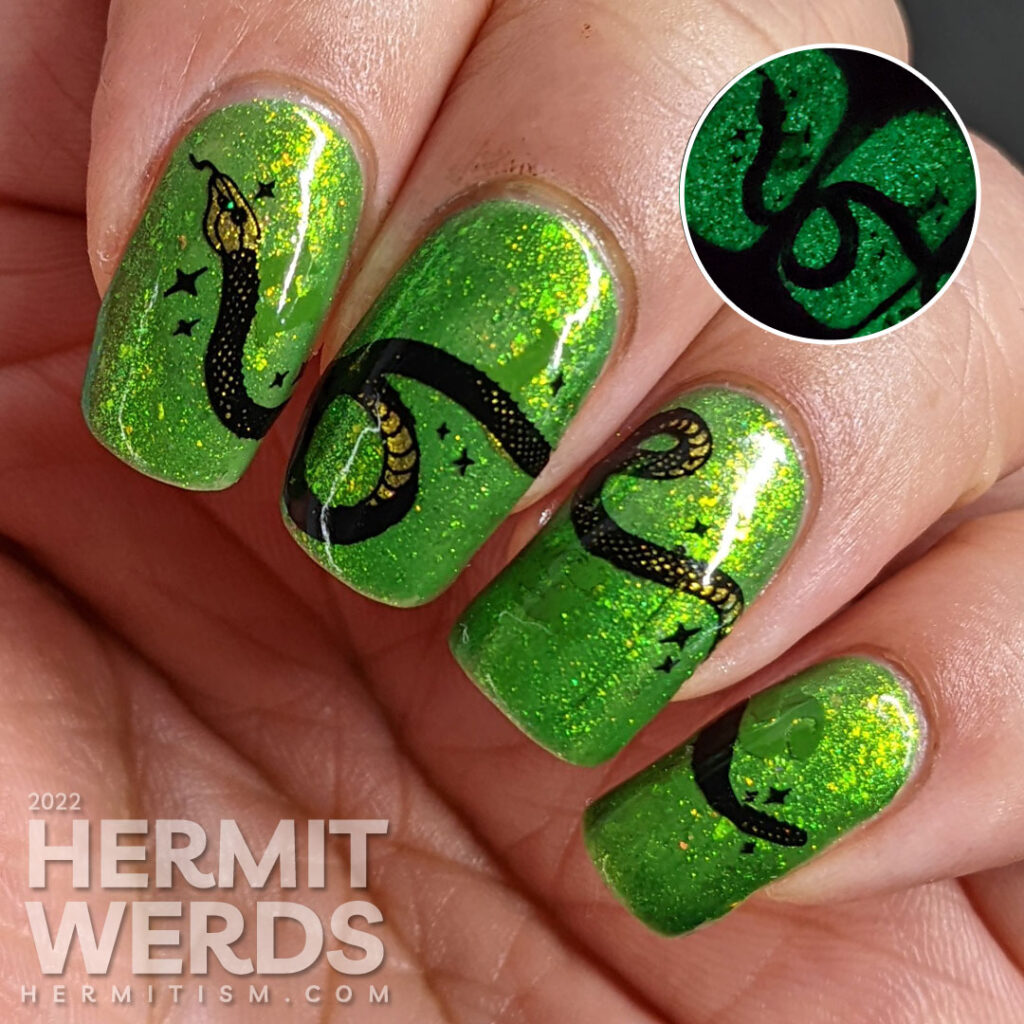 Two-headed snake, yes! They actually happen in nature sometimes, but in this case it's pure magic.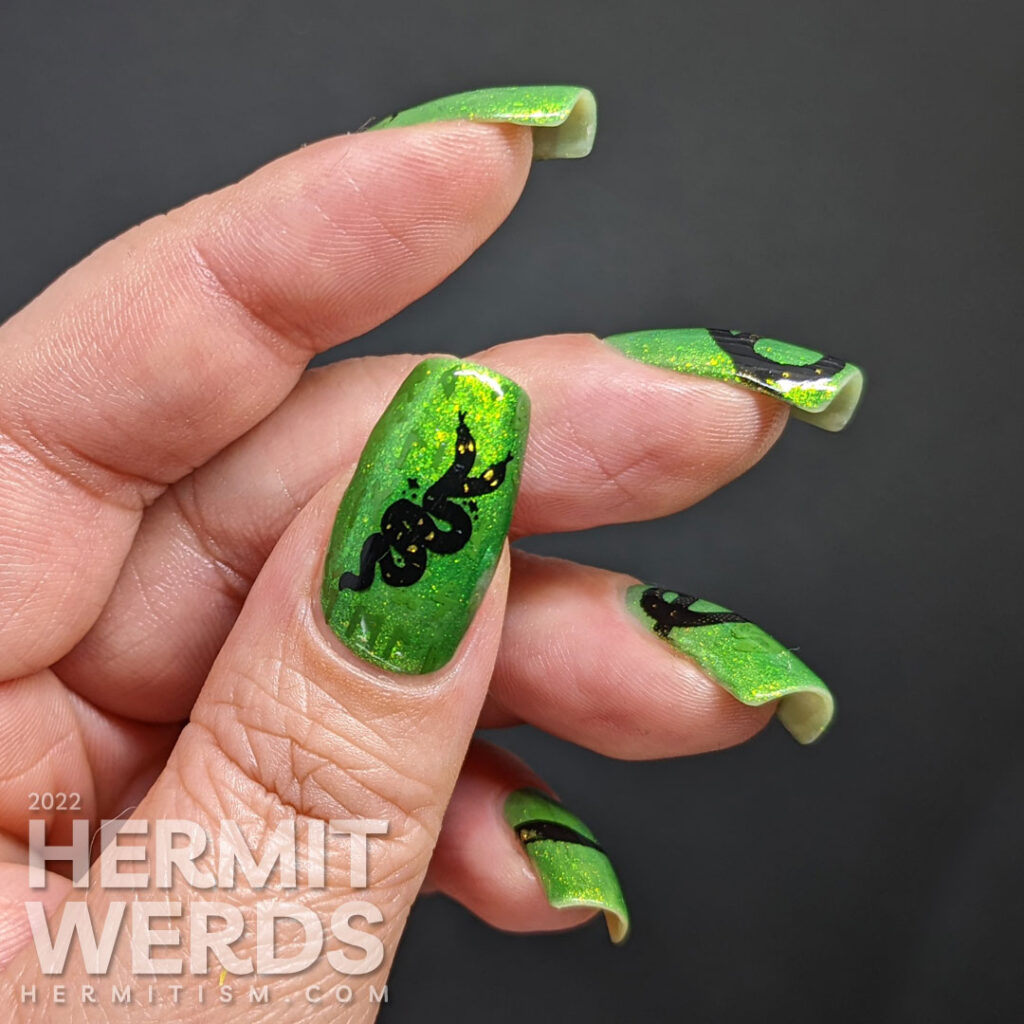 Nail art products used
Base Polish:

Red Eyed Lacquer's "Underwater Meow"

Stamping Polishes:

KADS' "38 Yellow Green" and UberChic's "Pure Black"

Advanced Stamping Polish:

Maniology's "Lost Gold"

Stamping Plates:

Dixie "Typography" ("HISS" letters) + Maniology "BM-XL403" (runes on thumb), "M151" (double-headed snake), and "MXM061"(long snake)
Items in italics are debuting on the blog for the first time.
The snake on M151 is so long that I actually left one of its loops out so I could still have the tip of the tail on my pinkie. That's pretty impressive considering how wide my nails are. It's been a while since I painted a mani with a reverse decal stretched across all four nails. You might think that Woodland Bike Ride counts, but, like a lot of my nail art, I created the appearance of a continuous scene with how I placed and manipulated the stamping decals. I had to dig back quite far (December 28, 2018) to find a stamping decal that stretched across three nails. And four nails hasn't happened since March 9, 2018.
I took even more liberties with this one since the twists of the snake's body allowed me to swoop it dramatically across my first two nails before tailing off.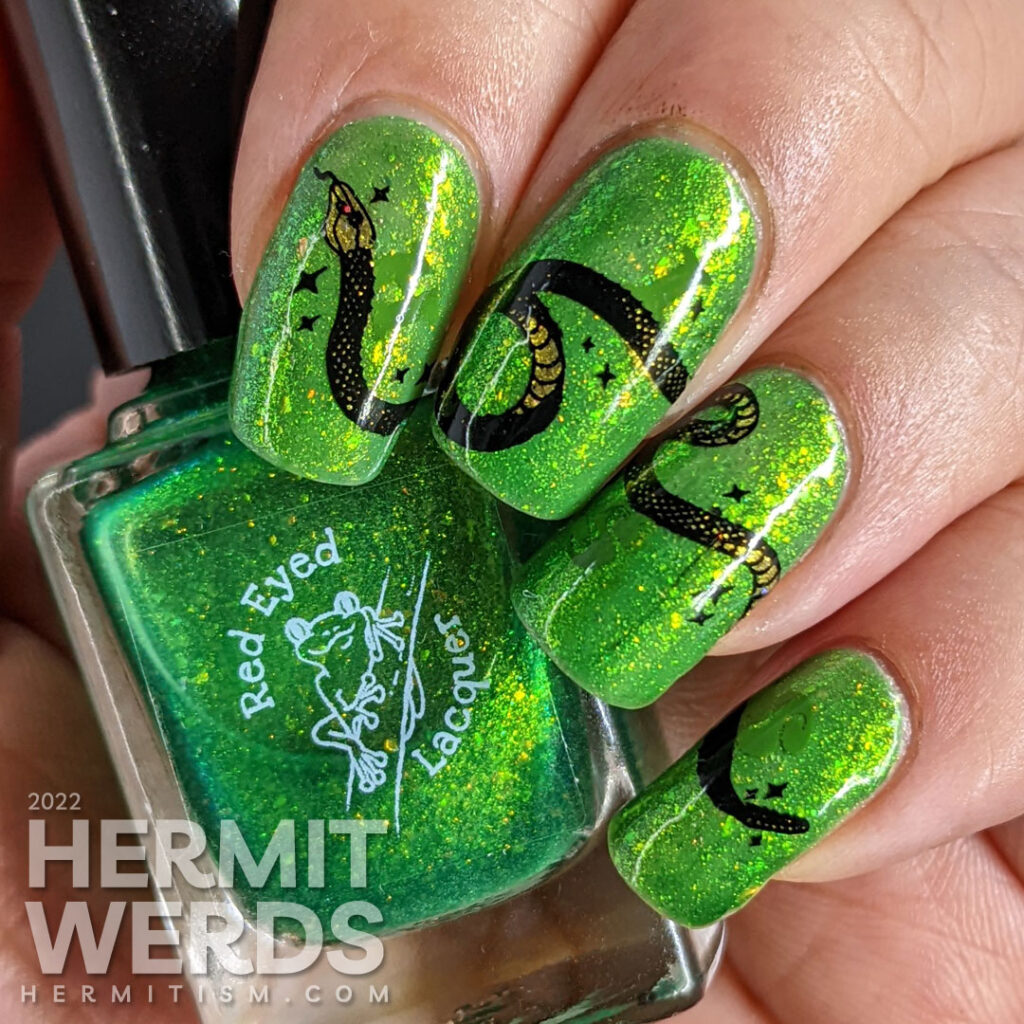 #HalloweenForeverCollab – Snakes in Black/Green/Gold
Boy did I get lucky this time. I lost track of time and before I knew it the generous deadline had passed and I nearly missed being in the collage. Luckily our beloved hosts @viperlovr and @delis_nails were running a bit late as well so I got in. And then I finished painting my thumb. 🤣 We have an absolutely gorgeous lineup of nail art this time. Lots of snakes, but definitely some gorgons/Medusa as well. Check out the group tag! Sadly, I don't know what the next prompt is yet since I'm posting this fairly early.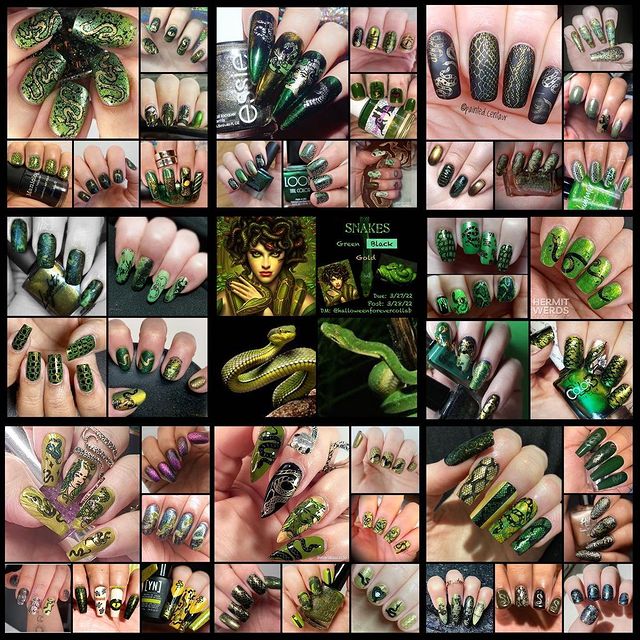 More snake nail art photos
This image feels a bit repetitive, but it's still useful as a comparison between the glow in the dark and regular light view. Can you see the "secret" message? I hope you speak parseltongue! 😉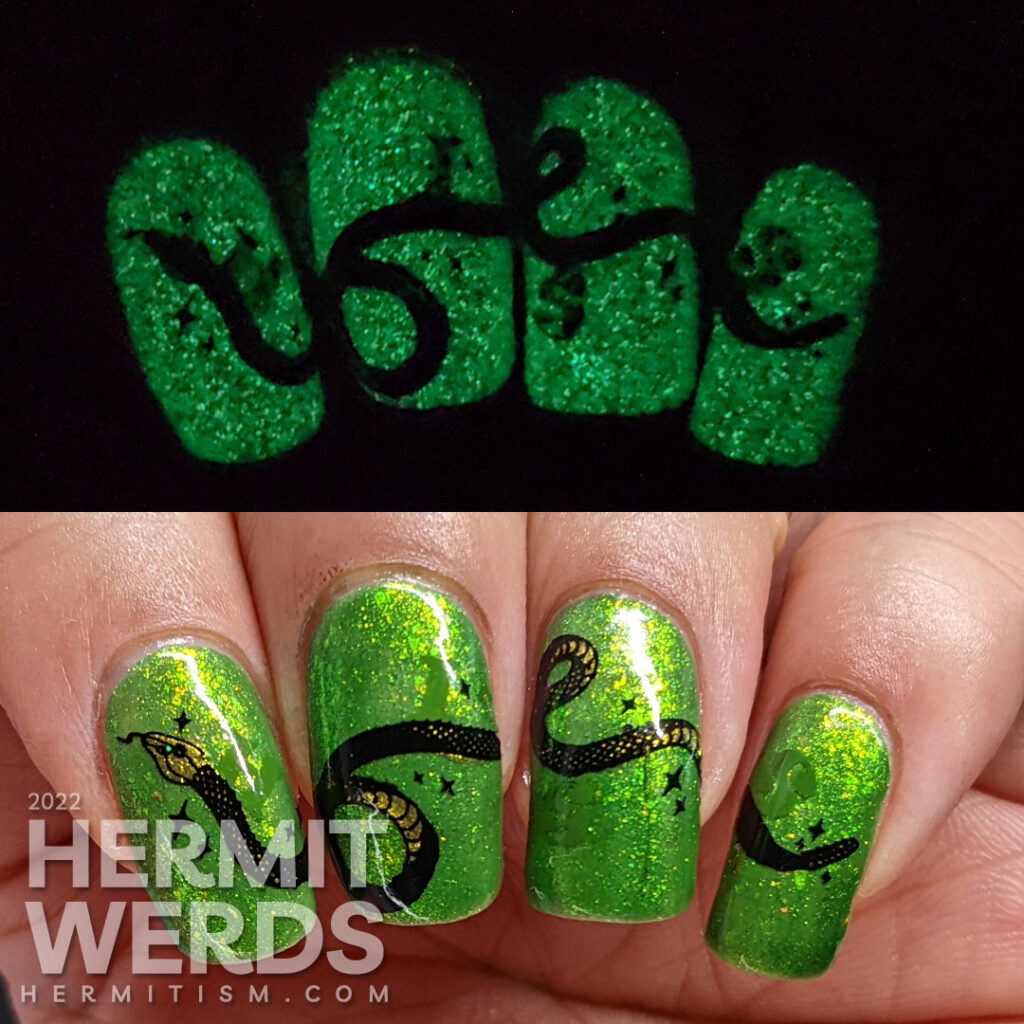 I should note that the Red Eye Lacquer really didn't have much umph to its glow. This is already a little less bright compared to the photo taken above. I charged my nails directly with a UV light before photographing and it didn't take long before the amount of light the polish was throwing out was half as bright as you see below.
That lower light level is what I saw on my nails last night. I'm pretty sure it's mostly that there is less glow in the dark powder in the polish, which does make it easier to apply. It didn't feel gritty at all and my experience with using gitd powder has taught me that grittiness is the tradeoff every maker has to make if they want as strong of a glow as possible. Either way I was still able to take fairly decent pictures so there's still a payoff for me, but it's something to be careful of when you buy. (*pst* Never buy Sinful Colors' gitd polishes. They suck.)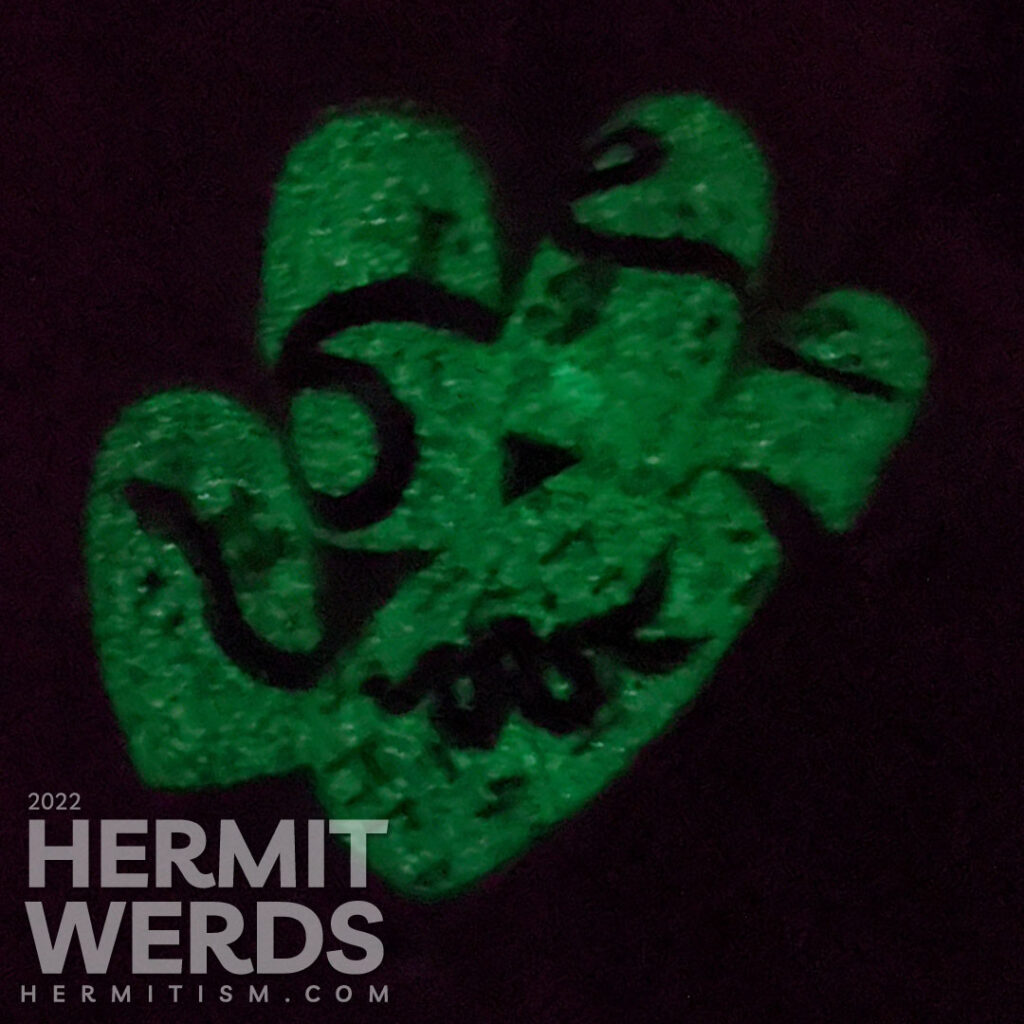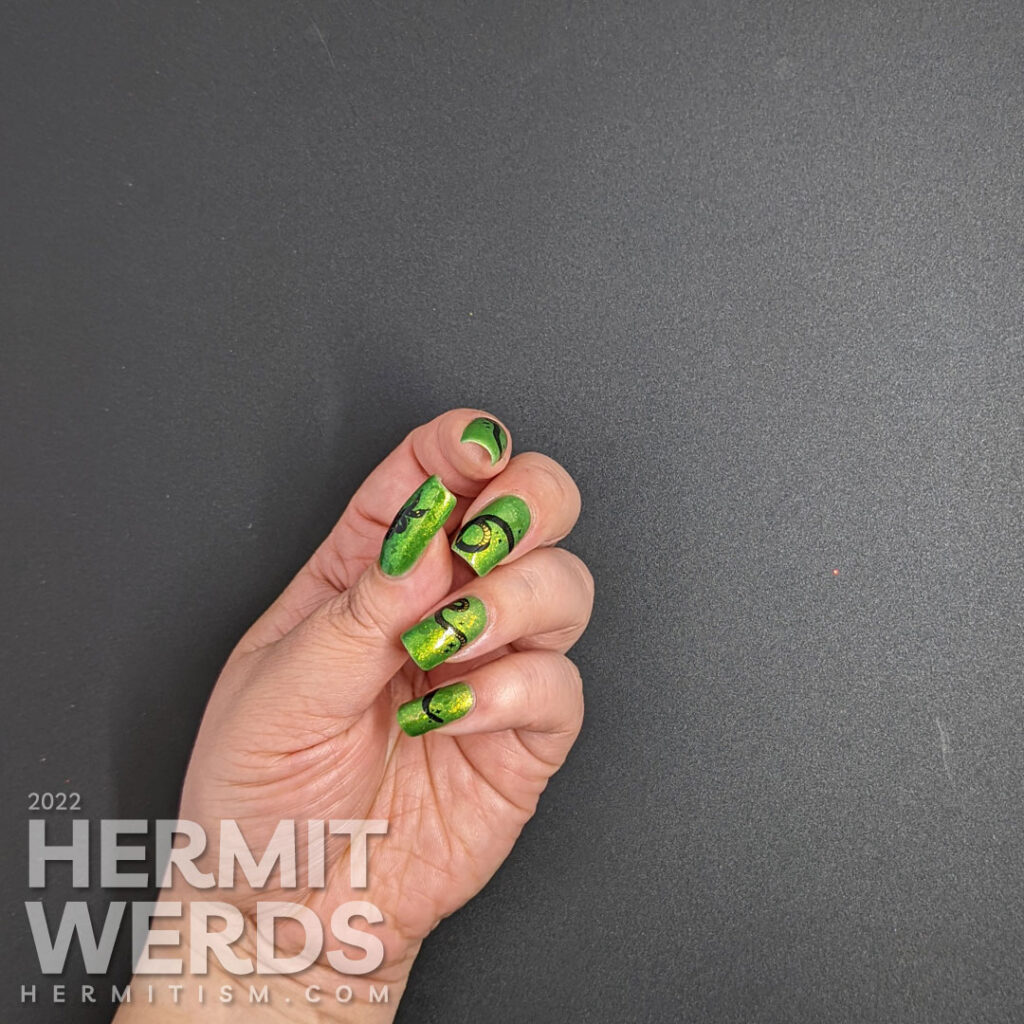 Until next time, friends! 🙋‍♀️