It has been a while since my last post and I'm happy to say that it wasn't more dark days preventing me from posting but selling my home, buying a home, and moving to another state (see also replacing my phone on short notice, unpacking my Too Much, and fixing up my new home). I also have some weird mental block when it comes to posting about what's going on outside of what ya'll visit the site for (nail art or crafting). So this is why you get a few brief sentences after a long absence before I jump into some ridiculous Tree Rex ugly Christmas sweater nail art.
tldr: I suck and holiday dinosaurs make up for that. Somehow.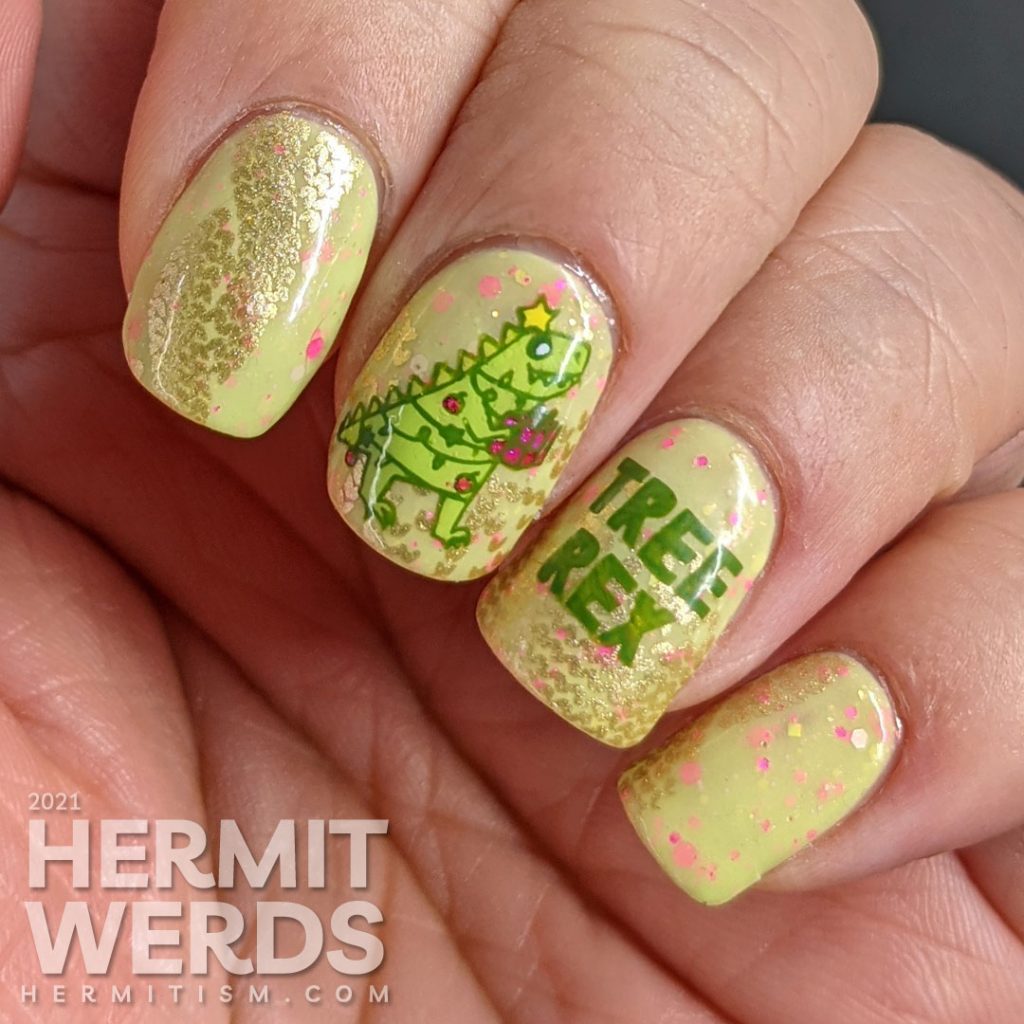 Underneath all that dinosaur goodness we have a lovely green crelly (Paradox Polish's "Matcha Tea & Sakura Sweets") I picked for the sole purpose of meeting an Instagram swatch green polishes once a week thing that I'm using to get through some untried greens. Because of course even though I was busy breaking my nails instead of painting them I was still buying. My usage goals died a very solid death and I buried them in the old yard so its ghost can haunt someone else. 👻
Really the neon pink glitters against the light matcha green already hit my pink/green love-it button. But then the yellow and gold glitters that you don't notice at first added just that little bit more of depth and into my cart it went. Polish Pickup is such a bad influence.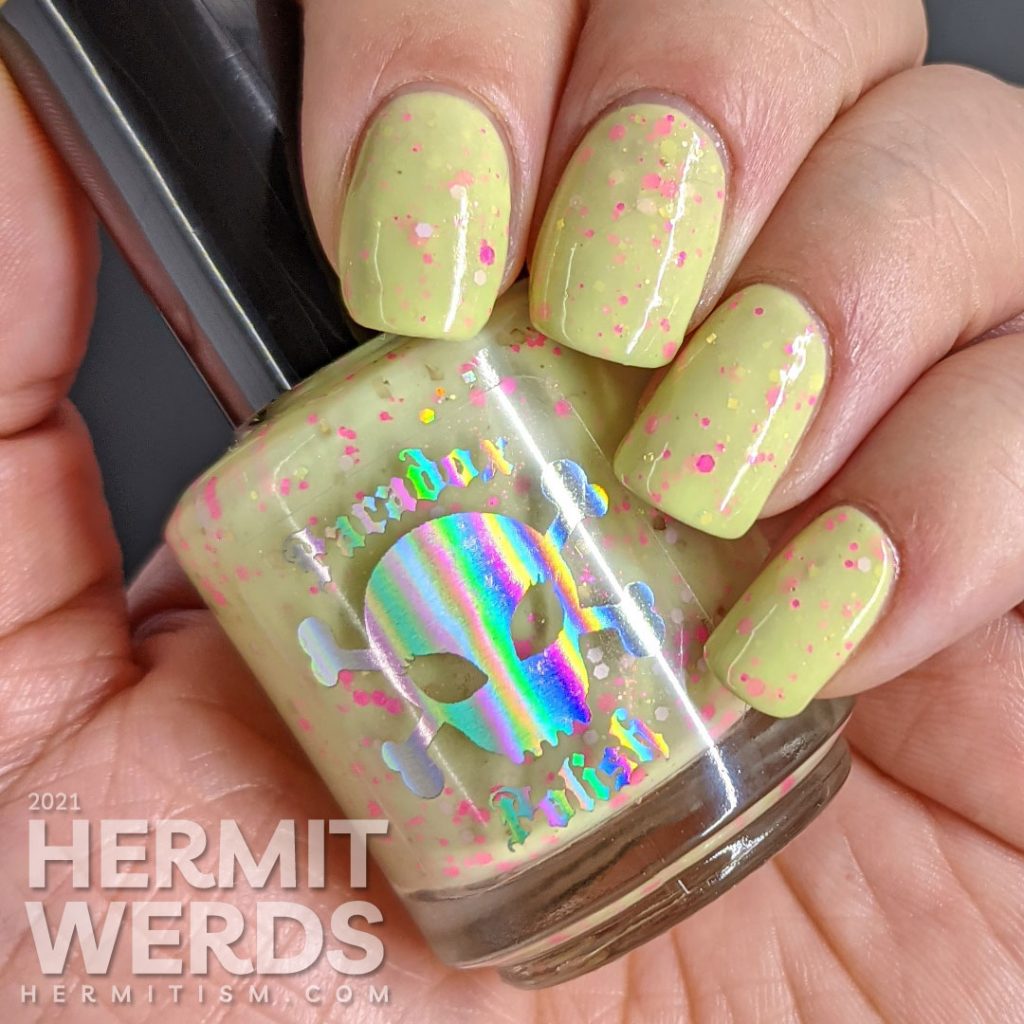 Nail Art Products Used
Base Polish:

Paradox Polish's "Matcha Tea & Sakura Sweets"

Stamping Polishes:

KADS' "38 Yellow Green" and Maniology's "Gold Rush"

Advanced Stamping Polishes:

Plus other colors made by mixing these polishes…Maniology's "Gold Rush"; OPI's "Christmas Gone Plaid" and "I Just Can't Cope-Acabana"; Sally Hansen's "Green With Envy"; Sephora's Formula X "Jolt"; and Sinful Colors' "Snow Me White"

Stamping Plates:

Moyou London "Fall In Love Collection – 08" (sweater knit patterns) and "Noel Collection – 10" (tree rex and dinosaurs wearing sweaters)
While I noticed that UberChic Beauty just released a new Christmas stamping plate with its own layered stamping Tree Rex pun, I'm fairly certain Moyou London came out with the original on their Noel 10 stamping plate. I remember seeing it too late to snag one and feeling so happy when I found it on a (official) reseller site too late to use it for Christmas last year. It's actually available on their US website right now (although I have never purchased from that site because the UK one carries a larger variety of their stamping plates and I want all the options when I'm throwing away my money 😂).
I did aim to be rather gaudy with the crelly + sweater print stamping. I just felt like going ugly Christmas sweater instead of Christmas sweater. It's more fun that way, which is why the former is a tradition people talk about and the latter is generally unremarked upon outside of a few compliments (which you will get for the ugly sweater anyway if you have the right friends). I guess what I'm saying is…go bold or go home.
Love this pattern…huge beef about how they centered it because not one of those dinosaurs is whole. Like…I get that sticking things in rectangles is so nice looking, but rough-edged patterns actually give more options on how to use something. I like being able to steal little bits of patterns and use them in other ways! 😭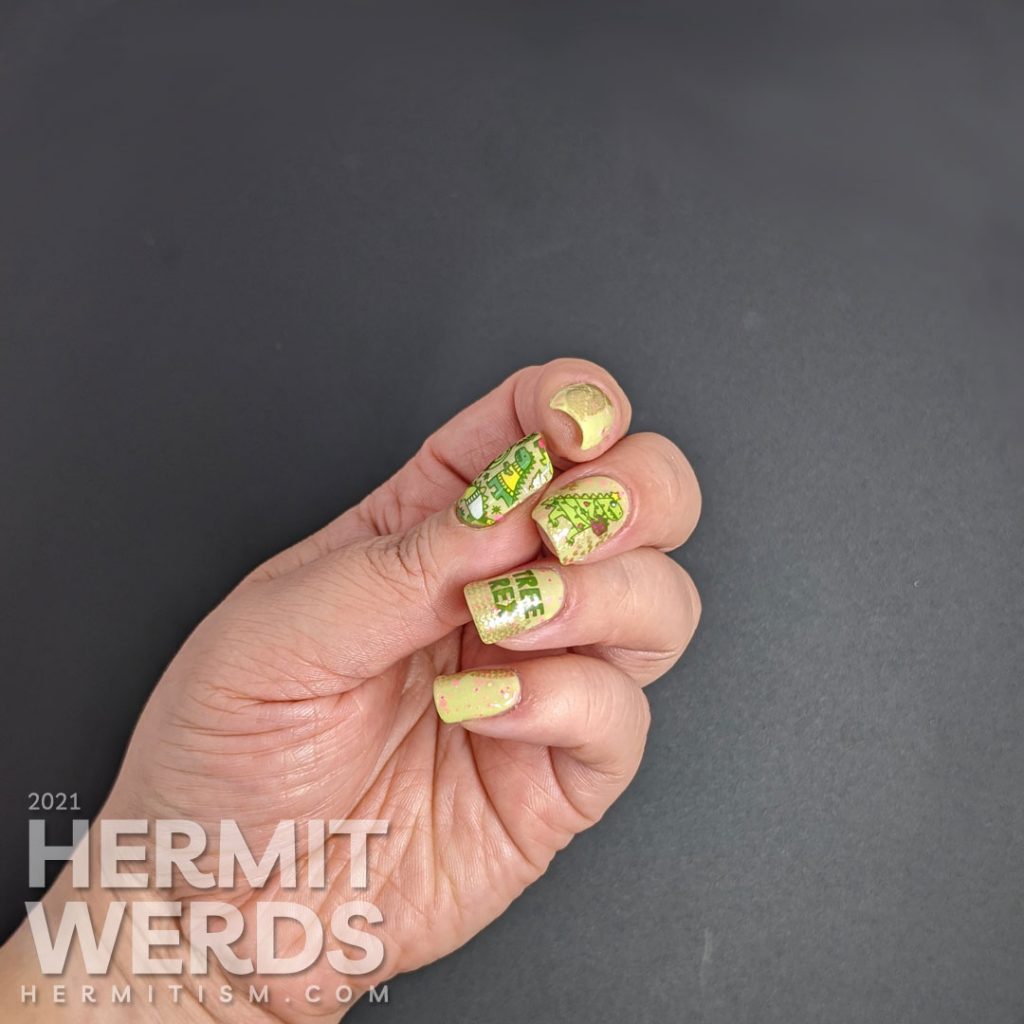 Well, that's enough chatter for now. I hope you have had a great couple of months and I'll hopefully be posting again soon. Until next time, friends! 🙋‍♀️