It's funny how the French are associated with cooking that takes many specialized cooking utensils and techniques and also the simplest and most delicious of foods. (Mind you, I am aware that making your own croissants would take a lot of work. So many layers…) I definitely can recommend all of the food pictured here unless you mistake a table and chair for food. Solid pass there. Zero stars.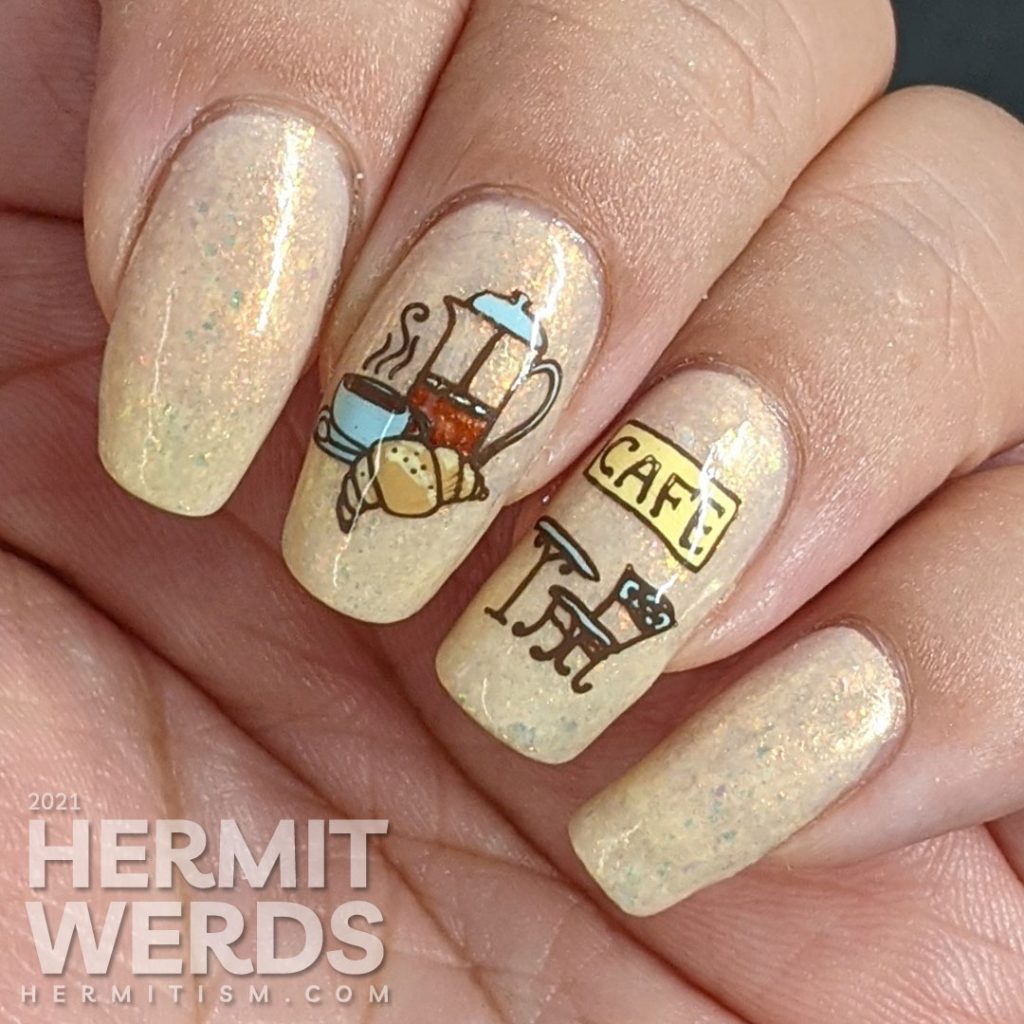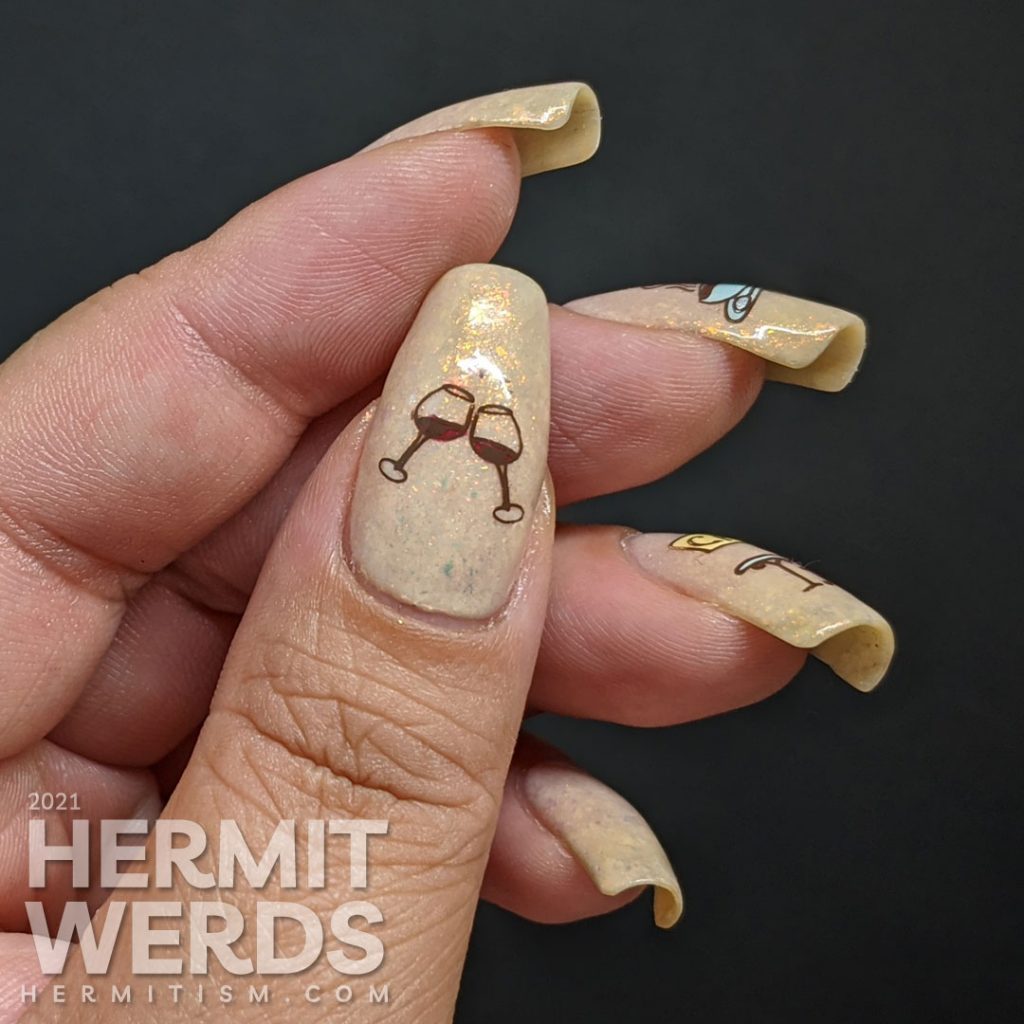 Somehow the first two photos ended up being my glossy shots and everything from now on will be matte. Flakie-stuffed crellies look so, so pretty matte.
AZ Nail Art Challenge – 'F' is for French
It was really hard to figure out something to paint for French without doing a French nail tip or using some sort of interpretation of their flag or the Eiffel Tower. So I resorted to a subject that I always love to visit: food! And I had the perfect pair of stamping plates from Lantern & Wren for it. It has a kind of loose drawing style that looks so chic if you pair it with the right colors, which also feels very French. So, this wasn't my favorite subject, but I loved my results.
Up next: 'G' is for Gothic, which I definitely can get behind.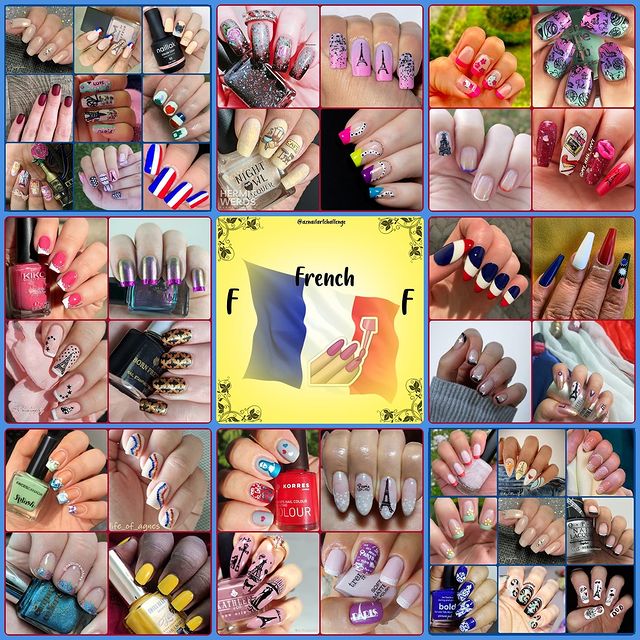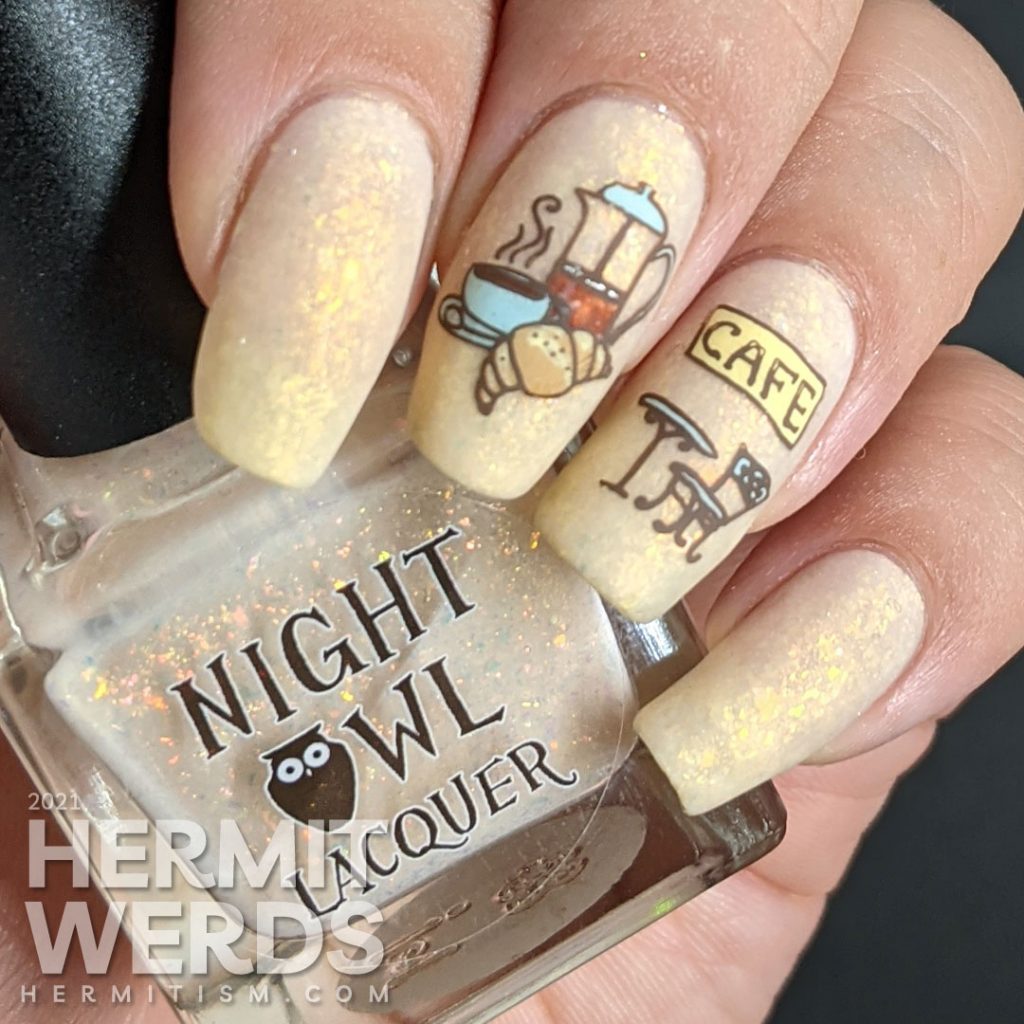 Nail art products used
Base Polish:

Night Owl Lacquer's "Rainbow Bite"

Stamping Polish:

Maniology's "Cocoa"

Advanced Stamping Polishes:

Esmaltes de Kelly's "Coffee Jelly"; Essie's "Blossom Dandy" and "No Place Like Chrome"; KADS' "Cloud Dancer" and "Raspberry Wine"; Maniology's "Latte"; and Zoya's "Bee"

Stamping Plates:

Lantern & Wren "Iconic Epicurean Delights" ("Cafe", table and chair, croissant, tea and saucer) and "Iconic Foodie" (french press and wine glasses)
With such a lovely cream-colored background, I opted for a very light palette with the darkest color being my stamping polish: Maniology's "Cocoa". It is not even my darkest brown, which suited my purposes perfectly.
And now an image dump. I did not include a macro of my thumbnail since it ended up being a little too plain. Maybe I should have added a cheese platter like I'd been contemplating. 🤤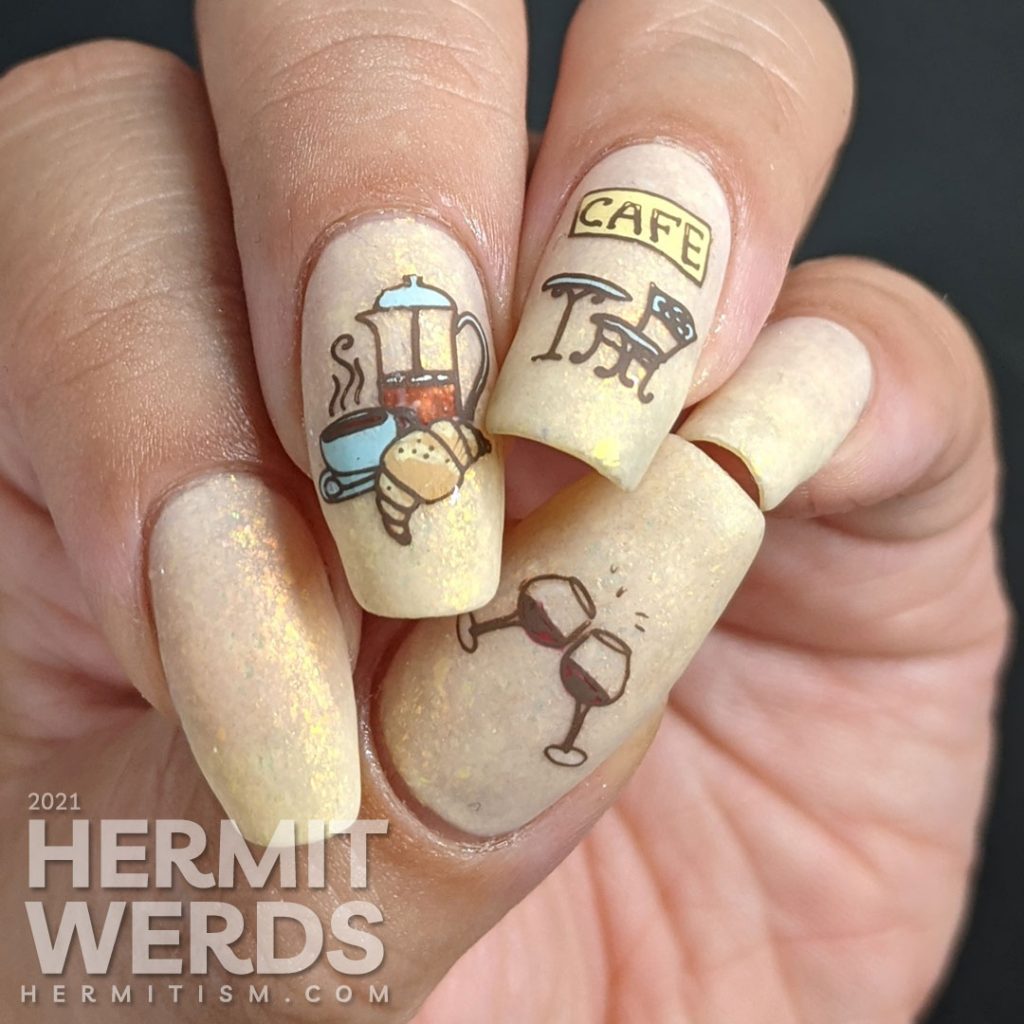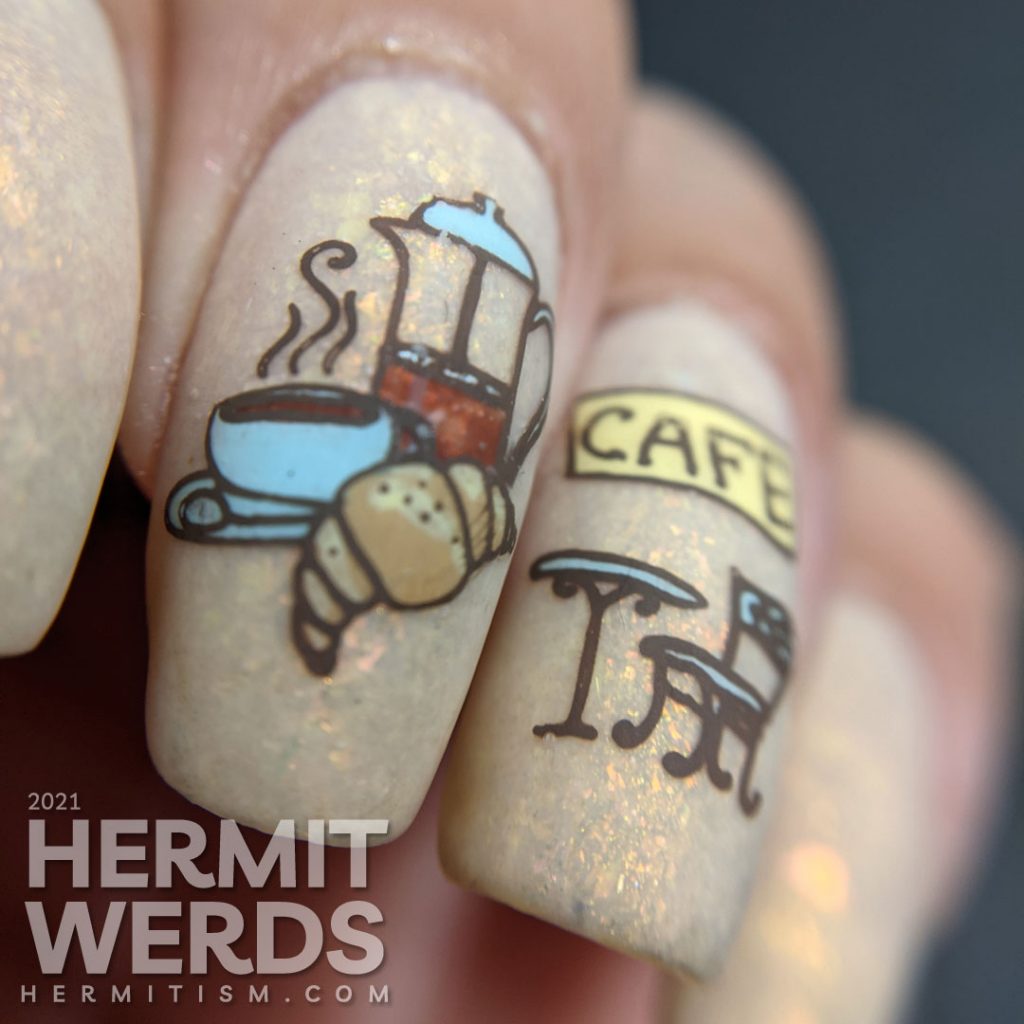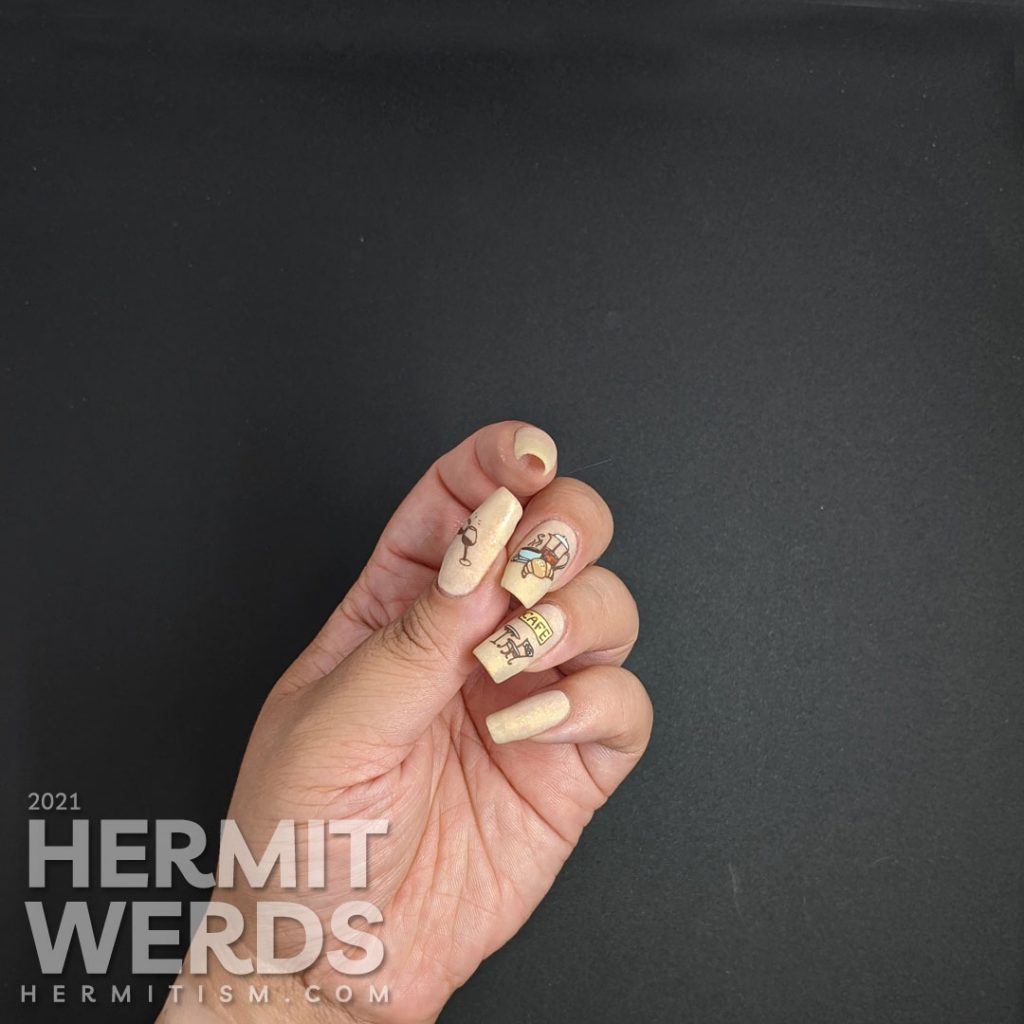 Until next time, friends! 🙋‍♀️ Hope I didn't make you too hungry!