Today's look feels very simple to me and yet it's not. It has a negative space stamp and a reverse stamping decal of starfish, but then it also has baby boomer French tips with a glittery solar polish on top. And on my thumb I have another reverse stamping decal of starfish that I had to cut up because my thumb is too big and drop a few extra starfish in the gap.
So, no, not simple. And yet it still feels that way. Maybe because it really only has starfish and nothing else on it? 🤷‍♀️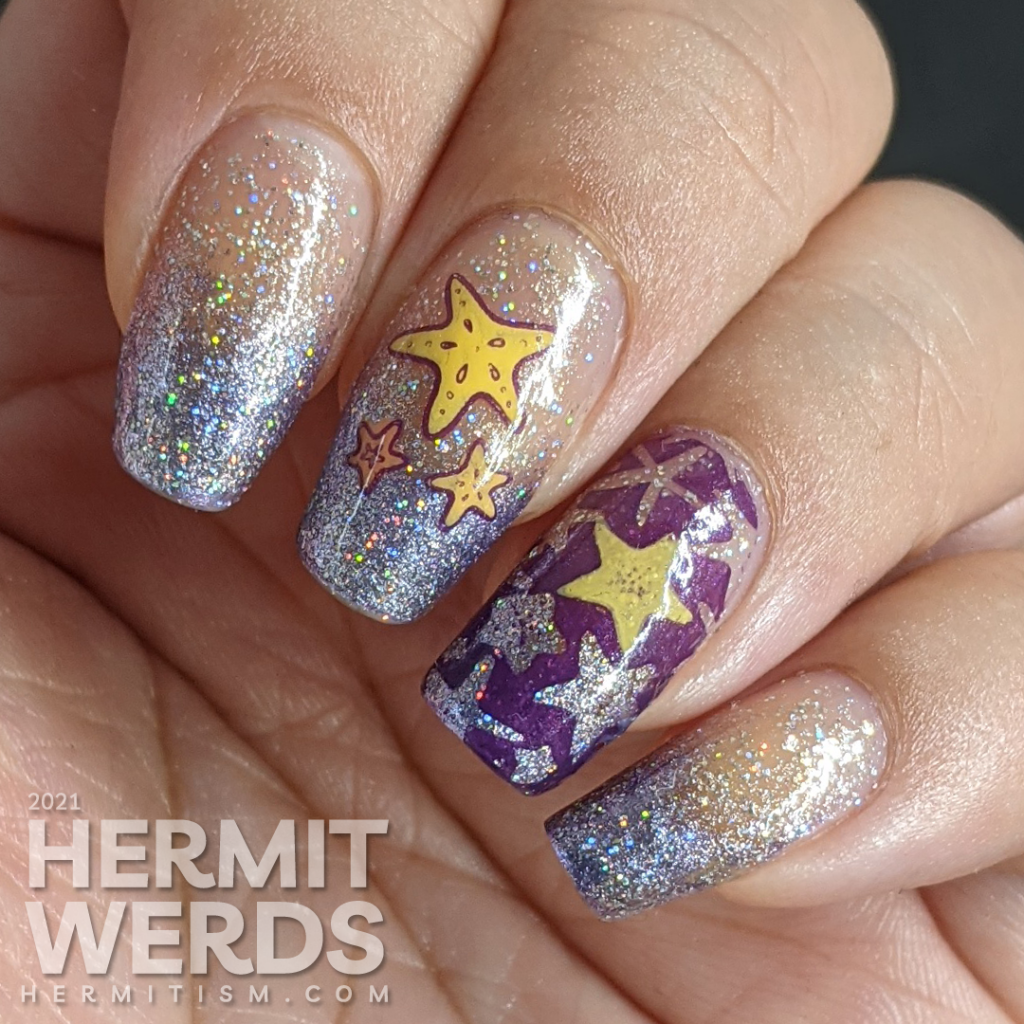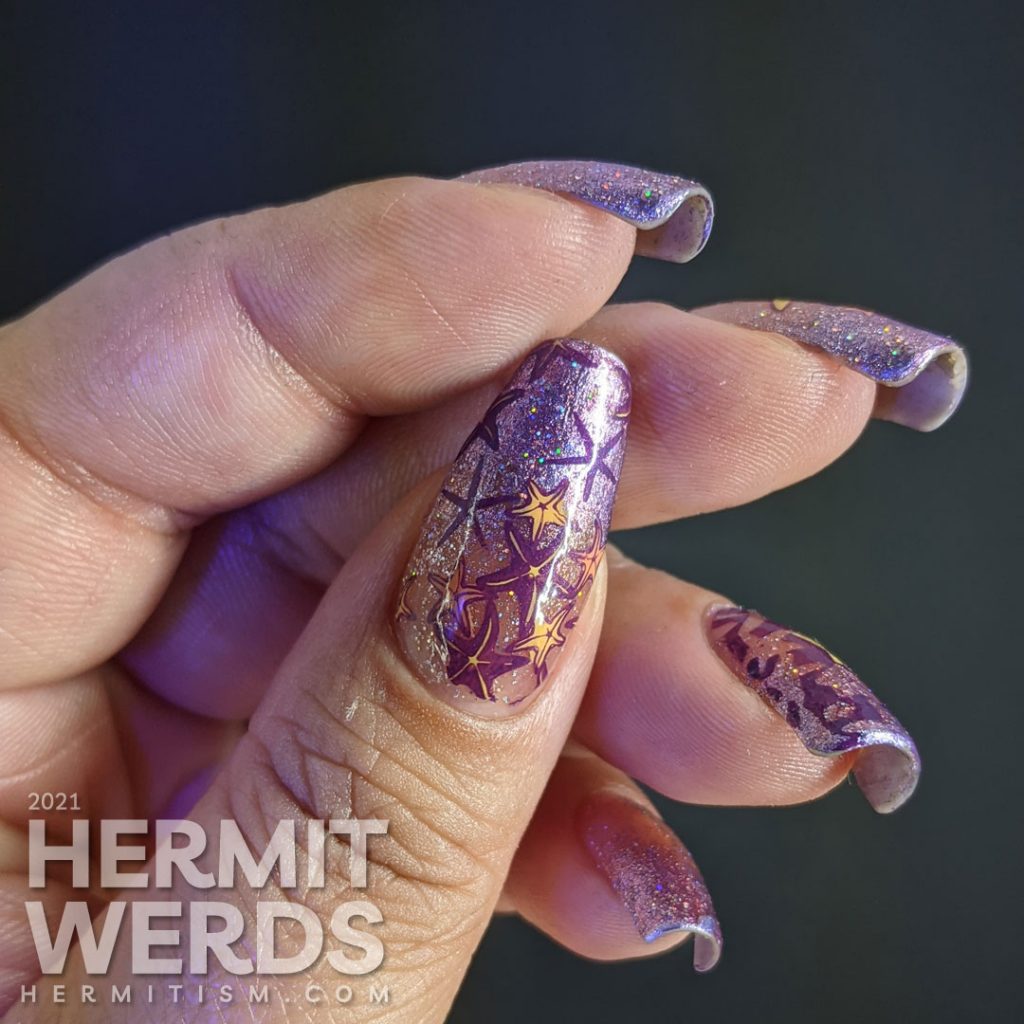 Check out that solar polish effect. It's pretty neat even though I don't really get to see it because it's hot outside and we are hiding from the sun most of the time. Long ago I picked up some Just Add Sun (a solar polish brand) polishes , but only because they were in the bargain bin at my local grocery store. And then they just sat around not getting used for a very long time. So…yeah. Solar polishes are mostly wasted on me.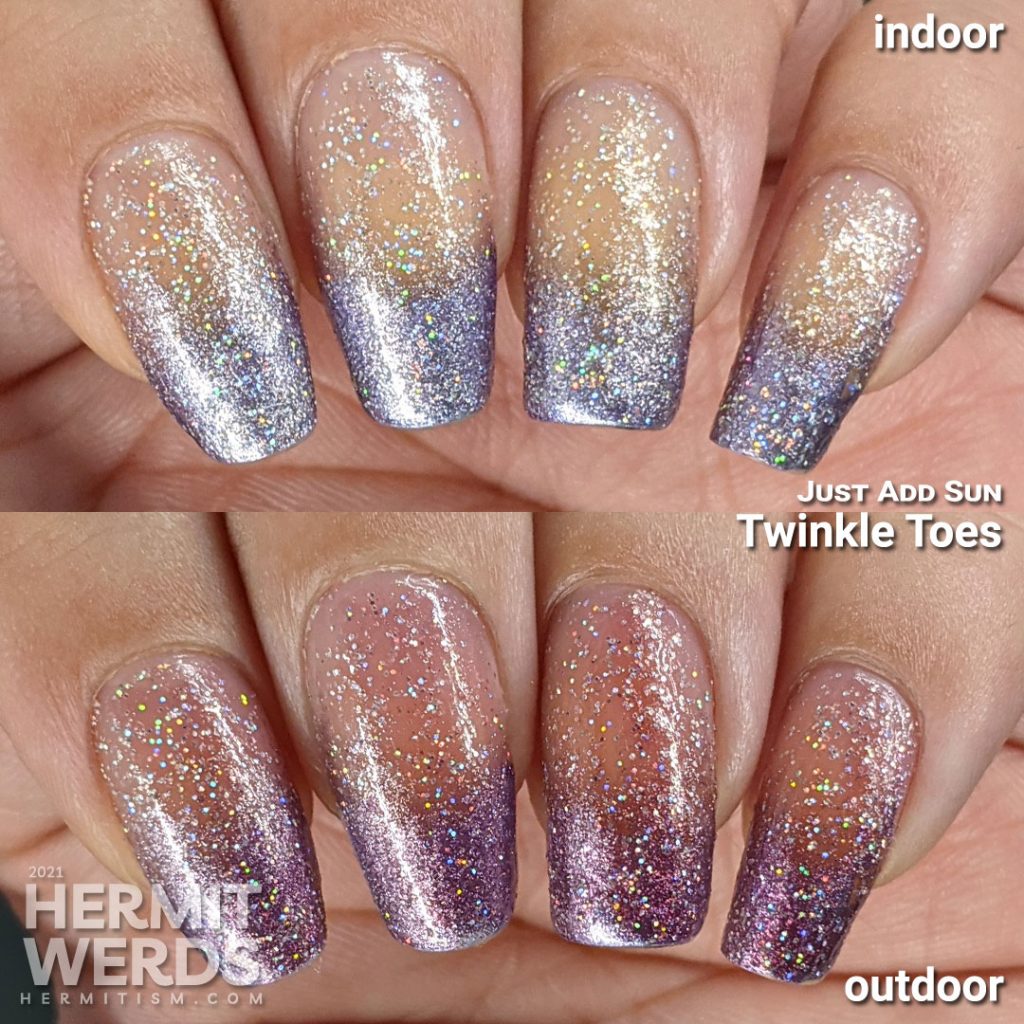 Nail art products used
Base Polishes:

Just Add Sun's "Twinkle Toes" and KADS' "27 Brilliant Purple"

Stamping Polish:

Maniology's "Shattered"

Advanced Stamping Polishes:

OPI's "Never a Dulles Moment" mixed with Pure Ice's "Can't Stop"

Stamping Plates:
There is a huge disadvantage to using a stamping polish on the tips of your nails because they tend to wear off fairly quickly. Since I didn't take my photographs right away like I should, I found myself repainting the tips several times. Still, KADS made a lovely light purple metallic…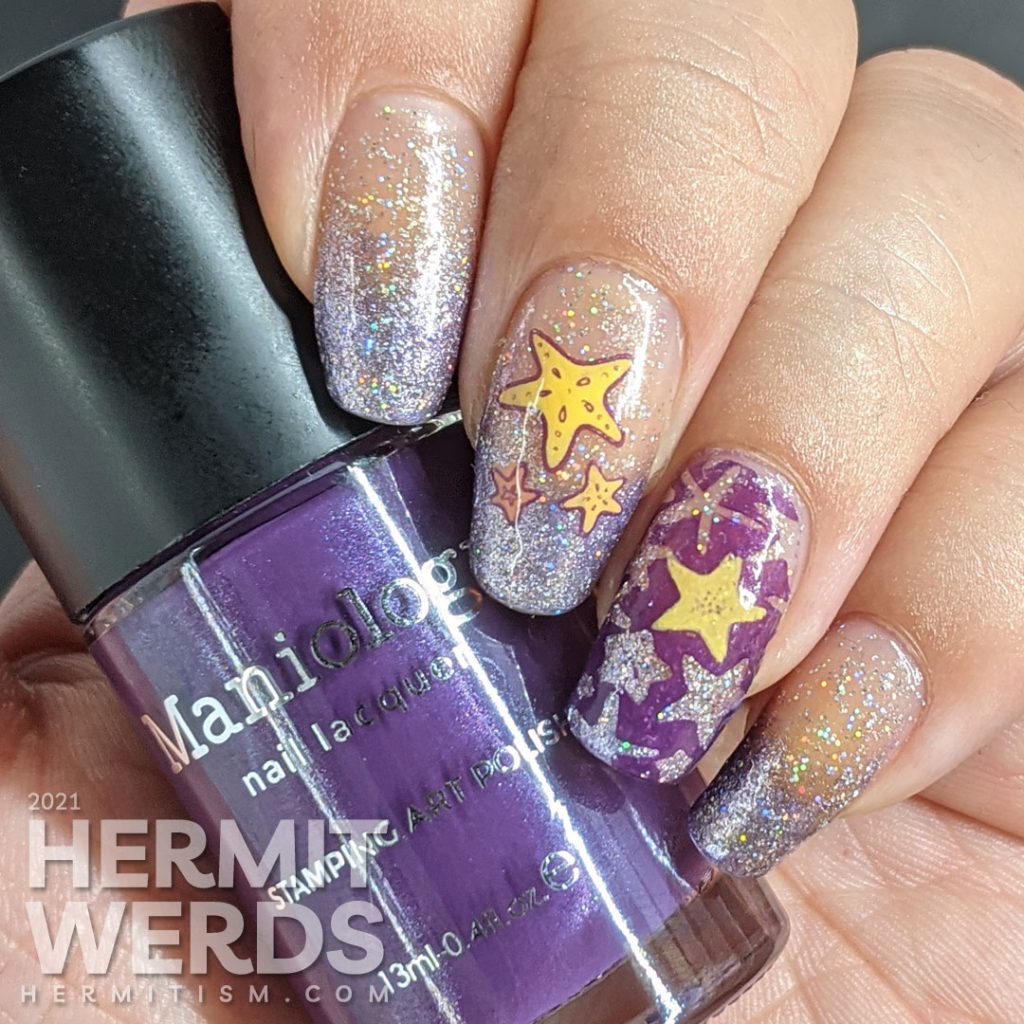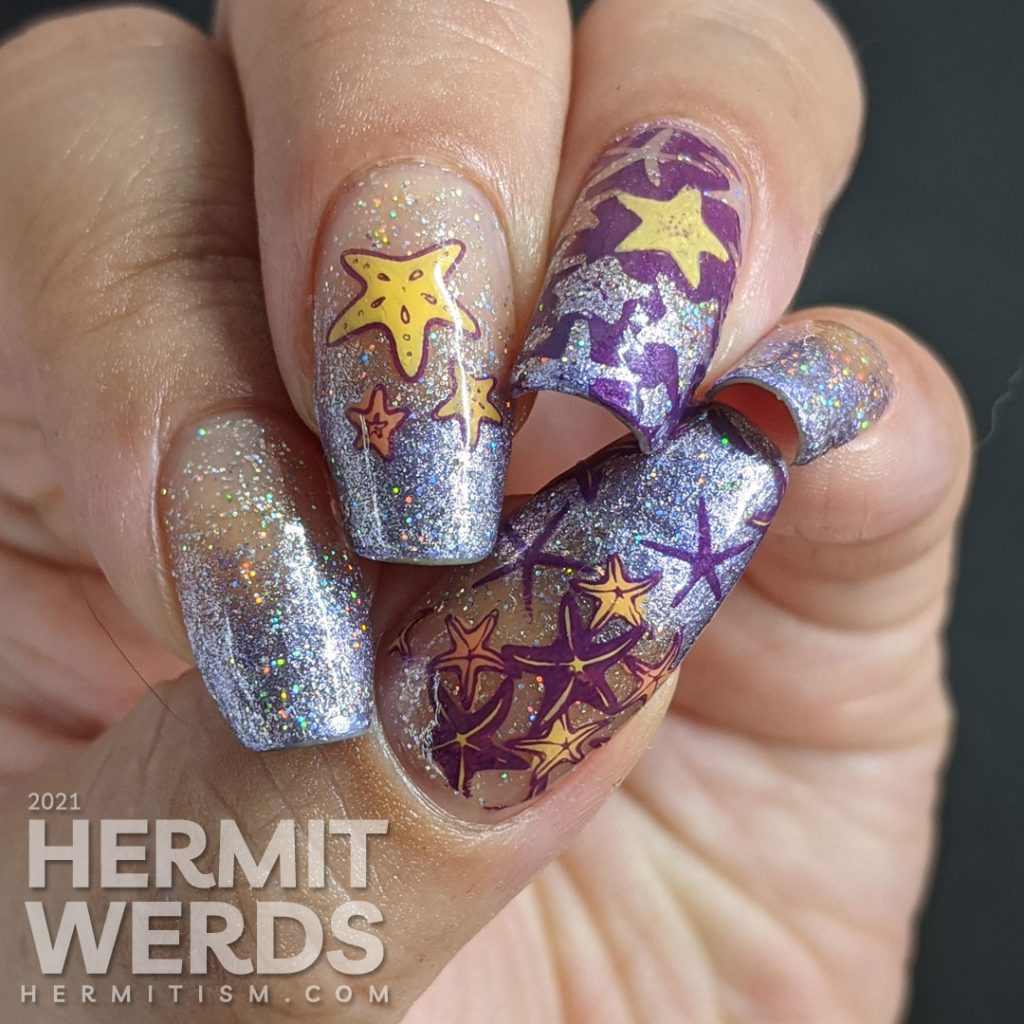 Trivial starfish trivia
Did you know that a group of starfish is called a constellation? That feels like a very fitting group phrase. Some other sites are saying it's a tird, but I can't even find that word in the dictionary so constellation it is!
That's quite a constellation on my nails, even from far away. 😜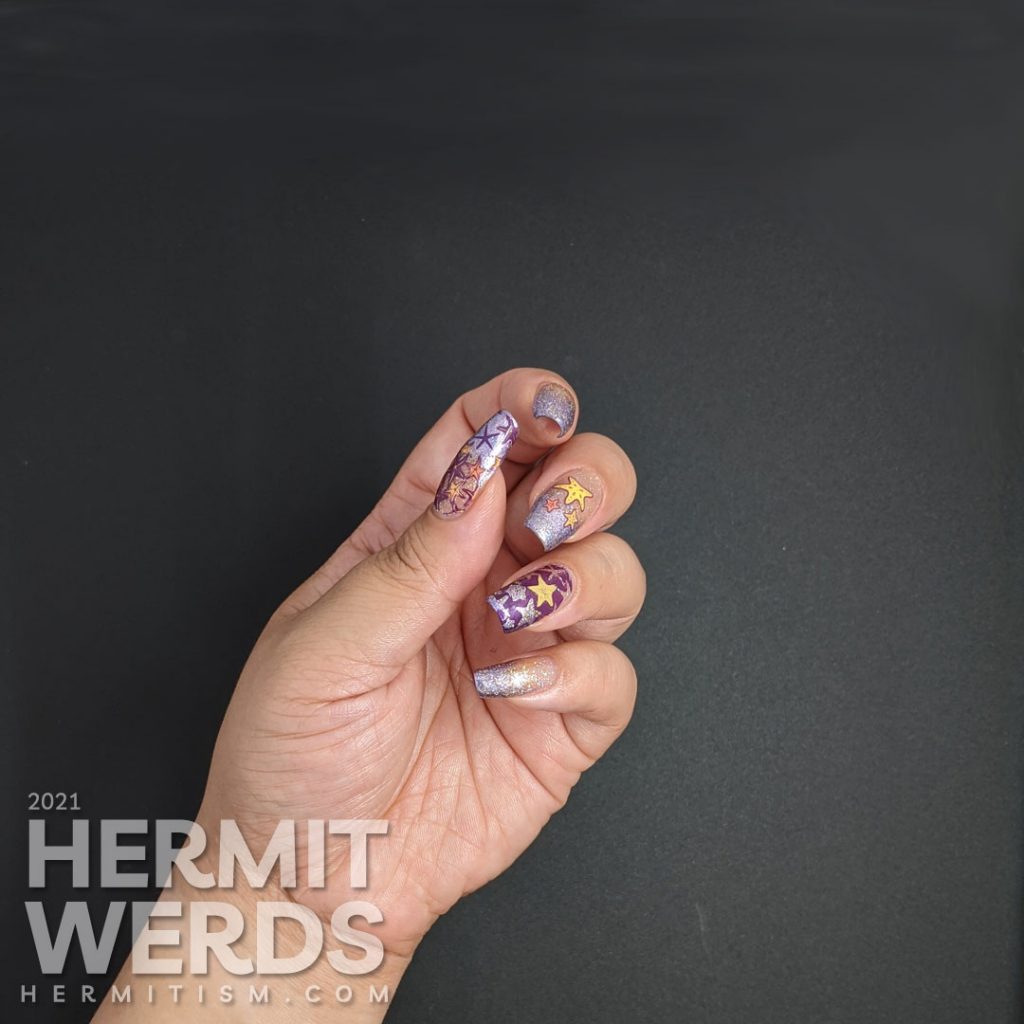 Until next time, friends! 👋