I had a big case of restlessness all last week so sitting down to do anything just wasn't happening, hence the lack of posts. So I'm a little late posting this, but I did manage to turn the mani in on time for @aznailartchallenge's 'U' is for UFO. I'm in the collage! 🤸‍♀️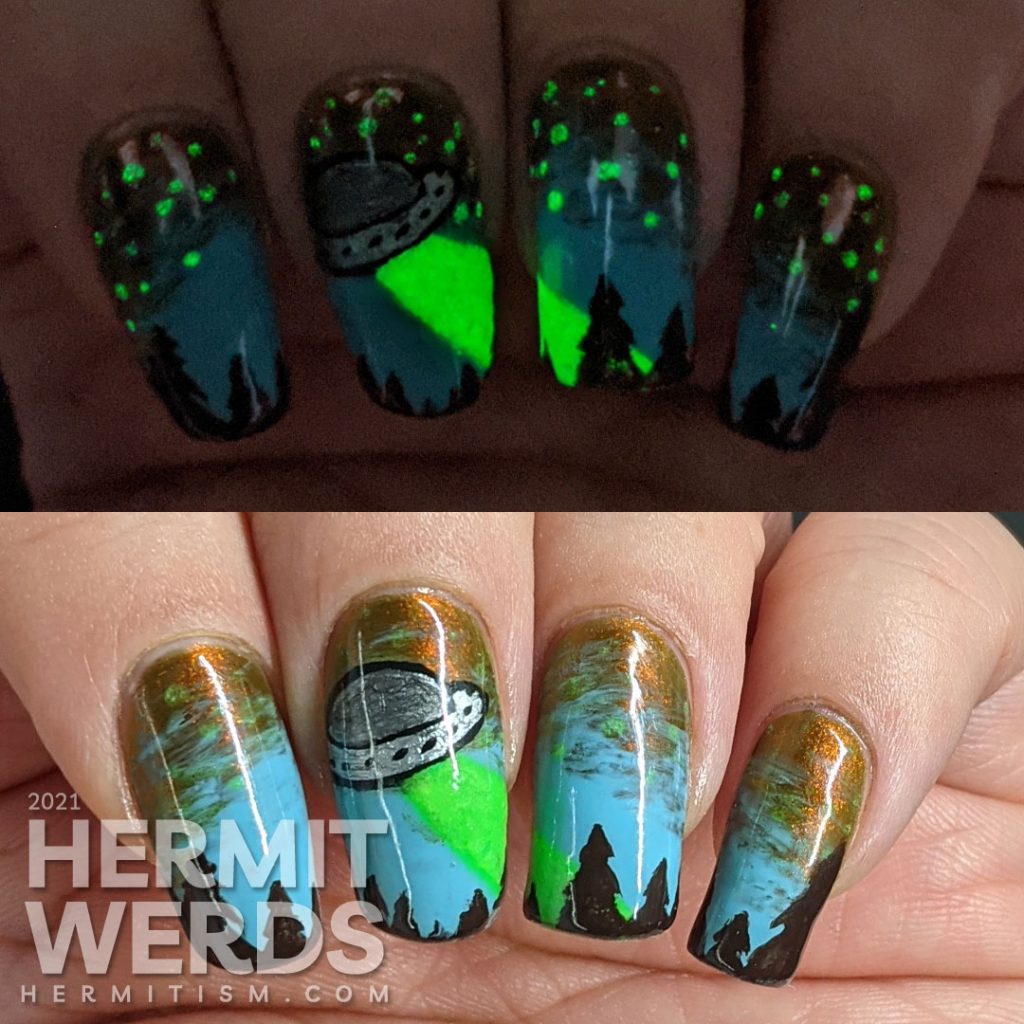 Oh, yes. You know I made this glow in the dark. How could I not?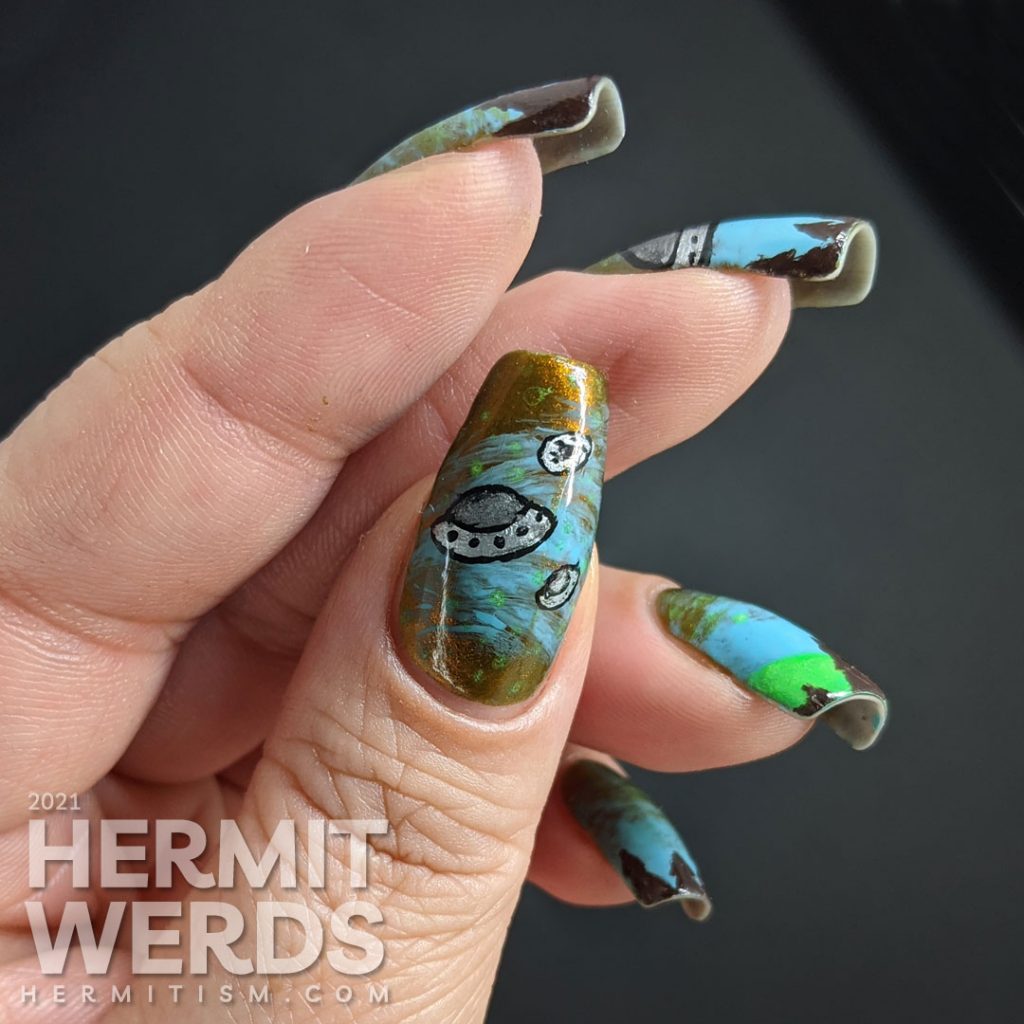 Pantone 2020 Winter Challenge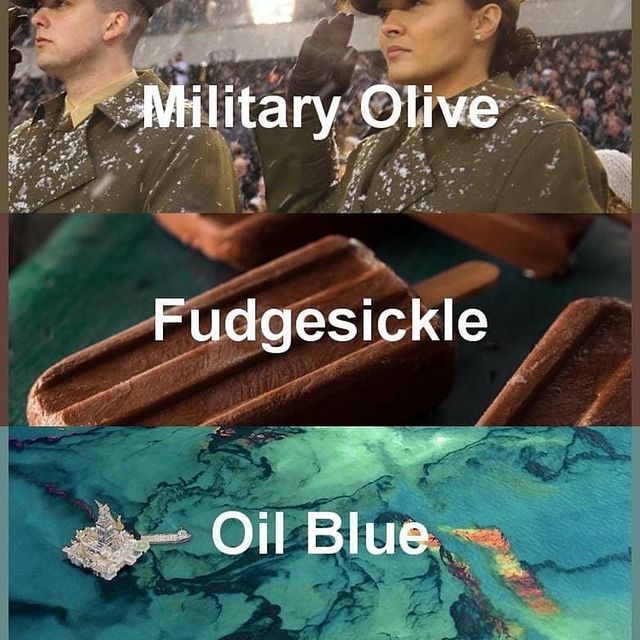 This was a rather unusual color scheme for a night scene, let alone freehand UFO scene (I am under no illusions that my design is in any way original), but I think I made it work. The hardest part about combining Ine's challenge with UFOs is that I had to use nail polish for those colors instead of acrylic paint. Here's the breakdown:
Military Olive – Night Owl Lacquer's "Crisp Air" (which is still available for sale here)
Fudgesickle – Revlon's Parfumerie "Chocolate Truffle"
Oil Blue – Wet 'n' Wild's "I Need a Refresh-Mint"
I am deeply amused that I used a chocolate polish for Pantone's Fudgesickle. If you're not familiar with Parfumerie, they are a line of scented polishes that Revlon discontinued ages ago. I definitely enjoyed that yummy chocolate scent coming from my nails.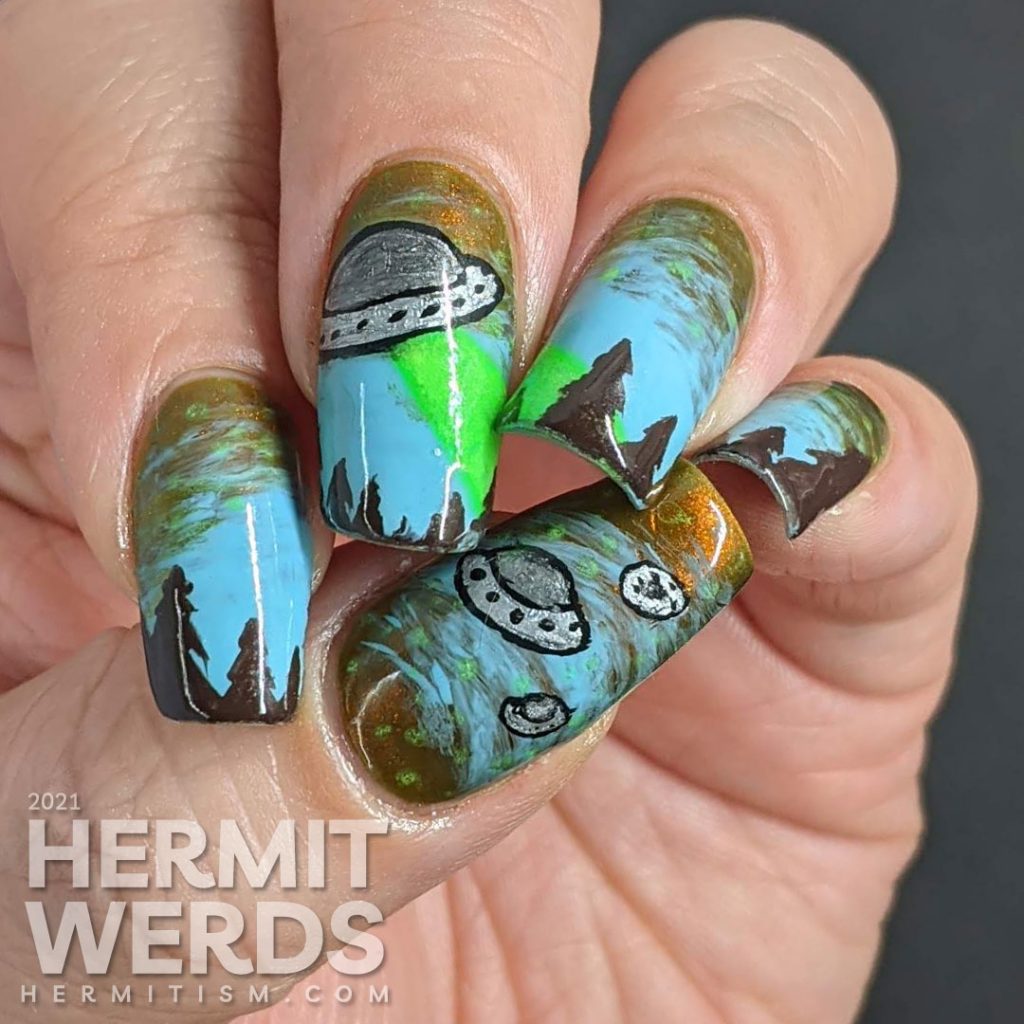 Nail art products used
Base Polish:

Night Owl Lacquer's "Crisp Air"

Freehand Painting:

UFOs were painted with acrylic paint. Background sky and trees used polish: Revlon's "Chocolate Truffle"and Wet 'n' Wild's "I Need a Refresh-mint"
Glow in the dark freehand done by mixing glow in the dark acrylic paint with Beauty BigBang's J2103-4A (press sample)
To freehand with nail polish, it sometimes helps to thin out the polish with acetone or…nail polish thinner. I used a combination of both. The thinner helped keep the polish workable while I painted. Then I used pure acetone to remove a little of the color here and there where I'd gotten a little too enthusiastic.
But, of course, I used acrylic paint where I could because it's just easier.
AZ Nail Art Challenge
It feels like there were fewer participants for UFOs, but in actuality, there were a few more than we had for turtles. Aliens are just fun. I mean, I'd already painted alien nail art this year, but I definitely wanted to participate. Check out the group tag for all the cool alien manis and feel free to join in for the next prompt: 'V' is for Vintage.
Glow in the dark tractor beam and Stars
Part of me really wanted to add a little cow in the tractor beam and claim the aliens were having burgers that night, but the angle I painted on it would have made adding the cow hard. Neeext time.
This next photo was taken with a real UV light I'd purchased. It certainly shows off the glow well, but it washes out all the other colors.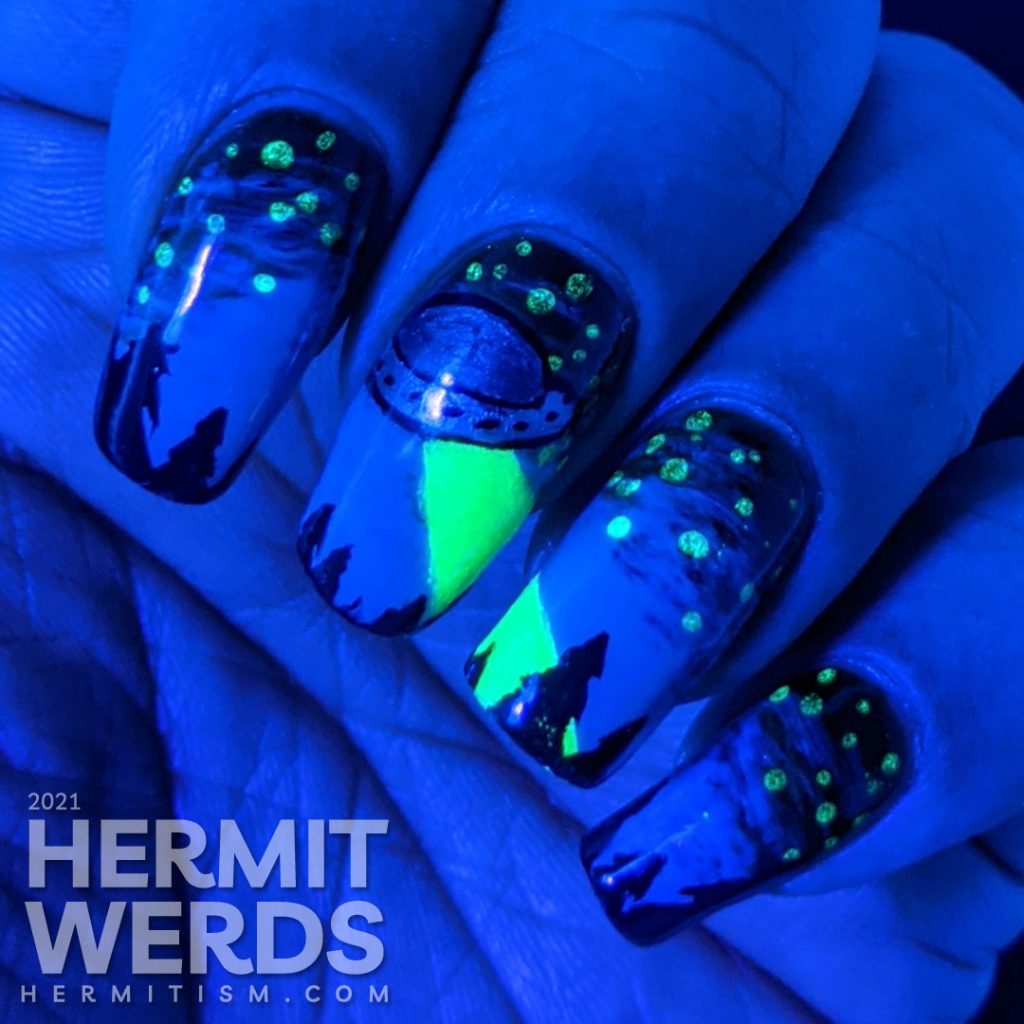 In the end, I think I prefer using it to charge the glow in the dark stuff and then take my photos. Lots of careless dots make stars.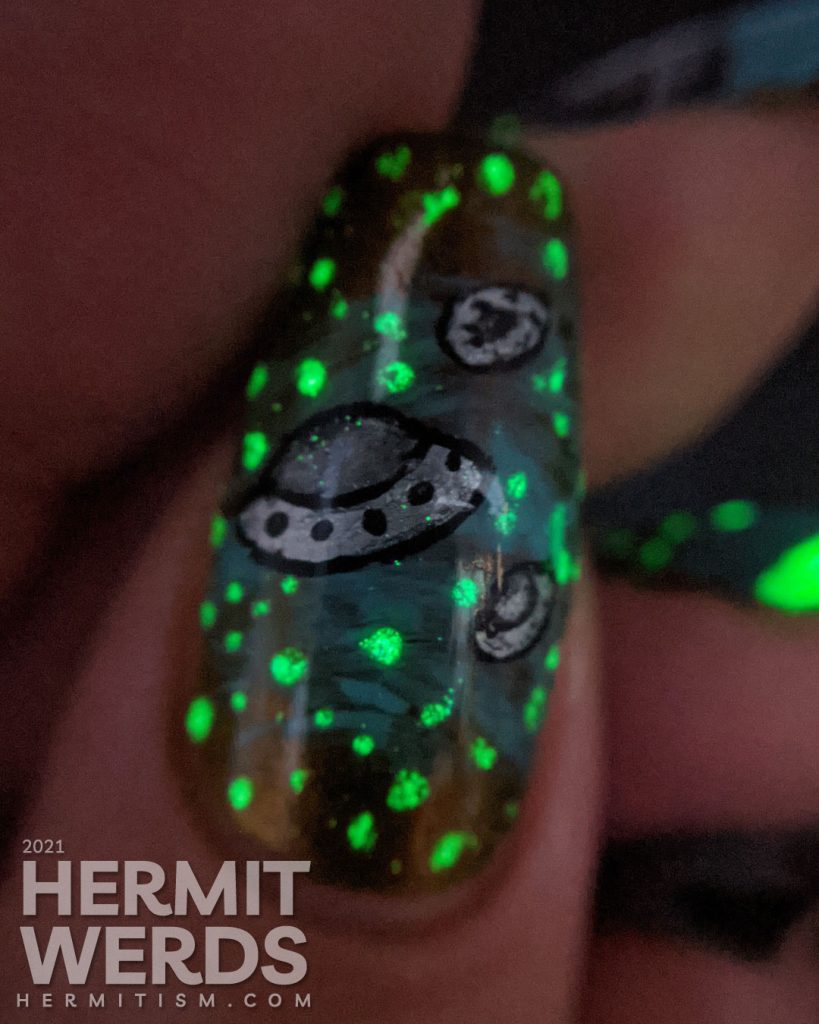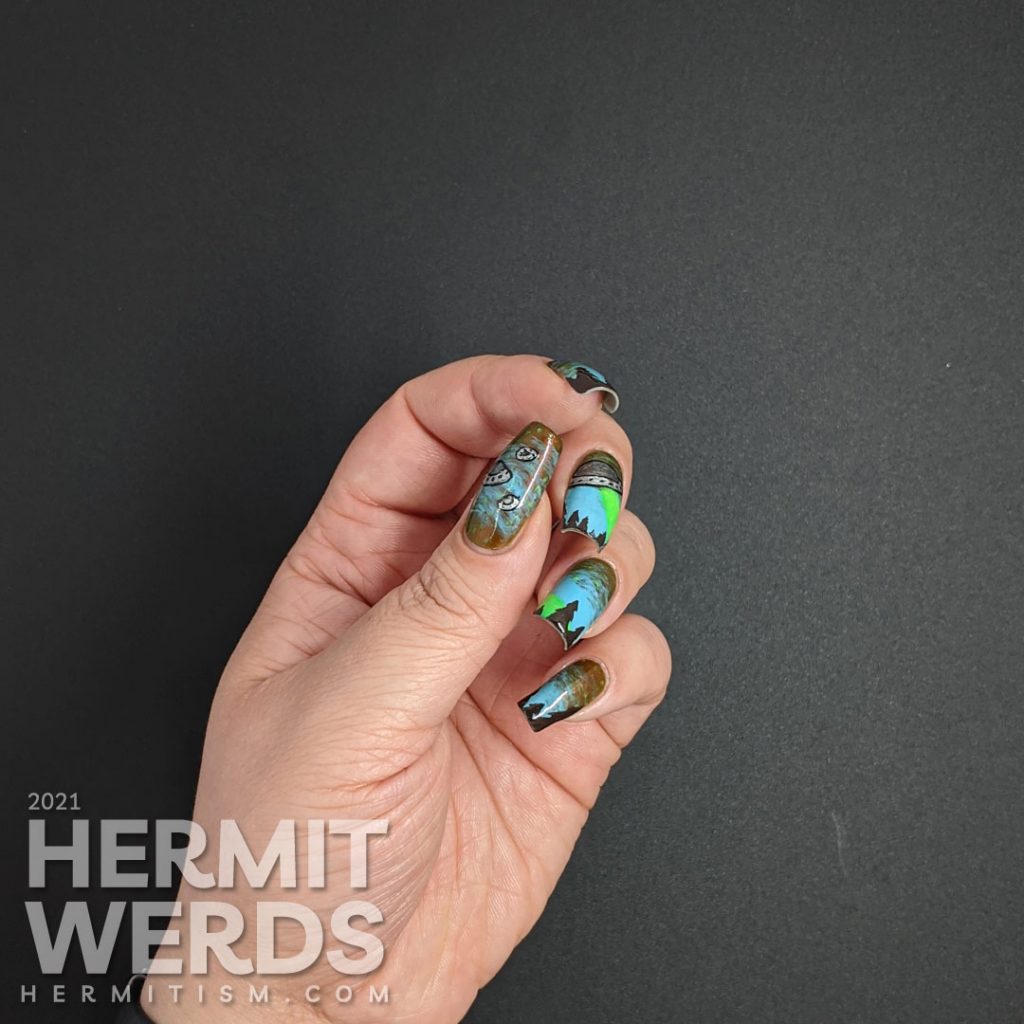 And now we've seen the far away photo, which makes this the end. Until next time, friends! 👋