I like to use Chinese New Year to mark the end of my nail art-ing goals. It takes the pressure off of trying to finish off things right when all the family-orientated holiday stuff is going on. Which is admittedly ironic since it's a very family-orientated holiday for those who are truly celebrating it: a.k.a. a mass human migration to visit the folks. So…hope you weren't planning on your package from China shipping anytime soon. 🤣
I like to paint two nail art designs for Chinese New Year: one in the traditional red/gold colors and another in the lucky colors for those born in the year and I'm sharing both with you today. Ox's lucky colors are blue, purple, and yellow, which…was a bit of a challenge to put together, but I think I made it work.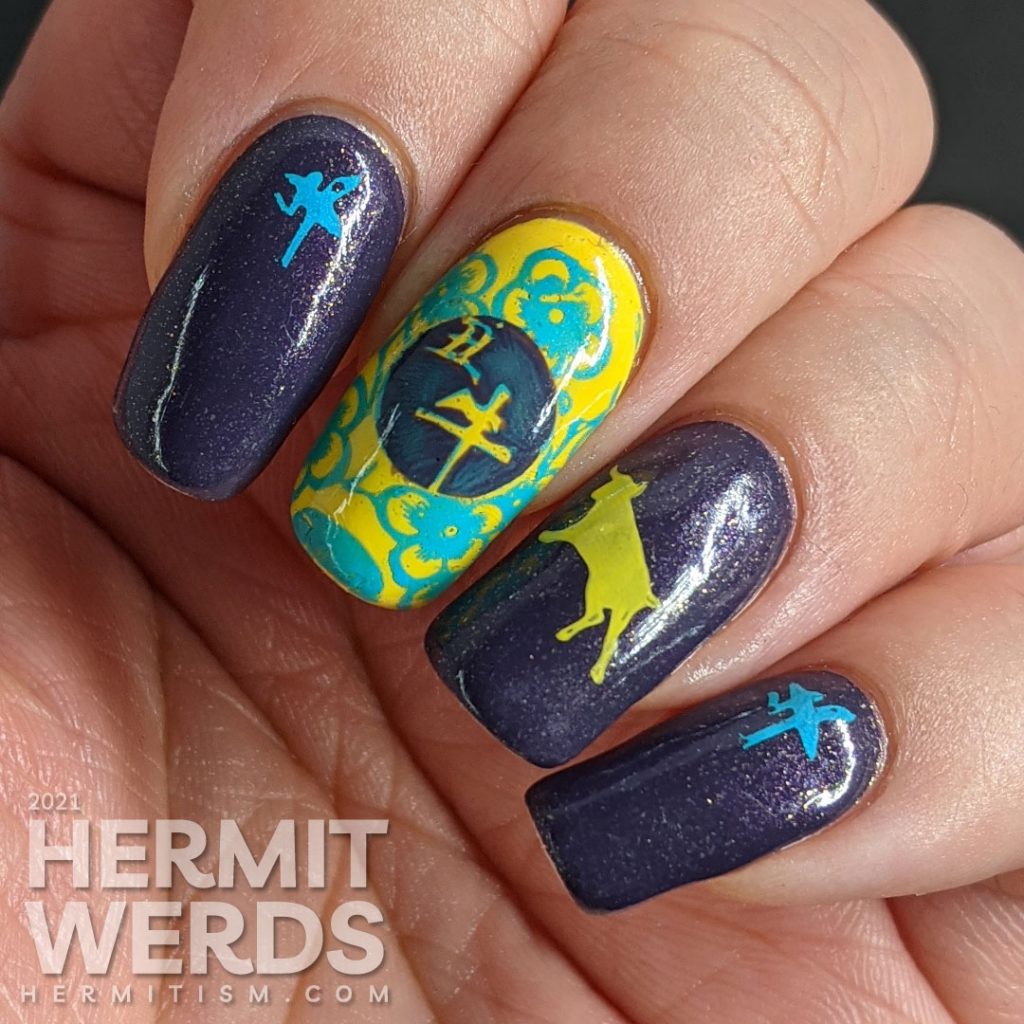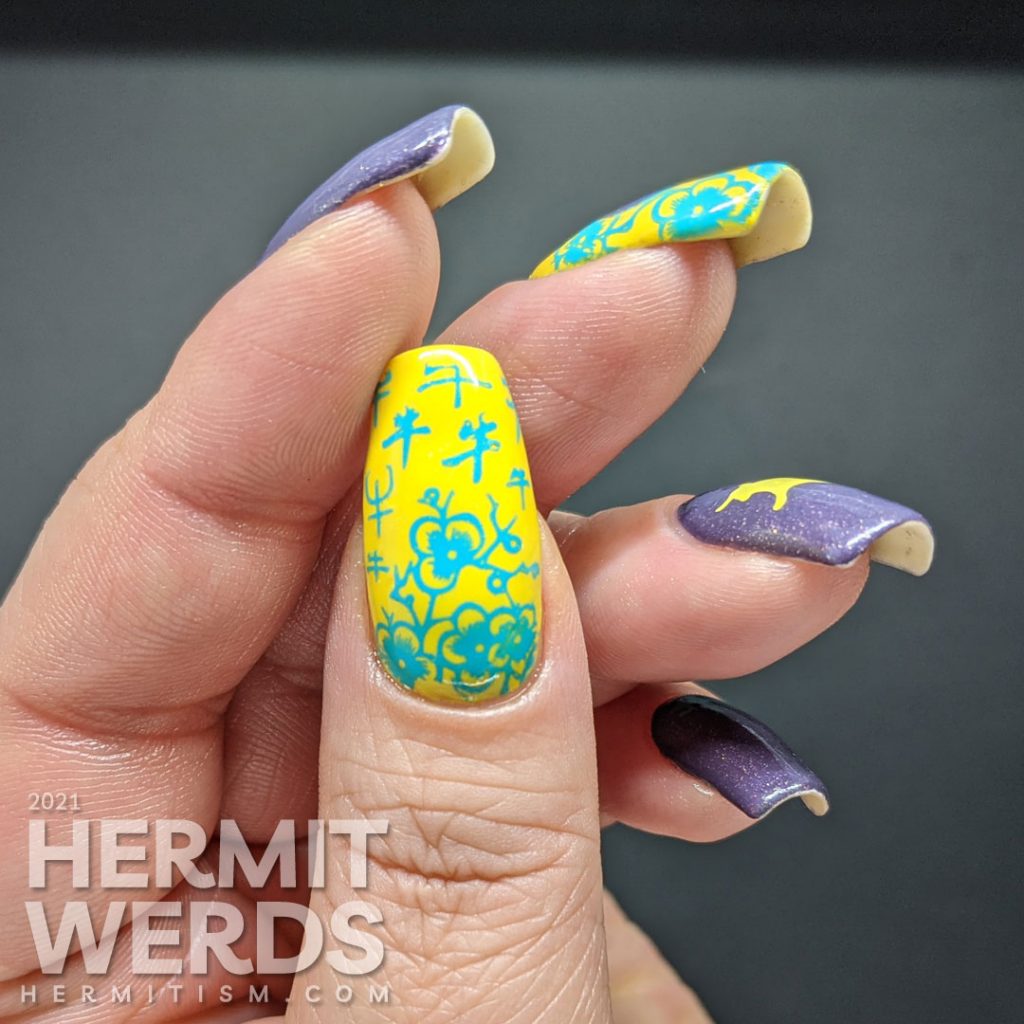 Now I'd like to pretend that this all came together easy peasy, but I ended up with a nail fail first…
I had a lot of problems with the failed design. The dark yellow (literally named as such by KADS) was too easy to interpret as orange. The lines of the cut outs did not match the cheesy color palette. And my biggest beef…the yellow stamping polishes aren't opaque enough and don't blend nicely with purple. I just couldn't bring myself to post it as my best work for lucky ox nail art.
So I saved what I'd painted on my index and pinky fingers and started over. The end result is one I am much happier with, though it was also plagued with too-sheer polishes. The purple I stamped over the medallion-like circle still has some turquoise showing through, which I actually like. And the ox was stamped twice to make the image more opaque. Probably should have done a third… Still, they weren't stamping polishes, so their performance was reasonable.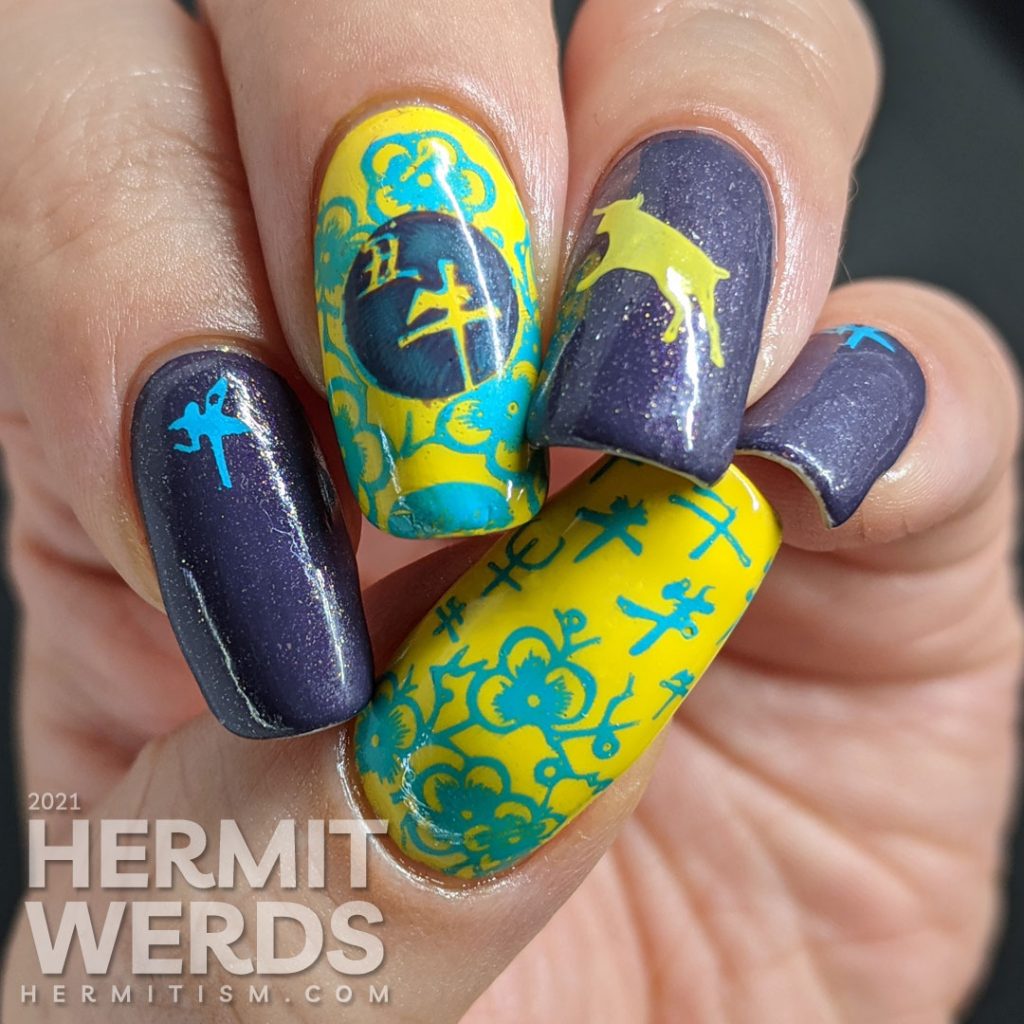 Nail art products used
Base Polishes:

Night Owl Lacquer's "It Mustard Been Love" and Zoya's "Neeka"

Stamping Polishes:

Emily de Molly's "The Nameless", Hit the Bottle's "Electro Candypop", and Night Owl Lacquer's "It Mustard Been Love"

Stamping Plate:

Moyou London "Zodiac Collection – 14"
Can I just say I love Hit the Bottle's "Electro Candypop"? Seriously meant to use it long before this, but that's what happens when you continue to buy polish even though you'd stopped painting your nails. 😁
And the far away photo to signal the end…of photos for this mani. 😉
Final thought: I just like this one so much better. The nail fail would have been fine with different colors. In fact, I probably could have done it with the classic red/gold colors and it would have looked great. But did I think to do that until just now? No. No, I am not that smart.
But that's fine. Because I really like the design for this one too!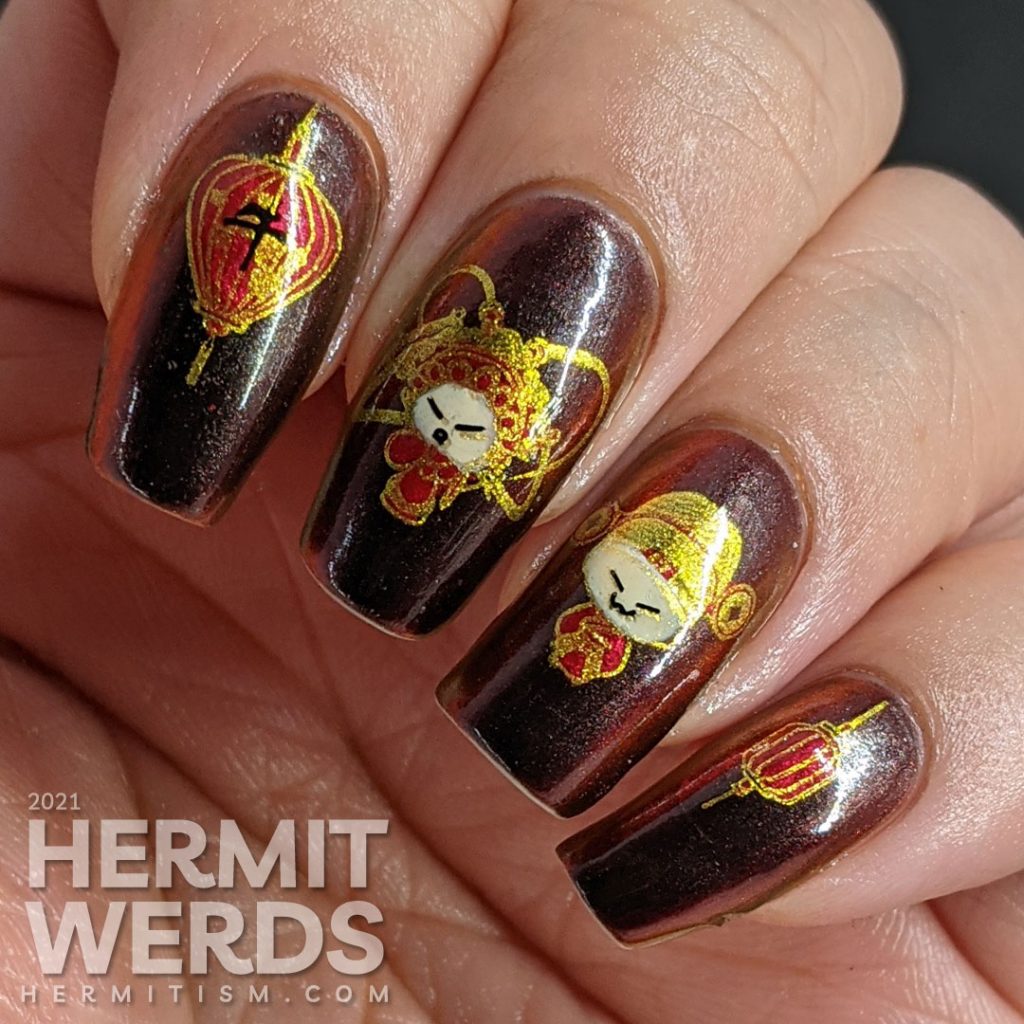 Not enjoying how warped my pinky nail was when I took my photos. You're why we can't have nice photos, pinky!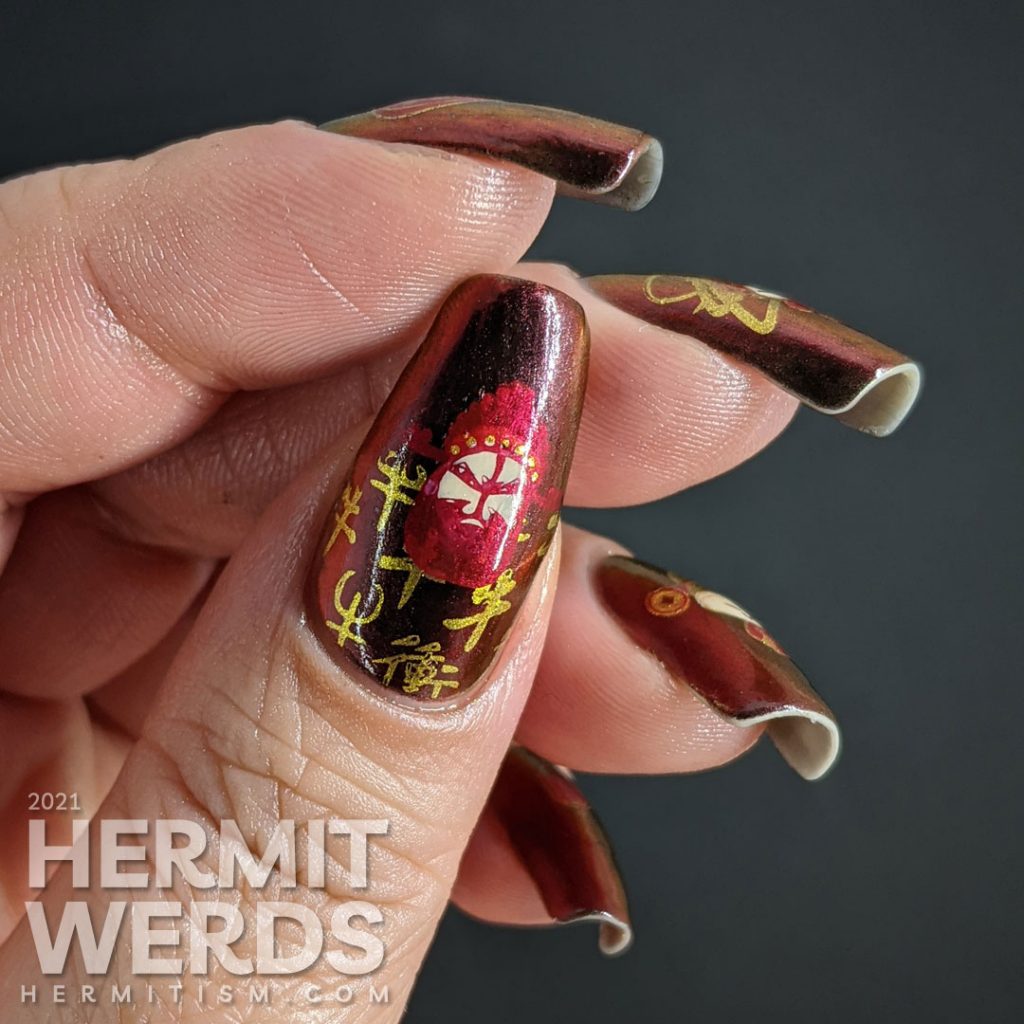 There's a reason why black/red multichromes are popping up all over the place. They are gorgeous! I'm fairly certain that ILNP were the ones that started this craze clear back in October with "Eclipse" and that's the one I bought. Three layers on all my nails except the thumbnail, which took four. It's pretty long right now (2.4cm), so that's fair.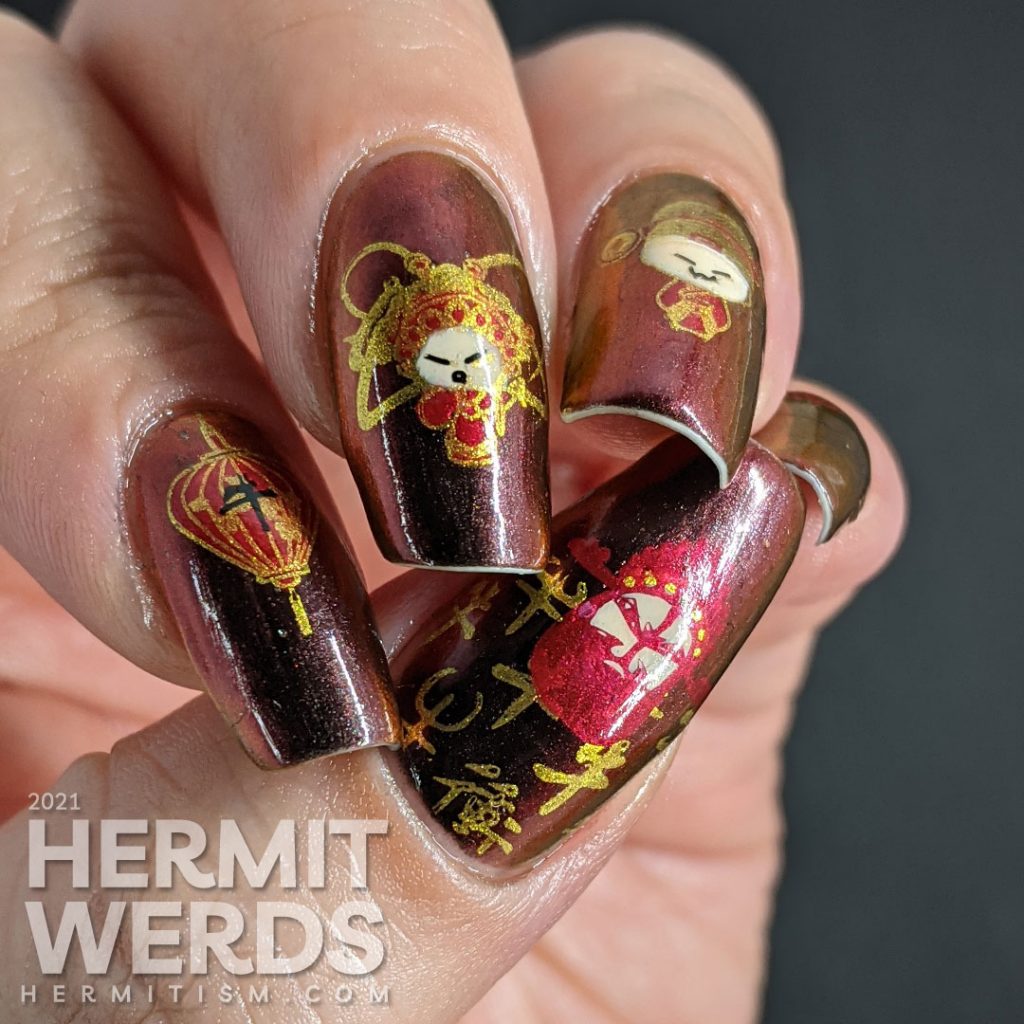 Nail art products used
Base Polish:

ILNP's "Eclipse"

Stamping Polishes:

B. Loves Plates' "B. a Cherry Lollipop",  Born Pretty's "In Fire" (press sample), and UberChic's "Pure Black"

Advanced Stamping Polishes:

B. Loves Plates' "B. a Cherry Lollipop", Born Pretty's "In Fire" (press sample), Smackers' "Wickedly Stylish", and Zoya's "Cala"

Stamping Plates:

Harunouta "L042" (Chinese opera performers and mask) and Moyou London "Zodiac Collection-14" (Chinese characters, esp. ox)
I decided to think outside of my personal Chinese New Year nail art design requirement box and not have an actual ox in the design while still focusing on keeping the imagery Chinese. So I tapped Harunouta L042 stamping plate, which is all about Chinese opera. Then I brought the "ox" part back in by adding the Chinese character for ox on one of the lanterns and a whole bunch of them on my thumb. Amusingly, it's the same jumble of characters I used on my thumb in the lucky design with a few more character stamps added to fill it out.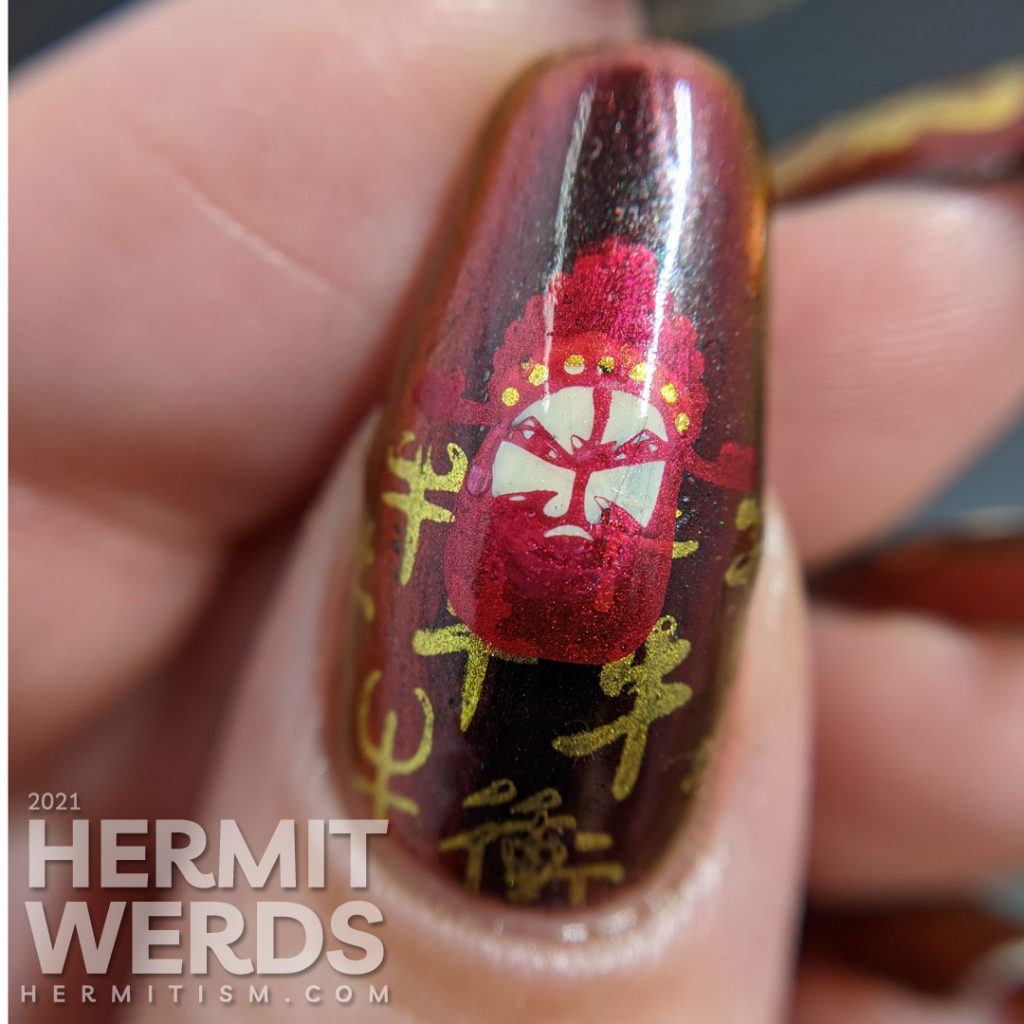 Ooo! That was nice. Let's macro again…
Note the double stamp for their expressions which I had to do because when the light hits the gold polish wrong, their faces became blank and monstrous. Not the look we were going for!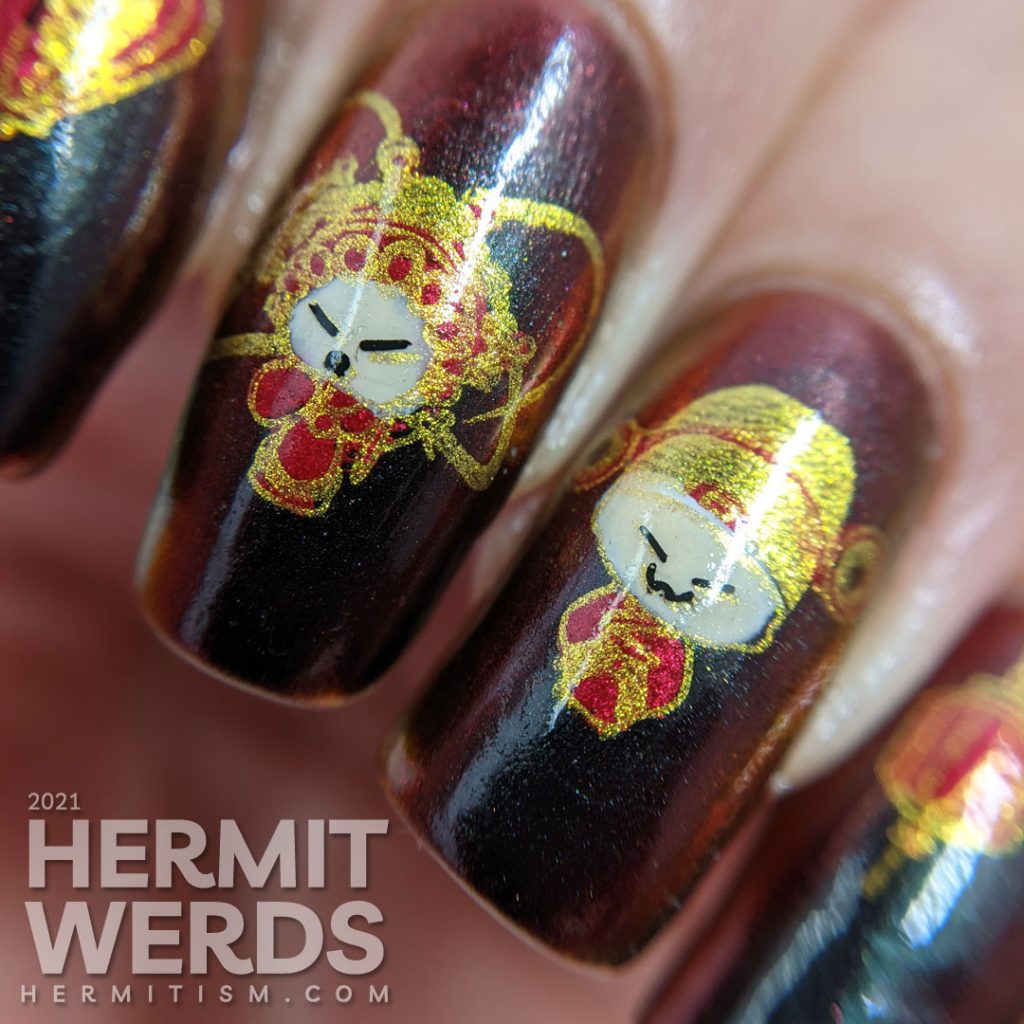 And far away…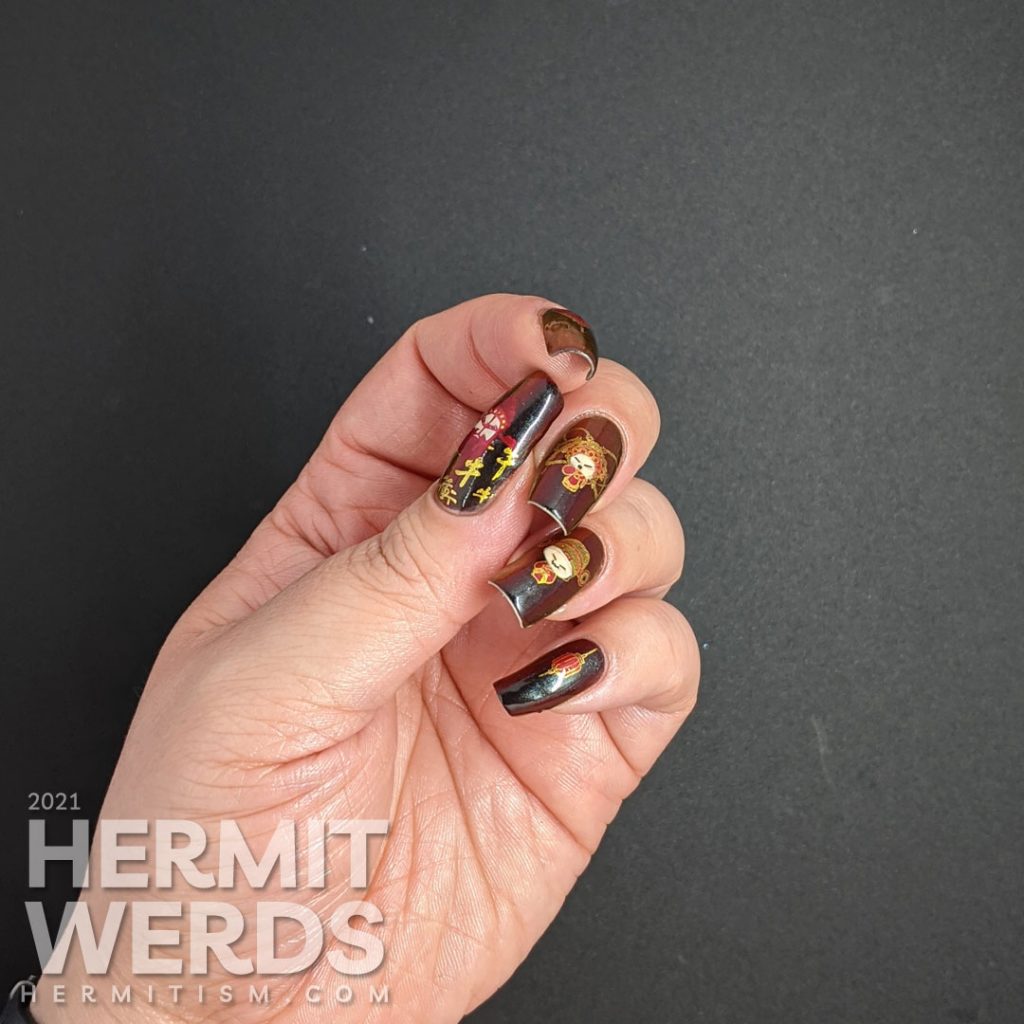 The end for reals. I am unsure now why I decided I haaad to combine these into one post because I think I just wrote two post's worth of ramblings anyway… Ah, well. Until next time, friends. Stay warm! 🙋‍♀️