It's funny, I have a lot to say today, but none of it feels like it belongs in the intro. This is a new rose-themed nail art that uses layered stamping, a technique I avoid because it's extra labor intensive for me. No more! (kinda) Also, photos were taken of it both matte and glossy because it felt like a good mani for that kind of comparison.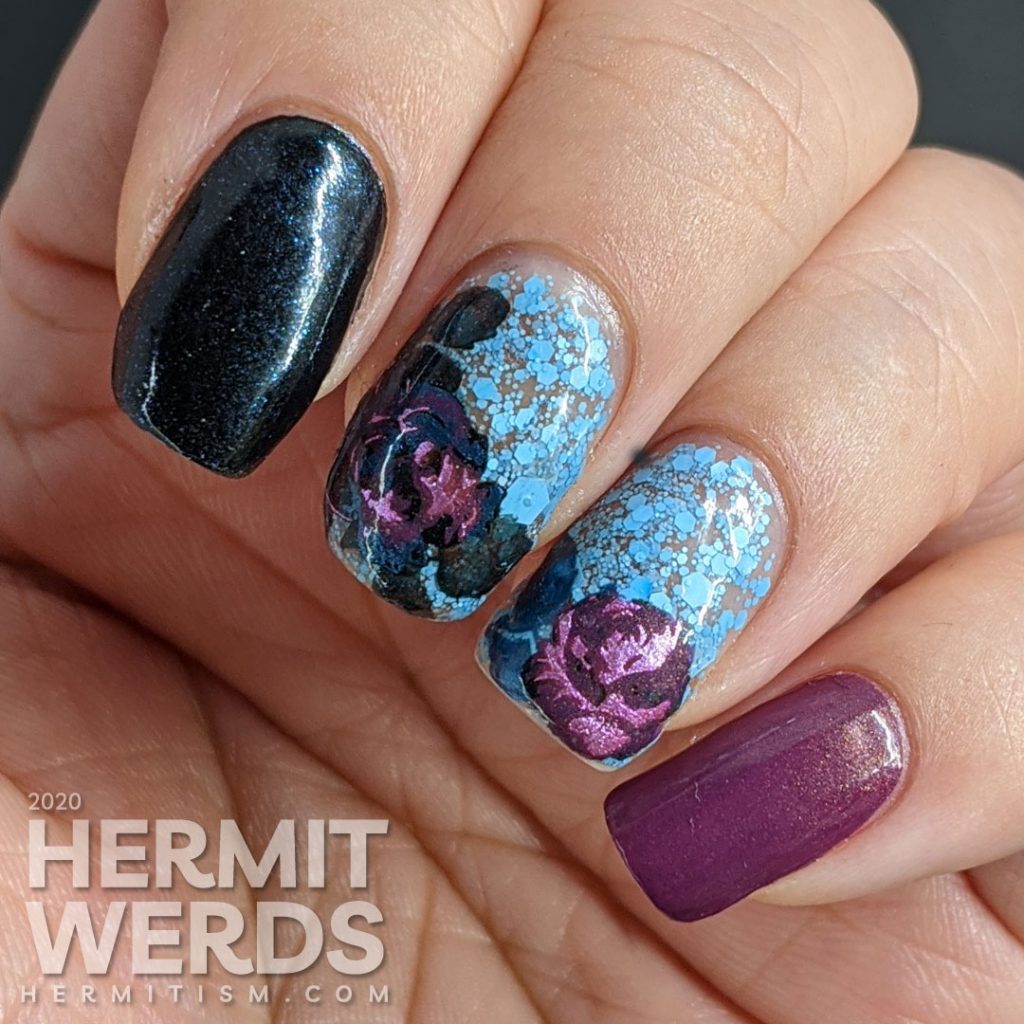 I lint rollered many times before taking this pic, I swear. Velour. So comfy to wear and so betraying when taking photos with it…
#pantone2020winterchallenge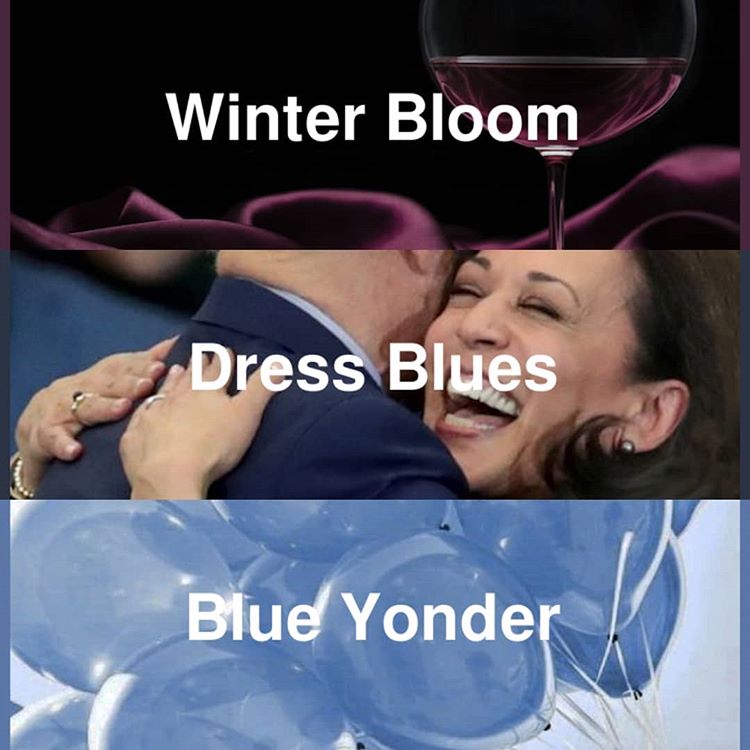 Today's main color is Pantone's Dress Blues, but Ine threw in a yummy desaturated purple and a lighter blue for a lovely analogous color scheme.
For Dress Blues, I used ELF's "Sea Escape", a dark blue with blue shimmer polish that I loved so much in my early nail product buying stages that I acquired two bottles. I've destashed the second bottle because it's silly to think I'll ever get around to finishing the first (so many other blues to love), but the feels were there once upon a time.
For Pantone's "Winter Bloom I went with Sinful Color's "Krushed Velvet" which has a matte finish and really does make you think of velvet. So…well-named, Kylie Jenner?
And, finally, an un-used glitter polish from Sephora called "Boom" had its day because it matched Blue Yonder. It's especially funny to me because it was in a two-pack that I bought because I loved the blue shade and then just neeeever used…for about four years.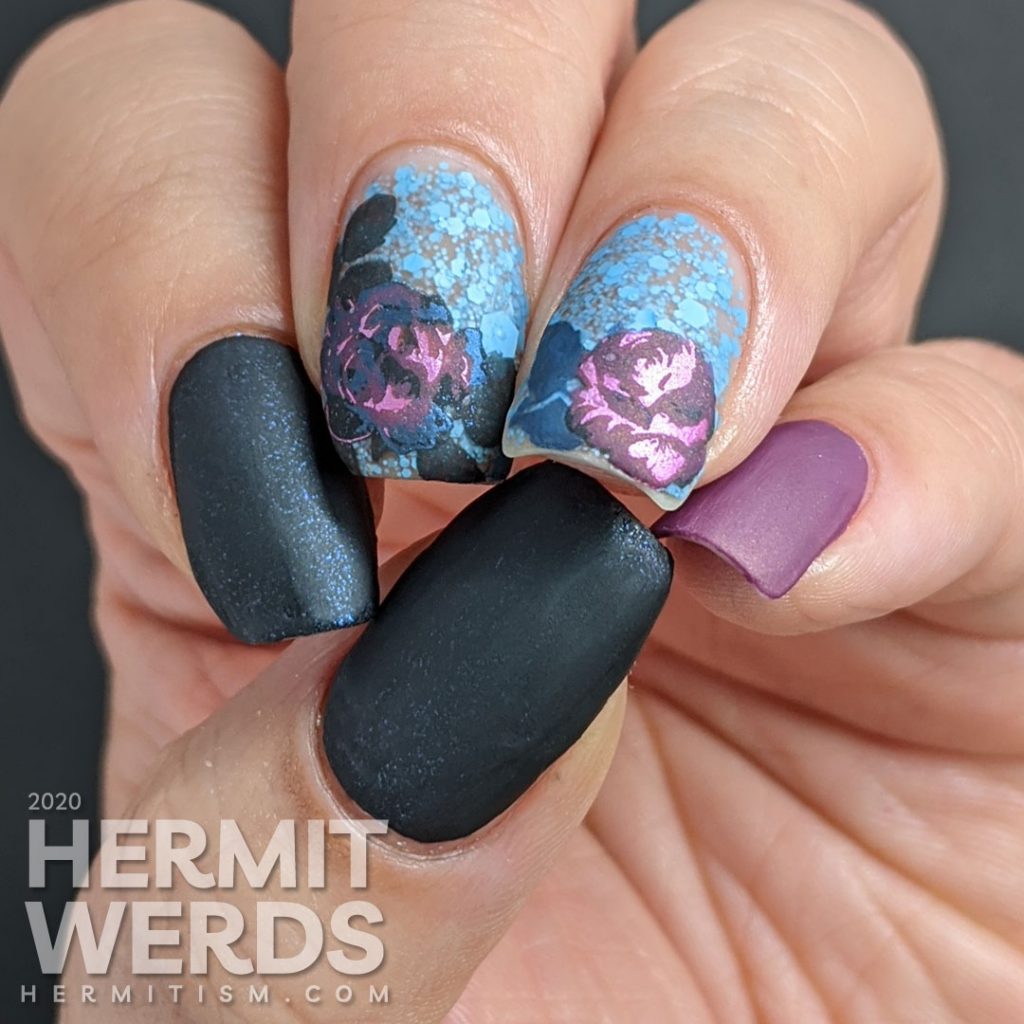 Once upon a time, I thought I'd used a lot of glitter. And then it became work to clean it up… 🙅‍♀️
Nail art products used
Base Polishes:

ELF's "Sea Escape", Sephora's Formula X "Boom", and Sinful Colors' Kylie Jenner "Krushed Velvet"

Stamping Polishes:

Born Pretty's "Pentagram", ELF's "Sea Escape", KADS' "G10 Rose Red", and Sinful Colors' Kylie Jenner "Krushed Velvet"

Stamping Plate:

Clear Jelly Stamper CjS-05
Layered stamping…is possible?
It's happened. I've found my way towards being able to do layered stamping properly and it's all thanks to Maniology's little rectangle clear stamper that they include when you start a Mani x Me subscription. All the other clear stampers I own do not pick up images well enough that I have been able to do layered stamping without using a regular stamper, making the image into a decal (i.e. painting clear polish on it) and then transferring it to a clear stamper to position on my nail. That's a lot of extra work, nail polish and potential for trapped air bubbles. Hate.
If your environment has also made layered stamping just not work well for you, consider trying out this stamper. This is not a sponsored post in any way, but here is a link to it for your convivence: Ice Cube Clear Rectangular Stamper. This recommendation does not cover any of their other clear stampers because I have not tried them, so experiment there at your risk. 😘
Now did everything go perfectly? No. Half the polishes I used were not made for stamping at all and I had to layer stamp them twice to ensure their color showed. So the 3-layered rose was actually 4 and the 4-layered rose was 6. Ouch.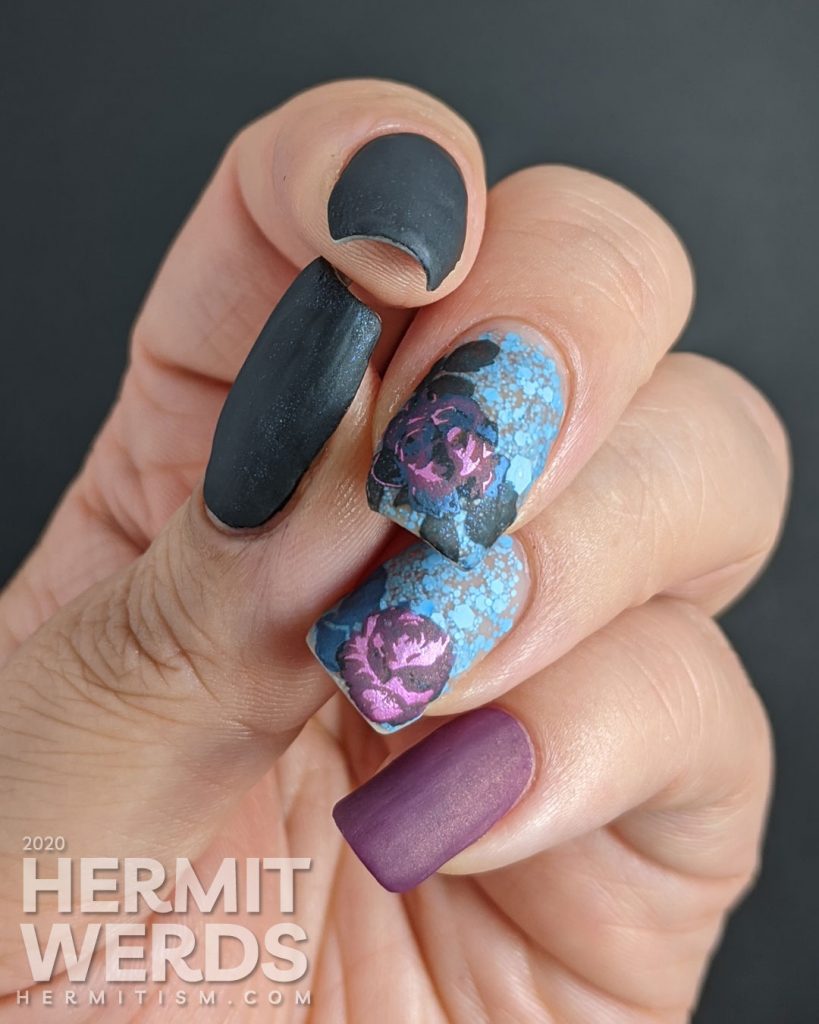 I really think I could have arranged my colors differently on the 4-layer rose to make it prettier, but I was unwilling to paint it a third time. (Yay learning curve) Hence my macro photo focuses on the rose I like best…
Yer bootiful. 🌹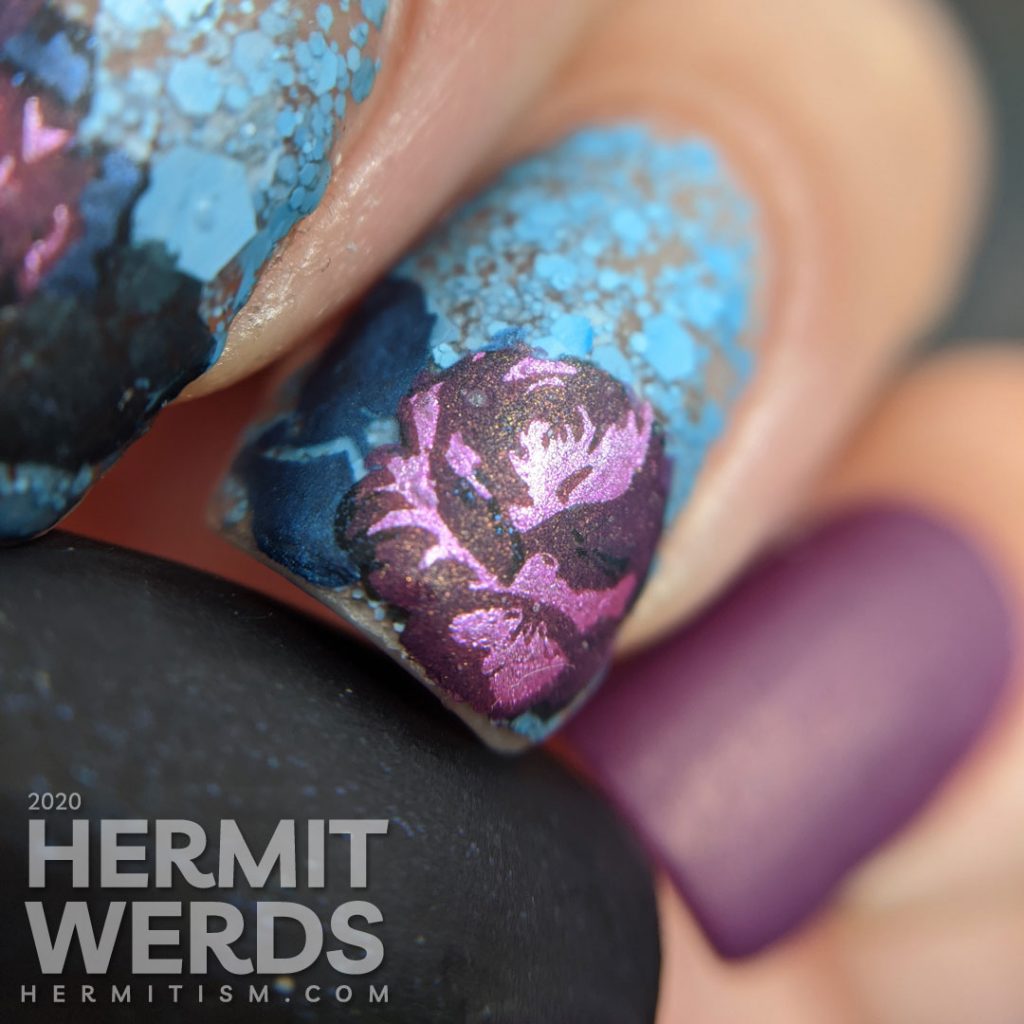 I've stopped particularly nothing when a photo is a matte or glossy version and just mix them all together because it's a matter of top coat and not the finish of individual polishes. However. I would like to note for the record that I thought this was prettier matte. Did you feel the same way?
Until next time, friends! 🙋‍♀️