While I was busy wrapping things up for Inktober I didn't get around to finishing my last Halloween nail art and posting it. So here we are now, a tiny bit late for last week's #pantone2020winterchallenge. Life is messy, but hopefully this glow in the dark mani with scorpions and fire was worth the wait.
(Also, I'm one of those people that don't want Halloween to end, so…this extension of Halloween is appropriate).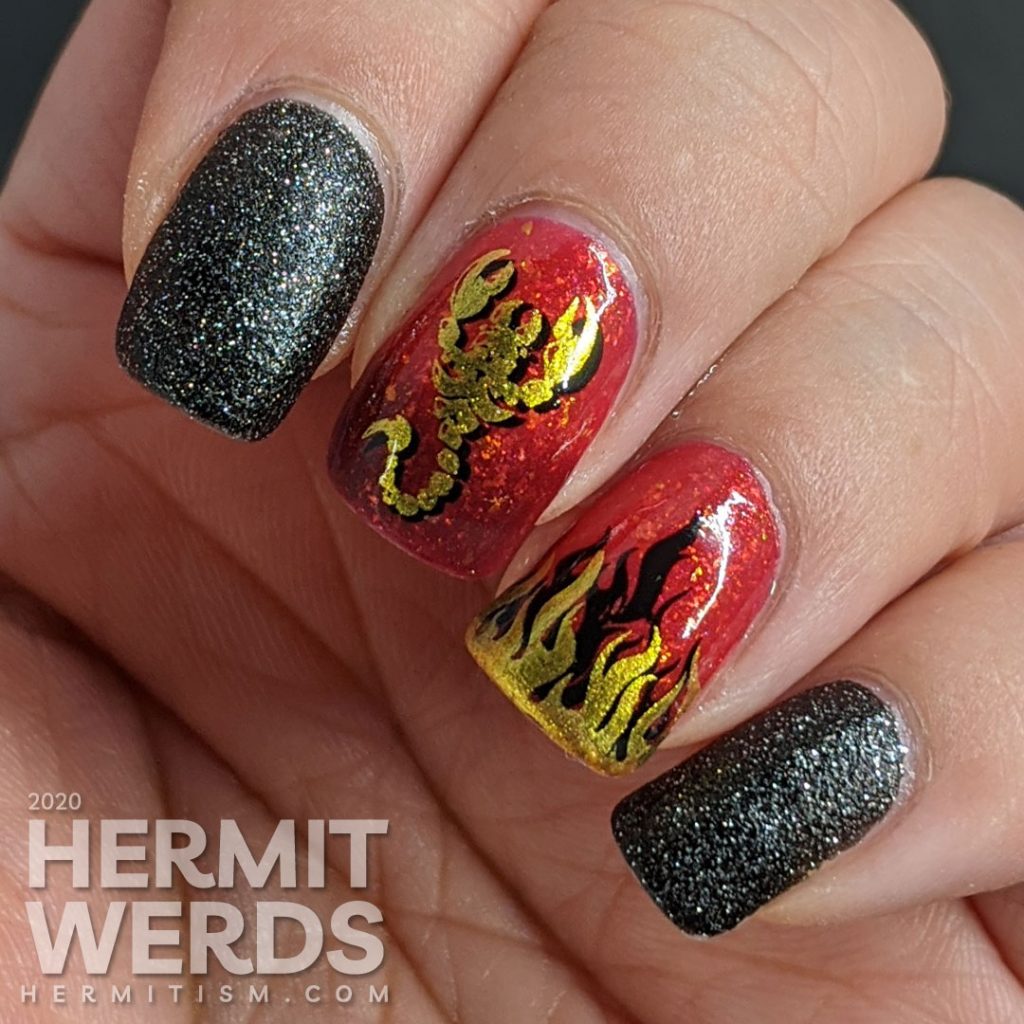 And here's a cool, warm, and glowing comparison. I like how the glow-y part takes it from bright red to neon orange.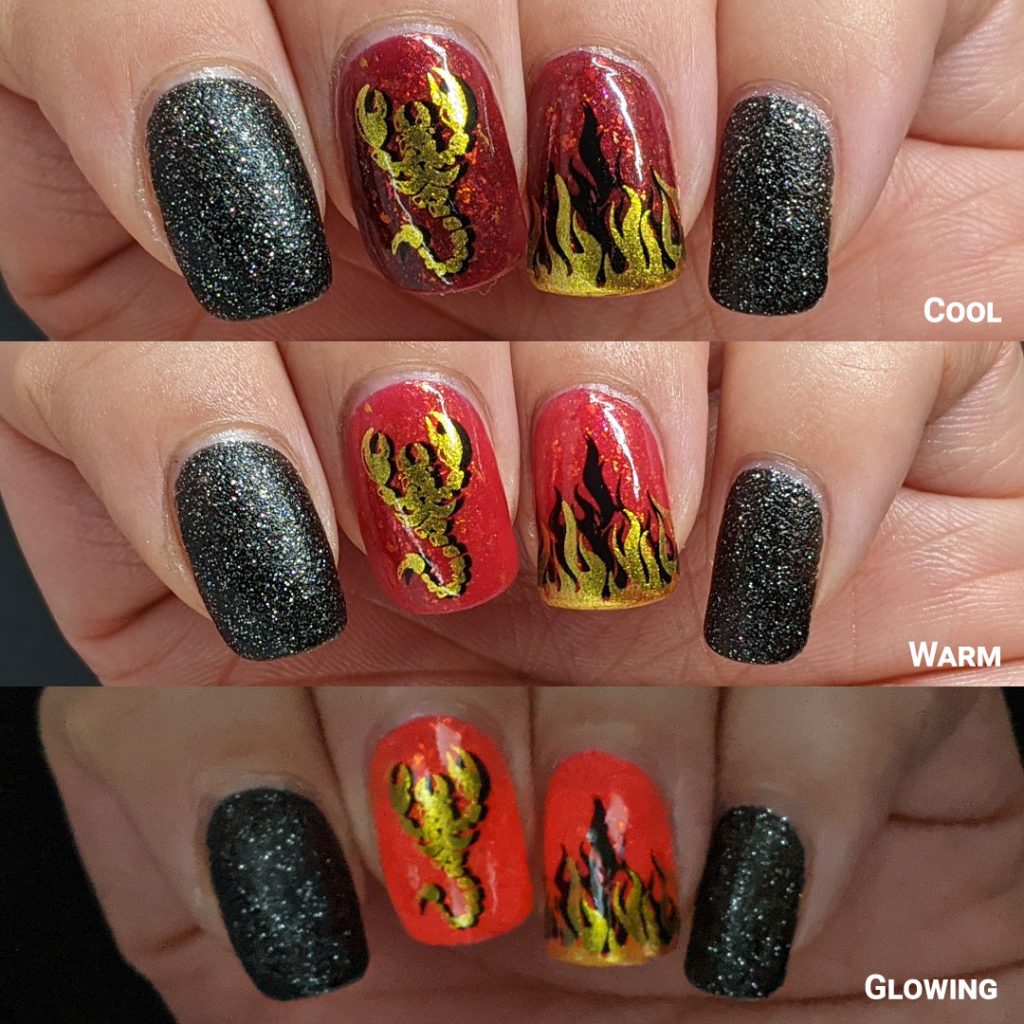 #pantone2020winterchallenge
It would have been nice to fit all three of Ine's colors in this nail art, but my orange (when the mani is glowing in the dark) is way too bright to ever be a match for Hawaiian Sunset. So instead I have used MTK Design's "Embers of Vesuvius", which in its cold form is a good match for Samba. And Black Beauty which is an excellent match for Zoya's "Dahlia".
Nail art products used
Base Polishes:

MTK Design's "Embers of Vesuvius" and Zoya's "Dahlia"

Stamping Polishes:

Born Pretty's "In Fire" (press sample) and UberChic Beauty "Pure Black"

Stamping Plates:

Born Pretty BP-X46 (scorpion and fire-y heart) and Major Dijit 70
Okay, but let's see this thing really glowing. I was amused to find that the metallic gold didn't fully block out the glow. It made the double stamping a doubly good idea! 😅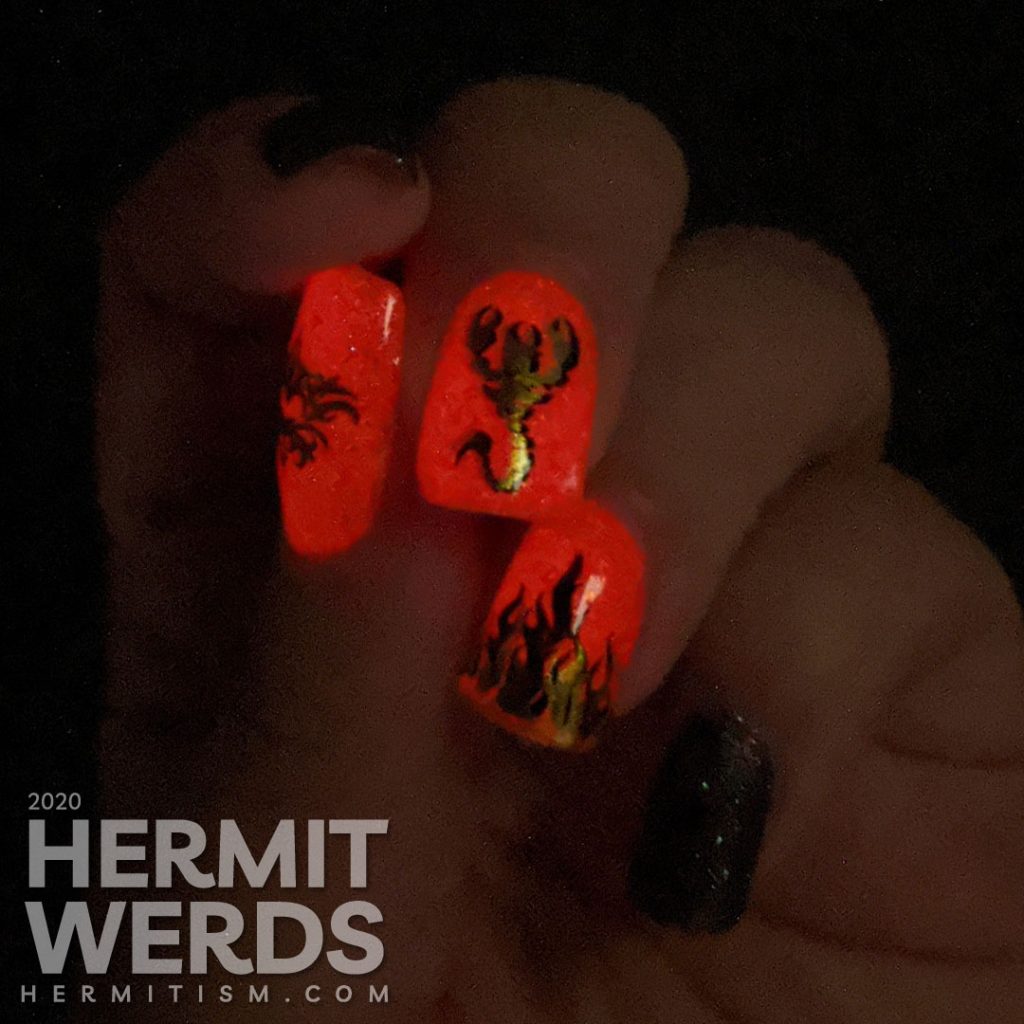 Now my thermal polish is from Polish Pickup so you can't even get it anymore. However, the black texture polish is still definitely available from Zoya. So I thought a comparison of it with the other black-ish texture polishes I have might be useful. I would not call "Dahlia" a dead black polish. It's a little bit charcoal, which is perfect for me.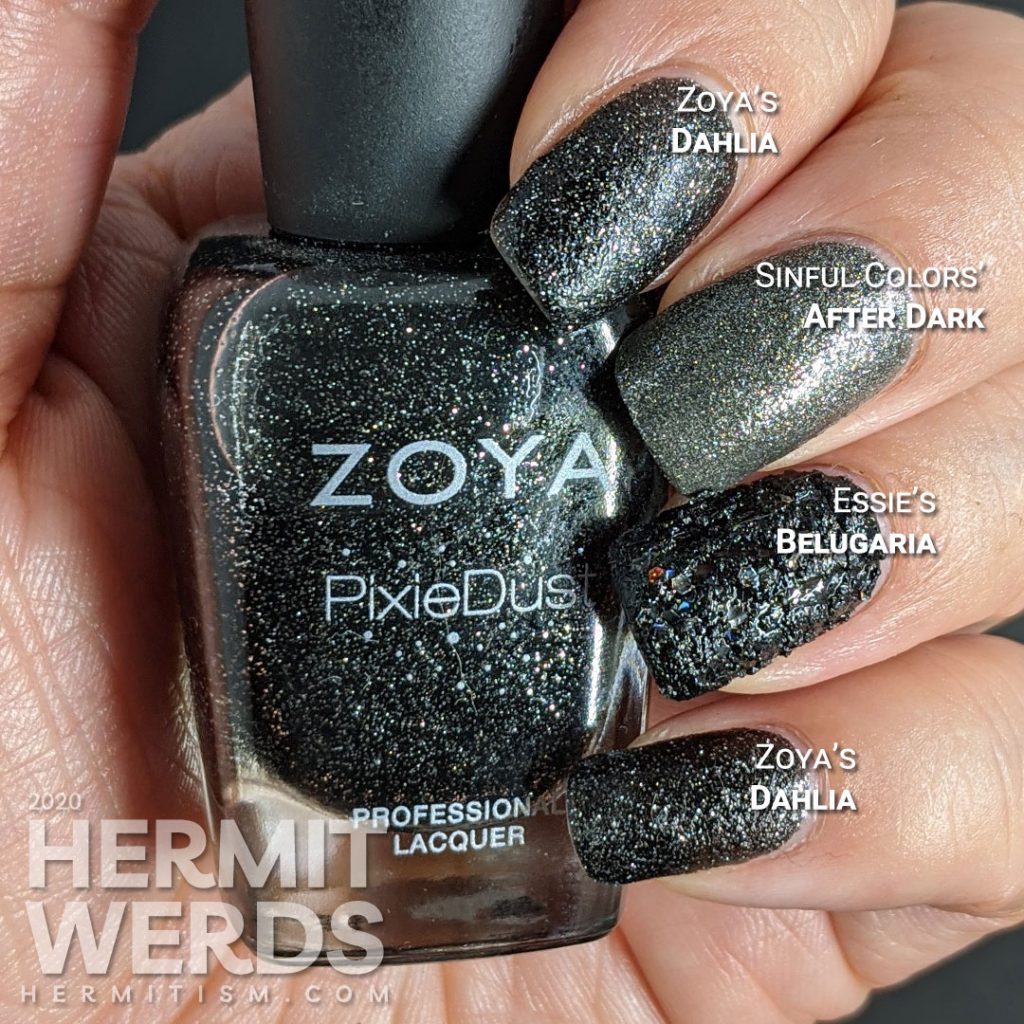 And now I just have pictures, pictures, pictures to share. It's been cold lately, so I'm kind of grateful that it was warm on the day I took my photos and I had to use ice water to get it to transition. So warm!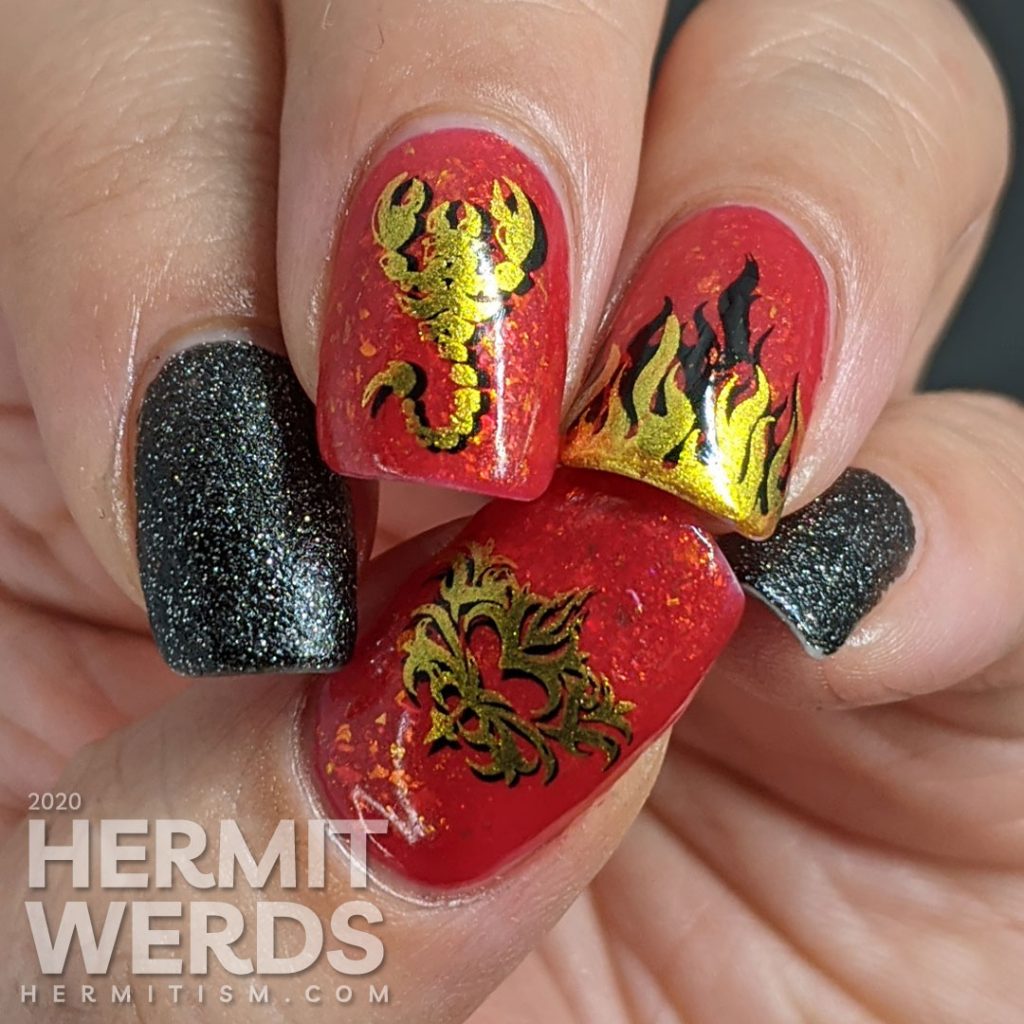 Cool tips! Literally!
And far…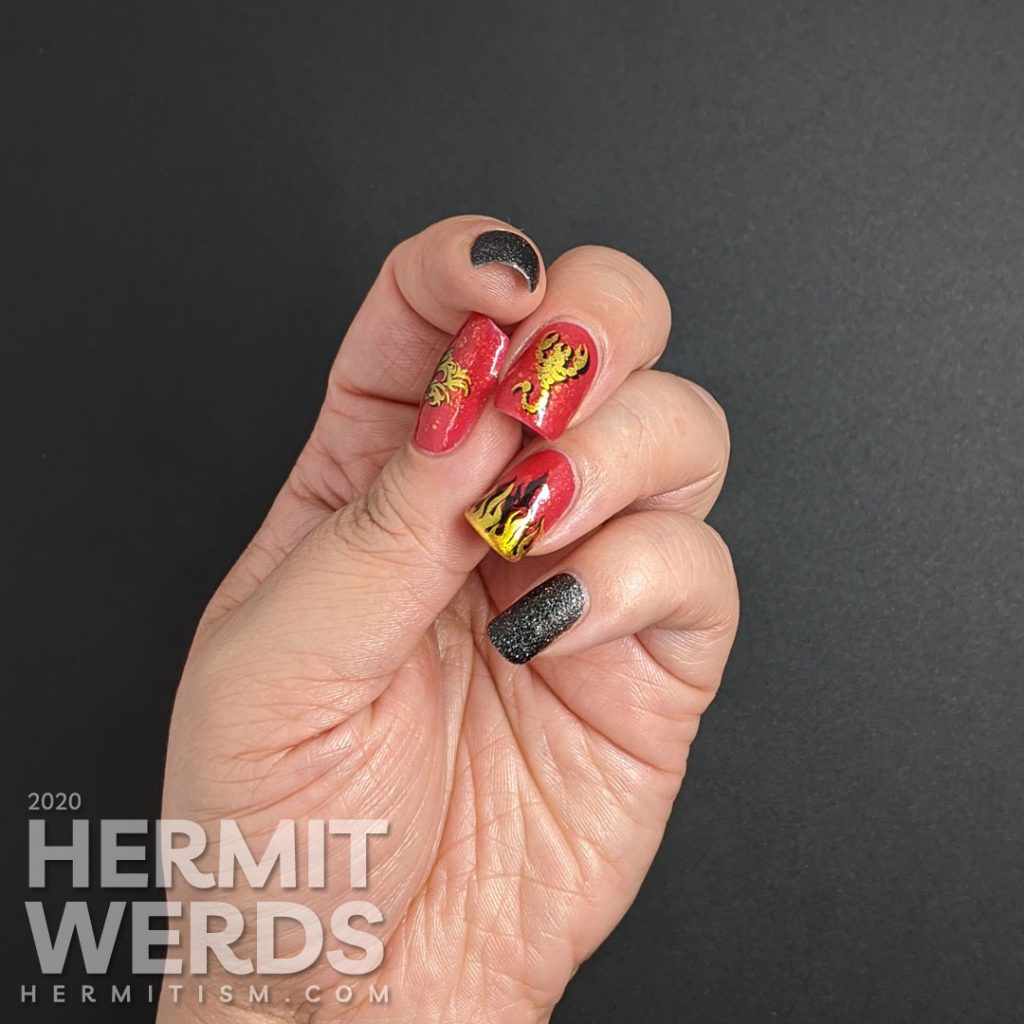 Long live Halloween! I hope you had a great one, friends. Until next time!