Because it's me, I checked my spreadsheet of Halloween subjects halfway into the month and realized that I had been missing half of my Halloween nail art goals! So here I am blowing the snake goal out of the water with a totally Halloween looking fierce and deadly snake nail art of soft pinks and baby blues…and…holo. . . .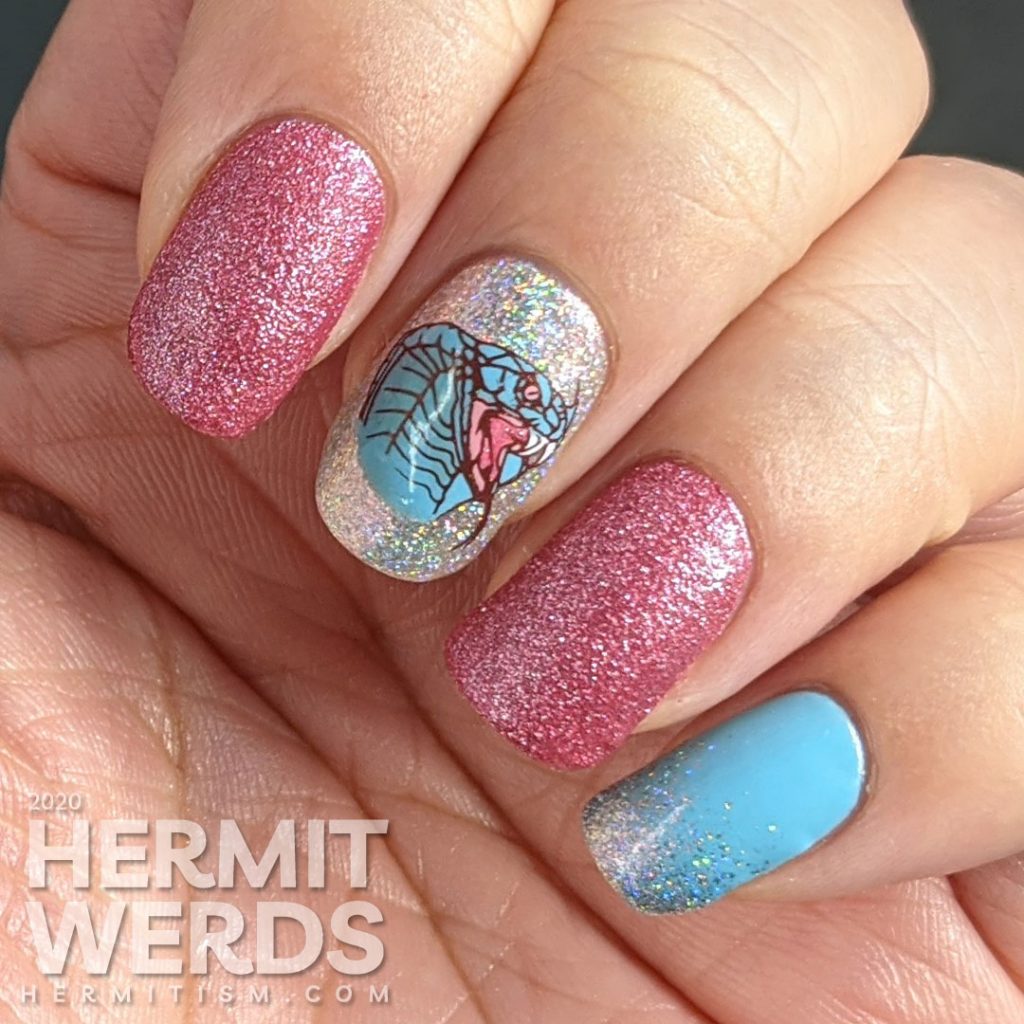 Look at that little face. He's just startled. Give him a minute and we can all go back to tea and cookies. 😁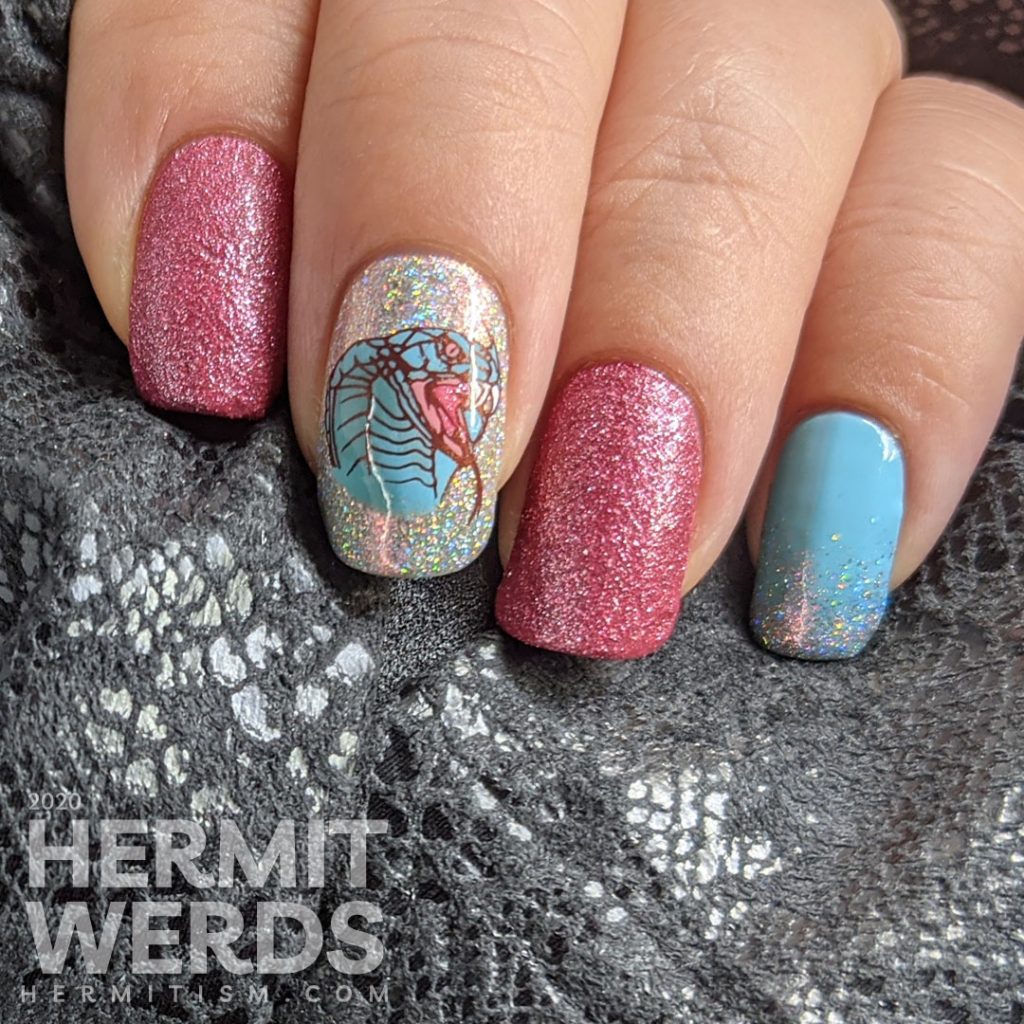 Past Pastel Halloween Nail Art
For the record, I've used pastel schemes for Halloween twice before, but I suspect this is probably the least Halloween-themed out of them…
Milky Blue and Desert Rose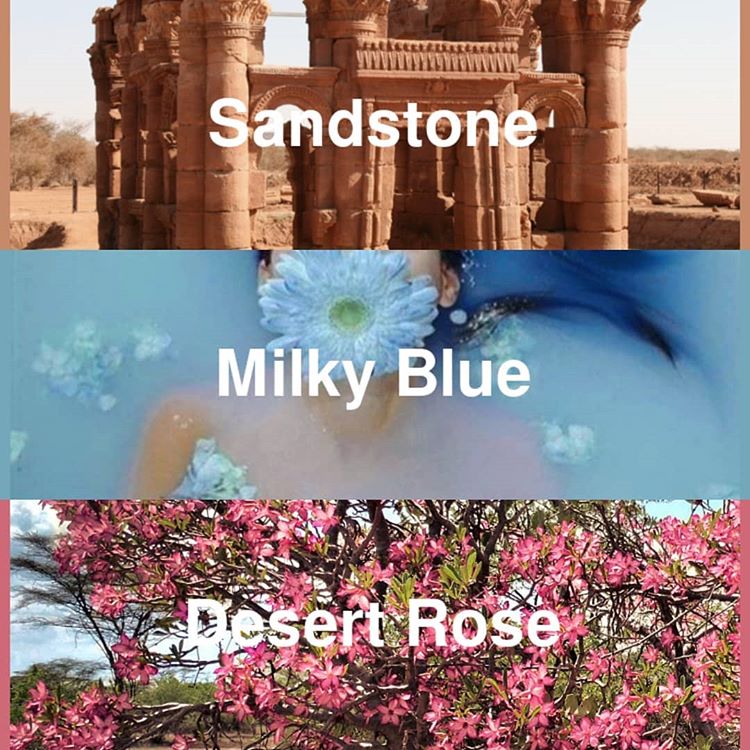 I loved the blue and pink shades that Ine picked so much that I couldn't resist painting my next mani with them. I even snuck in my other alternate for Sandstone as my stamping polish: B. Loves Plates' "B. a Milk Chocolate".
For Pantone's Desert Rose I dug around my collection until I came across Sinful Colors' Kylie Jenner "Krop Top". I paired it with ILNP's "Rosewater", which has a pink shimmer that I also felt matched, but it's mostly holographic. The latter you can still buy from ILNP, but the former has been out for a while. Good luck on eBay? 🙁
For Pantone's Milky Blue I was torn between Pretty Serious' "Doodle Bug" and Jenna Hipp's "I Surf with Boys". I decided to go with Jenna Hipp's polish because you can probably still buy it at Costco where my parents got it for me, whereas Pretty Serious is changing location and may not bring back "Doodle Bug".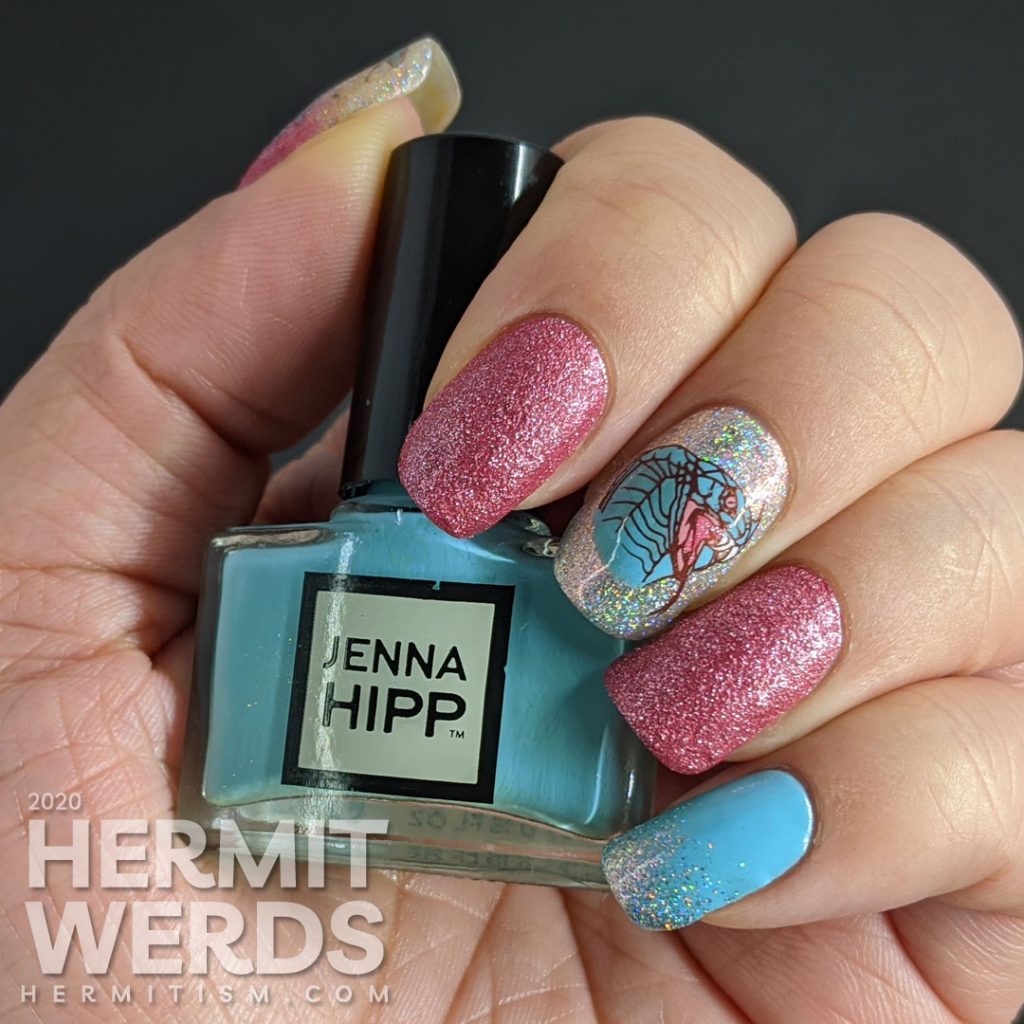 Products used
Base Polishes:

Stamping Polish:

Advanced Stamping Polishes:

Stamping Plates:
I didn't quite achieve a full skittle mani with something different on each nail, but it was fun to really play around more. Following the time line in which I painted things vs posting, it's been three manis since I used an advanced stamping decal and I used to use them in just about every nail art design. I must color within the lines!
(mostly) 🤣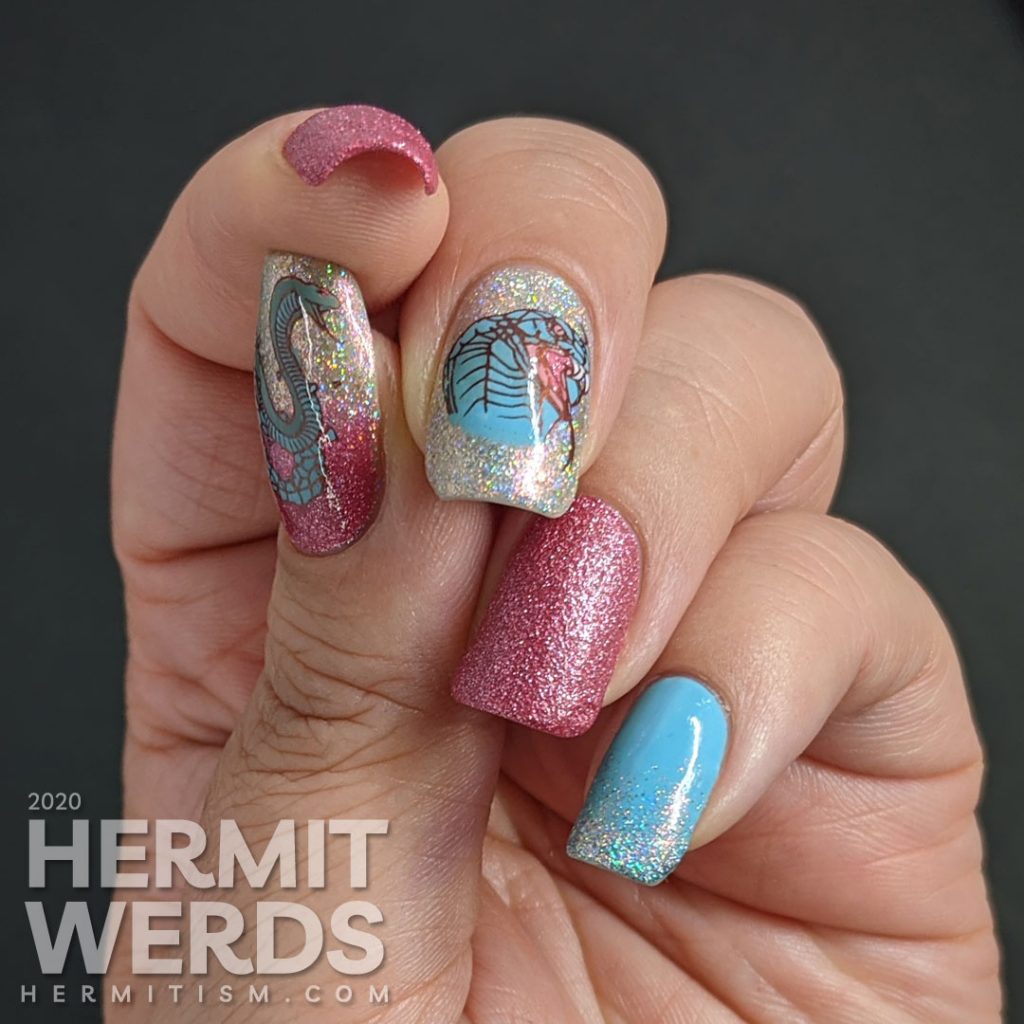 Oh! I know what's next! Near…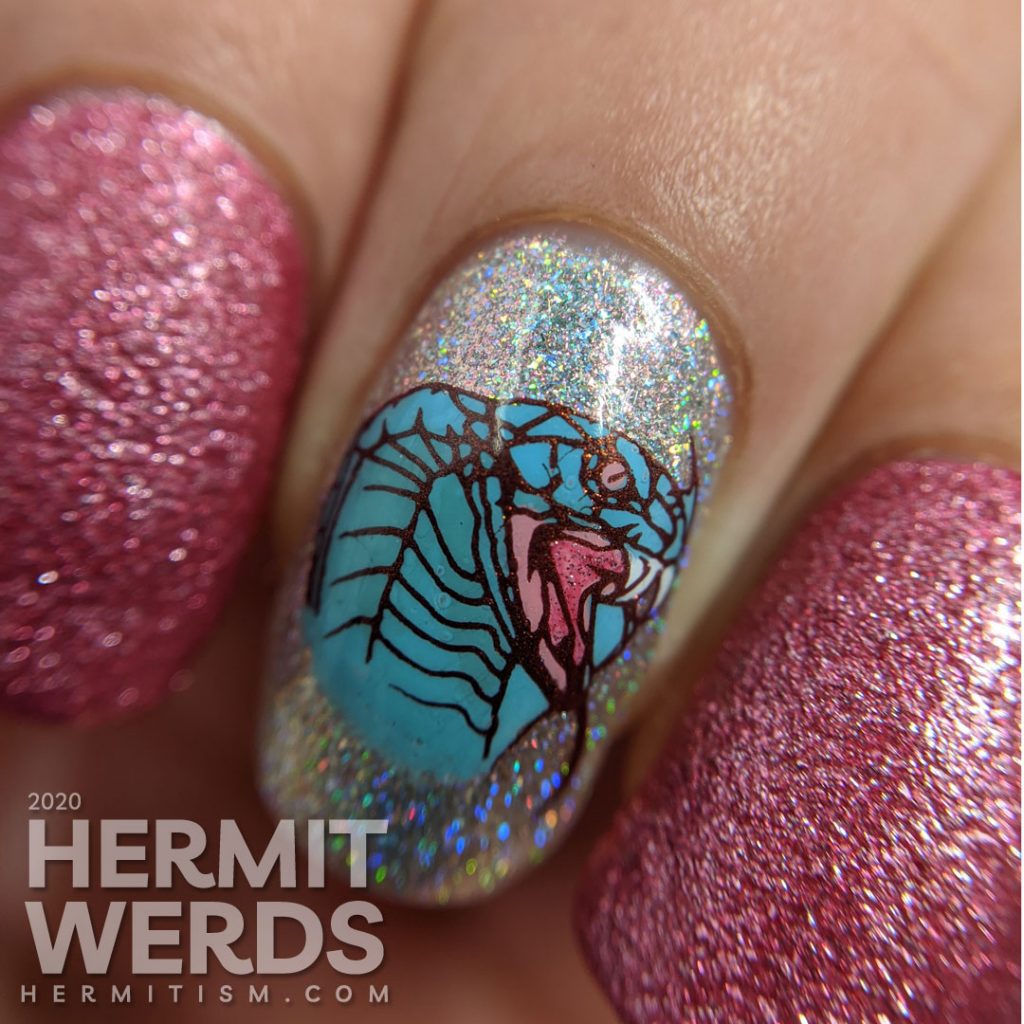 Far…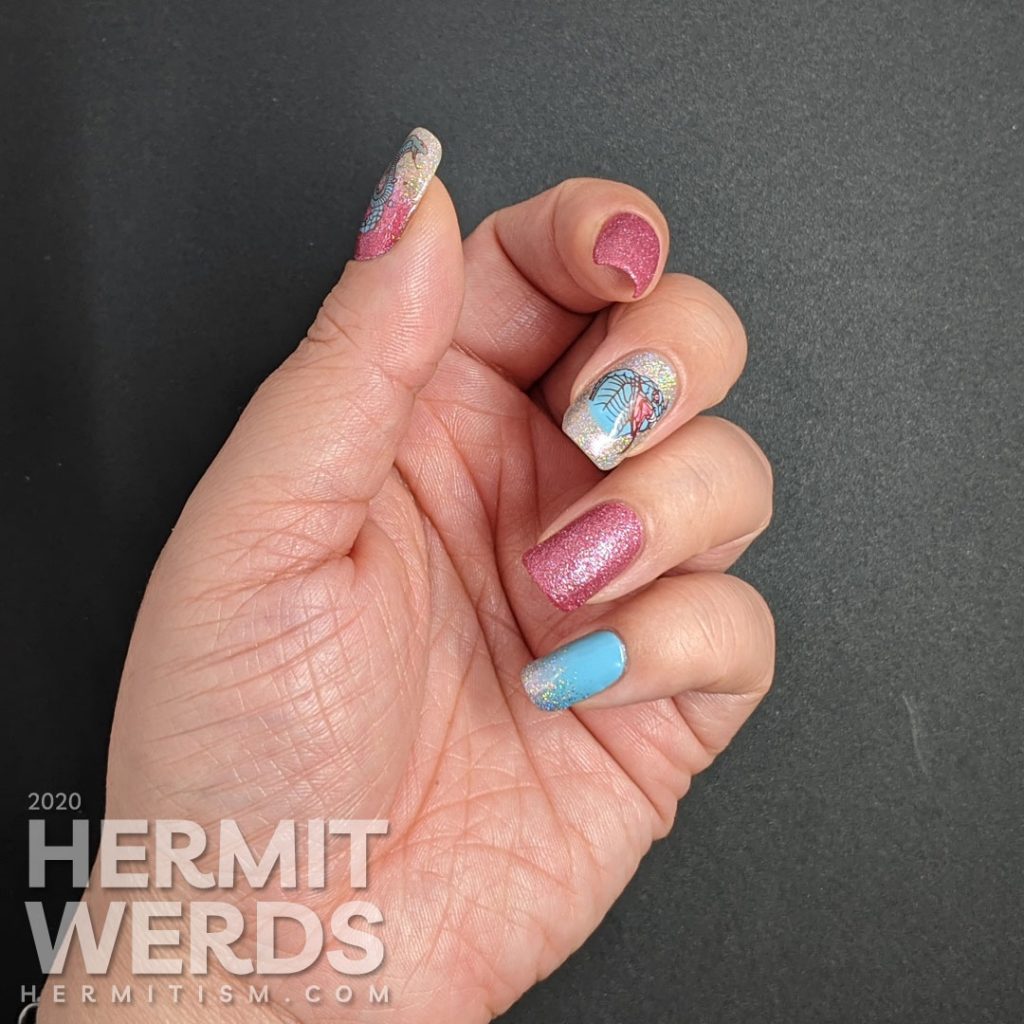 That "Rosewater" really has a lot of holo in it. I didn't change my lighting to really make the holographic sparkle come out and the rainbow still shone one.
Well, until next time, friends! Stay safe and don't forget to vote! 🙋‍♀️