#NailCraziesUnite's latest prompt is Red and Black Hobbies. I was rather stumped on this one since I didn't feel like doing more nail art on reading and that's my second major hobby. So… It was time to defeat my tendency to get mentally stuck on what I don't want to do and break out of the limitations I was putting on myself. It didn't have to be about my hobbies, did it? I didn't want to do anything about sports…or did I? And then there's #NailChallengeCollaborative's prompt of Love. Huh. That all fits together…quite nicely.
So this is about the hobbies of the Red Queen from Alice in Wonderland aka…The Queen of Hearts. 🙂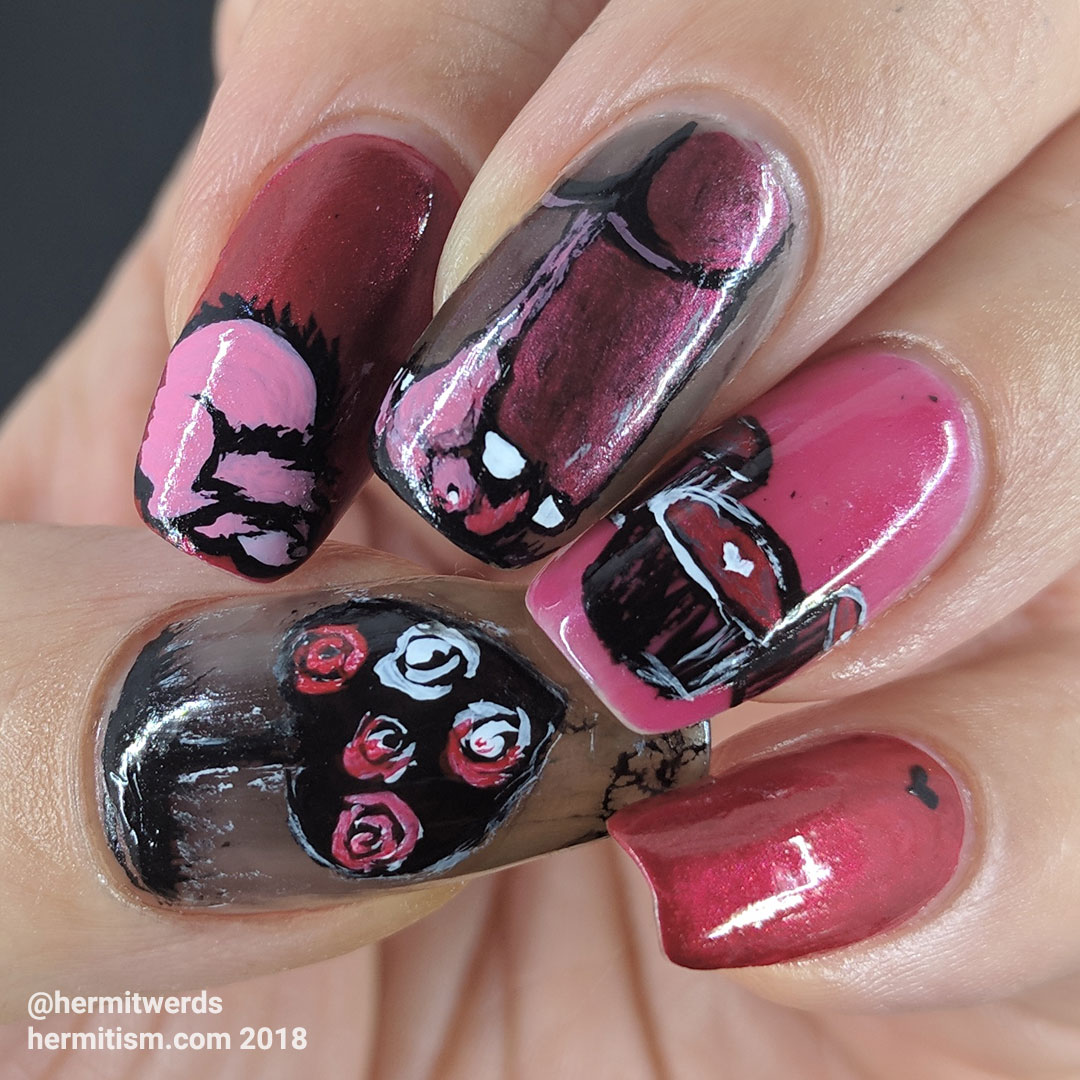 The hobbies of the Red Queen were pretty easy to pinpoint. She loves playing croquet with live flamingos and hedgehogs. She loves to collect red things. And she loves to order executions (hence the lack of gardeners by the tree). Now I don't think the poem connecting the Queen of Hearts with tarts is talking about the same queen, but the latest live action Alice movies have gone ahead and made that cannon, so yay! Elements selected. Time to figure out how to put it all together.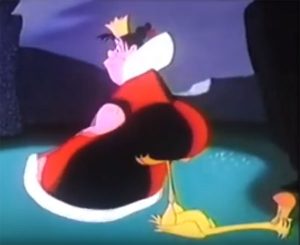 There was no way I'd find enough suitable images in my stamping plate collection so it was time for some freehand. I sketched out my design. Then I looked at my nails which are only so wide. If I wanted to depict the flamingo poised to hit the hedgehog I would have to change things and stretch it across two nails or risk it looking veeeery cramped. I was not feeling up to that. Plus…I couuuld skip ahead to the part where she is using the flamingo as a chair. I mean, perhaps there are people in this world who would pass at the chance to paint the Red Queen's butt, but I assure I am not one of them.
With my design re-sketched, I practiced getting the proportions of the hedgehog just right a few more times and then I just…painted it. I found myself using nail polish as well to fill in the queen's dress and the tarts. I hadn't intended to use white to highlight things but somehow that also happened. I am really glad it did. I think it looks a lot cooler with it.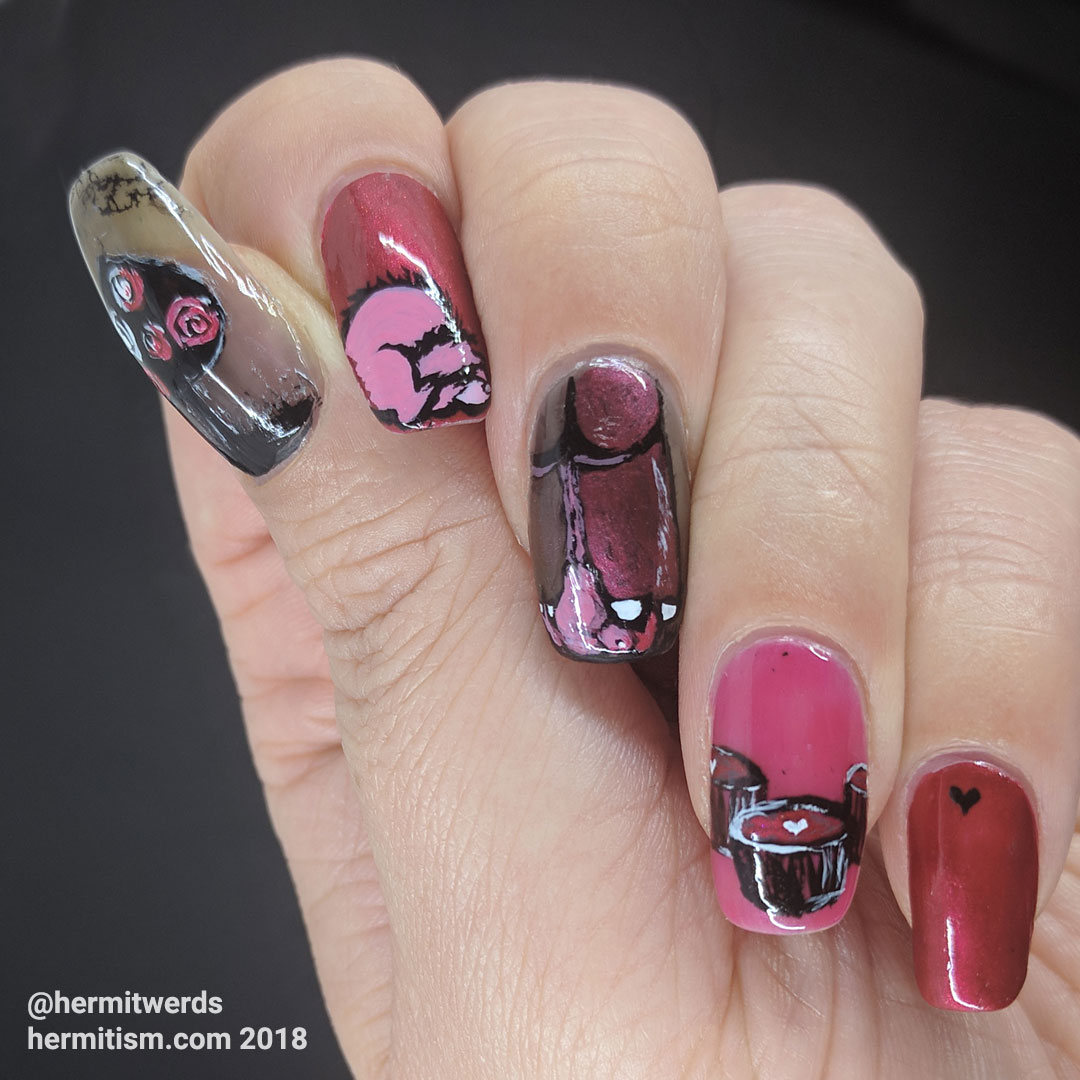 And that's it! I don't know how I'm going to convince myself to take these off my nails. Do you have a favorite nail? I have to admit I'm loving the rose tree on my thumb the most so I'm going to bias you with a macro. 😉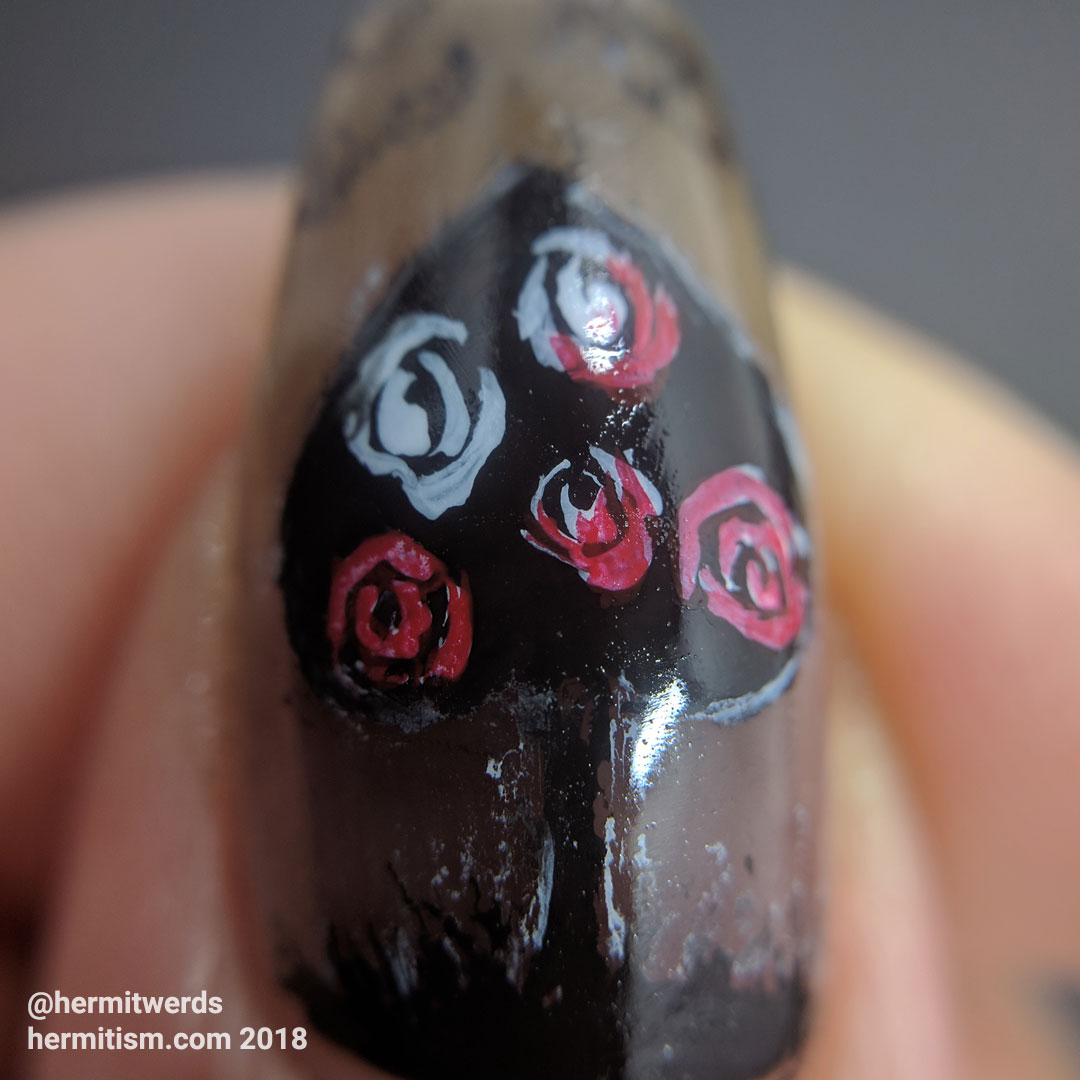 The lovely work from the Nail Crazies Unite group:
Feel the love from the Nail Challenge Collaborative: