I've been meaning to use these images for years and apparently this was the month. Sushi Cats! I am trying out a new (for me) challenge #AdultsColoringBookNails (Your Favorite Pet). I think these turned out rather well even though I used a glossy top coat and had a really hard time getting the pigment to stay where I wanted and not bleed out into other areas, which it did. And I should have taken the hint and just ran with that instead of fighting it because I really admire art that blends color like that. Instead, I was tired and fought it and removed pigment and reapplied, etc. In return, the hot pink sharpie ink stained my nails. And since this was one of the first nail arts I did with the reusable white base…yeah. You may have noticed a bit of pink on the black and white photo of It's Raining Fish. Blarg!
Look how pristine and white!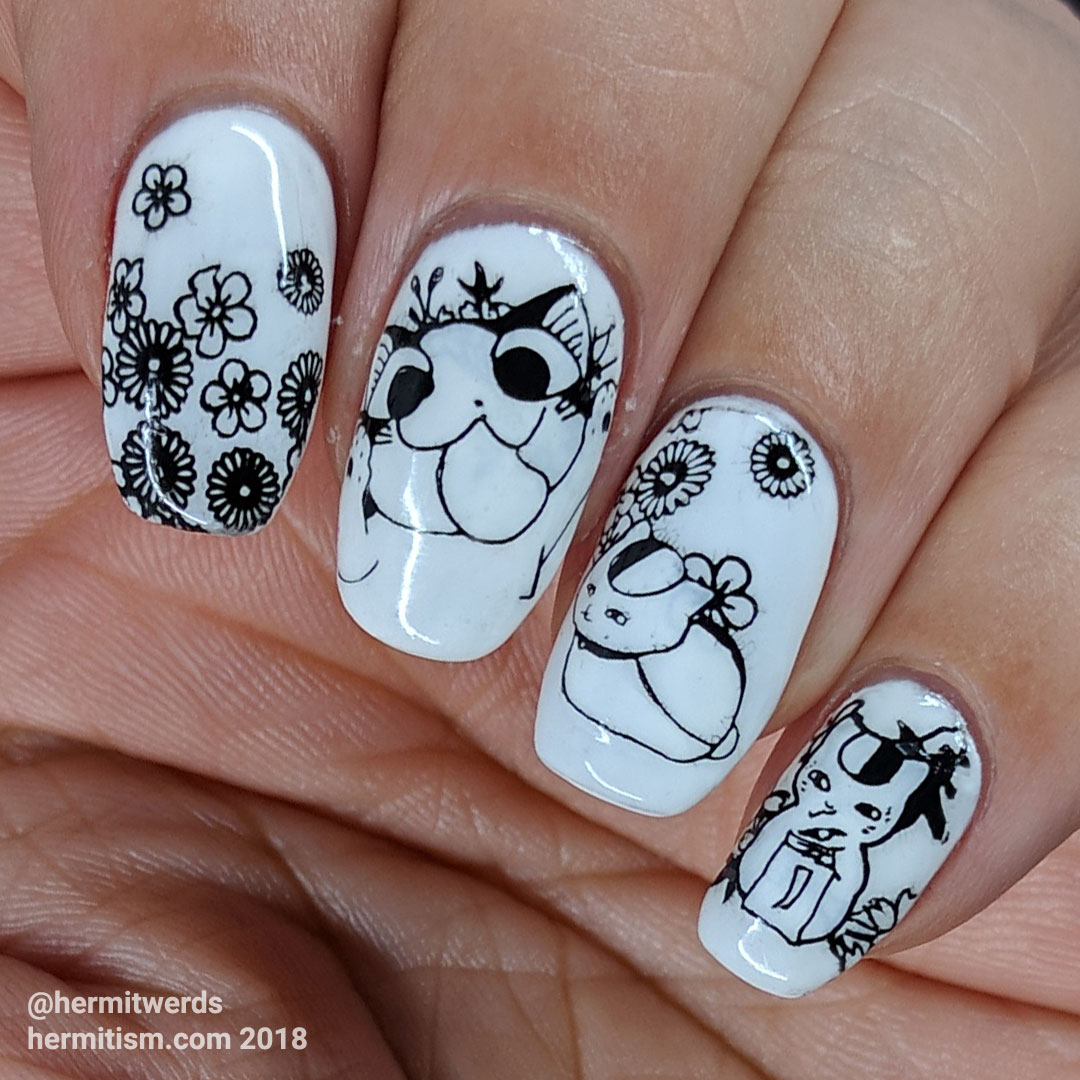 Not after we put this on it… (Why, oh, why didn't I use a matte top coat?)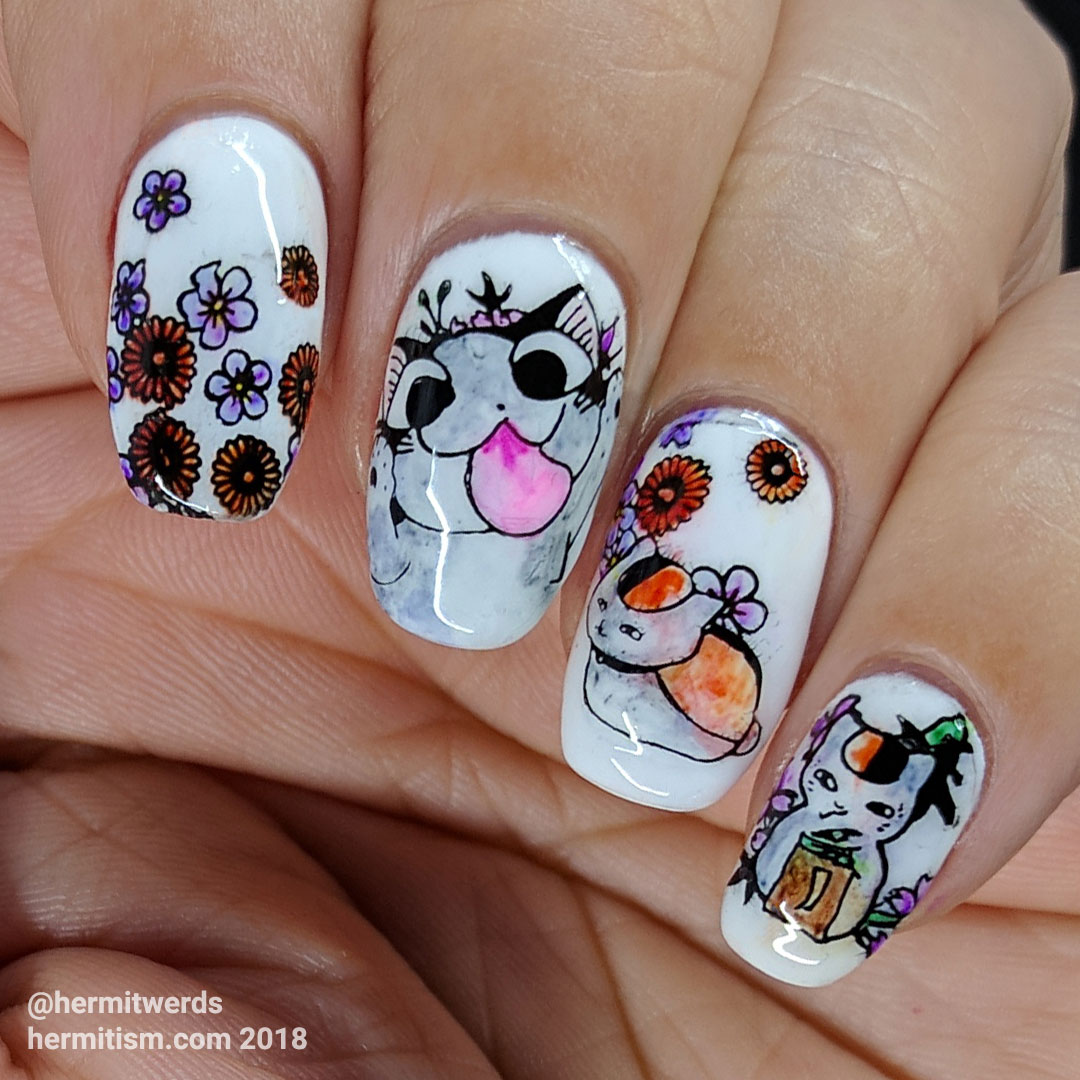 I love these images. They are so silly. This isn't the first time I used the slobbery cat, but it was pre-this blog so I'm afraid I alone got to enjoy them. This turned out better anyway. Possibly, I have improved over the years. 😉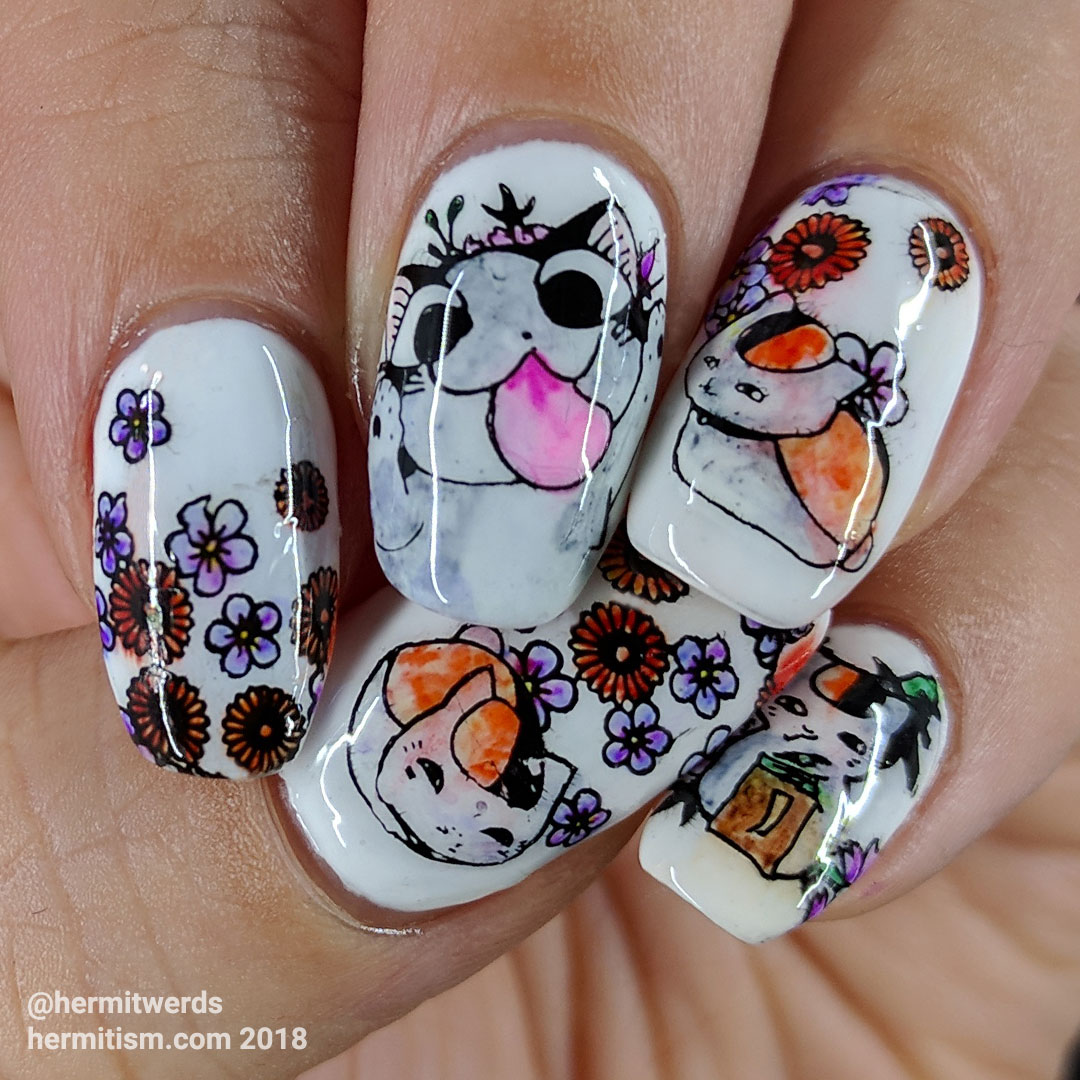 So here's how #AdultsColoringBookNails works: they give you a theme and you turn in two images. One is the black and white outlines and the other is those outlines colored in. But you're not supposed to color the background and I hate that. I colored in backgrounds in my coloring books as a kid so…I don't understand why this rule exists. But it's not my challenge. So their rules are their rules. I doubt I will do this again because of it. I can't look at these photos and not want to put a subtle green wash in the background. I can't not see that missing piece. I mean, I loooove Coffee Cats so much. The background adds so much to it! I can't bring myself to take them off my nails and I have other nail art that needs doing! The heart wants what it wants. My cindy hand nails have grown out, I should probably do something with that appendage…
Anyway, the group also has a history of prompts are understandably generic. I mean, it's a bit hard finding images that will work well for this and the smaller your collection of stamping plates, the harder it would be. So they are right in their choices but that makes them wrong for me. Disappointing because it's such a cool challenge idea and I hope their group of participants continues to grow. I just…can't.
And, no, I'm not posting any of this whining on Instagram. I don't want anyone to think I'm throwing shade at them and they're not doing anything that they need to correct. It's their challenge. It's a lot of work to run a challenge and they are doing a great job. And it's so cool! It's just a bad fit for me. I know. I'm weird. It's just part of my nail art style.
And…I'm thinking of not doing any month-long challenges in February. Unless someone comes out with some absolutely bomb prompts last minute, I'm sticking to one-off challenges and my groups from FB. Everything else is going to be the stuff in my head. I have too many sketched out manis that continue to not fit anything. I wanna do them!
Anyway, here are the two collages that included me from this challenge. There are two more for the other twelve participants so definitely check out the group if you're interested. Really neat. /sad sigh