I do love the coloring of a peacock. If I couldn't choose rainbow as my favorite color, I'd probably have to pick peacock. It's a testament to how much nail art I want to do that I have only labeled one other nail art as peacock, but it's still a favorite. This time I went beyond a lovely glitter gradient and included the bird itself as well as a few feathers from its train. It's very dark, so it was easier to capture all the details with a matte finish, but first…a glossy macro shot: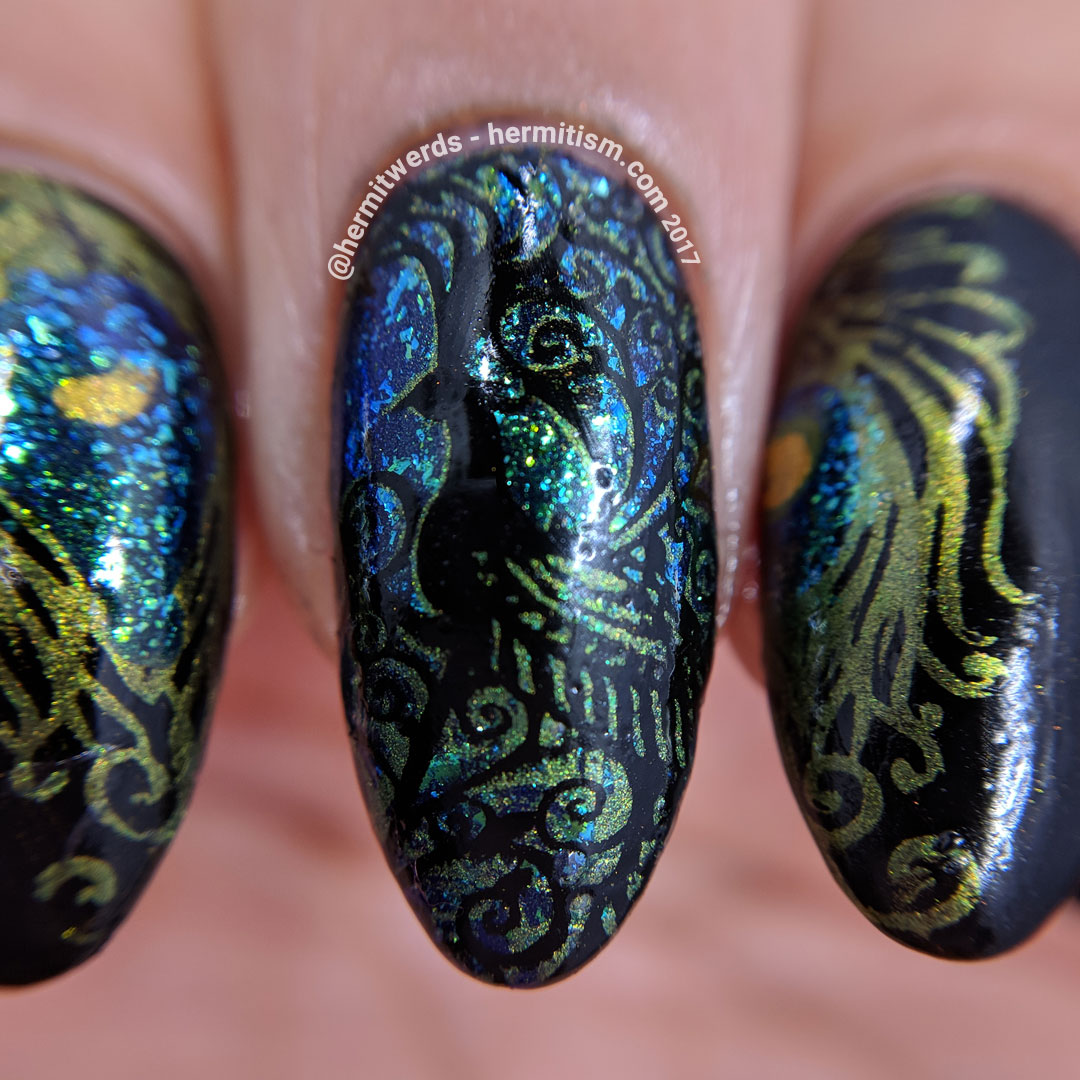 #glamnailschallenge – peacock
#nailchallengecollaborative – animal print
#clairestelle8challenge – feathers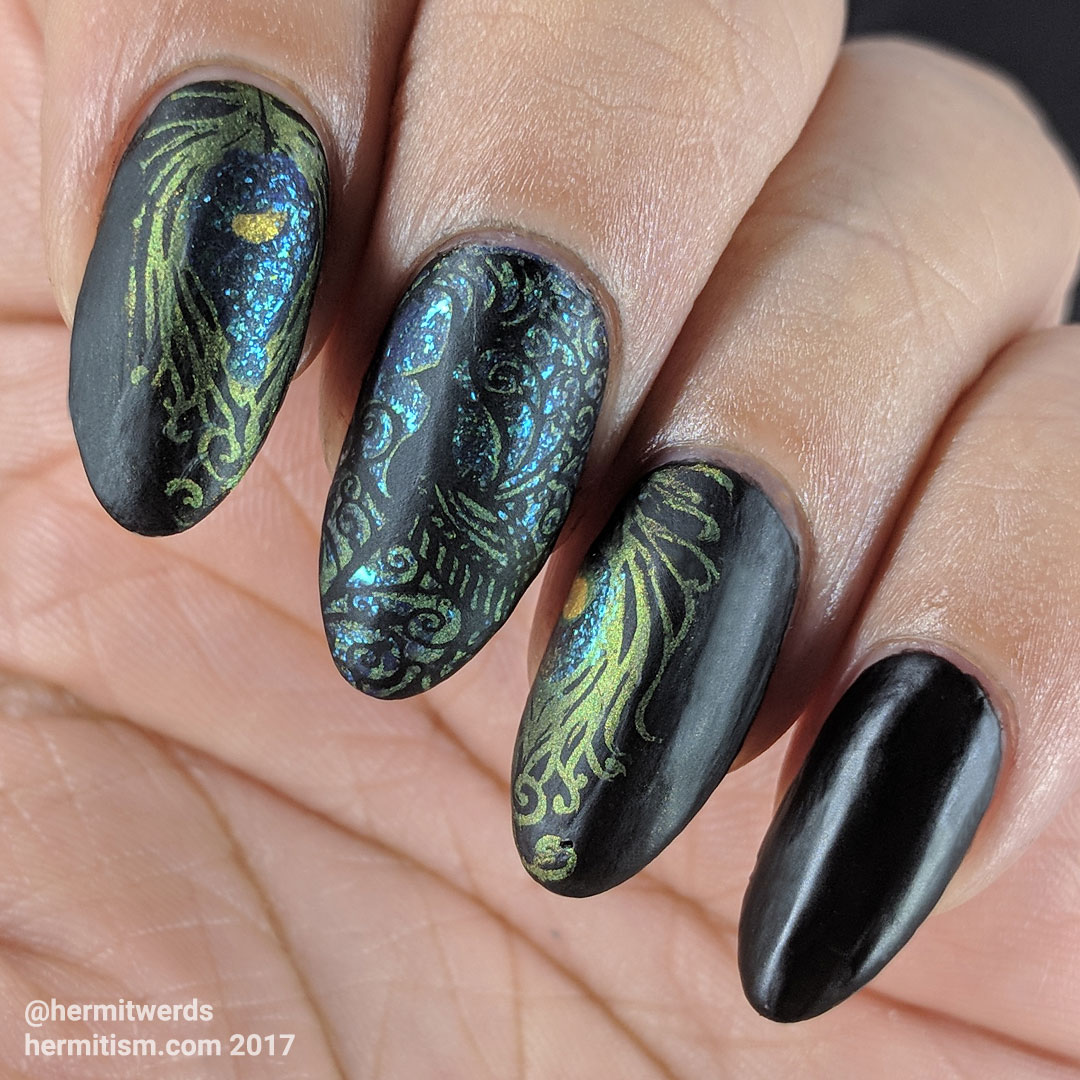 I still have such a long way to go to really master nail art, but I've learned a lot. You might look at this and think that I started with all black nails, but the peacock's finger was first painted with Olivera, then Gaia, and then double stamped: first with the Chameleon yellow/green polish and then with black. A year ago, I probably only would have stamped with colorful polishes on the black. Half a year ago, it might not have occurred to me to double stamp to help the line stand out from such a dark background. They were simple things to do, but you have to think to do them. And with that I still managed to put one of my advanced stamping feathers wrong side down. It took me a second to realize why I couldn't see the flakies I'd layered on top of the Olivera. Luckily I could paint more flakies on and my mistake isn't too noticable. Ah, humble pie. You taste like it's time to go to bed. 🙂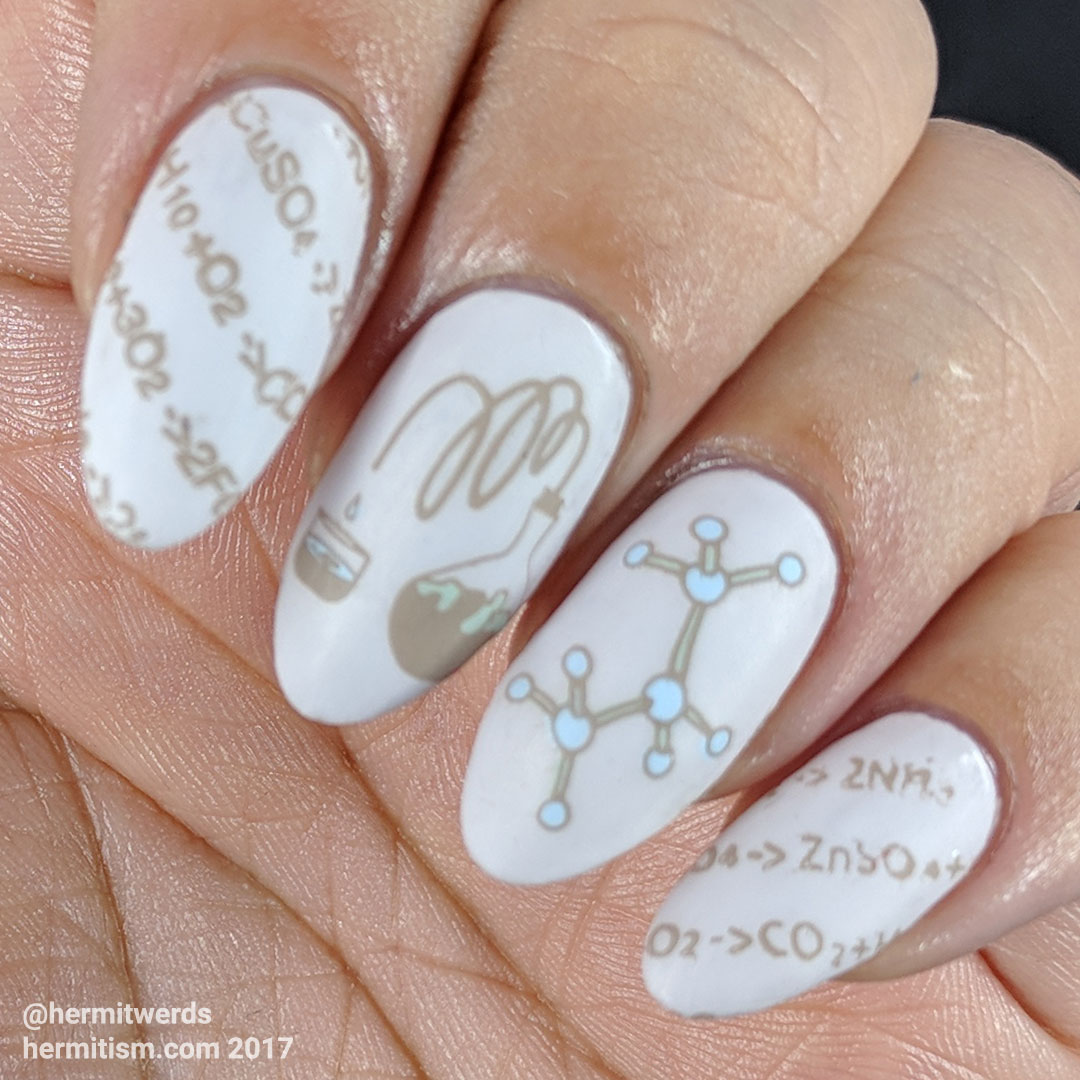 I must confess: I'm just not into neutrals. So I had few ideas and even fewer polishes to work with when it came to a Neutral Colors prompt. And even then the nail art stayed on my nails long enough to photograph and then I happily took it off and slathered on more rainbow-y things. I still have a feeling this comes across as more pastel than neutral, but I swear I tried. And I do like the nail art I did, it's just not my style color-wise. Meanwhile, I also got to use my Scholar nail plate with lots of science-y things that I purchased in case my chemist friend ever wanted her nails did again. No love from her yet. I can be patient. Maybe. 😉
#NailCraziesUnite – Neutral Colors
Check out the group inLinkz.