The title of the post is the name of the prompt I painted for. So I'm not being very imaginative there, but I do think I'm improving on the think out of the box thing. Because if I'd painted this a few years ago it would have been some trees or other landscaping against a night sky or some kind of fox in its den. Very literal. And now I'm like…I've got a fall plate with celestial animals. Go!
Maybe in ten years I will be able to paint the design in a different color scheme with the confidence that my subject will still translate. 😂
Nail art products used
Base Polish:

By Danny Vianna's "Starry Sky"

Stamping Polishes:

Essie's "No Place Like Home" and Maniology's "Kraken"

Reverse Stamping Polishes:

Maniology's "Blue Ribbon", "Marzipan", and "Pencils Down"

Stamping Plates:

Hit the Bottle "Easily Abstracted 01" (blobs, leaves,striped lines)
Moyou London "Fall In Love Collection-13" (celestial deer, rabbit, owl)
Items in italics are debuting on the blog for the first time.
I suspect I was helped in interpreting the prompt less literally by my base polish: By Danny Vianna's "Starry Sky". It's a blue jelly with blue, yellow, and white hex glitters in a few different sizes plus star glitters. So basically it's the night sky in a bottle and people loved it so much that it was sold at the Polish Pickup sale twice. I'd passed on it the first time, but I couldn't resist it a second.
From there I thought some blobs would help anchor the stamping images and they kinda turned out to be a progression of a sort. With a cut out of a leaf on the far left to the leaf silhouette on the right. The way the blobs look like they're flowing across multiple nails was a complete accident, but I like it!
After that I picked the owl, deer, and rabbit as my celestial animal stamping decals and filled them in with almost-pastel colors (any lighter and it would blend in with the silver outlines).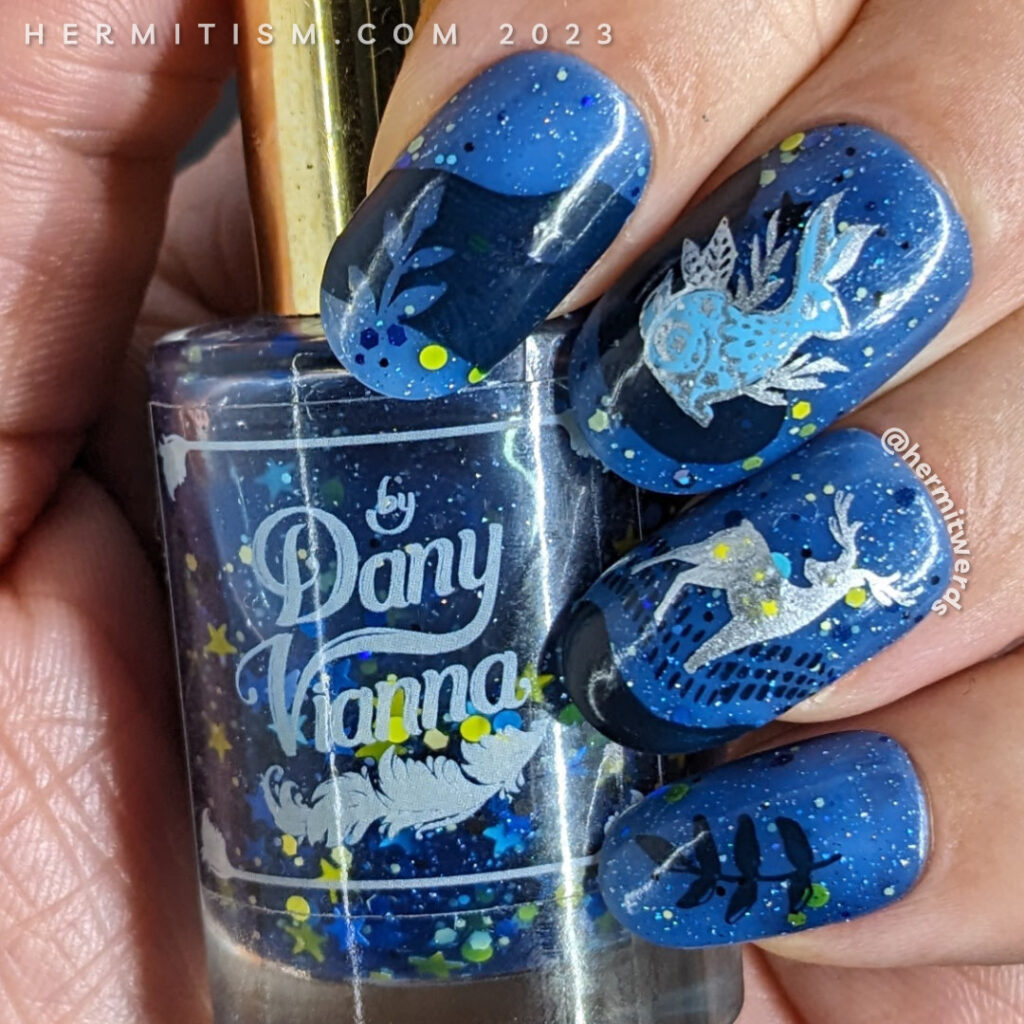 Final celestial night nail art photos
Until next time, friends! 🙋‍♀️