I was very tempted to cheat on this. I have never done any sort of water marbling before and I do have several nail plates with images for it on them. But I have watched videos on how to do and I knew I was just being a lazy coward, so I made myself do it anyway. So glad I did. I love this technique!
I decided to make my water marbles on a smaller pool on my nail art mat and let it dry there instead of trying to dunk my fingers in a glass. It was less of a desire to avoid that version of the technique than a desire to be able to use up as much of the image as possible. I covered three nails with the two I did and I probably could have done my whole hand if I'd tried. Very economical. I applied the decals over a white base to ensure the colors would pop and used a clear polish in the water marble to leave space for the white to show through.
If you were thinking candy corn when you saw this mani, we were totally on the same wave length! 🙂
The first time I dropped my first color down and then flailed about realizing I wasn't quite ready to start. By the time I was, the first layer had already dried and I had to remove them from my pools (pretty much lifted them up with a needle and dragged them to the side). The second time I lost the third decal due to it bursting the water tension on the pool of water and running everywhere. I suspect it's because I dropped the polish from too high up. The other two worked great and I stuck them down on my nail the way I would any other nail polish decal. I cannot recommend this way of doing things enough. I also can't get over the way it looks on my thumb. Gah! I can't paint my nails today like I planned because then I'd have to take it off.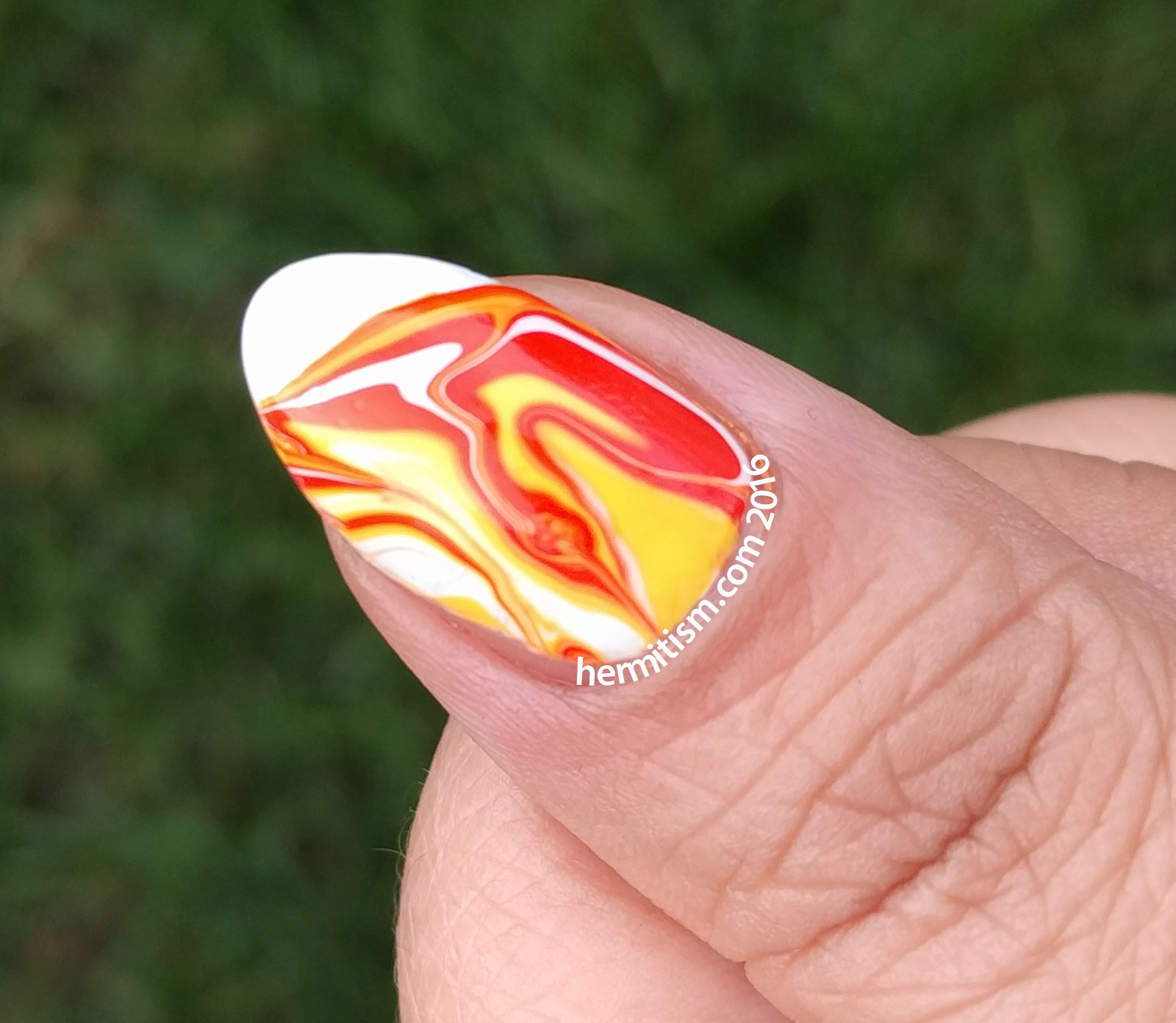 Cathy at More Nail Polish set up an inLinkz so here are some of 2016's challenge participants: