Ahoy, friends! It's Talk Like a Pirate Day and I'm celebrating with this booty-filled mani, which apparently meant working on it last minute because my brain wanted to finish three other manis before getting around to this one. Oh, well. It's my hobby so I can be ahead and behind at the same time if I want.
It's been a while since I've filled out such detailed reverse stamping decals. It was a little weird to dig so deep into my polish drawers for all the colors. We have here two different parrots, gold and jewels, even a lighthouse! This mani has it all. But most of all it's for pirates and that's what I wanted. I'm actually playing with the idea of painting a matching set for next year so I can wear a full set of pirate nails whenever I want.
Nail art products used
Base Polish:

Sassy Cats Lacquer's "Floating Realm"

Stamping Polishes:

Hit the Bottle's "Bun Intended" and Maniology's "Morning Mist"

Reverse Stamping Polishes:

Where needed I also used these polishes to extend a decal.
Bonita's "True Diva"; Cupcake Polish's "Here Today, Gone to Maui"; Look's "Lilac"; Maniology's "Alice", "Coconut"; "Glass"; "Gold Rush"; "Pencils Down" + "Soulless"; Sally Hansen's Insta-dri "I-rush Luck"; Shinespark Polish's "Blue Azure"; Sinful Colors' "Dream On", "Ruby, Ruby" + "Snow Me White"; and Zoya's "Spencer"

Stamping Plates:

Apipila "Water Horror" (kraken)
Maniology "MXM057" (island, treasure chest, lighthouse, map in a bottle, and gold/jewels)
Messy Mansion "MM37" (pirate parrot, key, anchor, map, seagull, pirate ship)
Items in italics are debuting on the blog for the first time.
It all started with my base polish: Sassy Cat Lacquer's "Floating Realm"–which really kinda calls for airships of some kind, but that will have to be for another day. I had this big long image that I wanted to use across my nails but it starts large enough to cover more than a full nail and tapers off to a thin line of gold bars so I needed to figure out how to "fill" the rest of that space. I know others have used the map images on the same stamping plate, but I had another plate I wanted to use (Messy Mansion M37) that had this partial silhouette of a pirate ship and I thought I could do some kind of soft background stamp instead. So I went with that and a kraken and then spent the next century filling in all the tiny details of the other image.
So much work but I love it, so it's been a good Talk Like a Pirate Day. Be sure to check out some previous pirate nail art if one mani isn't enough fer ye.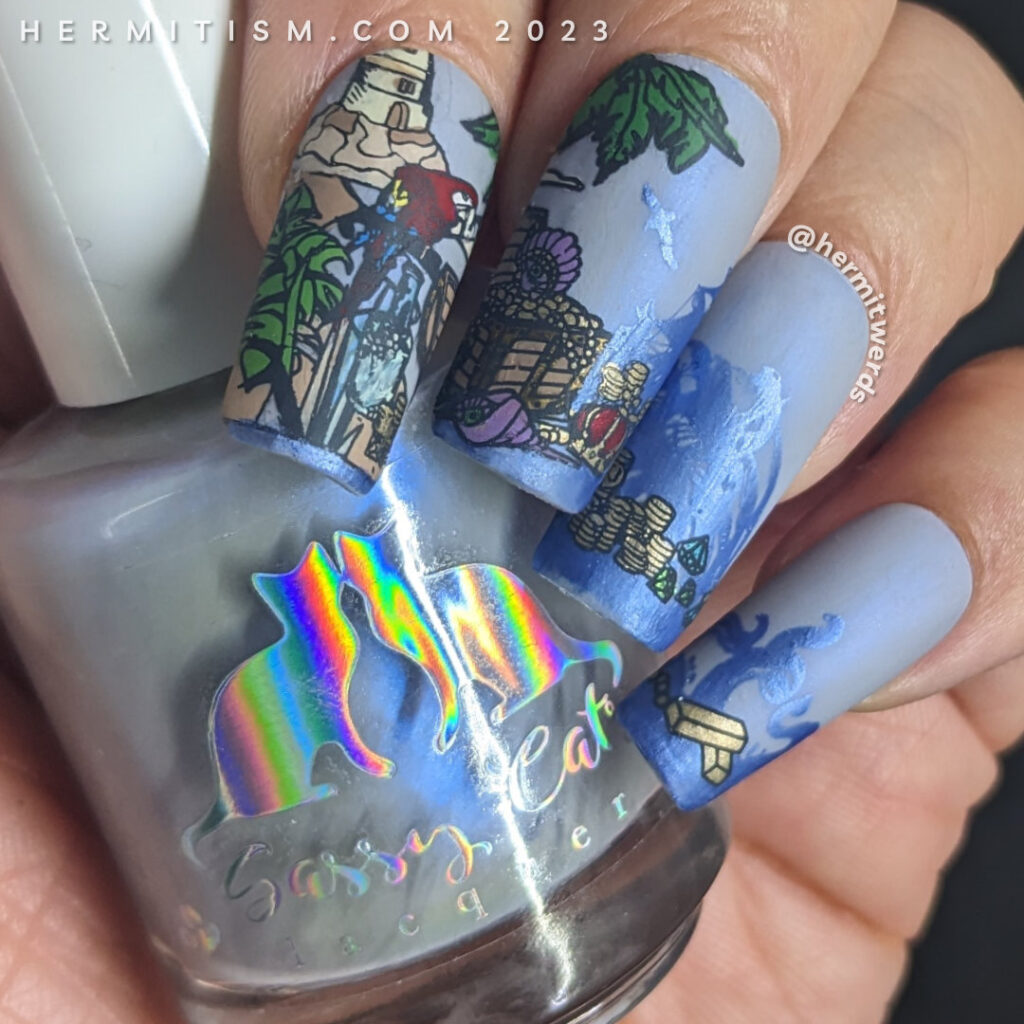 Final pirate nail art photos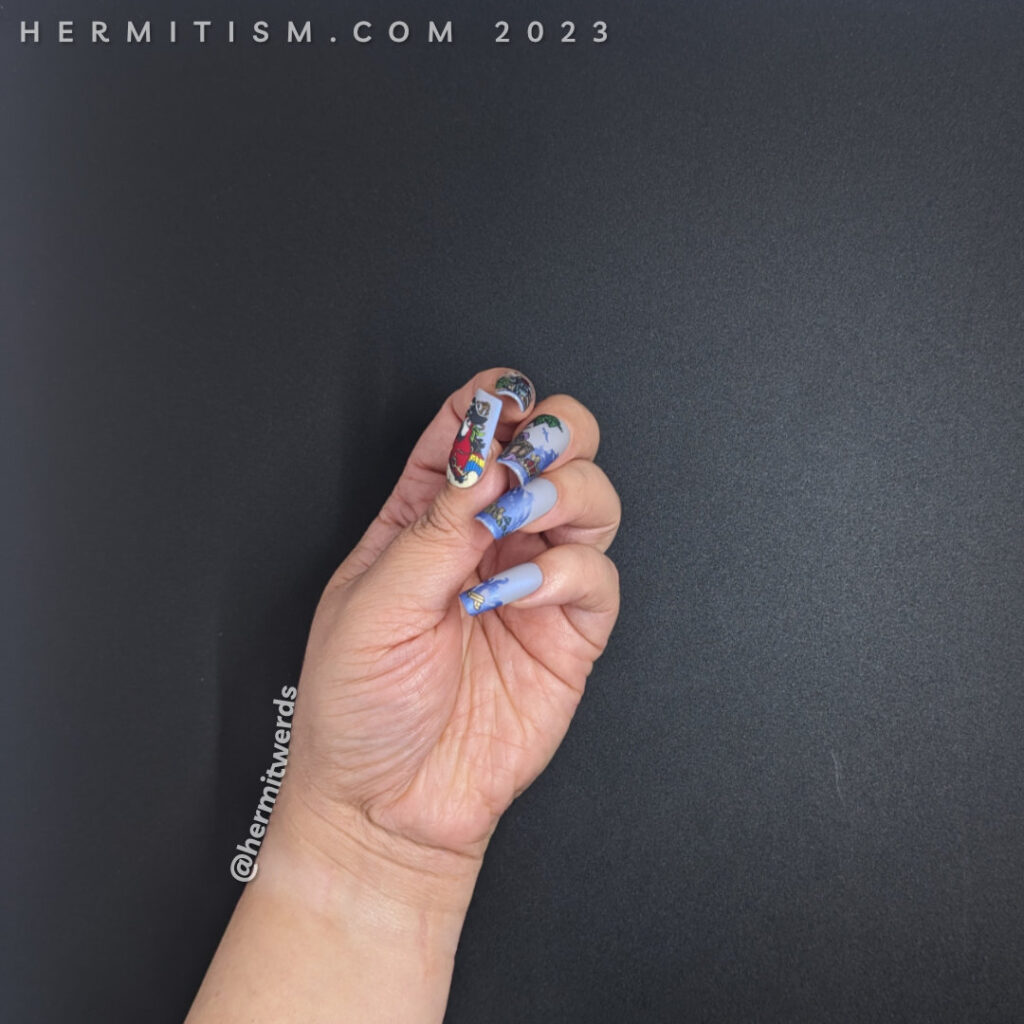 Until next time, friends! I hope you had a sufficiently pirate-y day. 🙋‍♀️