I really wanted to paint some Krampus nail art last year. I had two Hit the Bottle Bah Humbug stamping plates and I was ready. Sadly, I didn't have the capacity and posted maybe once that month. So I was extra happy to paint today's look. And it also included an image of a bird with the words "Be Jolly" which I have been wanting to nope at for sooo long. Yes, the holidays can be so wonderful, but they're also a time for high suicide rates. So check on family members and friends who struggle with depression.
Nail art products used
Base Polishes:

Sassy Sauce's "Itty Bitty Tiddledy Committee"

Stamping Polishes:

Maniology's "Candy Apple", "Cozy", "Mangrove", and "Sticky Black"

Advanced Stamping Polishes:

KADS' "34 Salmon", Maniology's "Coconut", and Sinful Colors' "Sail la Vie"

Stamping Plates:

Hit the Bottle "Bah Humbug-02" (small Krampus) + "Bah Humbug-03" ("Merry Krampus", Krampus w/whip, "Not Again!"); Maniology "M165" (skull garland) + "M333" (plaid pattern); and "XY-T22" ("be jolly", bluebird)
Items in italics are debuting on the blog for the first time.
I bought this stunning thermal polish by Sassy Sauce last year. It's clear to green with lots of red flakes and it's sooo pretty and Christmas-y. I noticed they made a similiar polish this year that leaned more green overall. I didn't get it because I had this one, but if you love this polish as well, keep your eyes peeled at the Polish Pickup sales around this time of year in case Sassy Sauce strikes again.
This was a lot of double stamping, but I like the way it makes everything pop no matter what's cold or warm. Worth the extra time, for sure.
Hot Tip: Use stencils if an image is too small for your nail
Beneath the focal stamping images, you might notice random circles of plaid. That's for an Instagram prompt. Very seasonally appropriate, really. Both my mom's Christmas table cloths are plaid.
Now I really need to get one of UberChic's plaid stamping plates because my other plaid making plate is too small for these false nails. Since everything I had was too small (and boy did I search around for anything), I decided to go with the most basic of plaid patterns, trim some circles out of a piece of paper, and stamp using it as a sort of stencil. Making it work, babeee. 😎
Final Krampus nail art photos
A giant macro before we go back to our usual nail photos.
It's winter so this is the way I normally see these nails. I actually had to break out my blow dryer to warm them up for photos. Sadly, the cool shot button wasn't enough to get it back to cold so I still had to use ice water. Fun!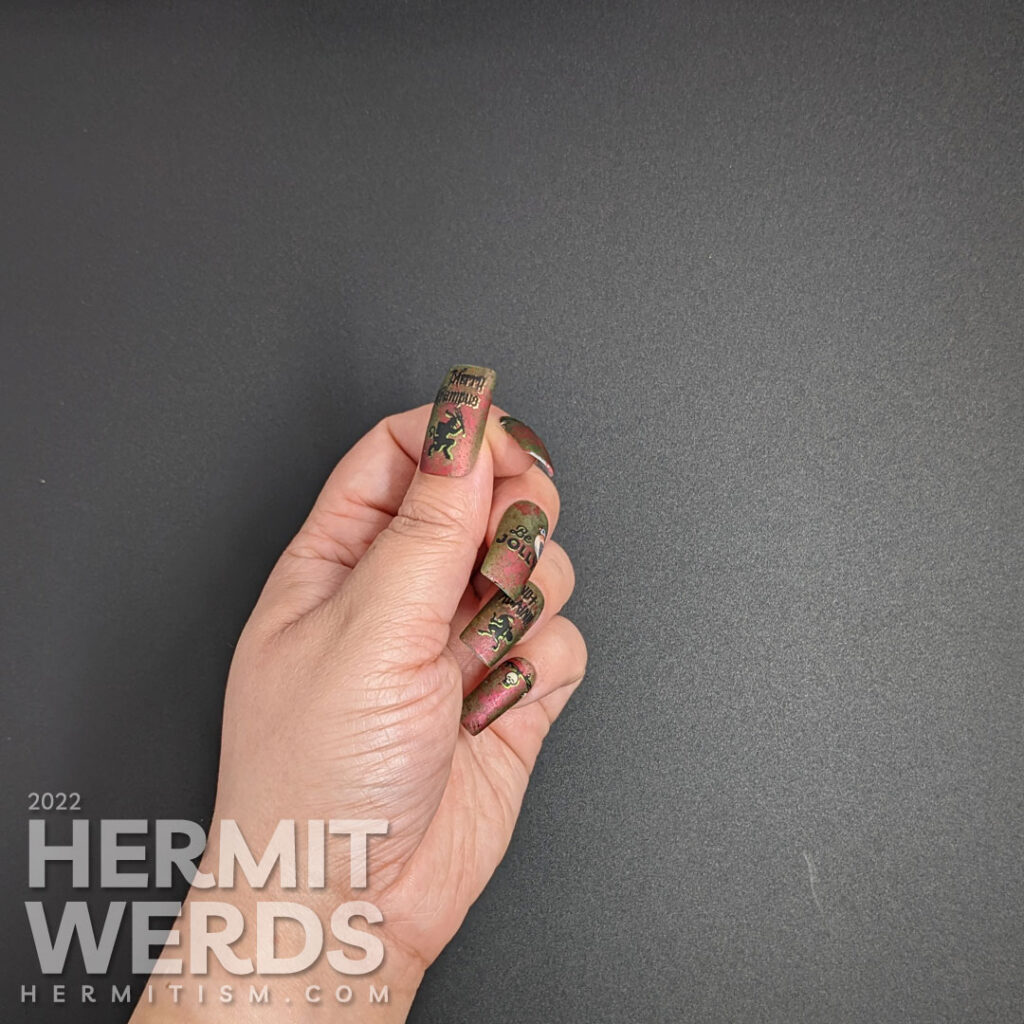 Until next time, friends! 🙋‍♀️