March 2022's ManixMe box was all about classic literature and reading. They did a bunch of little sets for each book they decided to feature. I decided to base my nail art on Anne of Green Gables. I do remember enjoying reading the series in elementary school, though it was sadly lacking in magic. Still haven't watched the latest tv series (Anne with an E), although it's on the list of maybe-watch. I really don't have a to-watch list because in the end it relies on my mood and you can be interested in a thing but never in the mood for it.
Seriously. I made a little Goodreads "priority" shelf for four books in 2012 and never read any of them. Not. A. One. Just discovered that handy shelf again last month. Maybe I'll read them now. I added to the list too. It's important to compound your empty gestures. 😆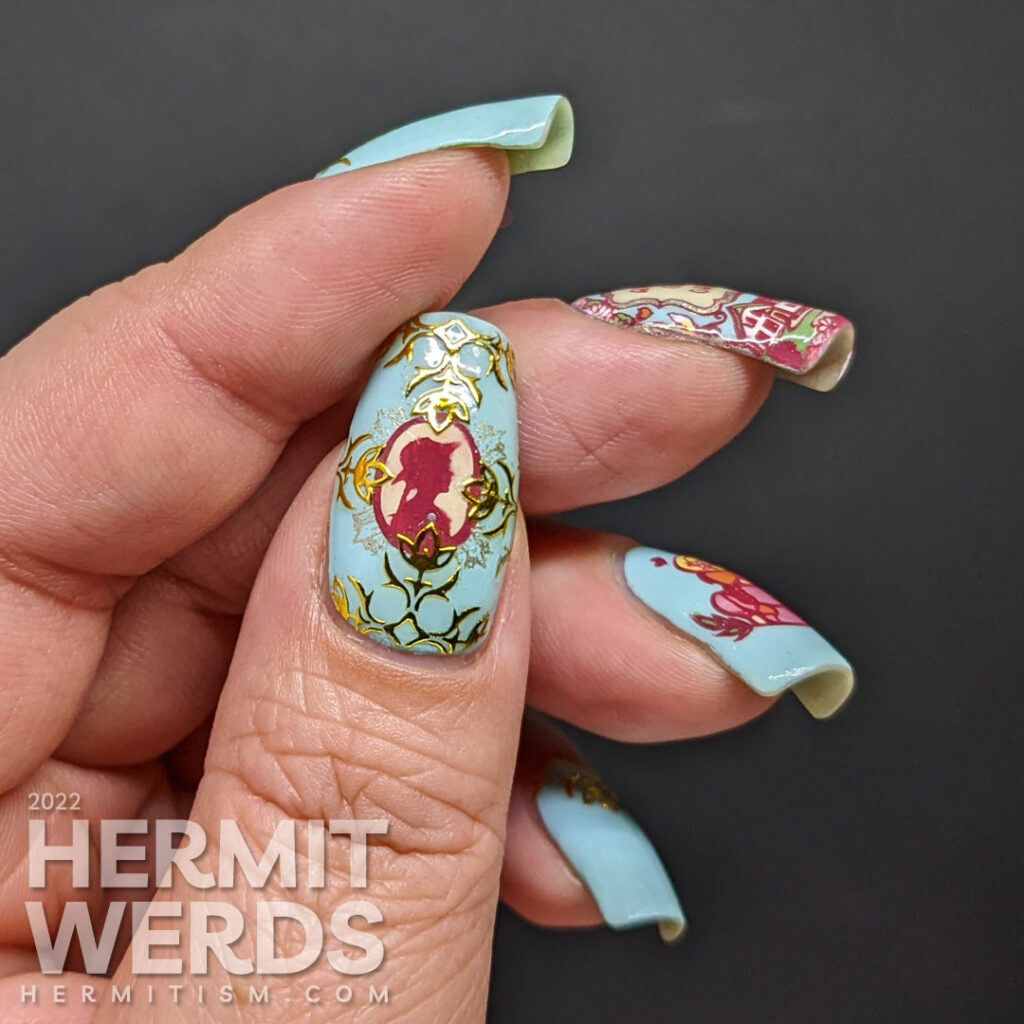 Nail art products used
Base Polish:

Stamping Polishes:

Advanced Stamping Polishes:

Stamping Plates:
Items in italics are debuting on the blog for the first time.
Putting together the design for this nail art was pretty easy. Painting…not so much. The stamping plate had exactly three images for Anne of Green Gables and I just used all three. My original intention was to use the nail foil that came with the ManixMe box. It did not like my lumpy and bumpy thumb. I will probably only use those on false nails now. So instead I used the gold stickers that came in January's ManixMe. Then I kept messing up my decal placement by a lot. The first time it was the book cover. The second time, Anne herself. I gave up and just tried to angle my photos so it wasn't too obvious. No way was I going to fill in those decals a third time.
Initially I also stamped the decals with a brown polish, but it just didn't fit. So I shrugged and used the darker shade that came in the box. I would have thought it too light, but "Sonnet" works really well as an outline for reverse stamping. I'd like to try it against a dark polish and see if it swings both ways.
March's ManixMe collab
Everyone did an amazing job and the variety in subjects was wide. Some of us picked generic book-loving designs. Some stuck with the books that Maniology chose to highlight like our wonderful host @denise.nailed.it's Les Miserable cover recreation. 🤩 Finally, some of us used the images to highlight completely different books like @nail.art.by.diane's Bridgerton mani. Anyway, check out the group tag to see everyone's post.
ManixMe's April box is weather-themed so that's what we'll all be doing next.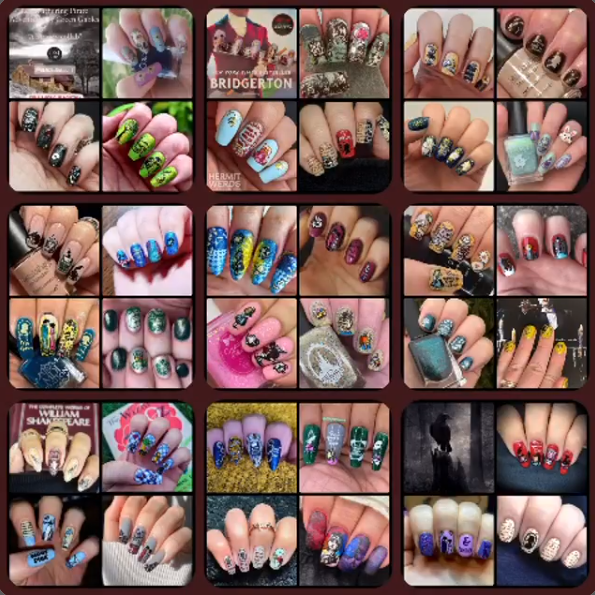 Final photos
My last two photos and then we must bid Anne adieu.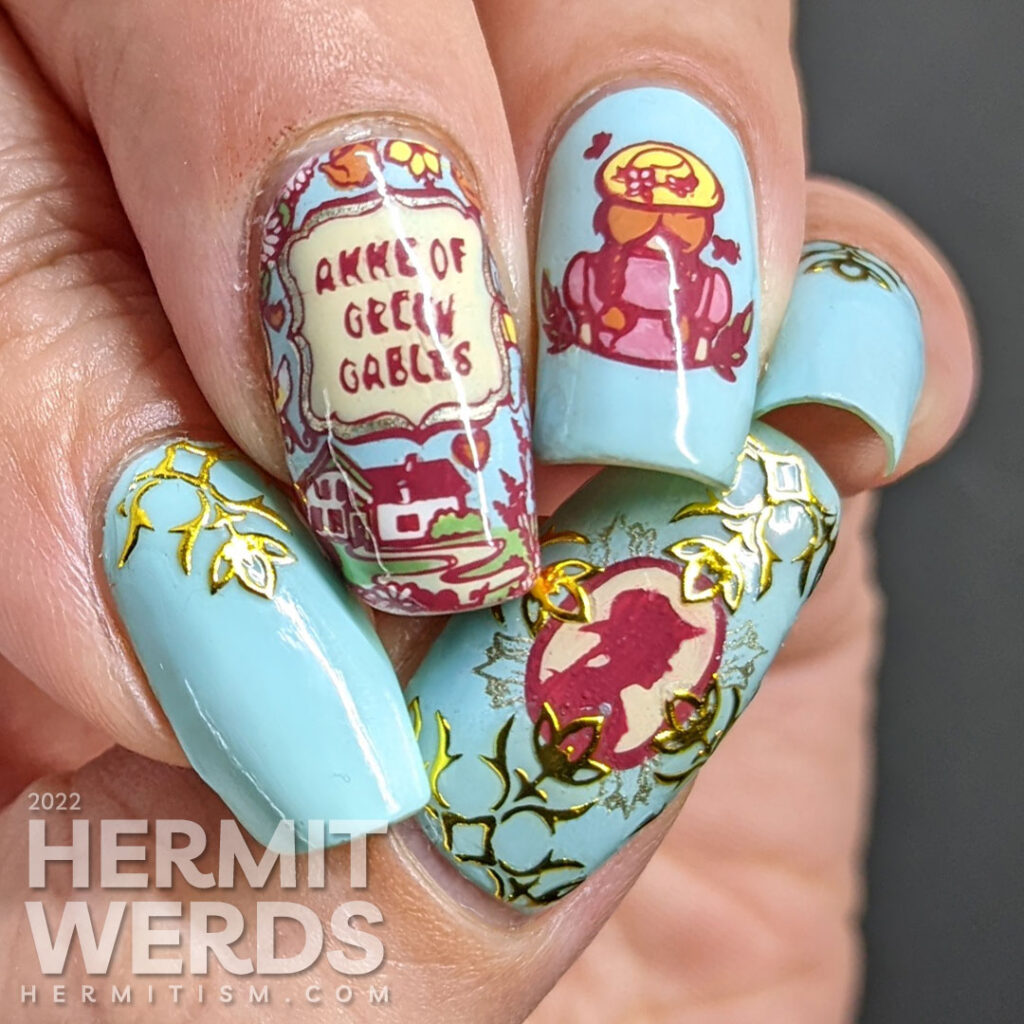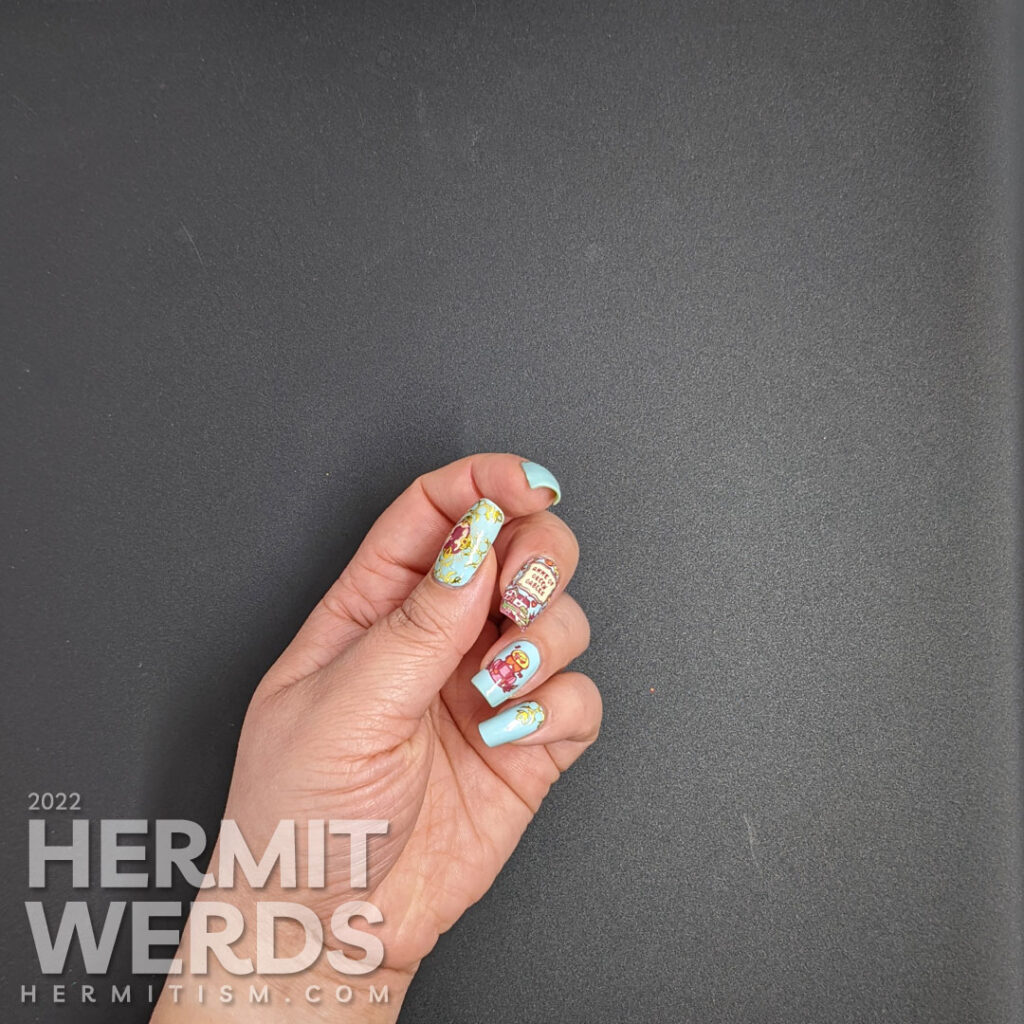 Until next time, friends! 🙋‍♀️