I don't think it's fair for me to say a city is my favorite if I have never been to it; so I confess that rather limited my choices of city for #NailsWithIgFriends' Favorite City prompt. I just haven't traveled that much. But I have been to Seattle and shoveled many delicious foods into my mouth and had a lot of fun just walking around taking in all that skyscraper. So I decided to go with it. The irony is that I included an image of the Space Needle, but I didn't actually go into that building while I was there.
Hey, it's a lot harder finding stamping images of public libraries. Which is one of the buildings I visited. Priorities. 😉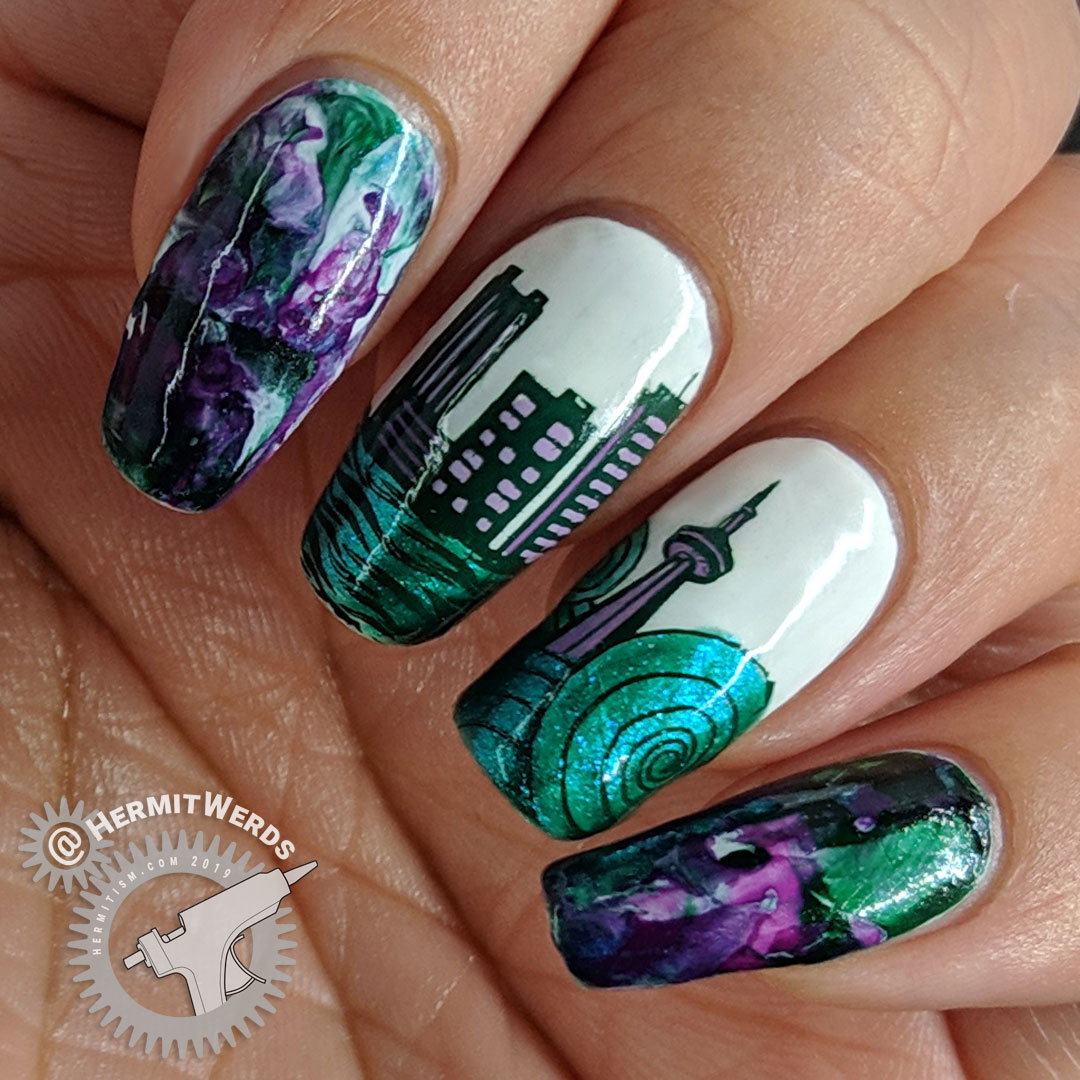 Products Used
I do kinda regret using pure white as my background. It feels too stark. But, oh, well. At least I was reminded why Smacker's nail polish formula sucks so hard. It's fine on the first coat, but it dries with a rubbery finish that is difficult to paint subsequent layers on. And that's why you're my crappy white polish decal filler, "Wickedly Stylish". 😝
Base Polish:

Smoosh Marble Polishes:

Stamping Polish:

Advanced Stamping Polishes:

Stamping Plates: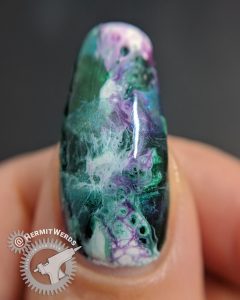 I love the bright bursts of shimmer from Sinful Colors' "Jade Kat". So tasty. It really shines most in the smoosh marble so I included the macro of my thumb, which I think turned out the best of the three smooshed nails. It is the first time I have used "Jade Kat" on the blog, but I believe I painted it on my nails with intentions that never bore fruit. It's rather sheer and takes many coats for opacity. So think about your NPP (Nail Painting Patience) levels before you buy. It is one of Sinful Colors' core line so no rush.
I cut up the waves/wind (however you wish to interpret it) decal so I could insert the Space Needle decal inside it and layer another swirl on top. It was my solution to avoid having it sit on my nail all by itself. Too boring. My other ideas were to use a full-nail cloud stamp behind it or use another cityscape in a lighter color.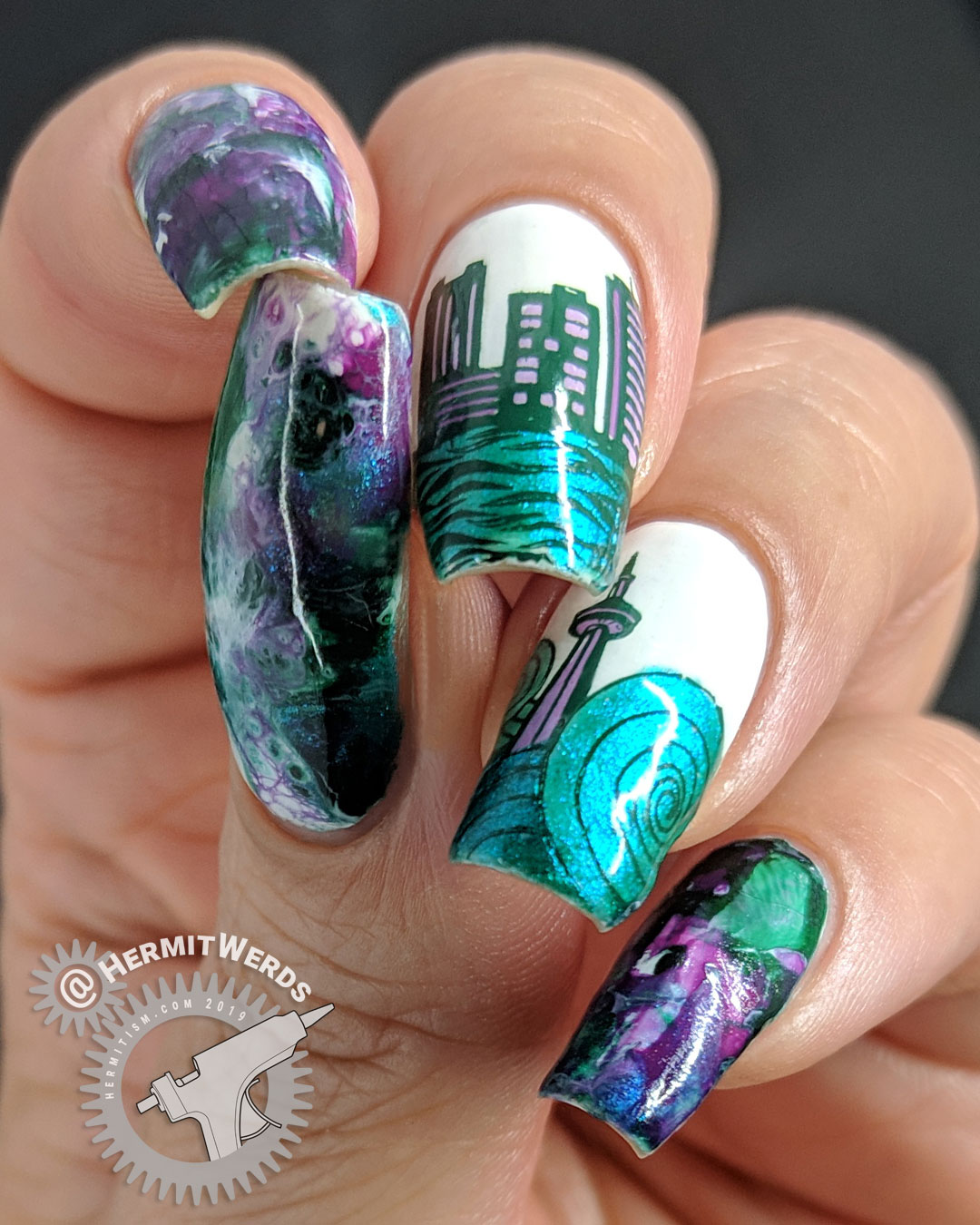 #NailsWithIgFriends
Helina (@missnailsxo) was our lovely host for the month of February and picked the topic of Favorite City. You can see the collage she put together below. I really like her layout and may steal it sometime. 🤫 Our host for the month of March is Michelle (@mwilkins1120) and the prompt is Enchanted Fairy Forest. Maybe I can get un-lazy enough to use some glow-in-the-dark stuff with it! 🎉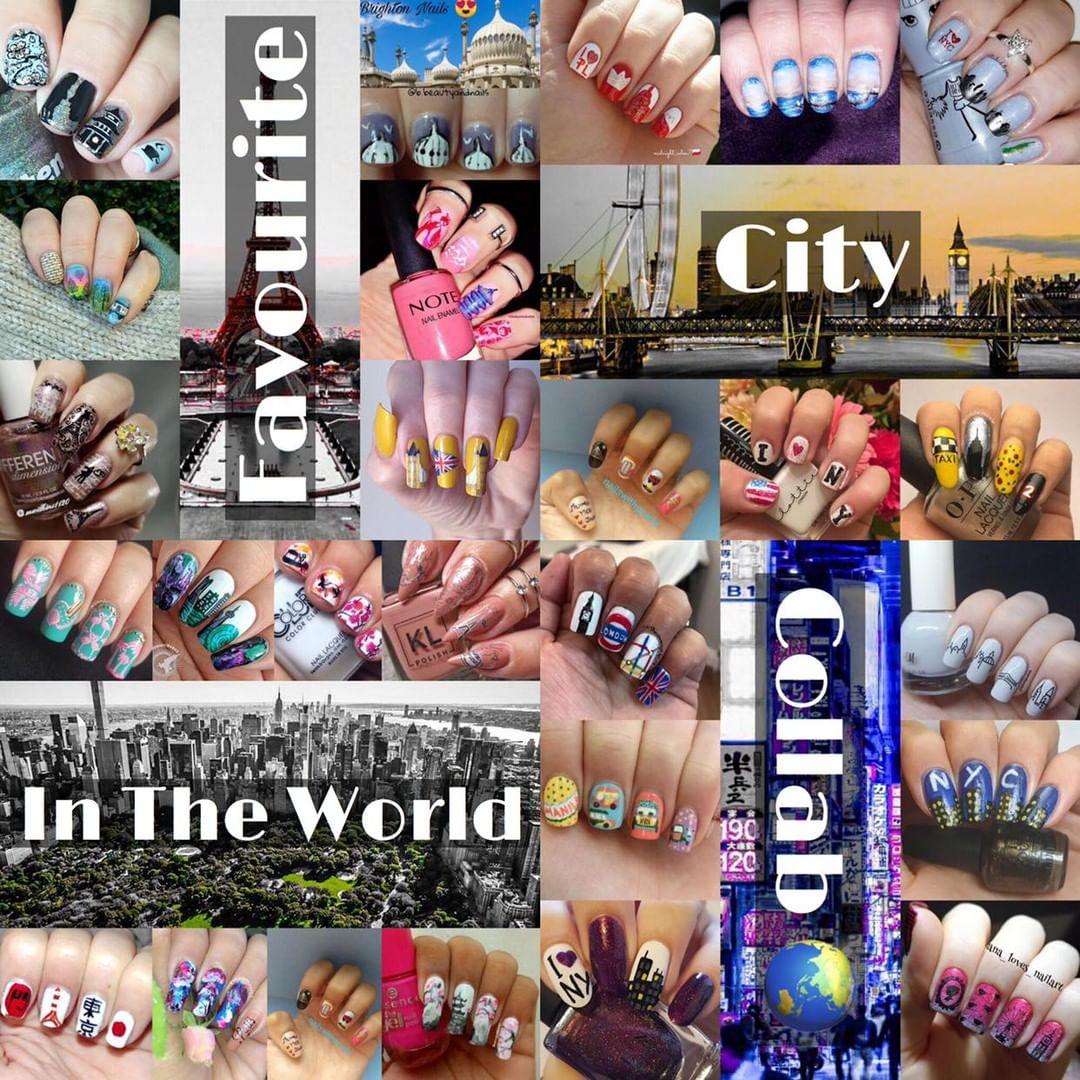 Be sure to check out the group tag to see everyone's individual designs and have a wonderful whatever your time of day it is, my friends!