[press sample]
I do tend to favor cats when it comes to…everything. But BeautyBigBang XL-008 has cute images of both dogs and cats so I decided to focus on the doggy side for once and combined it with a gorgeous multichrome flakie powder with holographic flecks (J6474TM-10A) that Beauty BigBang also sent me.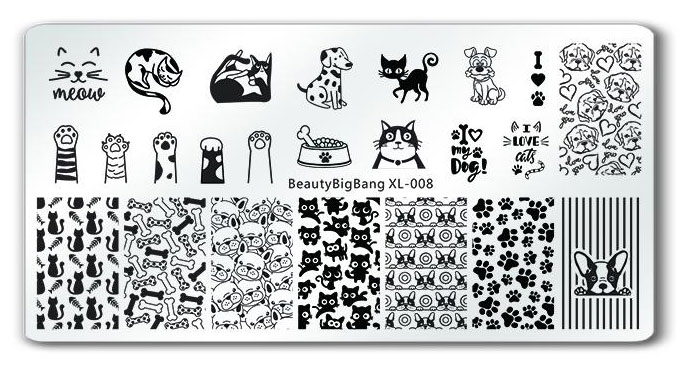 Quality and Test Samples
I feel like I'm repeating myself a lot because I've found the quality of Beauty BigBang's stamping plates to be consistently good. The etching quality is neither super deep or shallow so they will work well with both super thick stamping polishes like Mundo de Unas and lighter ones like Bundle Monster's. The width of full-nail stamping images is slightly narrower than with their square plates, but this only becomes a problem if you have very wide nails or are using false nails (which will be wider than your natural nails).
Since I focused on pups for my complete manicure, I decided to play with the cat images for my test looks. First, I loved the fat face of the cat and I borrowed the "Meow" from another image since these nail wheels have pretty long nails. Then I had to play with one of the outstretched paws. Seriously, they are so dang cute and are the main reason why I knew I had to add this stamping plate to my collection. I snagged a couple of fish bones from one of the full nail images to give that paw something to reach for. Love it, but a little sad that this plate doesn't have a larger fish bone. Obviously I have other stamping plates with larger fish bones, but if you're working with a smaller stamping plate collection I feel like that was a miss on the designer's part.
Fat Cat. Background is Essie's "All Hands on Deck". Stamping done with Mundo de Unas' "Black" and "White" and filled in with Covergirl's Outlast "Sulfur Blaze" + Sinful Colors' "Pink Smart" and "Whiteboard".
Fish Love. Background radial gradient made with Jenna Hipp's "Jenna and the Giant Peach" and "Just One Bite". Stamping done with Mundo de Unas' "Blue" and "White" and filled in with Sinful Colors' "Bright Lucite".
So much love for cats, but puppies are that other favorite pet of the domesticated freeloader world so let's do this!
Now the full nail image easily would have covered my short nails, but I thought it would be fun to only cover half of them with the pattern on my index and pinkie finger. You can see that even though my nails are pretty short the pattern is small enough to not look incomplete. I would not have done this if the dog bones were the same size as the one sticking out of the food bowl. Also, I love the dalmation's doofy expression. So cute!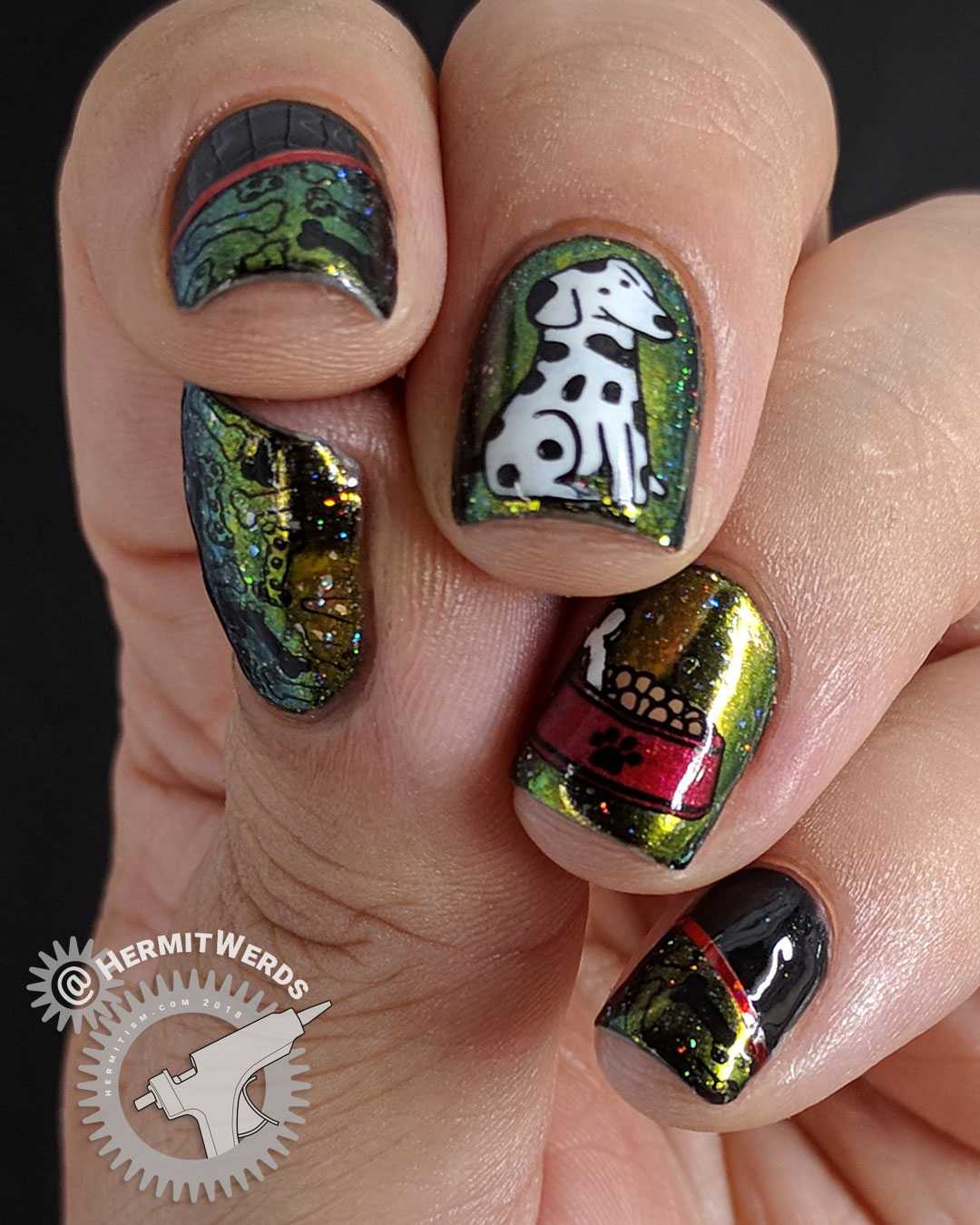 Powder Time
I am so glad I asked for this powder. Beauty BigBang has twelve different options to pick from and I selected my favorite because I wanted to use it just like I did today. Generally with multichromes I want the most color shift possible. J6474TM-10A has some rose that is hard to pick up in a photo (though you can see it in the one below) as well as the yellow to green to the baaarest bit of blue shift and holographic flecks. I'd say J6474TM-5A is similar with less of a shift if you're looking for something more subtle. I am not. hehe And now that I've had my taste of my favorite of the twelve, I'm eyeing 8A for its green goodness and 1A because it's right in the range of oranges I love. Mmmmm…someday.
Now, I do feel like there's less product in this jar than I had in both of my Born Pretty buffing powders, but I have so many things to use for my nail art that I doubt I will be able to go through all of the jar anyway. Actually, I just looked it up and Born Pretty's Chameleon powders (not the same thing as this powder, btw, just what I own) are .2g and the powder I'm reviewing has .1g. So I'm not crazy. 🙂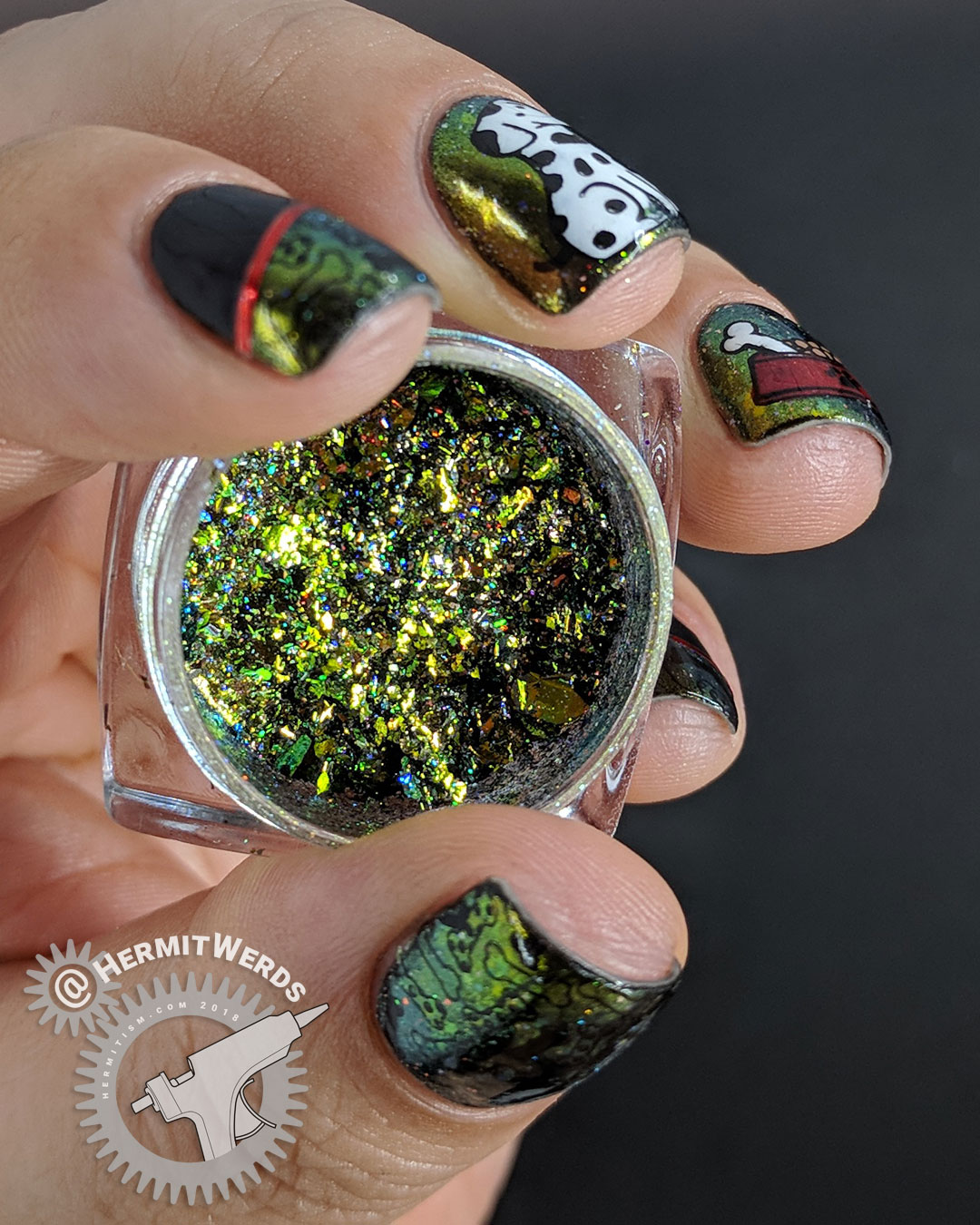 Final Thoughts
I am very happy with both the stamping plate and the powder. Both can be used throughout the year, although I think some people would want to relegate the powder to more fall/winter usages. I could be wrong there since I haven't tried it with white underneath (and anyway I'd happily use it whenever).
If you're interested in the stamping plate (BBBXL-008) or the powder (J6474TM-10A) feel free to use my discount code (hermi) for 10% off your order. (Non-affiliate code)
Thanks again for sending these lovely toys to me, Beauty BigBang and until next time, friends! 😉