It's Pride Month and I've been itching to paint some LGBTQ positive nail art since it started, but the challenges I was following really didn't fit with that until now. #26GreatNailArtIdeas' prompt of graffiti fits well with a rainbow theme so I grabbed Born Pretty Valentine's Day BP-L005 and got started. I love this image of a couple embracing because it looks pretty gender neutral to me since I don't assume everyone with long hair who is wearing a skirt has to be a woman.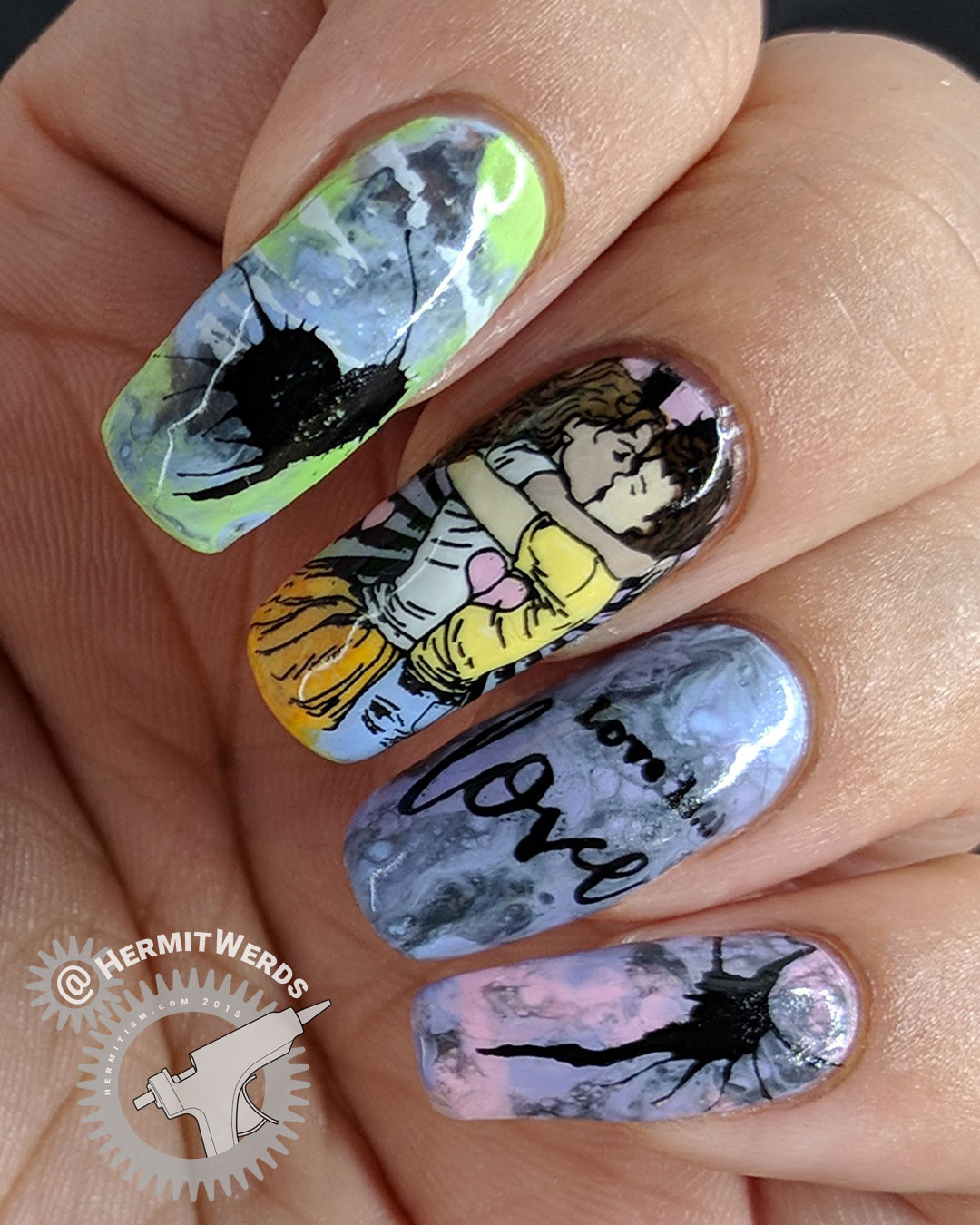 I made smooshes with Sinful Colors' fancy Transforming Top Coat. So fun. I really hope they come out with more of these this year, but my record of using them hasn't been too good even though I bought a backup of all the colors. Should probably try using something other than gray next time. heh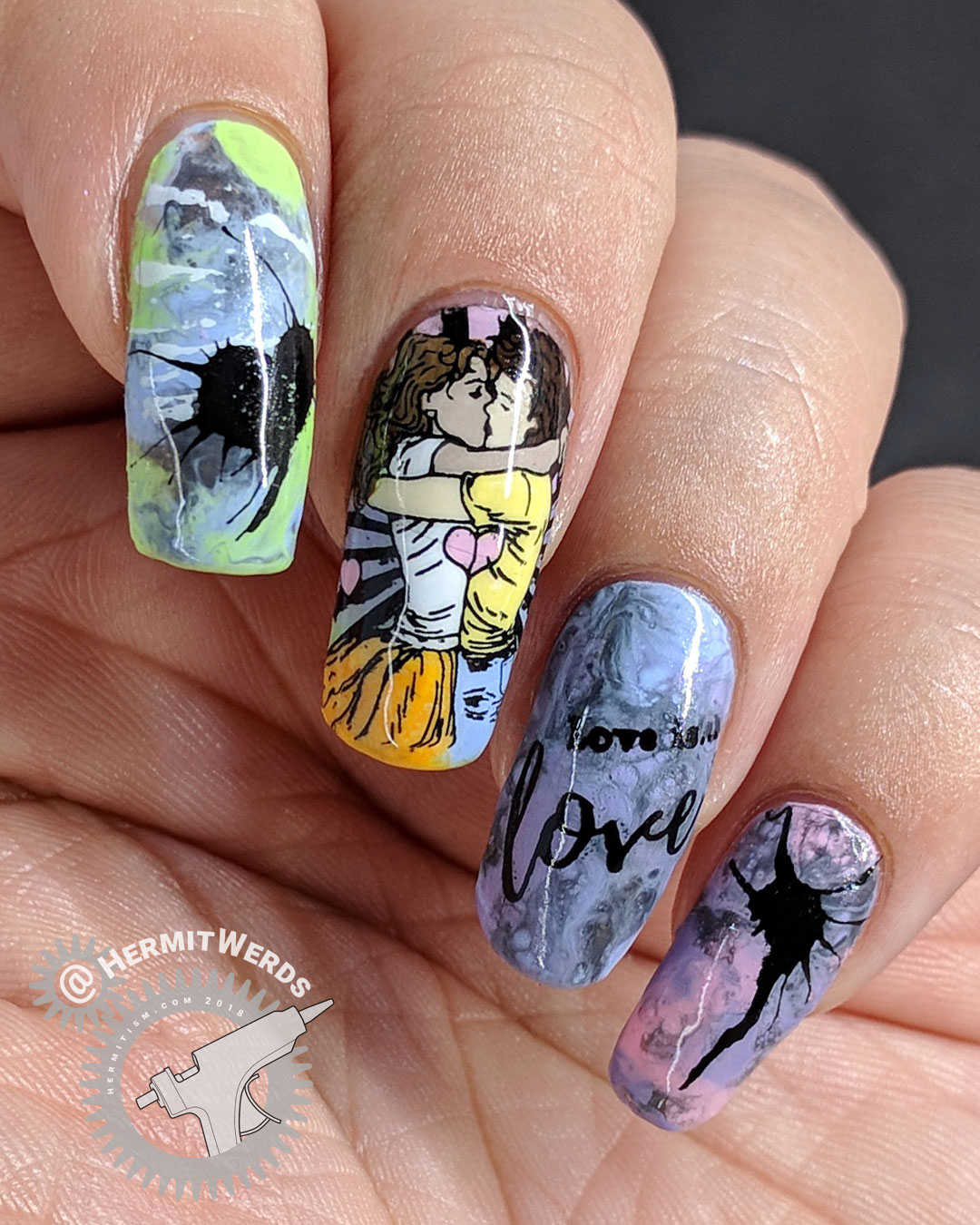 I don't talk about it too much here on the blog, but I loooove music videos. They're an art form to me and I've been playing with the idea of a nail art series inspired by music videos for a while. Someday, right? Meanwhile I thought I'd share some LGBTQ positive music videos with you. They're hosted by YouTube which has been really problematic lately what with demonetizing LGBTQ channels and then playing anti-LGBTQ ads on those channels (the latter which started blowing up at the start of Pride Month /sigh). But just because YouTube is messing up doesn't mean there aren't some amazing creators out there.
I'm going to start with an older favorite from 2014: Ingrid Michaelson's "Girls Chase Boys" challenging gender norms and rocking the Robert Palmer vibe. In the words of the song, "Let's not make it harder than it has to be."
Now that we've gone over gender norms, how about an artist that doesn't worry about gender? Janelle Monáe channels Prince vibes like a boss and has been called a "Pansexual Queen". Her song "Make Me Feel" says it all. (Note: there is strong language so, uh, be careful if you're at work.)
Now that you've seen a queen, how about an artist that some people have been calling the Lesbian Jesus? Hayley Kiyoko has so many great music videos featuring the lesbian perspective and it's hard for me to pick just one. However–since I mentioned Prince for Janelle–I think I'll feature the video Hayley produced that is very reminiscent of Michael Jackson's "The Way You Make Me Feel". It's a sign of the times that his video now feels creepy and threatening, although the dancing is still fantastic. Hayley models really well how to express interest without cornering people unacceptably.
Speaking of threatening, how about a Bond villain? Miike Snow answers the question of why the villain never quite ends up killing Agent 007 in his music video for "Genghis Khan". It also says quite a bit about contentment being found only by accepting who you are.
And speaking of villains, I'd like to end on a funny note with Superfruit's "Guy.Exe" which is hilarious in a mad scientist-y way. The two members of Superfruit (Scott Hoying and Mitch Grassi) are also memebers of the amazing acapella group Pentatonix. I love nearly every music video the two of them have produced together. While this doesn't really have much to say beyond being fun, it says a lot that it exists. This is not a music video that could have been released when I was a teenager. Progress! 🙂
Well, that's all I have for you today. Check out more graffiti nail art from the group!