This was for the 30 Days of Colour Challenge: Bright. Naturally I tapped into my Sinful Color's Neon Collection nail polishes, but since I didn't paint my nails white first they are not quite as bright as they could have been. Considering how hard of a time my phone camera had trying to capture their picture that is probably a good thing. Since the point of the Colour Challenge is to use things from your stash for the first time, the neon yellow polish in the photo is something I haven't used before as well as one of the nail stamping plates. I sketched out the design a few months ago and just haven't gotten around to it until now. To my surprise, I actually stuck to the original concept on all five nails including making this a pond manicure.
It feels like a kind of miracle that I didn't make advanced stamping decals this time. I still clung to my other theme of gradients on the base colors.
Items in italics are being used for the first time.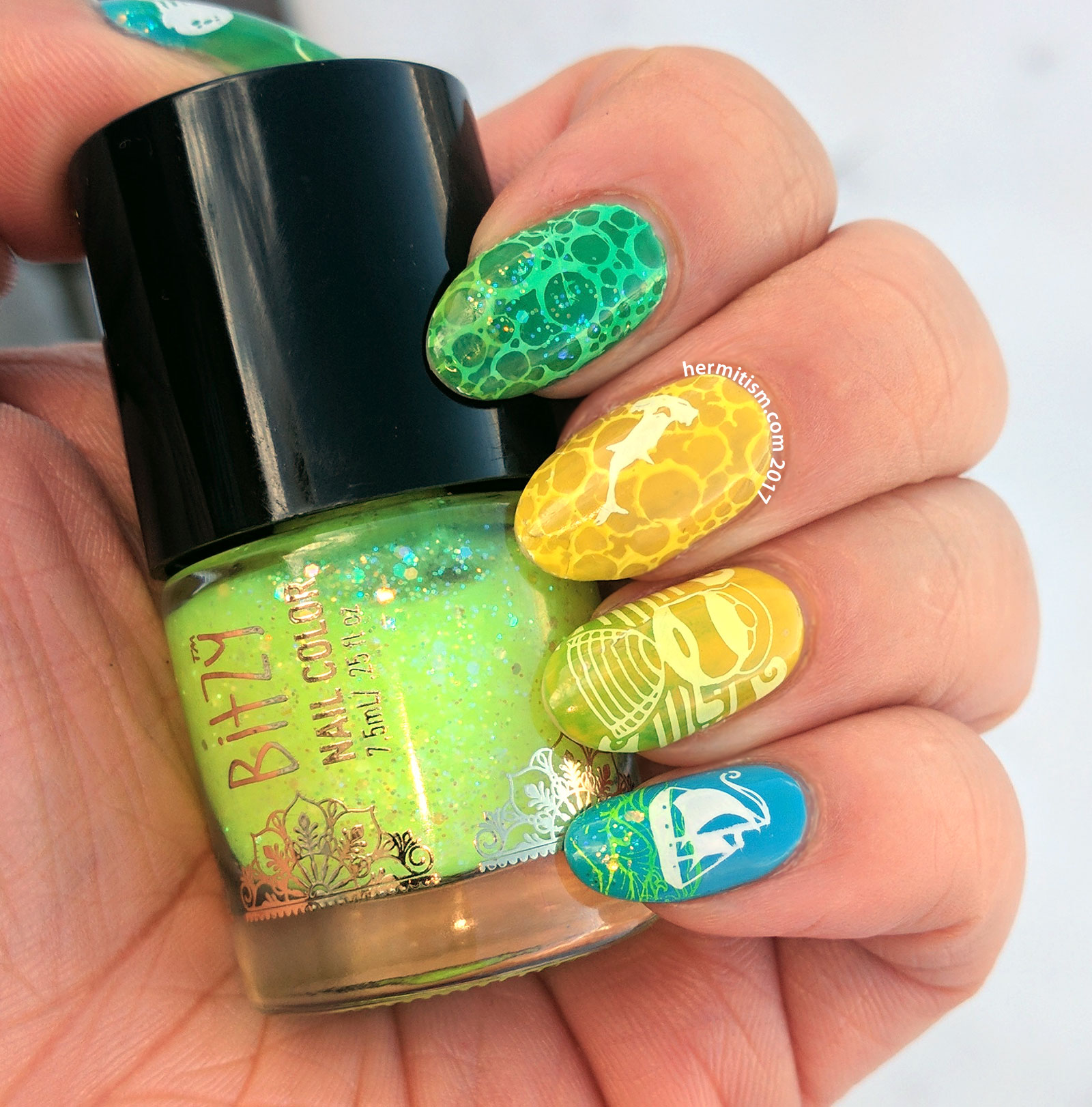 Here are the other lovely manicures following the "bright" theme:

I'm a little worried about the group. Participation has been down the past few subjects. I hope it picks up again soon. 🙁
Blog Improvements
Some of you may have noticed that my blog's layout changed overnight. This is literal. I decided at 10:30 last night that I wanted to hurry and switch to a theme called Tuto. I wanted this blog to be more visual on the front page and less a dump of the full posts. This meant I had to use WordPress' media properly instead of uploading my images on the main site and then inserting them. There are a few posts that still have no featured image yet and they look funny without one because the theme isn't made for purely text posts. I am going to have to figure out a few generic graphics to use for them. So, yeah. Glad I did this now because going through and uploading and filling out all the data for each image and then replacing them on each post took me about six hours. So, yeah, I went to bed at 4:30 AM. And I still need to upload the images for my 31 Day Challenge summary and finish up with the one for the ABC Challenge that is kinda overdue. Plus more work on the navigation and a teeny bit more custom css. :p
I've also been digging more into custom taxonomy instead of having a huge tag list of all my stamping plates and polishes. So far I have the capability set up, but it looks like I need to work on some templates before they will be viewable to the public. Then I will go through and slowly re-tag all of the blog posts and try to add more interlinking as I go. I probably should have started this work in December, but I just did not have the energy at the time. Also, I am unhappy with my categories again so those will be changing soon too.
Progress, though. Progress. If anyone is interested in a tutorial on how to do all this for their WordPress blog, please let me know. I'd be happy to go into more detail.