It's recreate month at #NailChallengeCollaborative and today I'm revisiting a nail art I painted last year in April and was never quite happy with. It was supposed to be a design that one could wear to work without getting into trouble so I tried to make it something that wouldn't stand out too much and that just sucked all the fun right out of it. LOL It needed just a touch more contrast than I gave it and I just can't stand having the same design on every nail. Plus I like this version more because my nails are longer in this photo even though my ability to center a design properly had fallen to the wayside in the week+ that I wasn't nail art-ing. :p
(Not that I was ever very good at it.)
I dug through a good portion of my stamping plate collection trying to decide what lace pattern I wanted to use and, without meaning to, I picked the same one again. I would have been fine with using something different, but I guess I bet on the right horse the first time I did this as far as that went. Notice how Mundo de Unas' "White" looks much more opaque than the other stamping polish I used. I wish I could tell you if it was the polish or my technique/stamper that improved there, but I don't know.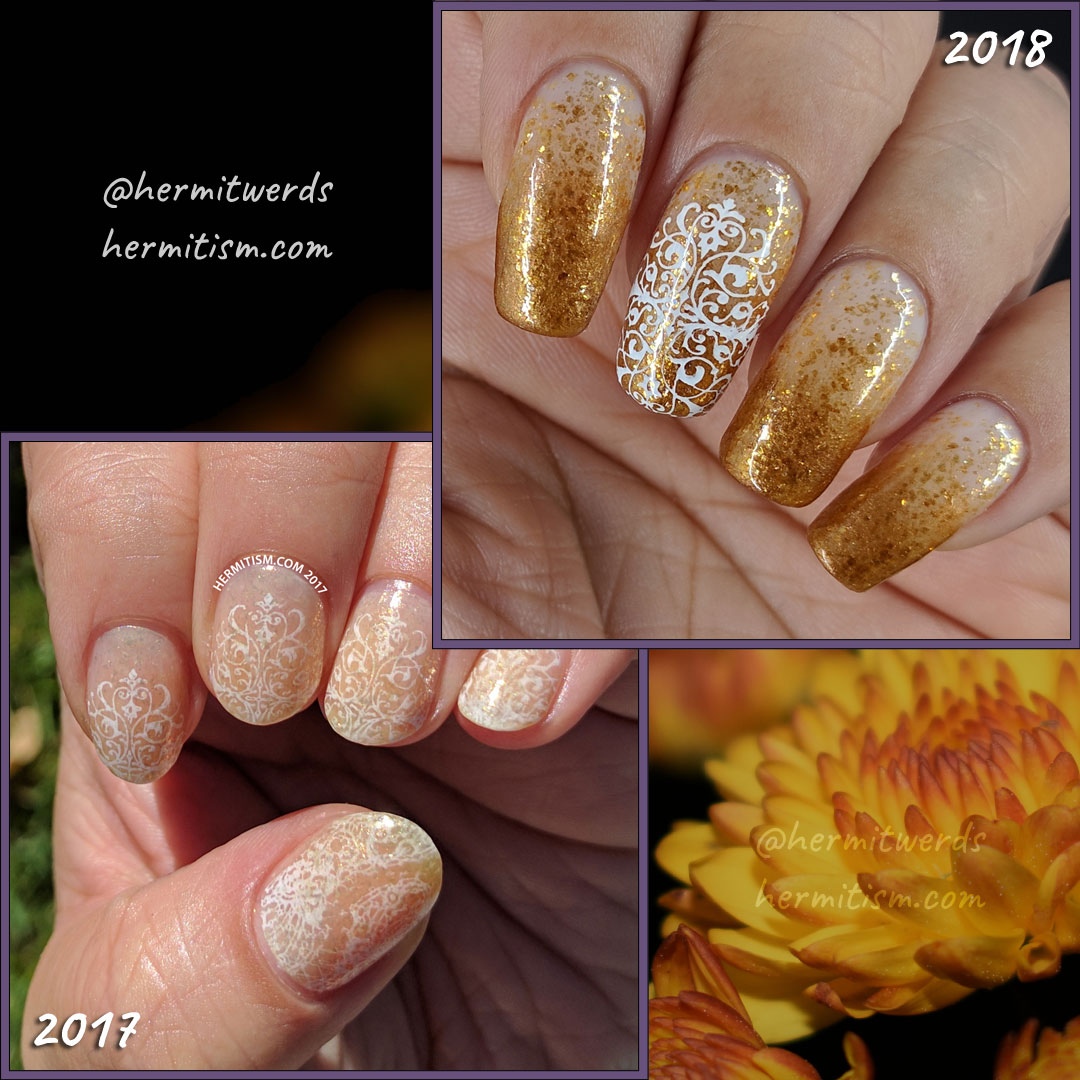 Ahhh so much gold goodness. Switching out Essie's "As Gold As It Gets" for Revlon's "Gold Goddess" made all the difference in the world since it's a darker gold color. I'm amazed I haven't used it on the blog yet because I am sure I dug it out plenty when I was first starting to nail art regularly. I love it! I haven't yet decided if I want to destash the Essie polish yet. I think I want to try it in a jelly sandwich first. I don't know. There may be times when I want to be more subtle…
Are you laughing too? 😉
Sometimes I really wish I could read Chinese because I think the opal white gel I used was a born Pretty brand, but it doesn't have its logo or anything so maybe it's someone elses? I don't know. I just know that I love the jar it's in. It's so cute with little feet like a fancy jewelry box. So, for once in a blue moon, here's a product shot so you can hopefully recognize it if you want to buy it: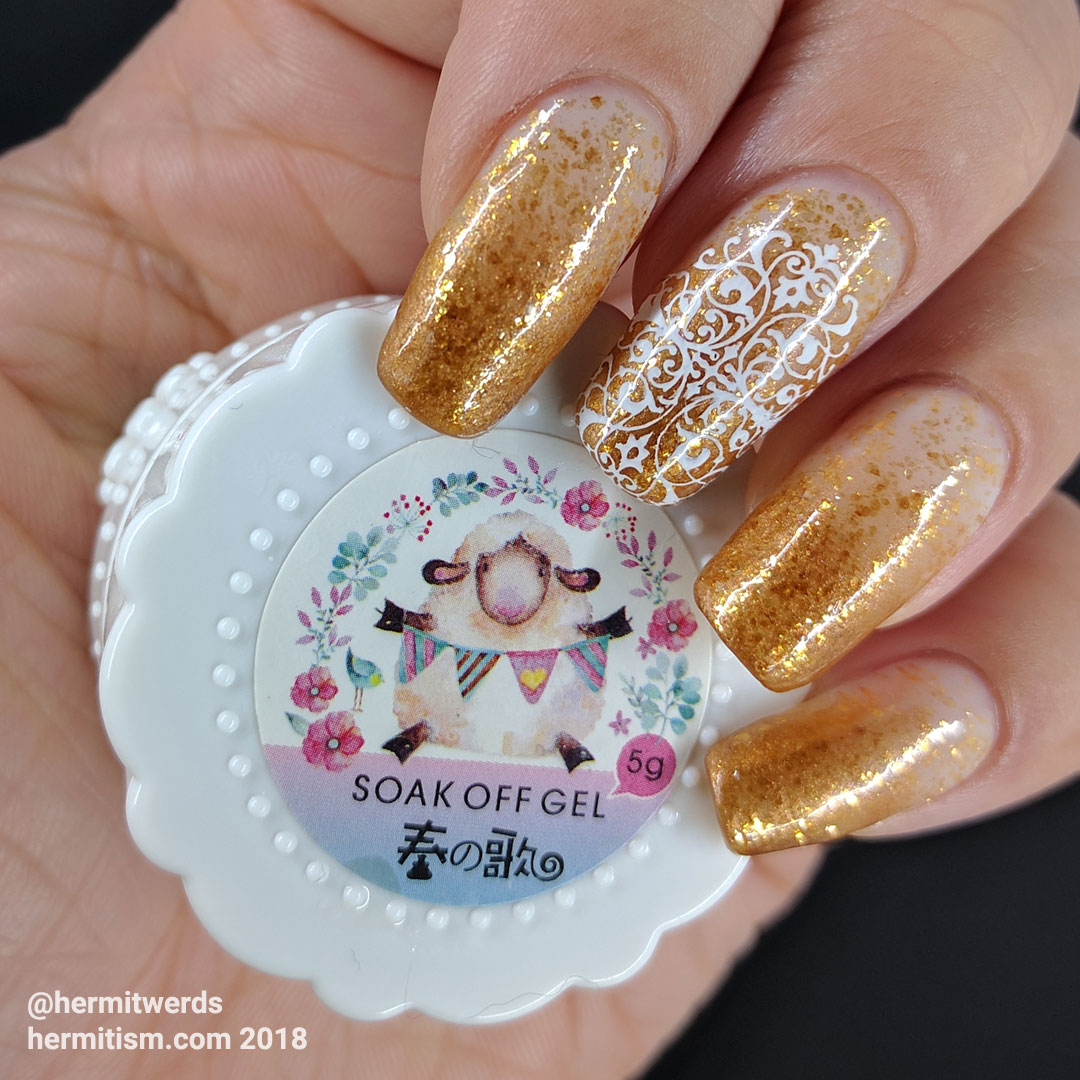 The timing for this was great as well since it used glitter and #WhenColoursCollide had a Glitter Bomb prompt. I am super excited to see what the next prompt is. Hurry up and get here, tomorrow! Until then, check out the glorious group collage. It's so colorful! I almost wish I'd recreated my favorite glitter look instead.
And don't forget that I am not the only one recreating nail art designs this month. There are actually more designs posted in the FB album than in the inlinkz, but hopefully things will pick up before the end of the month:
Before we go, I thought it would be nice to post a swatch photo of the opal white gel before calling it a day. My first time using it required four coats,\ but then I accidentally destroyed it after taking this swatch photo and the next time I only used three. One thing about the opal gels is that when you use a peel off base under it, it shows if there is lifting under any part of the gel. I was getting little spots in the middle of my nail! 😛
So as much as I'm loving the heck out of this look, I know I have to work fast to get through all the designs I have planned so I don't have to repaint the gel too many times. I've already finished another one and it's breaking my heart to remove it. Alas, the show must go on…