MerMay seems to be more of a traditional/digital artist thing because I haven't really seen any of the nail challenges acknowledge it for a few years. Luckily the Saucy Mani Squad was looking for prompt suggestions for May and June and I was watching the group chat at the right time. So now we've painted mermaids for this month and we're going for unicorns in June. Mermaids definitely had their year too, but does anyone else remember when unicorns were everywhere and new stamping plates and Instagram challenges for them were popping up all the time? Like…you still see unicorn stuff now, but it's really died down. 😂
(This year's trend seems to be gnomes, at least for stamping plates. They're showing up everywhere doing all sorts of things so the challenges aren't specifically naming them, but there's probably a way to incorporate them that fits.)
Anyway…mermaids…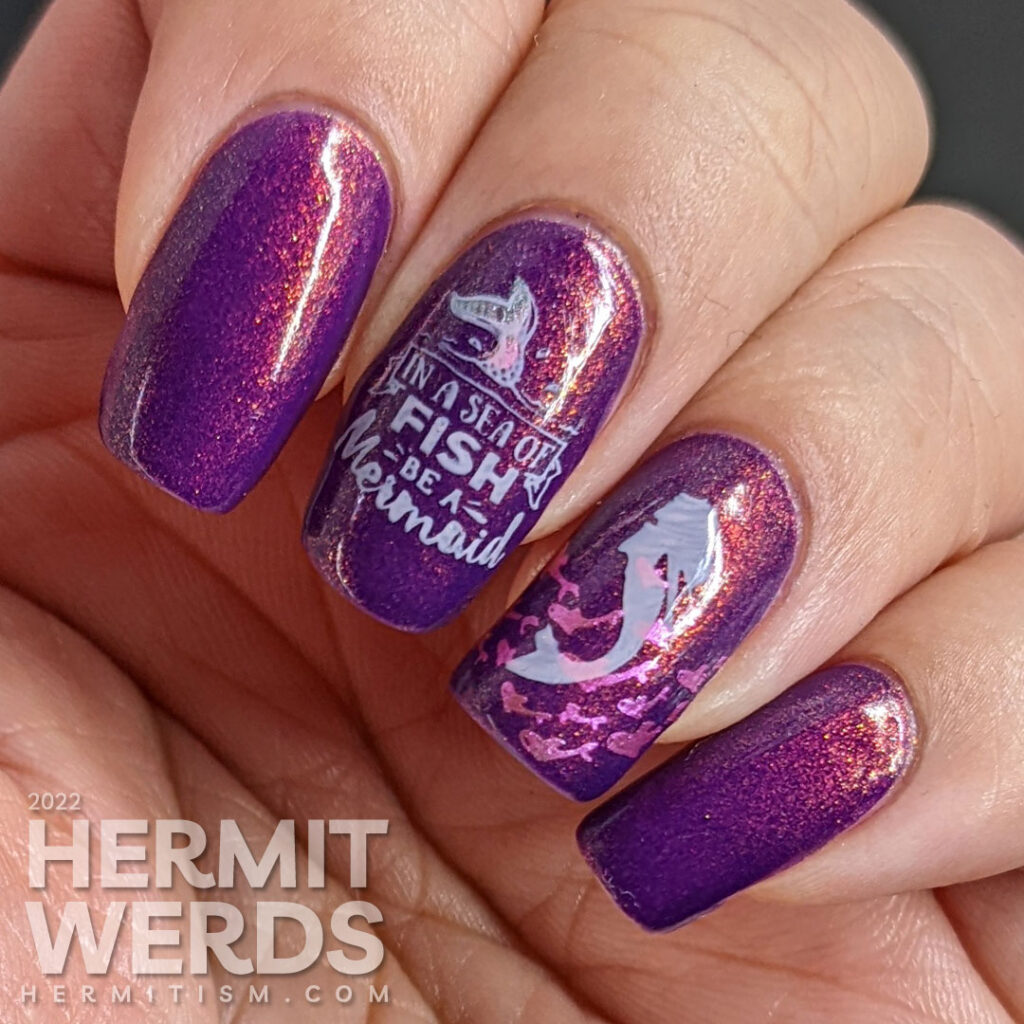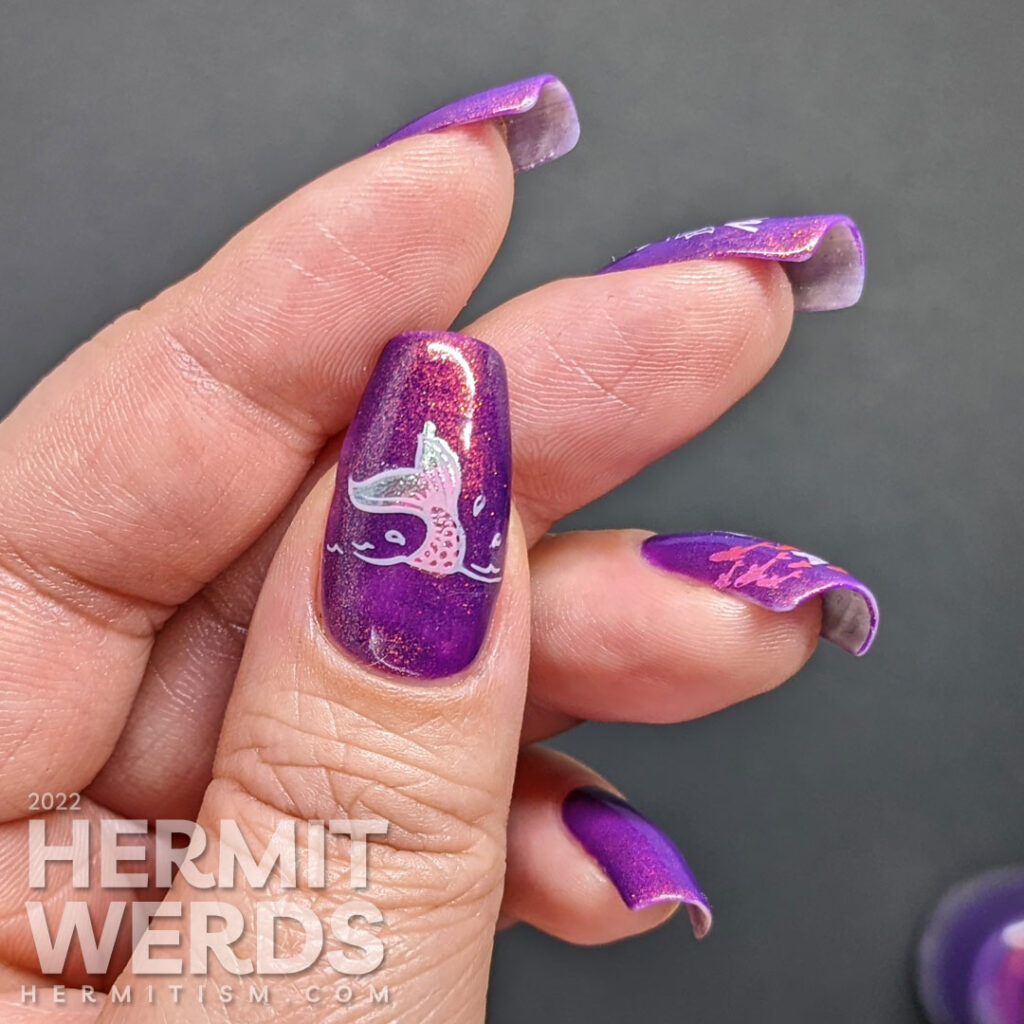 Nail art products used
Base Polishes:

Glisten & Glow "Ode to Lisa"

Stamping Polishes:

KADS' "Pearly Nude Gray" and "Rose Red" + Maniology's "Nightingale"

Stamping Plates:

Nicole Diary "179" (fish pod) and UberChic "Mermaid Life 2" ("In a sea of fish be a mermaid", mermaid, mermaid tail)
Items in italics are debuting on the blog for the first time.
Today's base polish is extra special. First of all there's another Lisa nail blogger out there: Lisa Heath. Her site, Cosmetic Sanctuary, is rightfully much more of a draw than mine: she does a lot of swatching, both individually for brand releases and for things like Polish Pickup. I use those posts heavily and am grateful for them. The amount of work it entails combined with a full time job and raising her kids is just astounding. I am in awe of her.
This year was Cosmetic Sanctuary's 10th blogiversary. Several makers made her a polish to celebrate; she swatched them and then ran giveaways for extra bottles. And I won one! Not only that but it has her name and therefore mine in it! While all of the makers could also opt to sell more of the bottles on their website, Glisten & Glow appears not to have so I just get to enjoy the idea that ½ of the people in the world with "Ode to Lisa" are actually named Lisa. So cool. 😁
Gradient layered stamping
I've previously been privately judge-y about layered stamping plates where the plate maker gives you maybe a detailed outline and then another image that's just the silhouette or maybe have several layered parts but then have one that's also the full image. It always felt like a waste of space b/c you could just reverse stamp. However, I always told myself it was surely for people don't reverse stamp or nail technicians where time is money and the client is waiting. And both those ideas still work, but what those silhouette images are still useful for (for me) is gradient stamping! Feels like a big duh, but I just automatically reverse stamp so much of the time. 😅
So both mermaid tails were made without reverse stamping. I'm still not great at picking up an image in such a way that it doesn't distort which did leaves gaps, but dang it was fast and still looks good. 10/10 recommend abusing this.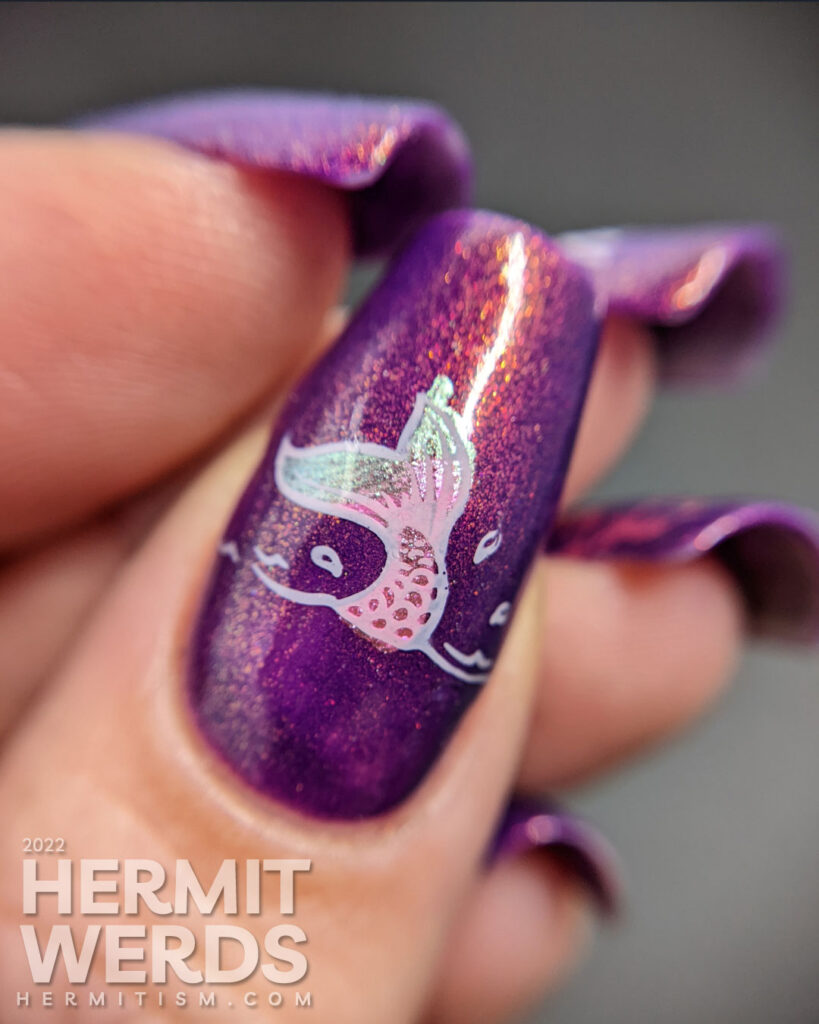 #SaucyManiCollab – MerMay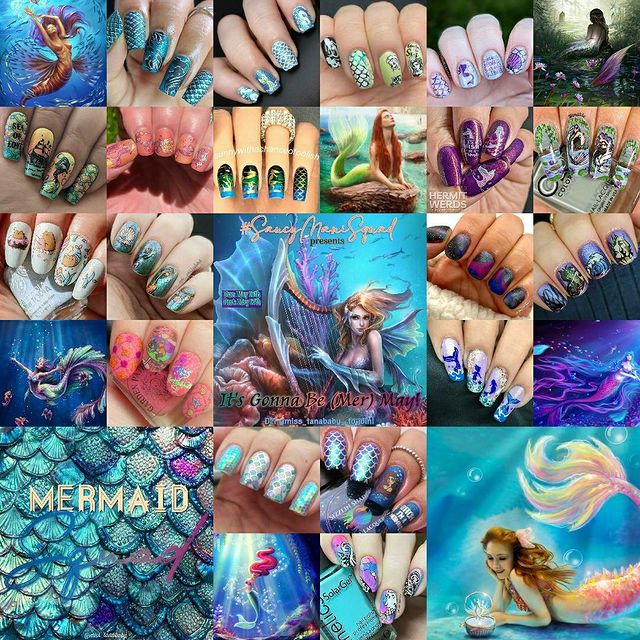 Final mermaid nail art photos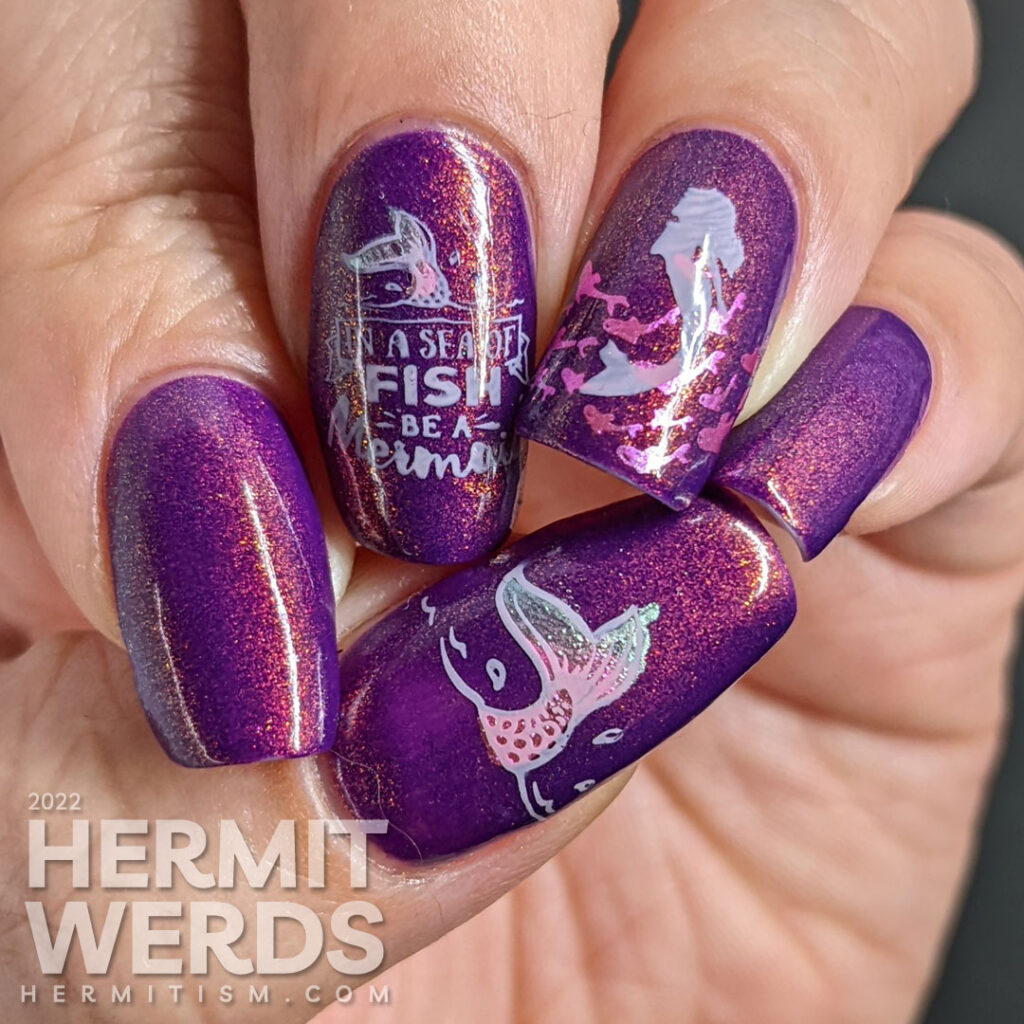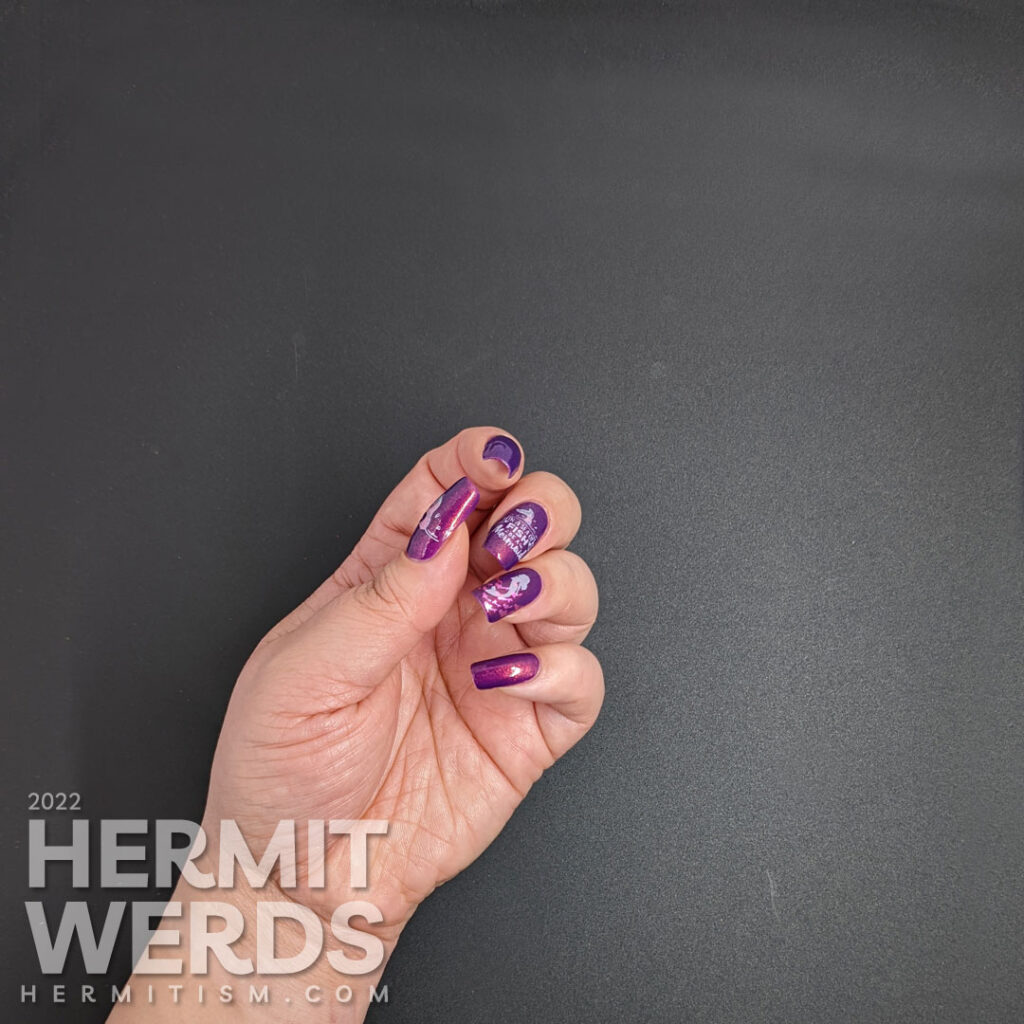 Until next time, friends! Hopefully I will have time for one more mermaid nail art before the month ends. 😜