[press sample]
I'd love to create a whole series of nail art based on the elements, but I have other series that I've already started and want to round out more first. So today I decided to visit the four basic elements according to Western culture: fire, earth, water, and air,. Oh, man, just listing those out made me want to watch The Last Airbender series again. So good.
Anyway, this theme fit perfectly with a polish that Born Pretty sent me for review: a holographic thermal top coat! Yep, that's right! Emily from Born Pretty reached out to me in December of last year and asked if I wanted to review for them. I said 'yes!' and picked out three polishes I'd been itching to try and this is the first one. Since their photos already show it over a red and a blue, I decided to use a brighter blue and an orange for my fire instead of red. To start, let's see my colors with no top coat on at all: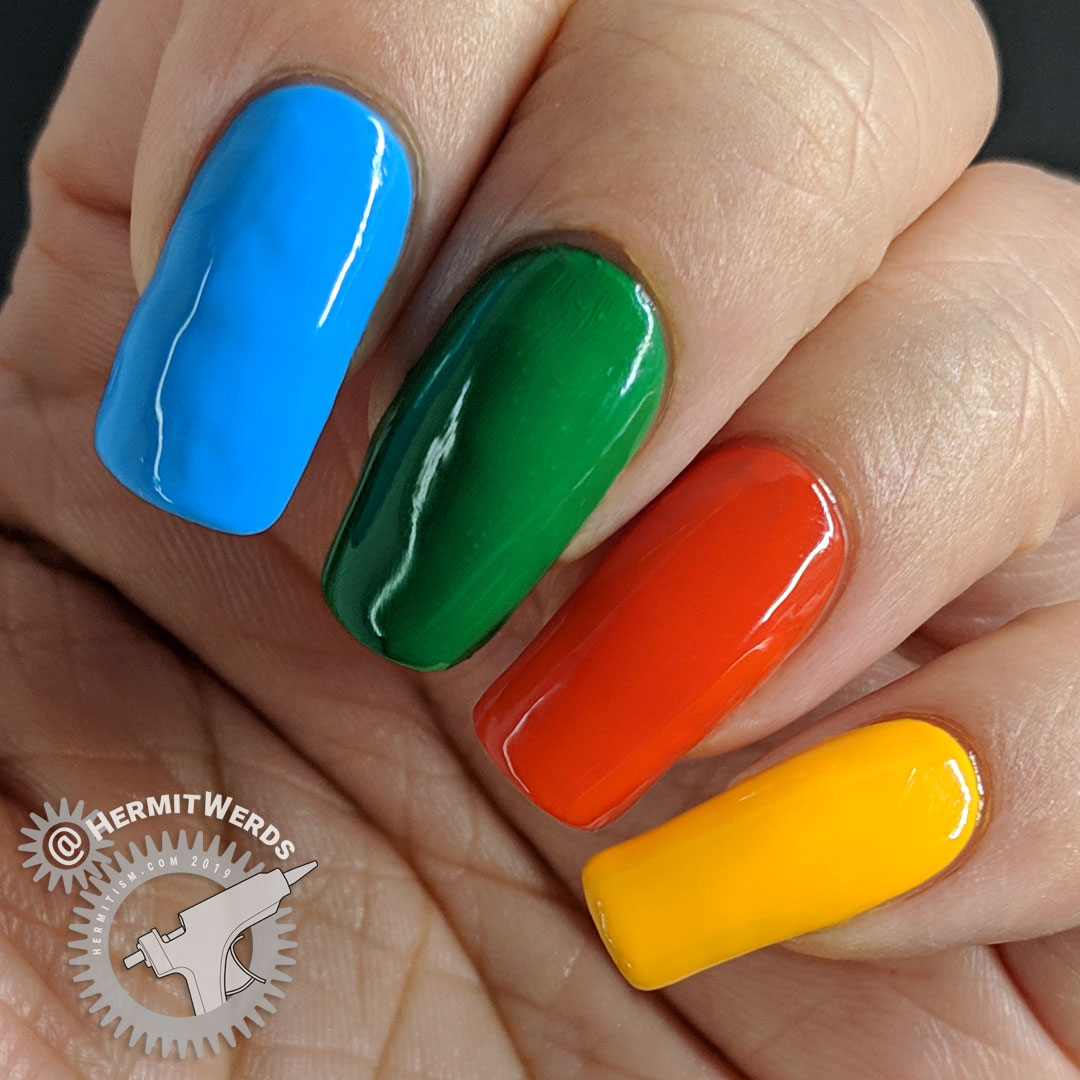 So bright. It's relative though. I actually changed the yellow from a more sunshine yellow to one that's a little more orange because it was too bright for the other shades. Okay. Let's get our holosexual on and then we can talk more. Now let the holo begin!
Holographic Thermal Top Coat (# 44195)
Here we are with it in its natural indoor state: i.e. my hands aren't freezing.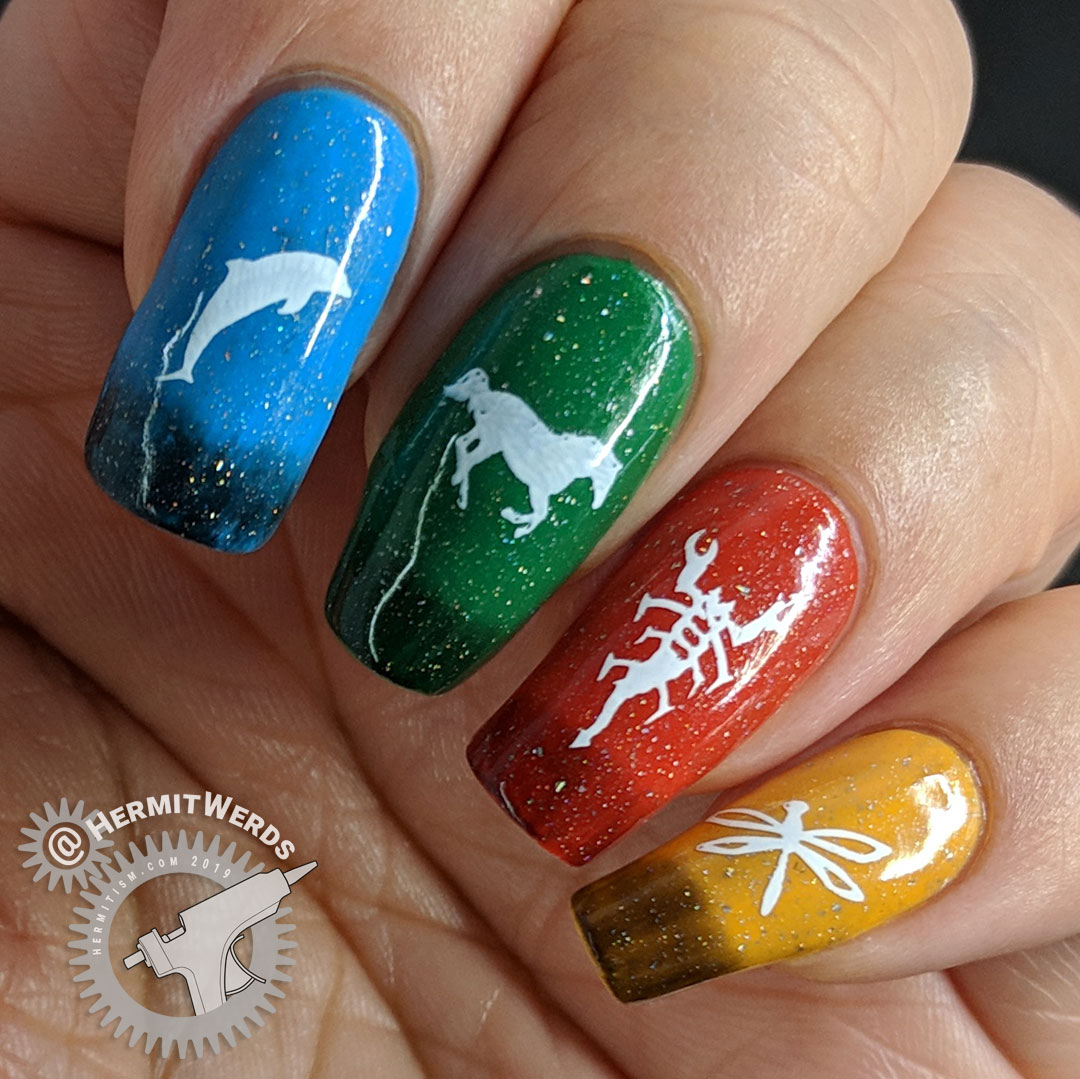 Cold…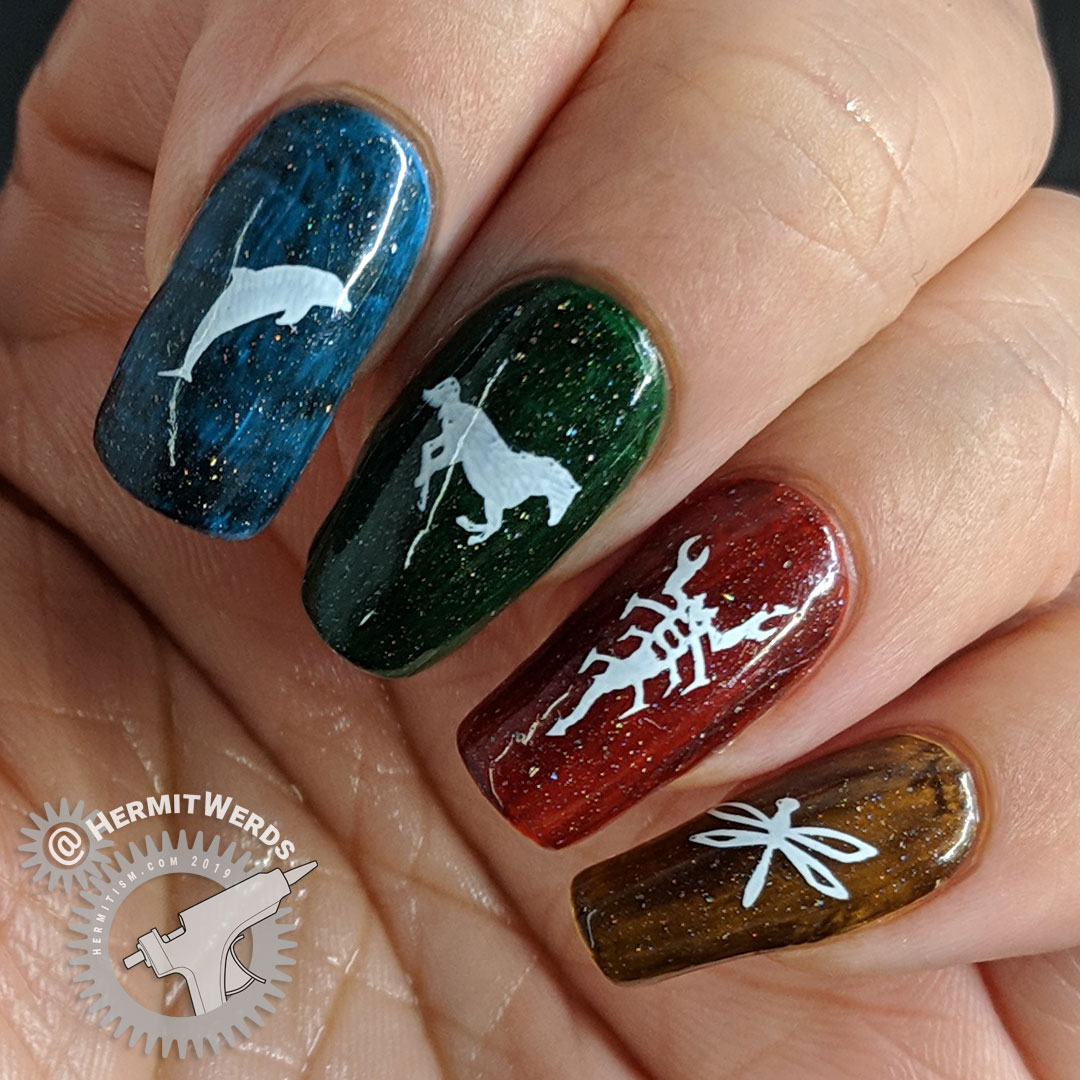 Hot!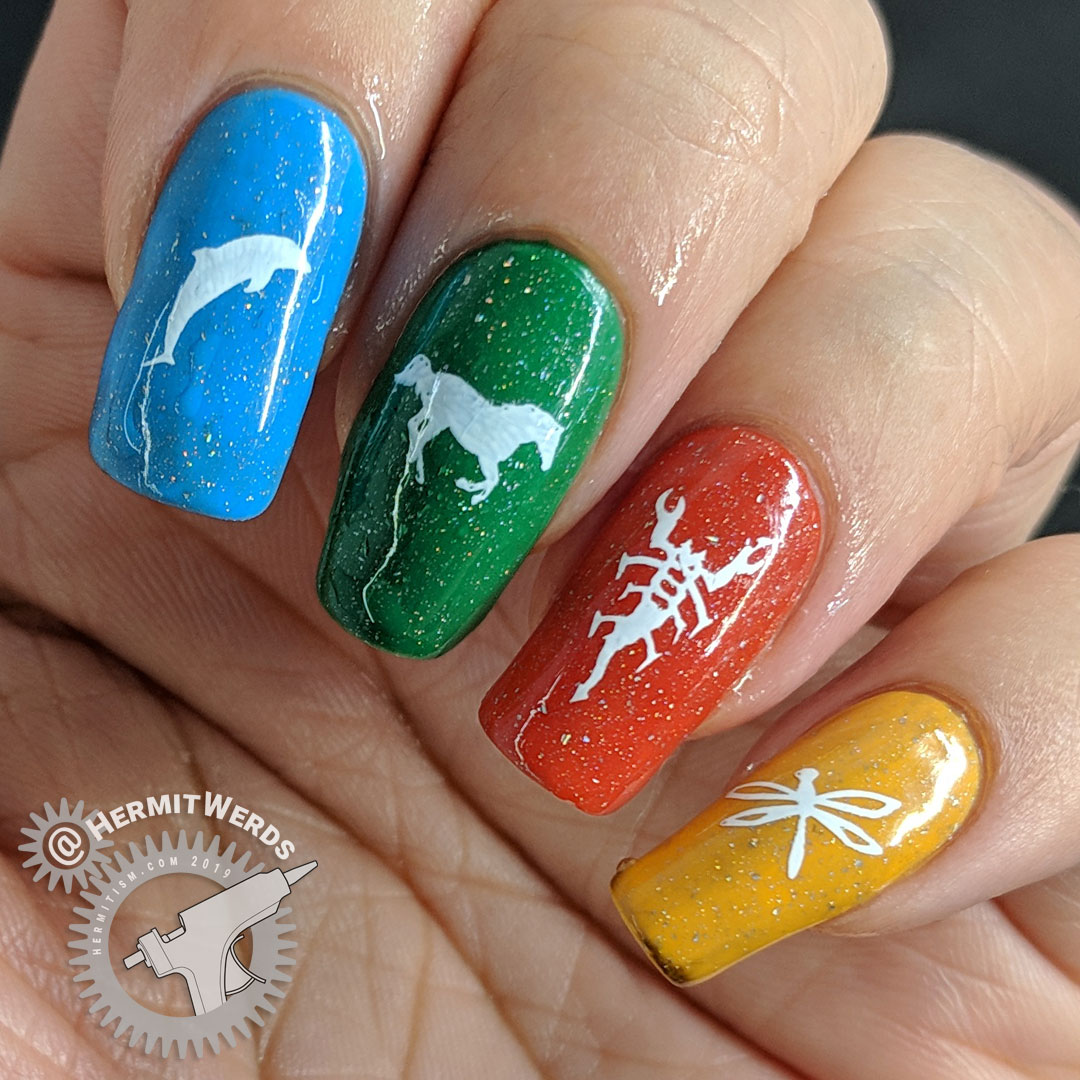 Application and Value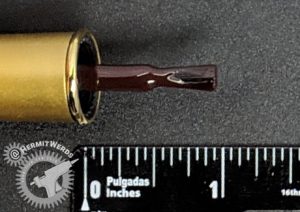 Since this is my first time posting a review for a Born Pretty polish, I thought I'd include a brush shot. Little bit of a hint on what else I will be reviewing too. 😉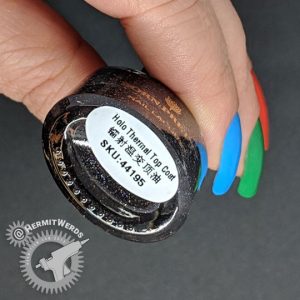 Also, weirdly, while the polishes were all packed in nice little boxes that were shrink wrapped or in a zip-lock bag (an excellent way to protect the bottles from getting smeared if one of them breaks in shipping), the labels on two of them were slapped on very haphazardly. Luckily the box protected them so I was able to pop off the sticker and put it into place.
Anyway, I asked for this polish for the same reason most people would: I want to fake thermals with an actual thermal. And it does work for that. Kind of? Since its cold state is a black jelly your application either has to be perfect on that first coat or you need several coats which means your cold state is a holographic solid black. Still pretty, but not as colorful as I prefer. I found the formula to be a tiny bit thick and hard to apply smoothly since it dries quickly. It's very easy to get patchy results which you can see when it's in its cold state. My index and pinkie finger are fairly patchy. Believe it or not, I painted my pinkie three times trying to get it to work better and this was the best version.
So is this the perfect answer to having more holographic polishes easily? No. But with a couple of tries, my application improved. The trick was to overload the brush, move fast, and make peace with the realization that you may have clean up the edges more. Worth it. 🙂
Four Elements of Holo
Well, you've been seeing my nail art design since I used the full mani for my thermal state photos so here's one last look already…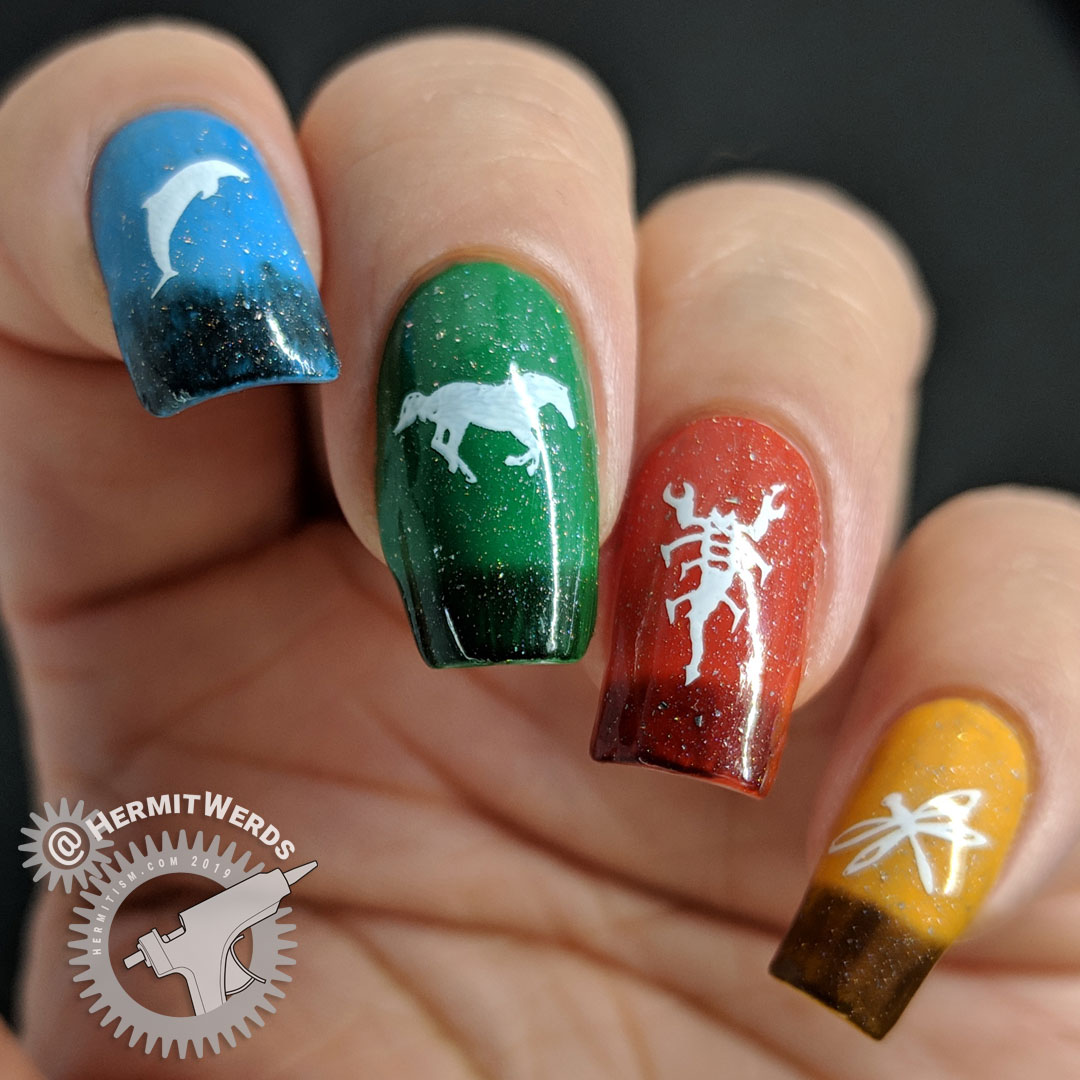 Products Used
Base Polishes:

Covergirl's "Goldilocks", Revlon's "Posh", Sally Hansen's Triple Shine "Play Koi", and Zoya's "Robyn"

Top Coat:

Holo Thermal Top Coat (press sample)

Stamping Polish:

Mundo de Unas' "White"

Stamping Plates:
I decided that the focus for this design was the thermal properties and the colors so I stuck to very simple stamping on top of the top coat. Yes, it would be interesting to see if this works with white. I'm sure I'll cross that bridge eventually. 😉
Final Thoughts
I'm excited to use this again sometime, and I'm thinking I want to try it with pastels. Will my application improve to the point where I don't have to have completely black tips? Uhhh…we'll see. LOL
You can purchase Holographic Thermal Top Coat (# 44195) from Born Pretty here. I'm afraid I don't have a discount code or anything, but a quick search through nail artists on Instagram will doubtless net you one very quickly if you feel the need.
Until next time, friends! 😘