I tried something different and took a nap when I was feeling really tired. So instead I slept through most of the day. I can't win. But I still have these yummy glittery baby boomer french tip gingerbread cookie nails to share!
(I lied. The cat came and cuddled immediately so the nap was a win.)
Oh, right. Nails…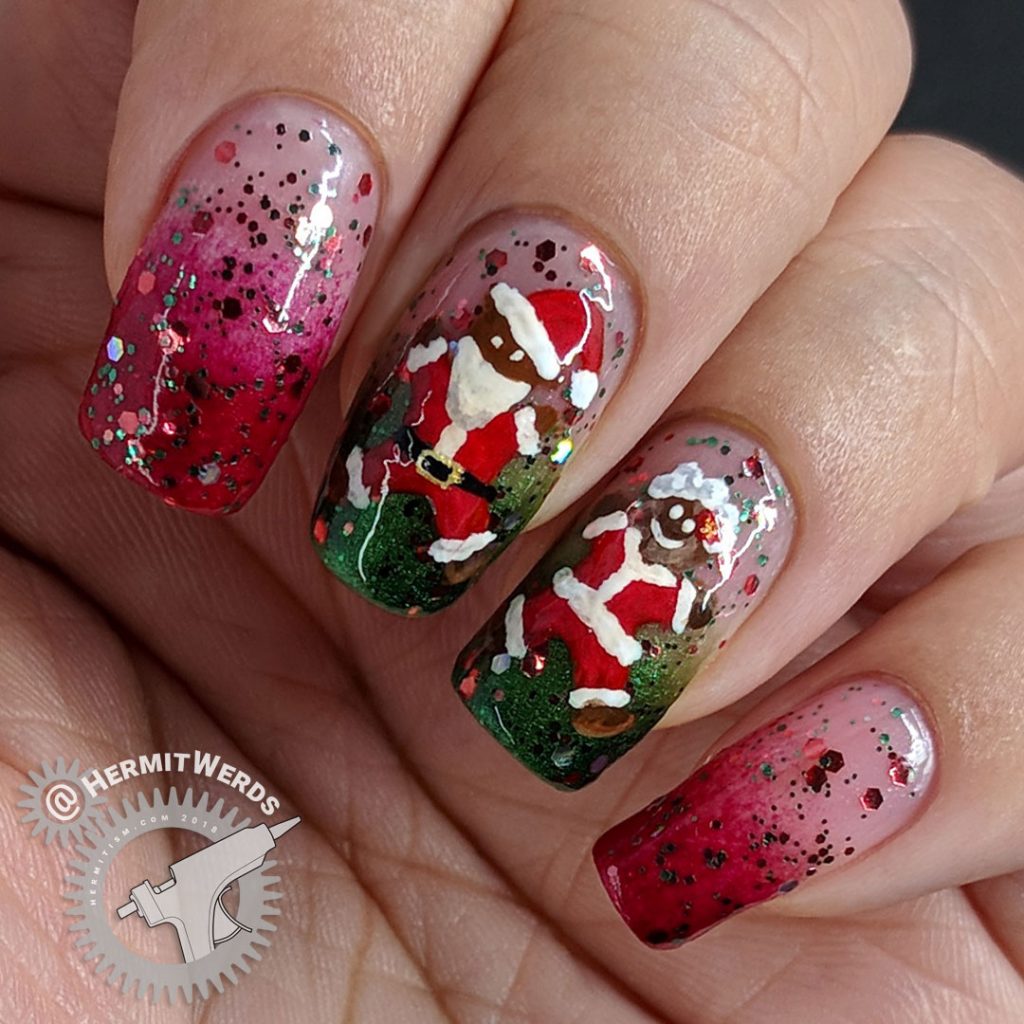 You may have noticed that Mrs. Clause is in pants. I just wanted to keep to the classic gingerbread man shape and most women do wear pants these days. So…
Is it a secret invitation to cannibalism if you leave Santa cookies out for Santa? Hmmm…. Well, best not feed the innocent reindeer, at least.
Products Used
Base Polishes:

Sinful Colors' "Holiday Rebel", "San Francisco", and "Sugar Sugar"

Freehand Painting:

Challenge Prompts:

#liganailistachallenge – Santa vs Snowman
#glamnailschallenge – Gingerbread
I've seen "Holiday Rebel" described with both a clear or a slightly pink base. I honestly can't remember what it was like when I first bought mine because I never used it until today. I would not be surprised if the pink was from color leeching from the glitters since their matte red glitters certainly do it all the time. I guess I'll know if it continues to get more red over the years. It's still lovely, though the pink made it hard to keep the brown parts of the cookies from disappearing into the background. LOL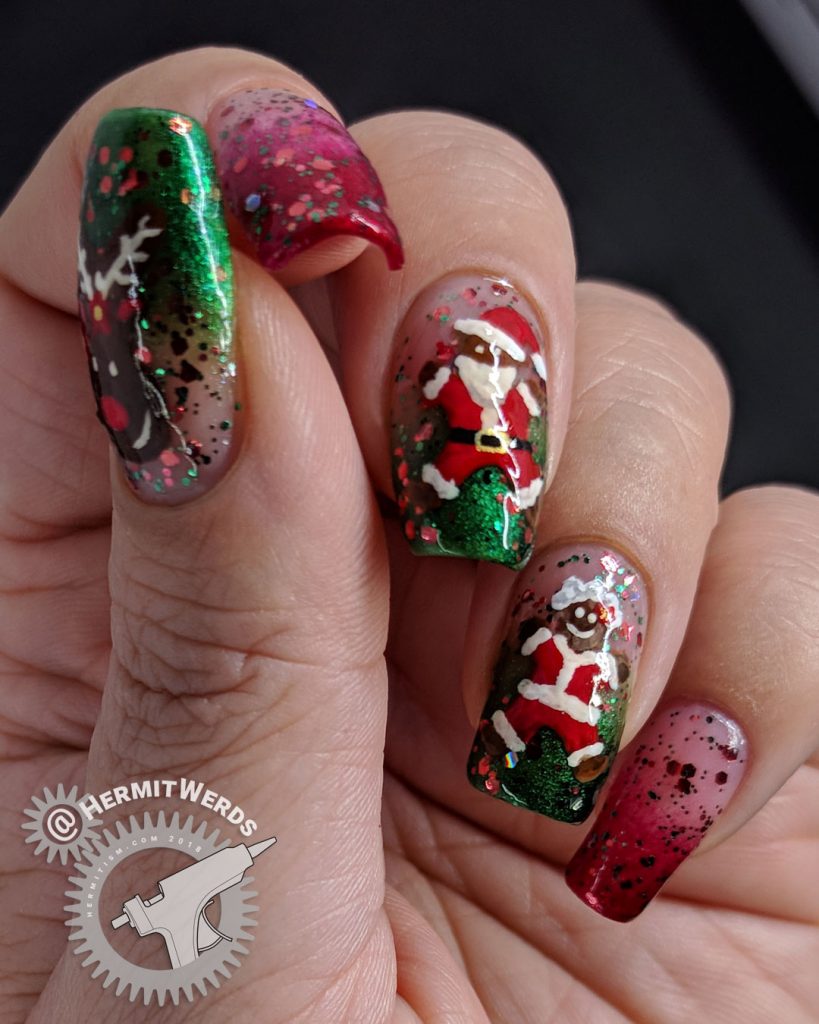 I am possibly overusing the baby boomer french tip thing, but it's my favorite way of going through all my lovely glitter toppers. I really loved how "San Francisco" looked, but it betrayed me yet again and stained the tips of my nails green. Ugh. And of course the next design I wanted to finish had a jelly with glitter for the base polish. Well-planned on my part. *sigh*
Oh, well. This combo also made an amazing look all by itself…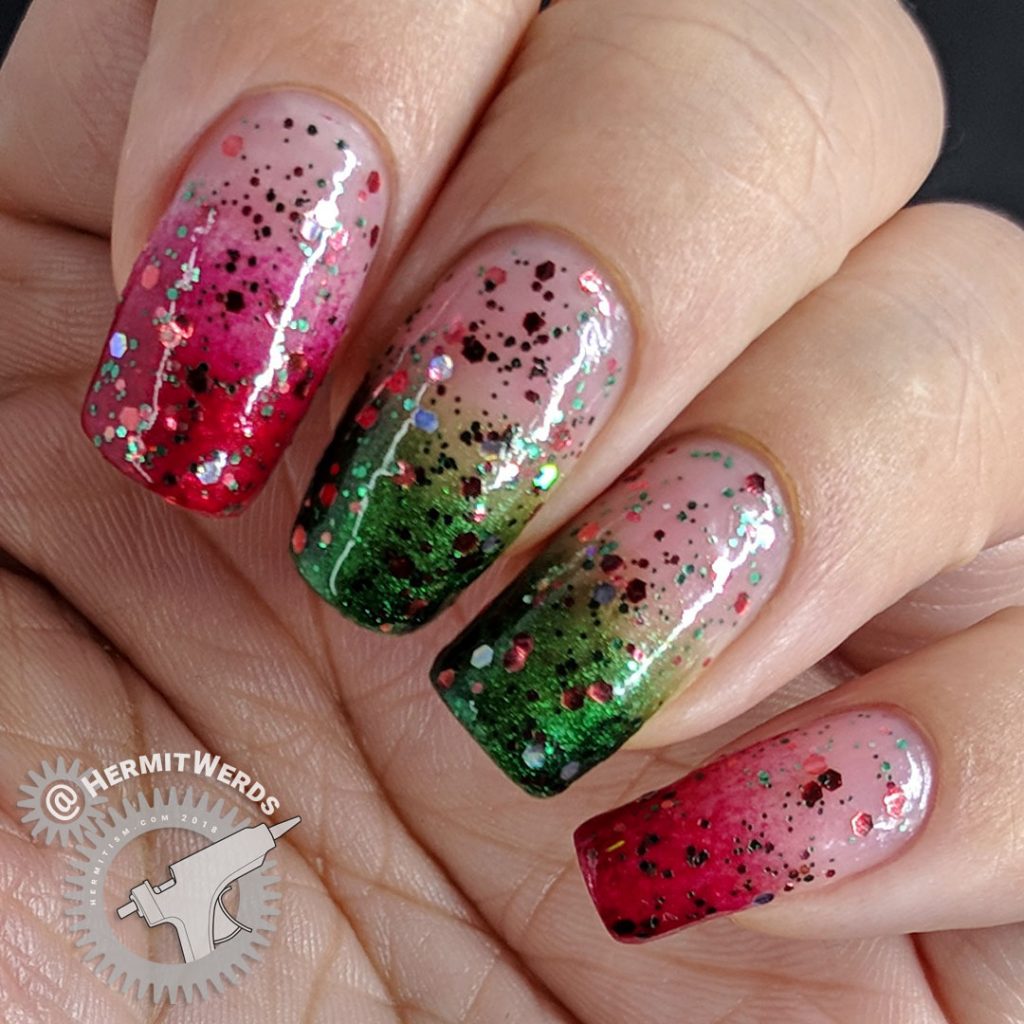 Until tomorrow (hopefully)!