Just a quick, simple nail art today. Sometimes I complicate things too much and end up staring off into the distance because it's too much work and I don't wanna get started. Plus the first version of my other nail art didn't turn out the way I wanted so I scrapped it without even taking a photo. So, yeah. Already sad at all the wasted efforts. What if this second attempt also sucks? Maybe I should rethink it even more? Why is it so hot even with the fan on? Finally, I realized the problem was that I just didn't want to do that design now. Maybe ever. So I took off what I had and threw together something fun. Feet dragging over. That felt much better.
Sometimes you just have to listen to yourself a little.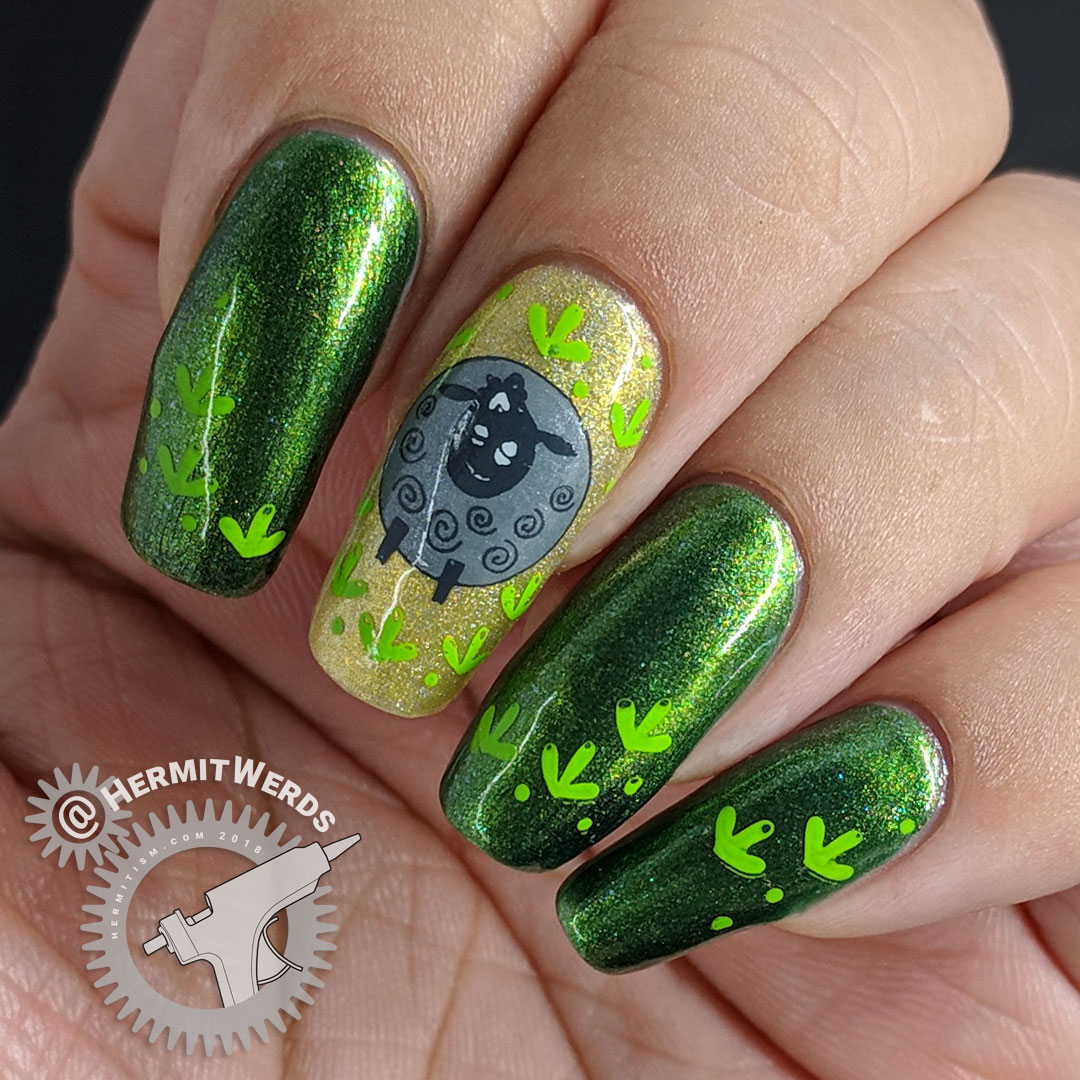 Base Polish:

Stamping Polishes:

Advanced Stamping Polishes:

Stamping Plate:
Born Pretty's Spring Garden-L002 is a really cute stamping plate. I can think of lots of different designs I can do with it and that's always a good sign. It's those plates that you can think of only one super cool design for that are terrible. Because once you've painted that design, well, what are you going to do with it? Keep dragging it around for the rest of your life in the hopes that you'll think of something else? I've got a couple in my collection like that. For example, I bought BP-L102 to paint Lawns Are Materialism. For whatever reason I was just drawn in by that picture of the guy mowing bar codes. Now I haven't used it since. Will I ever?
(If it's the future, feel free to click the link to the plate and see if anything else loads for it.)
Some stamping plates are just more versatile than others, I guess. For me, this is one. Look at that little field I was able to create so easily? Even if I don't use the sheep again, the plants have endless possibilities. Need a little floral flourish? Boom, you got one. Need a doggy bone? Covered. You don't even have to like that dog. You could use it with another plate's image of a dog. This may be the first time I am using this stamping plate, folks, but like the terminator, it will be back.
And speaking of the Terminator, here's a delightful tangent: I was on the Youtubes and ran across Daniel O'Brien's bit on why the Terminators may have started out as sex robots. I do love O'Brien's hectic way of presenting lots of geek info and theories fast (though I don't always agree with him). Sad to just find out he's no longer working at Cracked.
Hey, how about one last look at my nails. That's why you were here…maybe?