I think I'm sorting out the frustrations keeping me from nail art-ing. It's a combination of three things: First, having too many designs in a row that were struggle and the results were not true love. Output garbage = feel like garbage, I guess. Second, Google Chrome sucking and making it difficult to write blog posts in a timely manner. WordPress's main work area will just…freeze. And I can't type or edit anything until the system works itself out. We have very high speed internet. I have updated to the latest browser version. I am using a computer that was built in 2023. There are no excuses. Google is apparently not only evil these days, but can't even make a working browser. I do not have these problems when I swap to Mozilla so a full on browser swap may be happening soon. Bleh! Third, life things piling up. I'm slowly stomping my way through those difficulties so hopefully I'll go back to being more prolific with current manis. It has been great getting some of those old designs posted though.
Today's look is a super fall yet somewhat abstract look due to the low contrast between the leaves and the background. I am still not sure I like it so mark it as part of the problem. 😝
Nail art products used
Base Polishes:

Azure's "A-thermo Cat-003" gel with Sinful Colors' "Feel the Vibe" underneath

Stamping Polishes:

Stamping Plates:

Apipila "Insect" (stink bug)
Born Pretty "Texture-L002" (scattered leaf vein pattern, leaf)
Items in italics are debuting on the blog for the first time.
I started these nails early, which you have to do if you're painting a regular nail polish under a gel polish. The reality is that it takes quite a bit longer for nail polish to dry than you might think. So even if you paint the gel after 24 hours, your regular polish is still not fully dry. Luckily I'm using false nails so the wait wasn't a problem at all. I painted an orange base since the thermal property of the gel was orange (warm) and brown (cold) and I knew it wouldn't be opaque.
But then I made a mistake because the gel was also a magnetic polish and I went for the velvet or dome effect that disperses the magnetic bits all over in a sweet wash…which unfortunately doesn't offer much contrast. I think this nail design could have used more contrast, but I'm not at all willing to do re-do it or even mess with it more. So it is as it stands: a lovely soft wash of color that is actually leaves and a stink bug when you look closer. 😜
#DesigningWithDenise – Fall leaves treasure hunt
aka Hide a thing amongst the leaves. I "hid" a stink bug. Just like actual stink bugs, the little bastard is in plain site, but blends in due to its brown color. You can see it on the bottom left corner of my middle finger nail. I have dealt with entirely too many stink bugs in my home the past two winters. I am only grateful they just come in to hibernate and not to also lay their eggs. 😭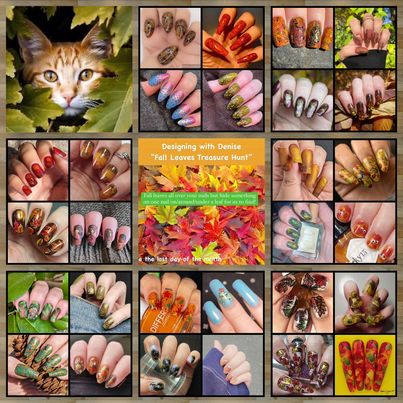 Final fall leaves nail art photos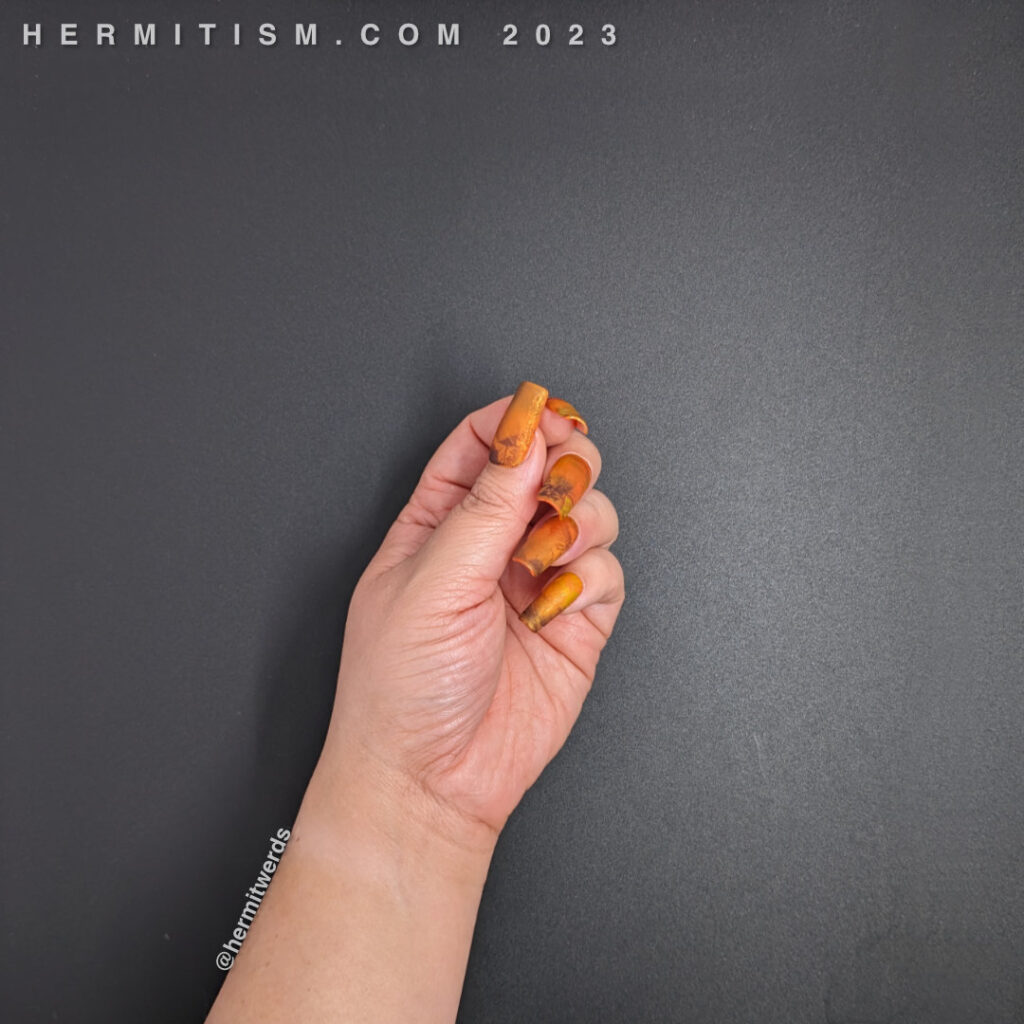 Until next time, friends! 🙋‍♀️