I paint a disproportionately large amount of witch nail art, but a lot of it is for my Witches of 'S' set. Today's look is a much simpler witch-y look and it's so fun. I've had this one sketched out for a while and actually stamped the images for it around nine months ago. They were rather brittle and thick when I finally filled them in and used them, but sticking them inside a stamper with a lid helped to keep them usable until I could get to them. And thankfully I've been able to gather my scattered brain cells together long enough to get some Halloween nail art done!
Nail art products used
Base Polishes:

Familiar Polish's "You're Gourdeous" and Sweet & Sour Lacquer's "I Love that Chicken (Sandwich)"

Stamping Polish:

UberChic's "Pure Black"

Advanced Stamping Polishes:

Stamping Plates:

Lantern & Wren "Moon's Out Brooms Out" ("Yes I can drive a stick" with broom) and Pict You "PY-F031" (witches flying on brooms)
Items in italics are debuting on the blog for the first time.
This nail art has been in the works for so long that this is the second time I've painted this same base. Luckily with them being on false nails again that was a step I wouldn't have had to repeat if I once again didn't finish this design. But I did and now those witches can perform their aerial tricks for as long as this blog lasts.
If you really like the green polish I used as my base, it and its polish in crime "Cauldron Bubble" (which I used for Boo Bees) may still be available. There is a small chance that you will be the person to grab the last set of this duo. Delia said she isn't making anymore so…good luck. 😱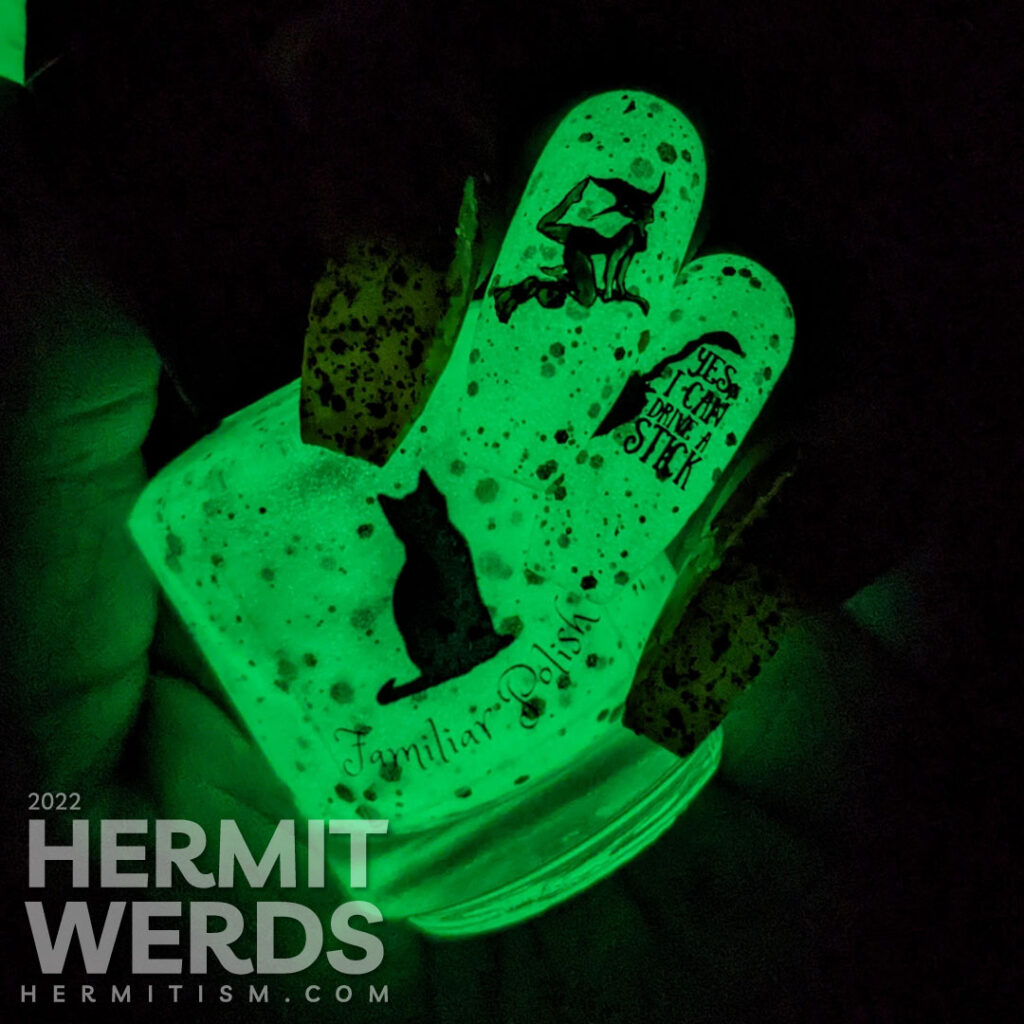 #HalloweenForeverCollab – You do you, boo!
Generally the prompts are more focused, but since it was the month of October we were all let off our leashes to run wild in the subject matter that is Halloween. So many cool things! 😂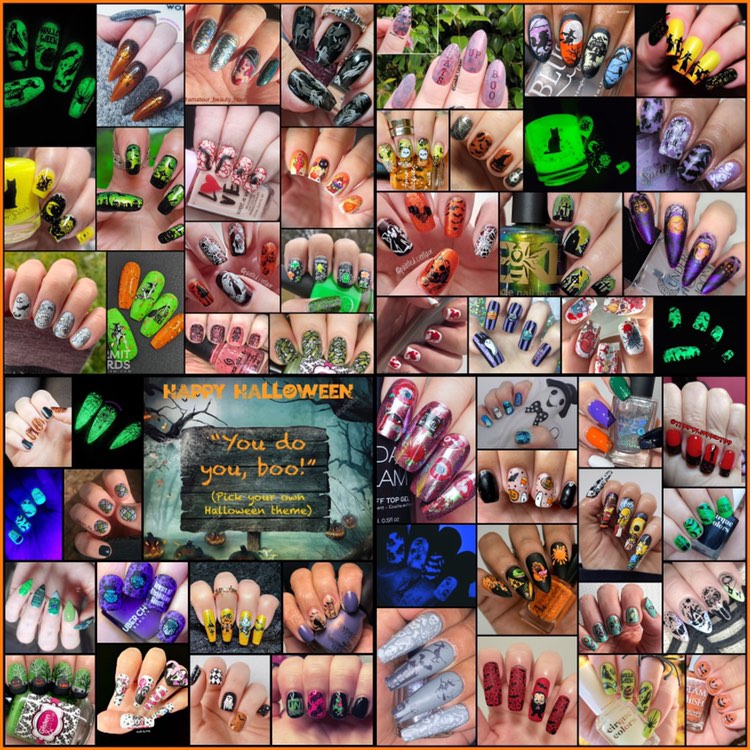 Final witch nail art photos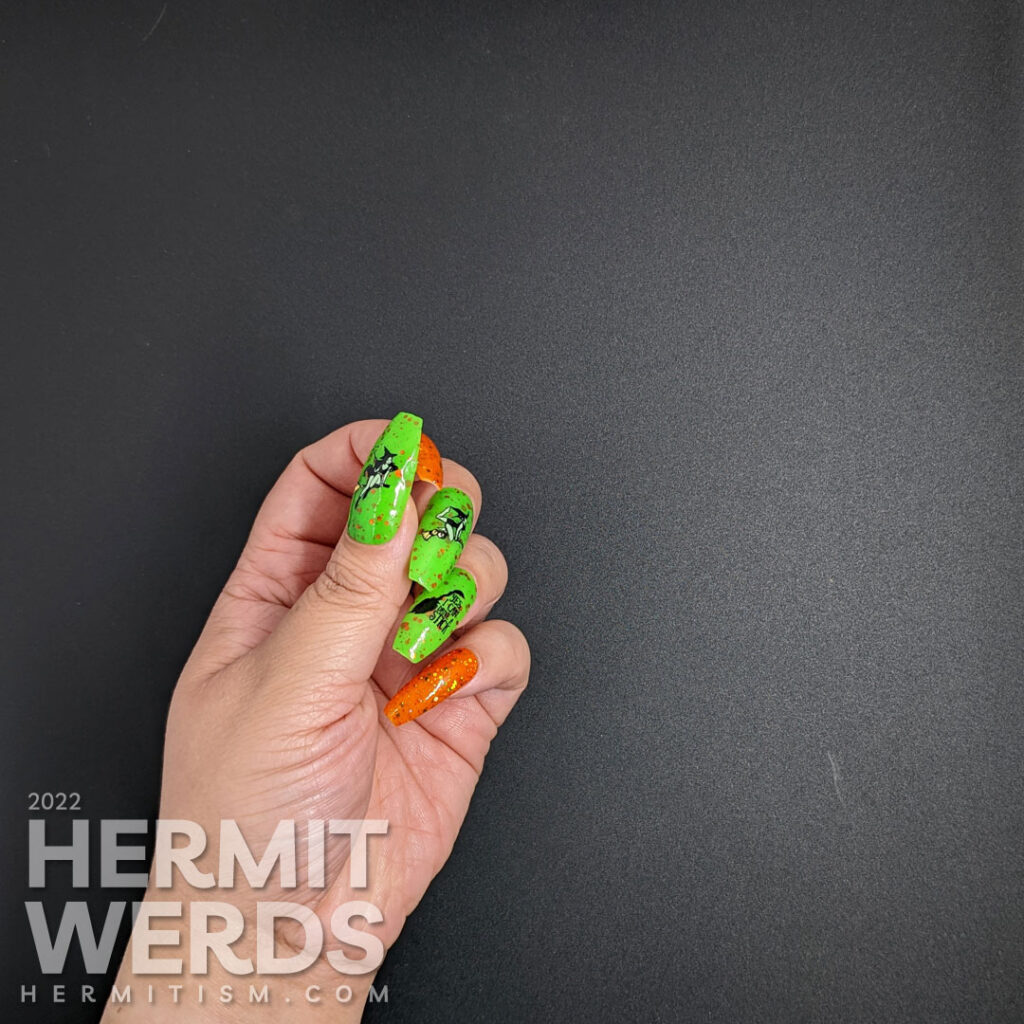 Until next time, friends! 🙋‍♀️