No Patty Day manis for me this year, but today I have a bad luck nail art that really ended up being bad luck for me! Or perhaps I should say I had bad luck with it because I slammed the door on my nail art-ing hand's middle finger. So, uh, sorry for the bruising. I feel a little proud, actually. I have a high pain tolerance so I often just "walk it off" when I hurt myself instead of doing some (any!) basic caretaking. This time I not only iced it once, I did so again two more times. That's adulting, right? Now it only hurts if something presses against it. I can even type just fine!
Bad luck that it happened, but good luck that it wasn't worse, I guess!
Today I also have something new I'm trying: mini tutorials! I'm taking just one finger and going over the steps for it. Check for the tutorial after the products used list.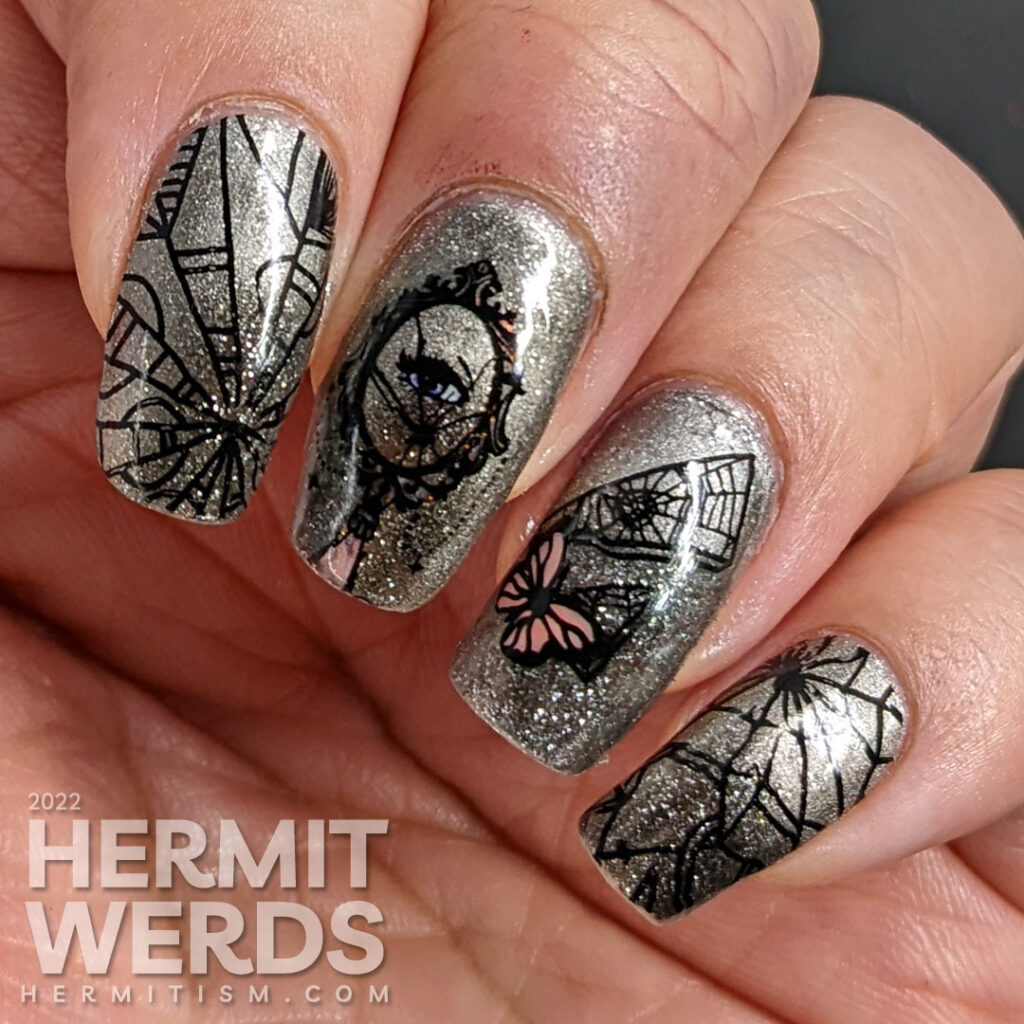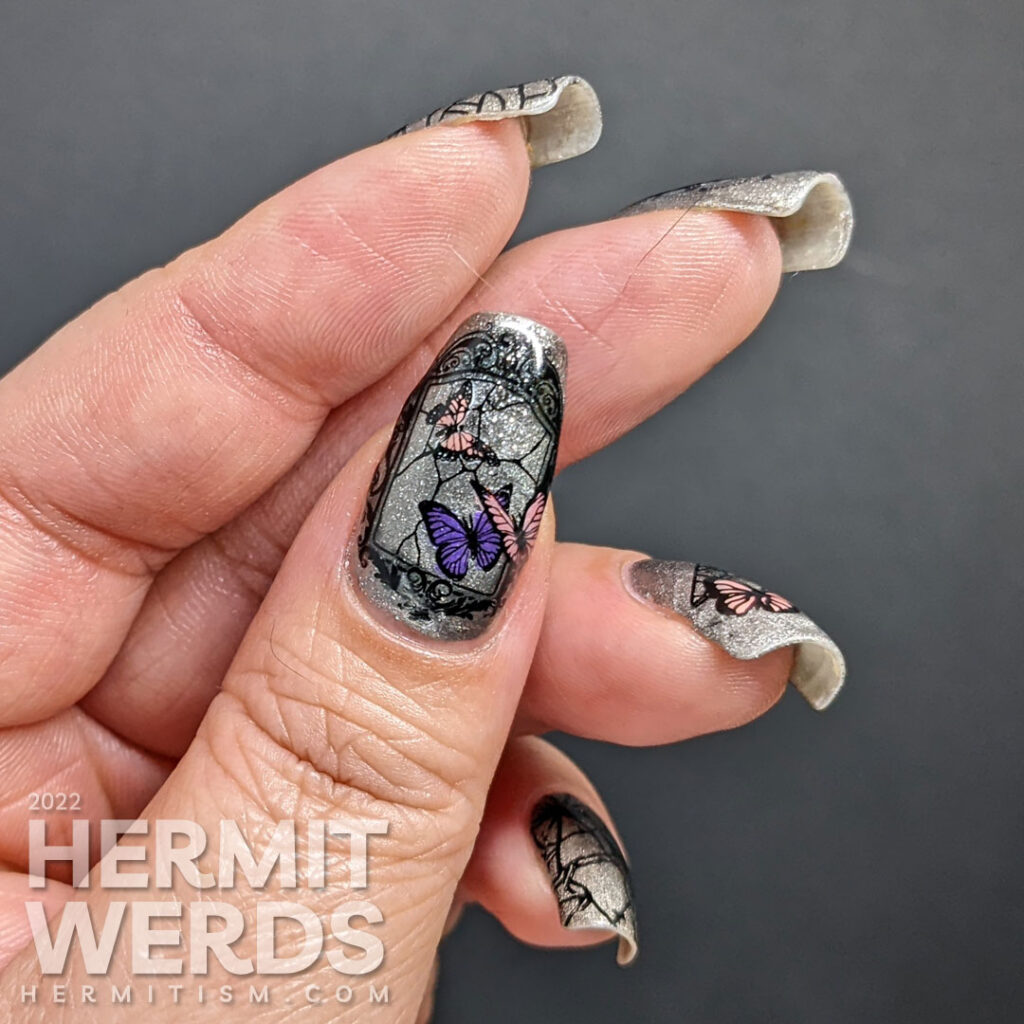 Nail art products used
Base Polish:

Magna Nails' "Silver"

Stamping Polish:

UberChic's "Pure Black"

Advanced Stamping Polishes:

Bee's Knees Lacquer's "Keep Summer Safe", Covergirl's "Royal Purple", Maniology's "Lace", Sinful Colors' "Snow Me White", and Zoya's "Tulip"

Stamping Plates:

Beauty BigBang "XL-011" (butterfly) (press sample), Born Pretty "Fairy Tale-S001" (hand mirror, full mirror w/butterflies, broken glass), and "YZW-Z16" (geometric patterns like broken glass)
I find the Magna Nails polishes to be very chip-prone, but that's fine for someone who keeps the same mani for such a short time. I wouldn't buy them again, though. There are too many good silver/silver magnetic polishes.
While the magnetic effect was nice, the thing that really made this mani for me was the Bee's Knee's topper. The extra little flashes with the other colors made me extra happy.
Magic Mirror Mini Tutorial
Prep your nails in your usual way. I use a peel-off base coat. Then paint several layers of magnetic. Mine sucks so I had three layers. Yours might need a black (or other color) base.
Paint your next layer and this time use a magic stick magnet with the S facing up and position it so half your nail is covered by it. I love using it this way because it leaves large swaths of the magnetic and non-magnetic areas with a good chunk of shift too.
Fill in your decal. I used a topper in areas where I wanted it to feel a little sparkly and a little bit of black jelly to help some areas feel filled without hiding any magnetic action.
Throw down a sticky base coat and stamp the decal on your nail. Consider your placement. The hand mirror miiight have fit my nail, but it wouldn't have had any space between the mirror and the end of my nails. Instead I decided to shift it down because the reflective surface was the important part and let the handle be cut off. (Sorry, my stamper is cloudy.)
A last photo dump of bad luck
The Magna Nails polish wasn't a favorite, but it does photograph well so this time we have a macro. Note, however, the amount of wear on the tips of my nails…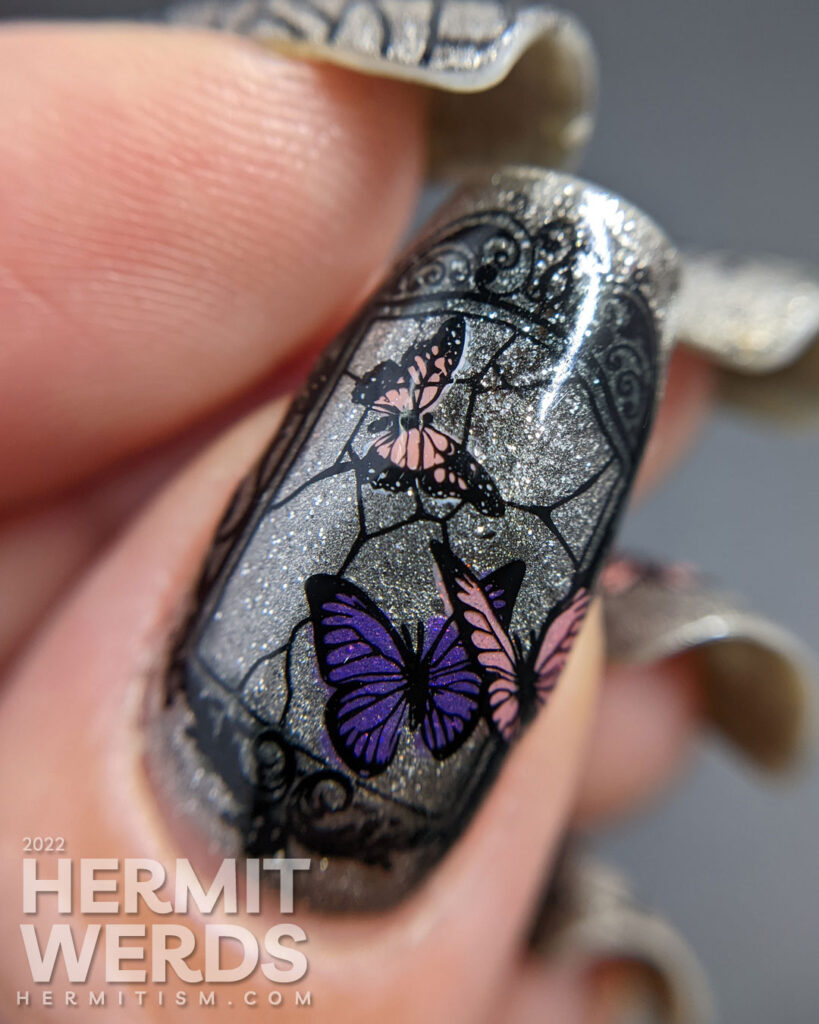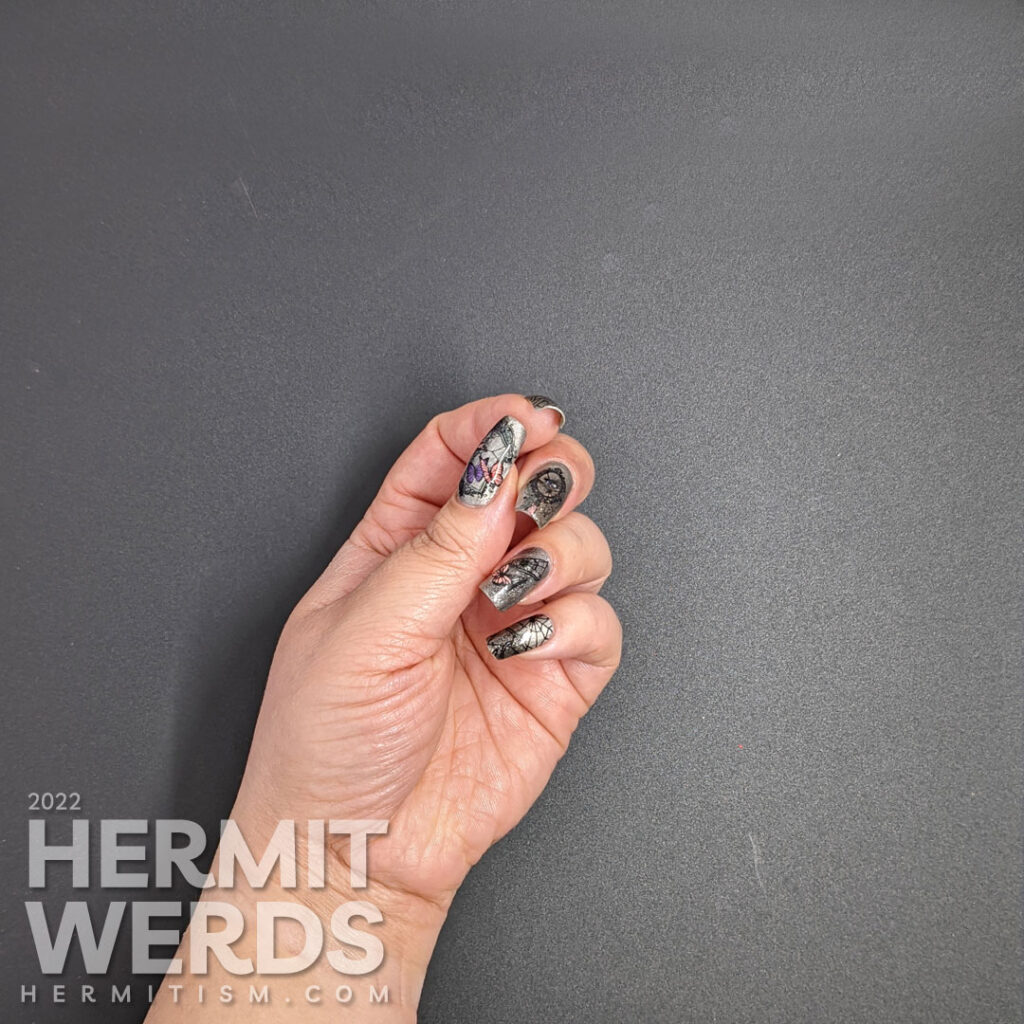 Until next time, friends. And meanwhile I shall wish you the best of luck. 🍀