It's Mermay and the nail art community seems to largely be ignoring it as I haven't seen a single mermaid in any of the challenges I looked at. That's okay. I'll find way to include mermaids in my nail art anyway. For instance, today's prompt was for Fruit and I did fruit, but I also did mermaid nail art. It ended up feeling rather summer-y, but the temperatures were up rather high this week so my thermal polish spent most of its time in a mostly warm state that I ended up really loving. Below is what I mostly saw…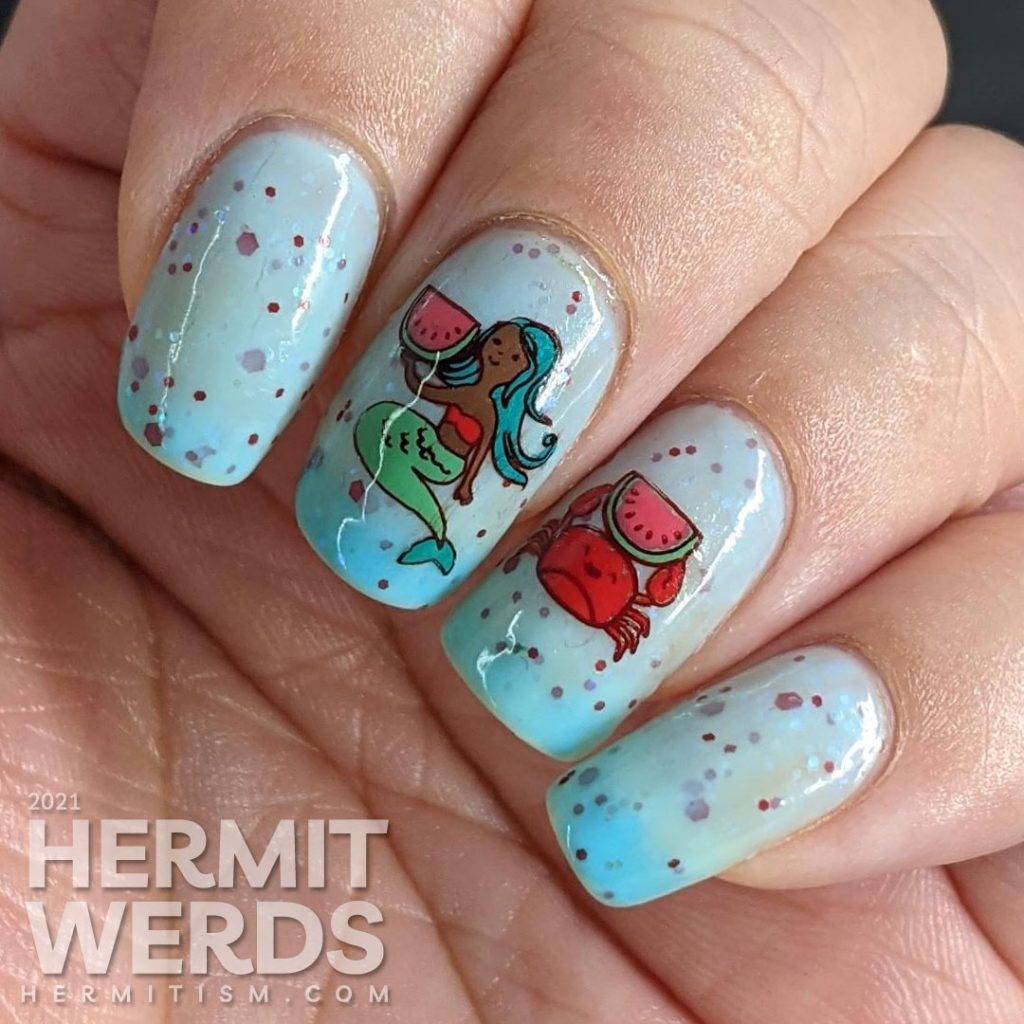 And this is the full color gamut the polish actually has…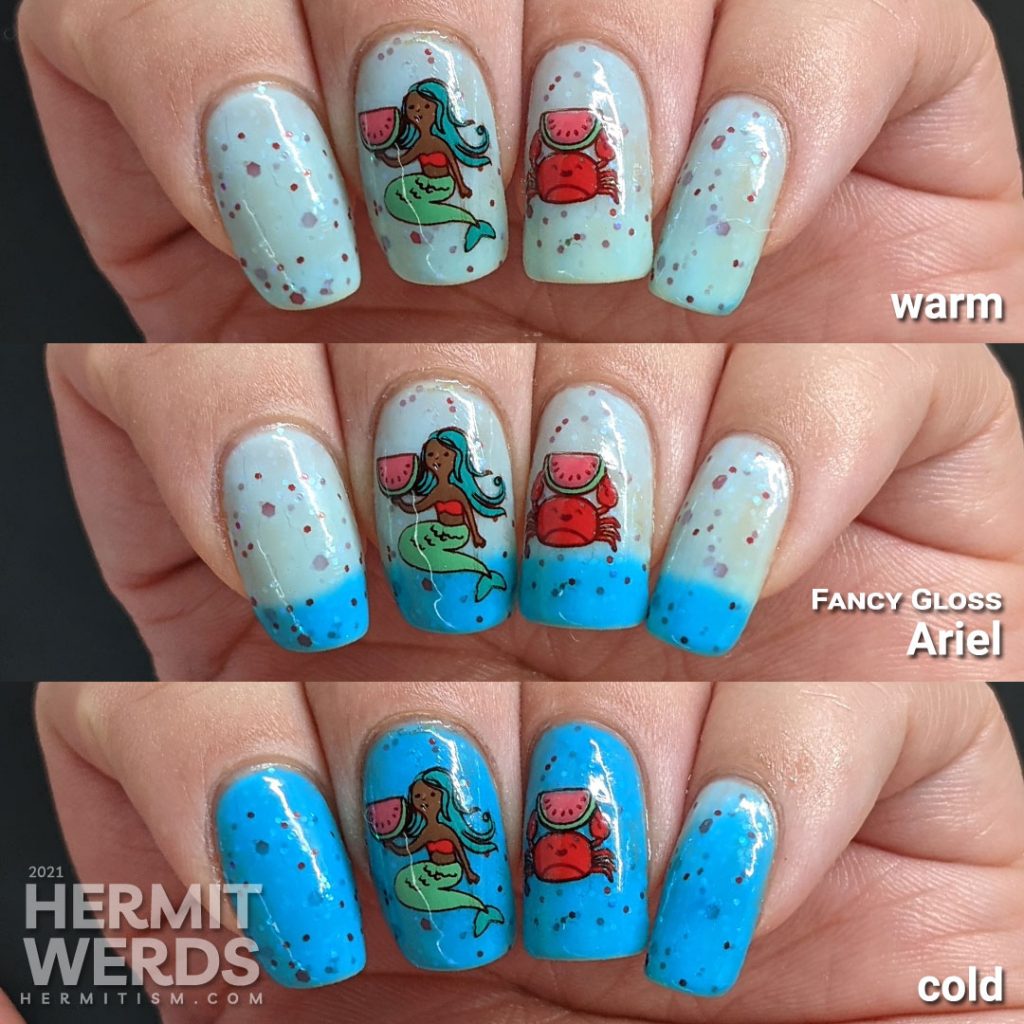 Lovely, isn't it? I always love blue and red together, but those iridescent glitters really make the polish cool. That kind of detail is definitely something to look for in a crelly. Especially a thermal that could just stop transitioning one day.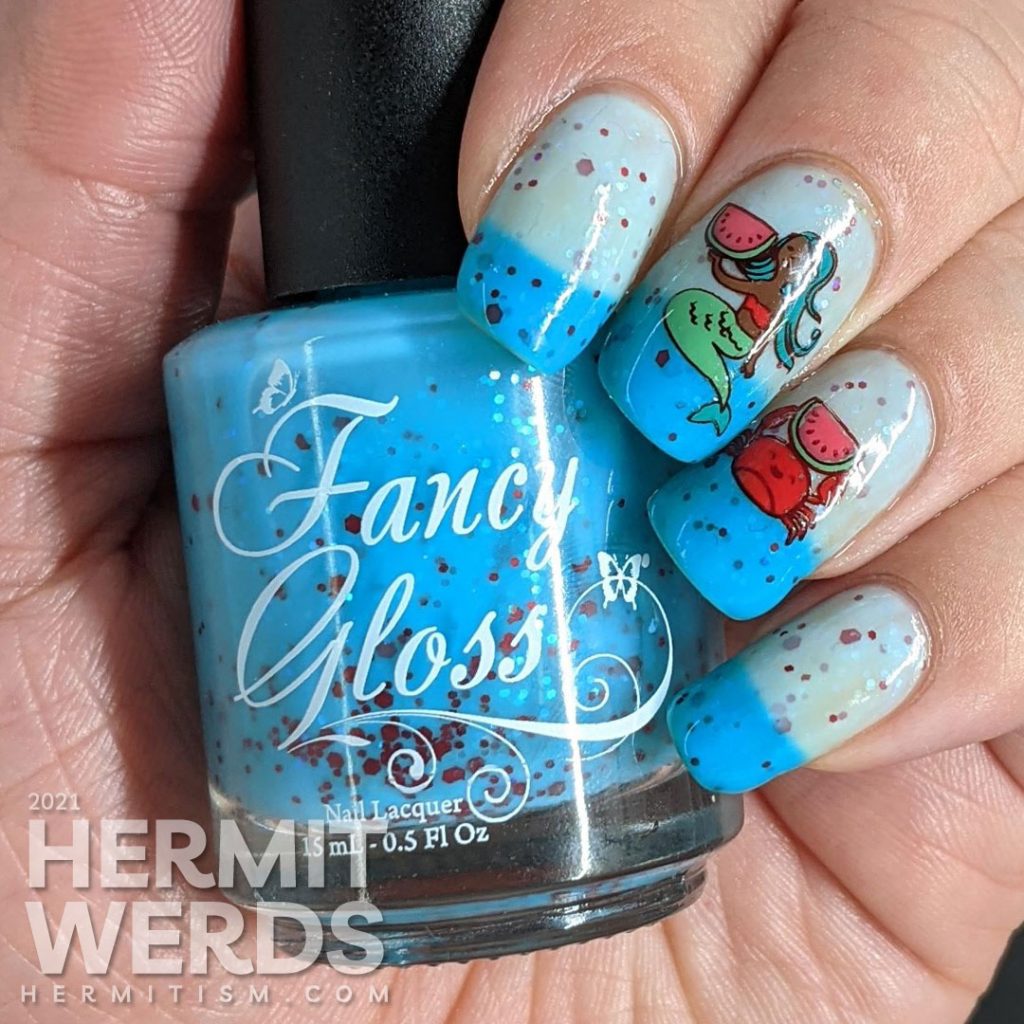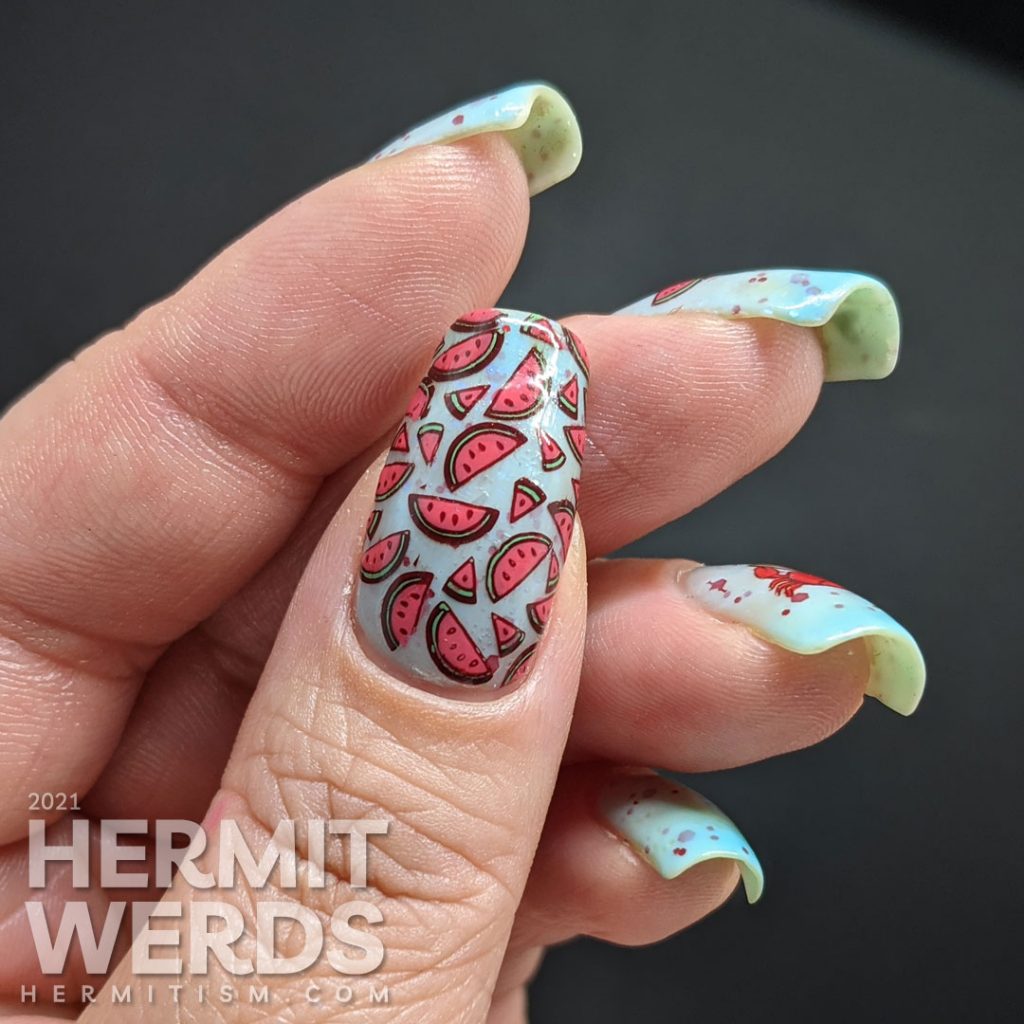 Nail art products used
Base Polishes:

Fancy Gloss' "Ariel"

Stamping Polishes:

Maniology's "Red Sea"

Advanced Stamping Polishes:

Hit the Bottle's "A Vermillion to One", KADS' "28 Lake Blue", Poparazzi's "Watermelon Spritz", and Zoya's "Ness" + "Nyssa"

Stamping Plates:

Beauty BigBang "XL-001" (full-nail watermelon pattern) (press sample), Born Pretty "Animal-L001" (mermaid), and UR Sugar "UR-L019" (crab w/watermelon and mermaid's watermelon)
In anticipation of MerMay, I put together a list of mermaid stamping plates that I haven't used yet and managed to use one right away. Now, she wasn't the reason why I really wanted that plate, but her hand was conveniently sticking out so I could slap a watermelon stamping decal on it. Win. And the whole reason I picked watermelon as my fruit of choice is the crab, which was one of my main motivators for buying Born Pretty Animal-L001. It's so cheerful about its little watermelon prize. Also, that plate has a lot of different animals with unicorn horns which means I can use it during Junicorn. 🏆
Endless possibilities. It's a plate that been out for a while too, so it's a bit hard to find now. Plus I had to buy it twice since the first time it somehow didn't make it into my shipping envelope. Very sad. I do not usually provide a link to where I buy things but, again, this one was hard to track down so I bought mine here.
And now a photo dump…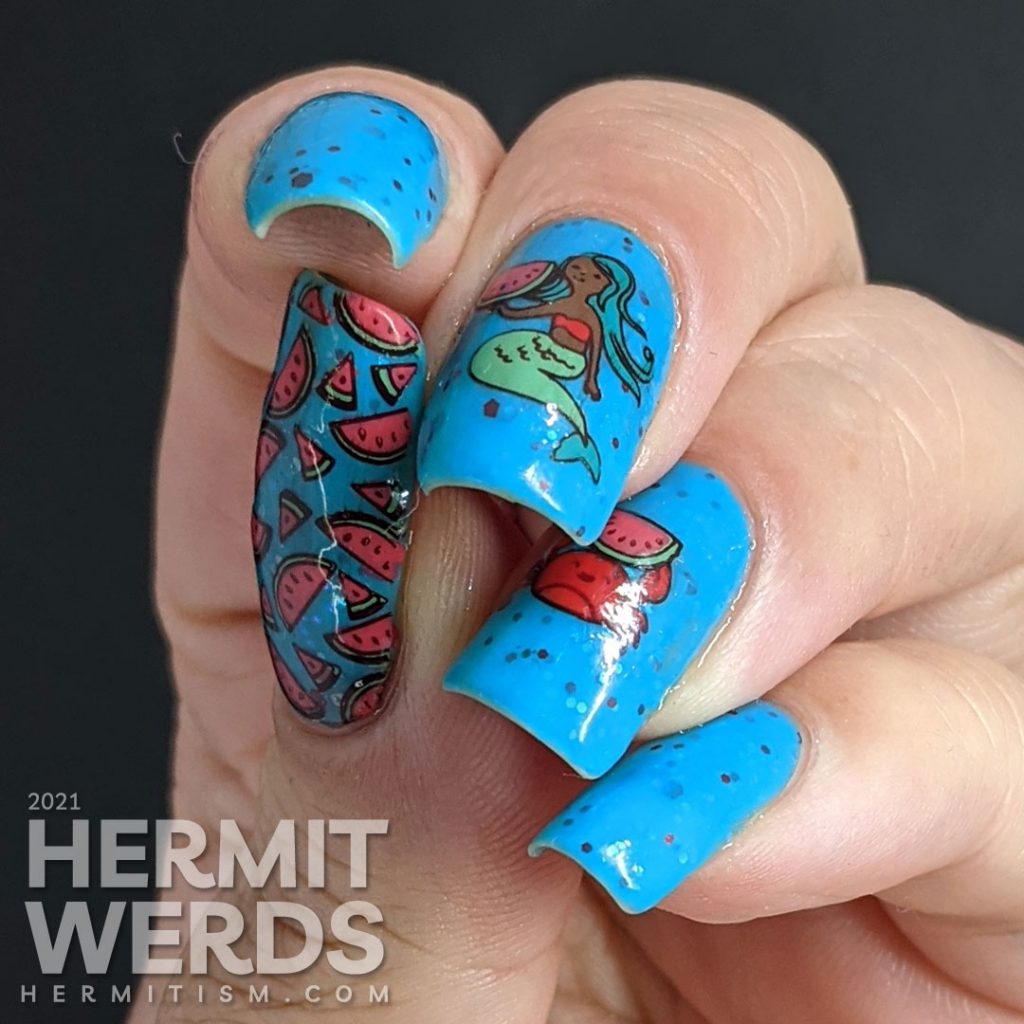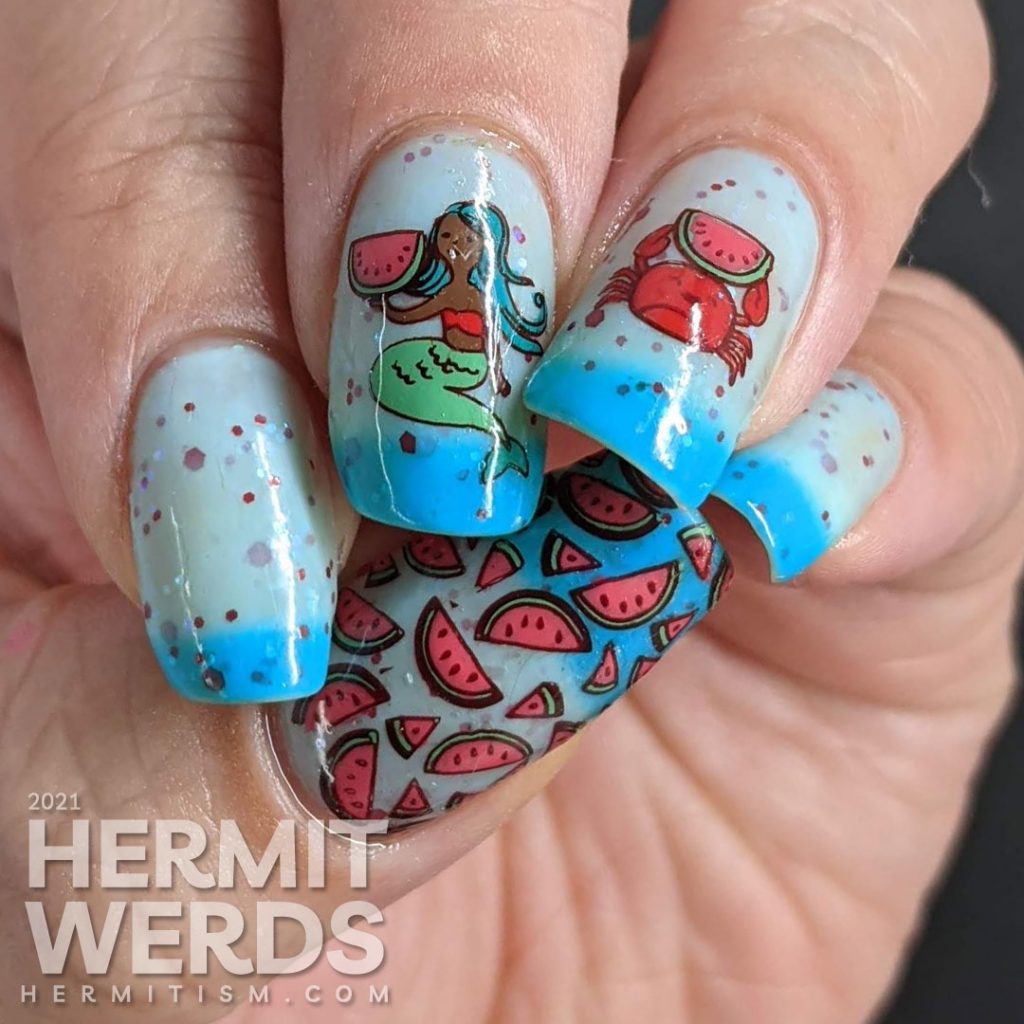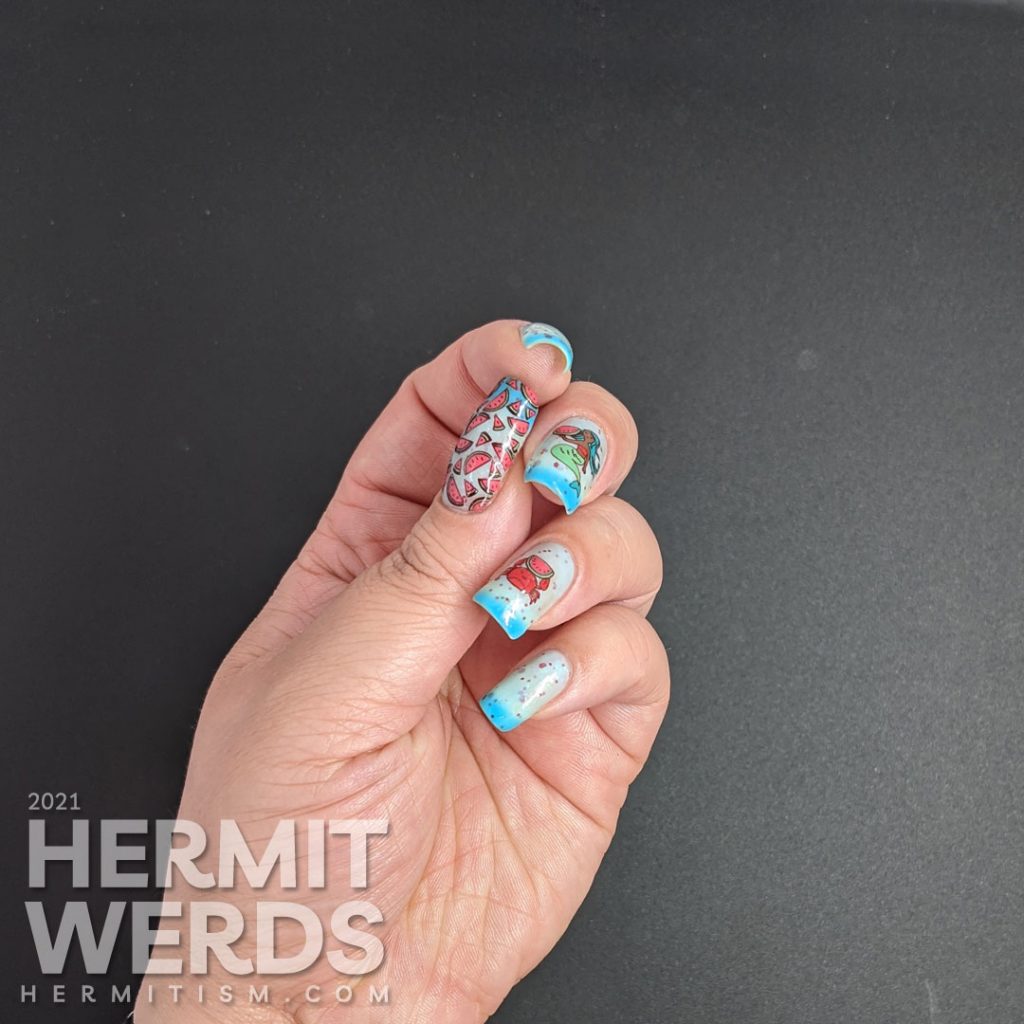 That's all I have for today, friends. Until next time! 🙋‍♀️