I'm pretty sure now that trying to lump these posts together isn't working for me. LOL Oh, well. Everything you do is just practice for the next thing. Today I have a cookie nail art and a donut one. This shouldn't be a surprise since the challenge I'm following this month is all about treats. Another link between these manis is that both are using a Sinful Colors' Sinfully Scented polish from 2020, obviously the donut and cookies ones. I'll have to figure out getting the taco one used at some point…
Yes, only bought three of them. Behold my willpower (or the lack of availability for the cheese-y one at the stores I go to).
Donut Run
I may have decided to go very literal. 😆
And just in case you didn't get it from the four fingernails, I made it very clear on my thumb. Do donuts bleed pink?
Nail art products used
Base Polishes:

Night Owl Lacquer's "Love Yourself" and Sinful Colors' Sinfully Scented! "Donut Even"

Stamping Polishes:

Born Pretty's "Pentagram" and Hit the Bottle's "Psycho Pink"

Advanced Stamping Polishes:

Hit the Bottle's "Psycho Pink" and Nicole Diary's "Rush Lyon"

Stamping Plates

Harunouta "L024" (running donut); Maniology "BM-XL136" (hunters); and UberChic "Creepy Cute Alphabet" ("run") and "Donut Worry" ("donut")
When I first starting painting this, I used a darker pink base polish and painted the jelly on top (it's pretty thin…). And I kind of started at it and thought of what I wanted to paint on top. It was just too dark. So I ended up having to re-do. If I were just going to wear this out and about without any stamping, Sally Hansen's "Bubble Gum" would have made a perfectly fine base.
But that's not how I nail art. This is much better for nail art with a super light pink underneath.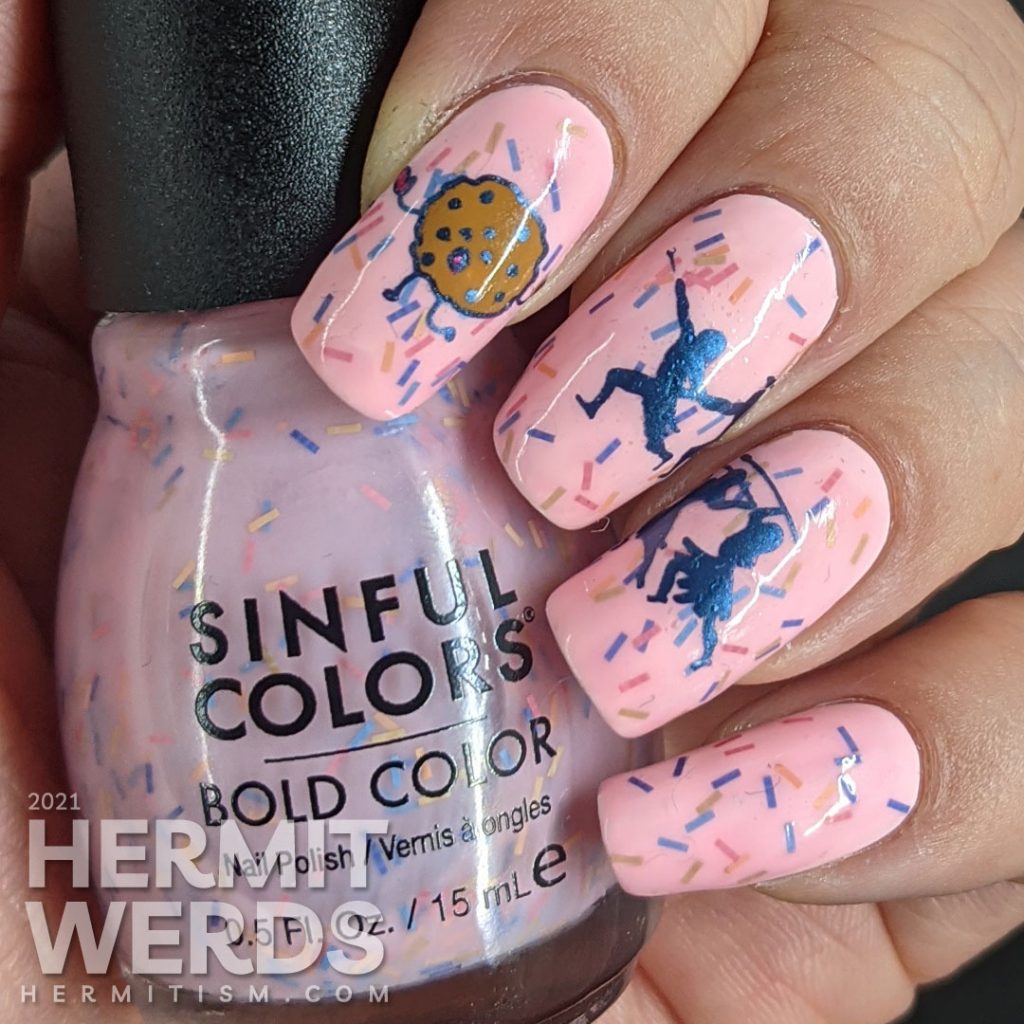 Donut need it
However, I must say that I'm thinking about de-stashing this scented polish. I don't like bar glitters to begin with and the scent just isn't that attractive. Finally, the bar glitter mix doesn't make sense. It has pink and orange glitters that blend into the background and the dark blue glitters feel to harsh. It's just not my jam and today's nail art is exactly what I wanted to paint with it. And…I'm not sure what else I'd want to do? I certainly don't need a bar glitter polish to make donuts because I can paint freehand like I did in my Homer the Donut mani.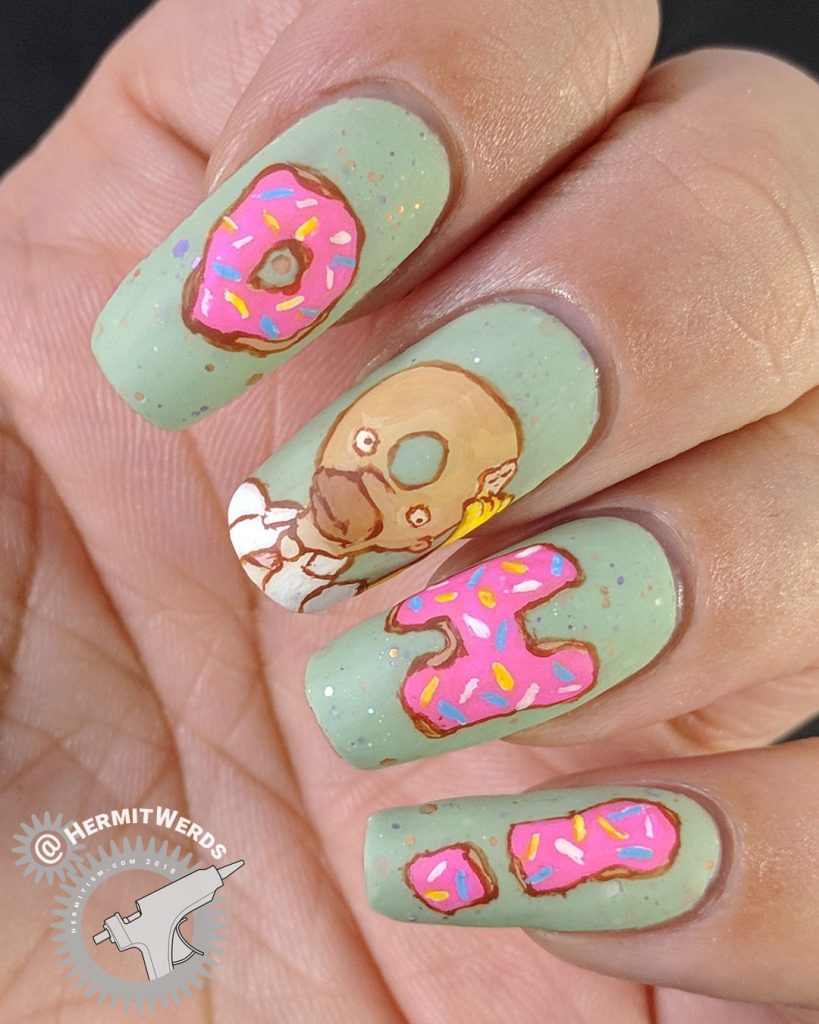 Still, I liked this mani. It was funny and the bar is pretty low for me if you amuse me.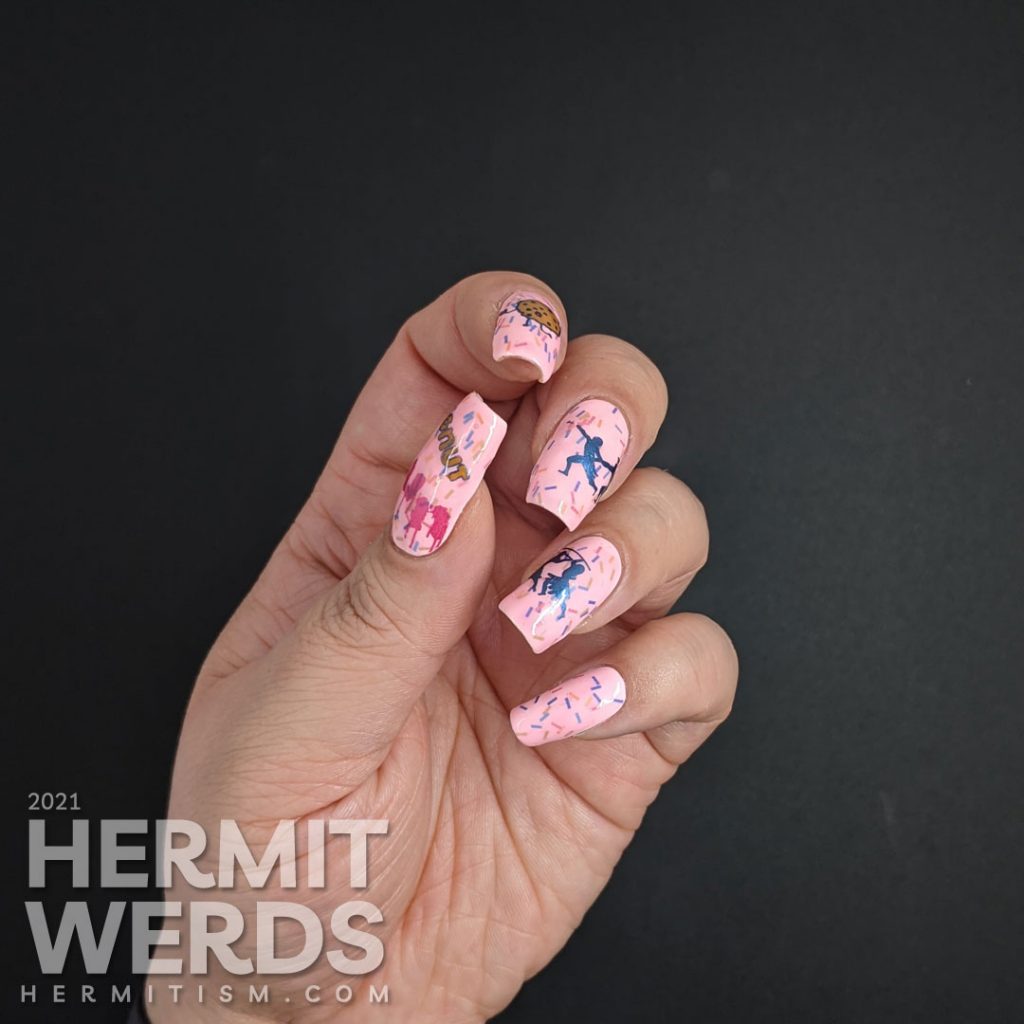 And now we move on to the next mani…cookies!
Cookie Calories Don't Count
Oh, I know that cookie calories really do count, but I had this stamping plate with "Christmas calories don't count" and it also had the word "cookie" on it, so I just had to abuse it. Give me words and I will manipulate them. You have been warned, stamping plate makers!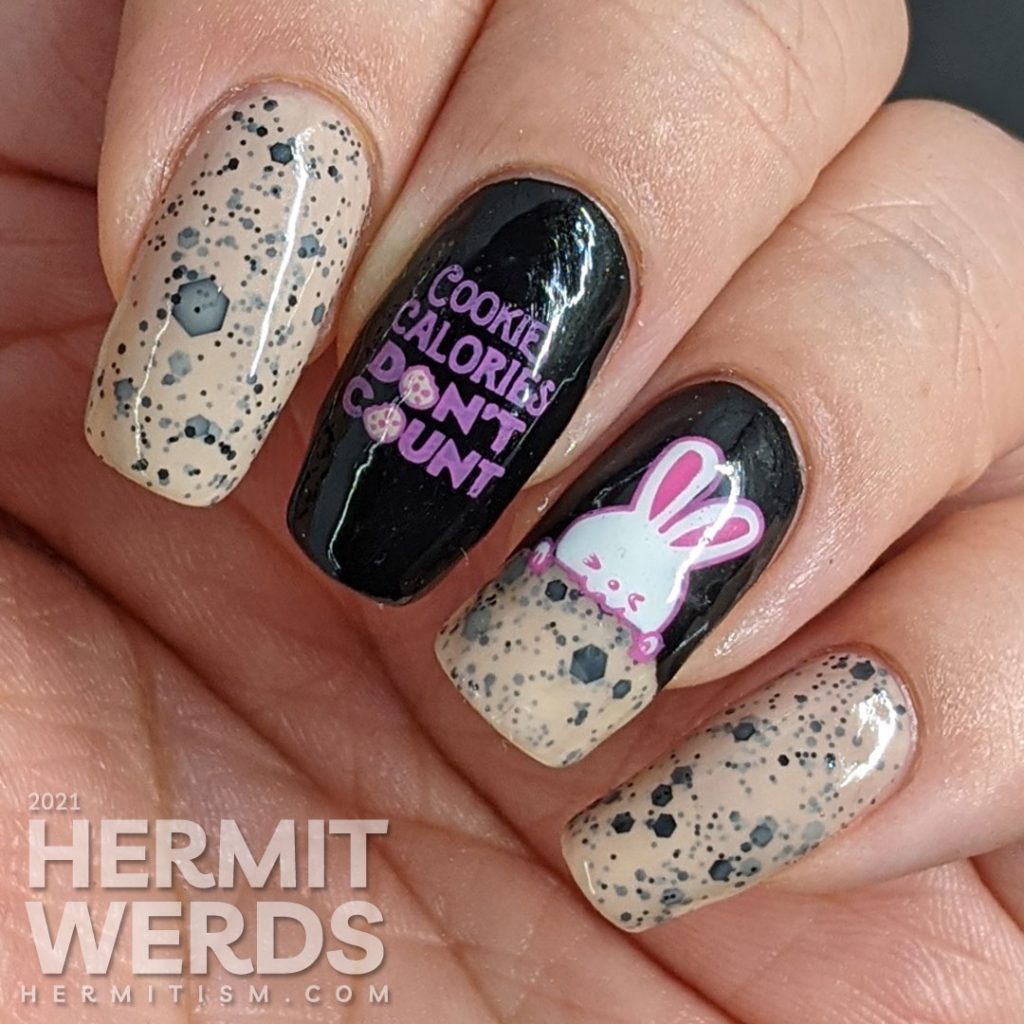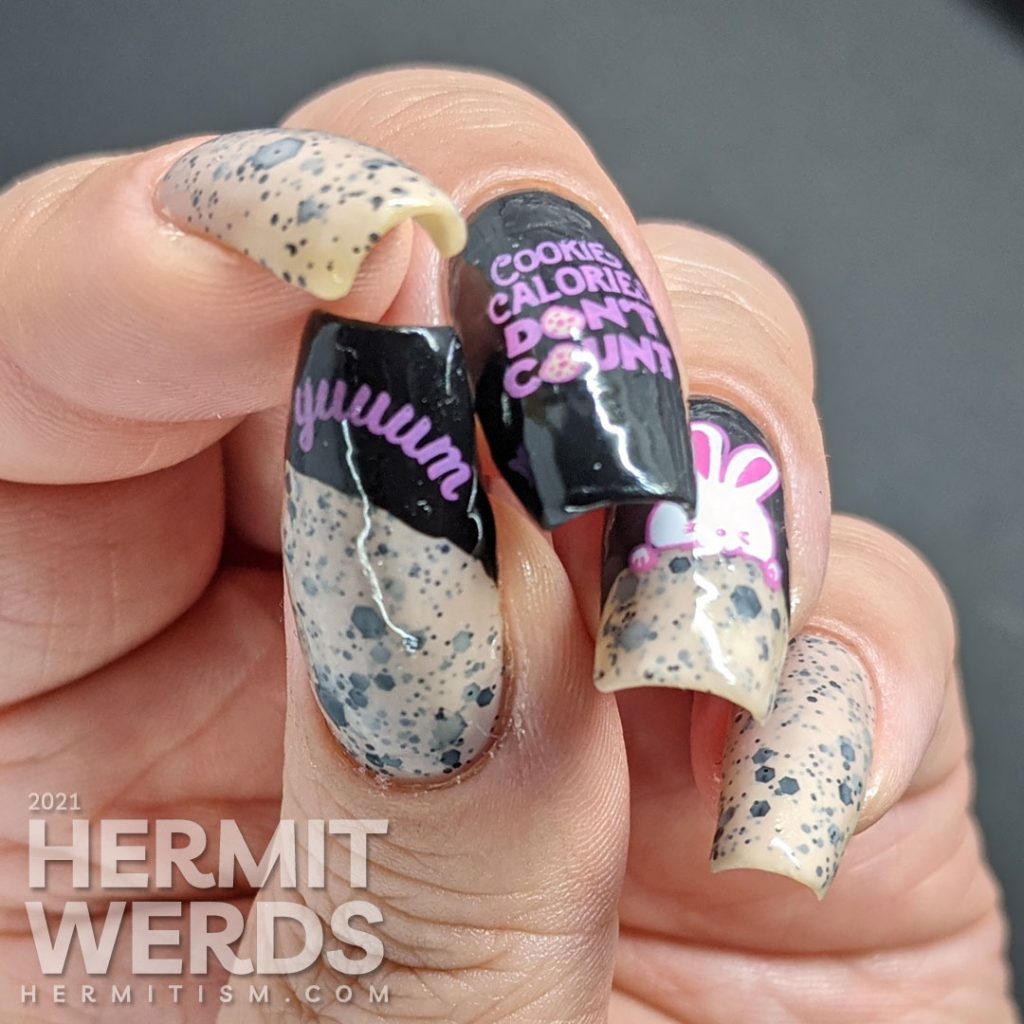 Nail art products used
Base Polishes:

Stamping Polish:

Advanced Stamping Polishes:

Freehand Painting:

Stamping Plates:
I remembered there were a lot of cute animals eating on the early Harunouta stamping plates, so I dug through them and picked the bunny. Not only is Easter right around the corner, but its expression pretty much says it all. I held the decal up to my nail, figured out how much of the crelly I would need left as the cookie and filled in the rest of the nail with black.
This polish I'm keeping. I like the scent better (Tootsie Rolls) and can think of a lot more uses for it (even though Revlon's "Chocolate Truffle" has a better purely-chocolate scent). It also is capable of providing full coverage on your nail. In contrast, I'm pretty sure "Donut Even" will always give you visible nail line without an undie. Plus that many layers with bar glitters wouldn't look pretty to me. So "Cookies & Cream" = good. "Donut Even" = meh.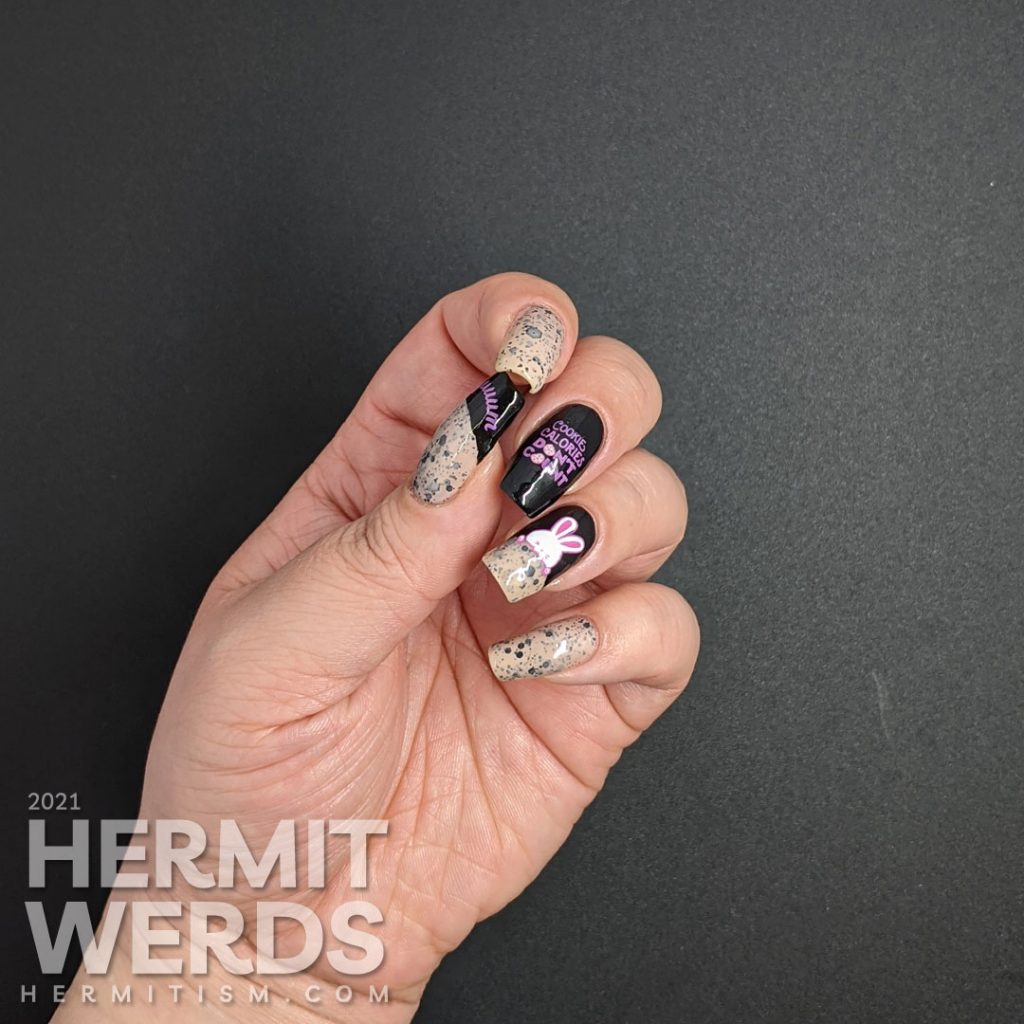 That's all I have for today. Until next time, friends! 👋