I'm really happy to say that I've managed to keep up with the #HalloweenForeverCollab since November of last year. It's only three months, but I think that's my longest run so far. I even turned this one in at the start of the month instead of frantically trying to paint something at the last minute *cough*Halloween Tree*cough* Happily I was able to use a lot of mustard-y and holographic things as well as some cool floral + bones stamping plates from Nicole Diary.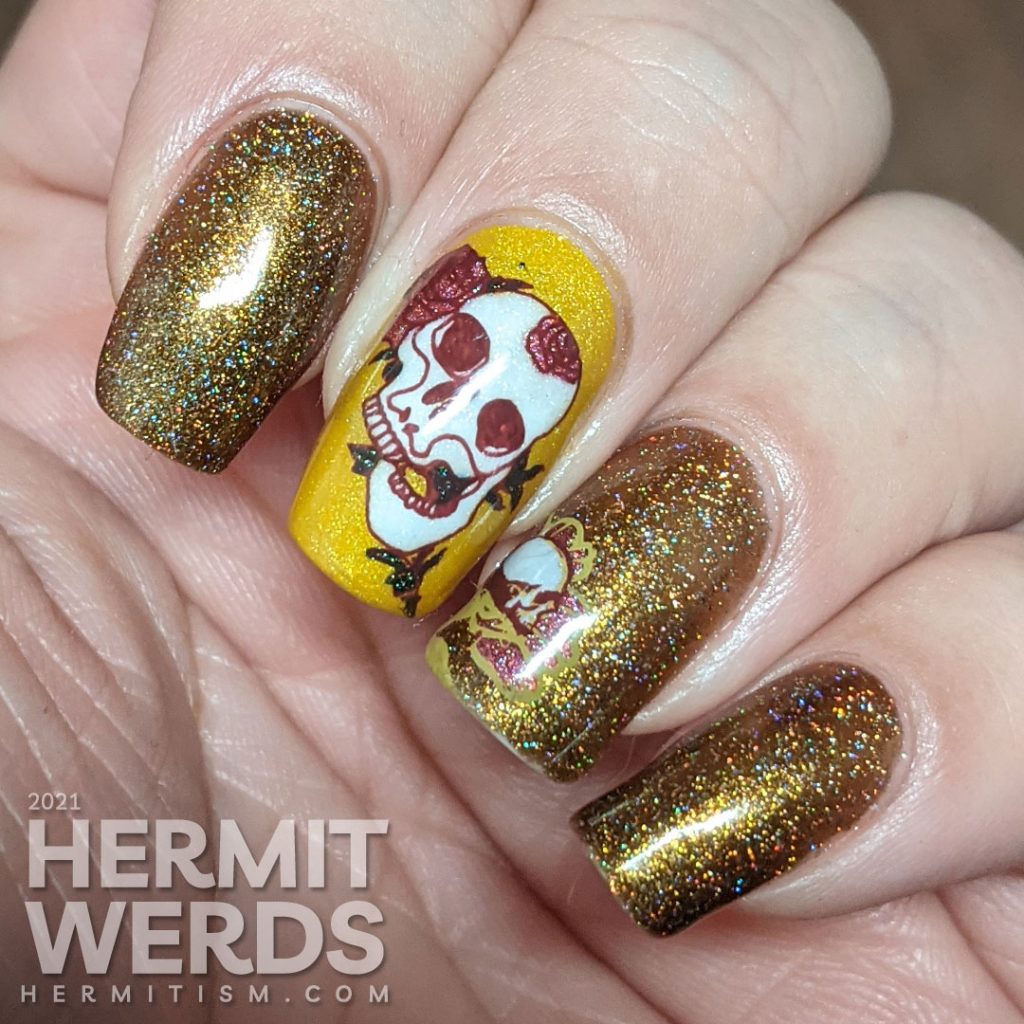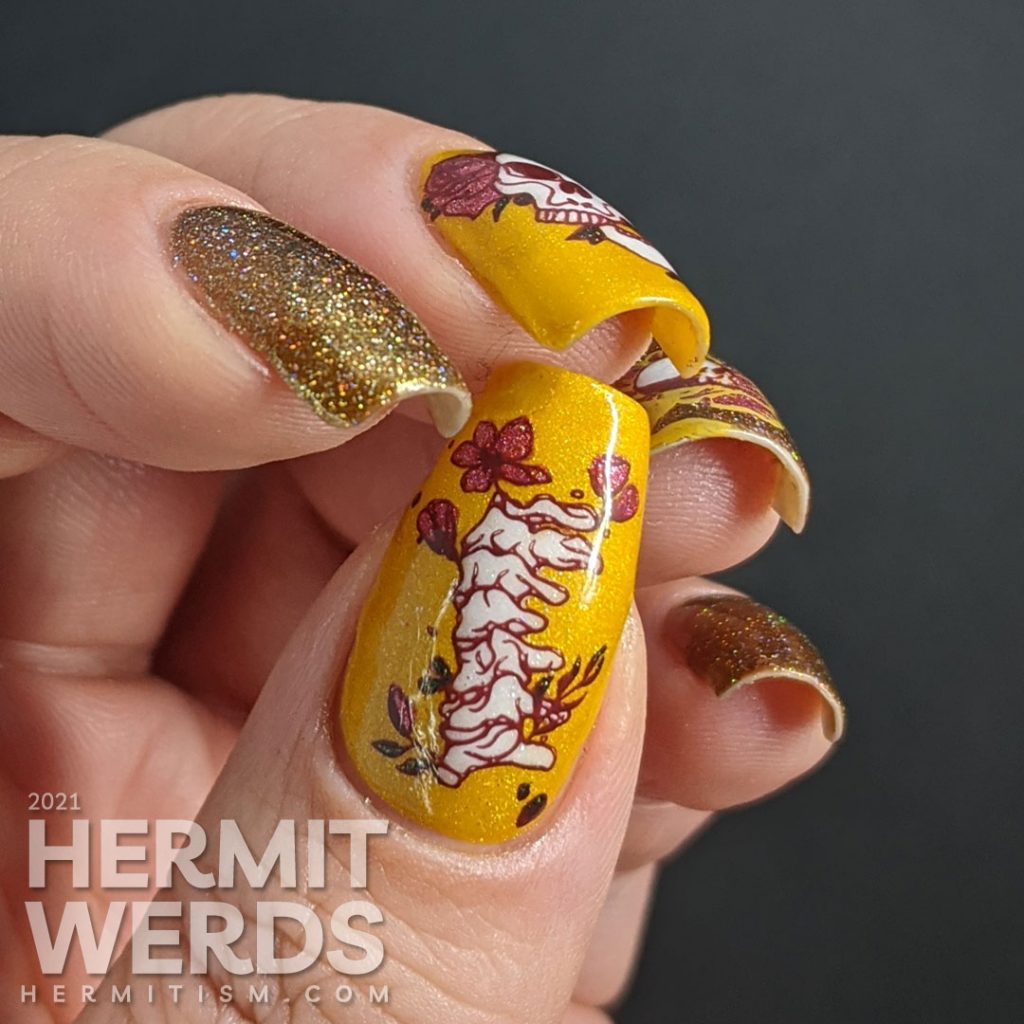 Nail art products used
Base Polishes:

Stamping Polishes:

Advanced Stamping Polishes:

Stamping Plates:
Since the theme was holo-ween, I limited myself to creme stamping polishes and everything else holographic. But since I also don't like super chaotic nail art, I stuck my crazy scattered holo polish on my other nails and used more subtle linear holographic polishes for my accent nails and stamping decals. Throw on some matte top coat and it gets even tamer…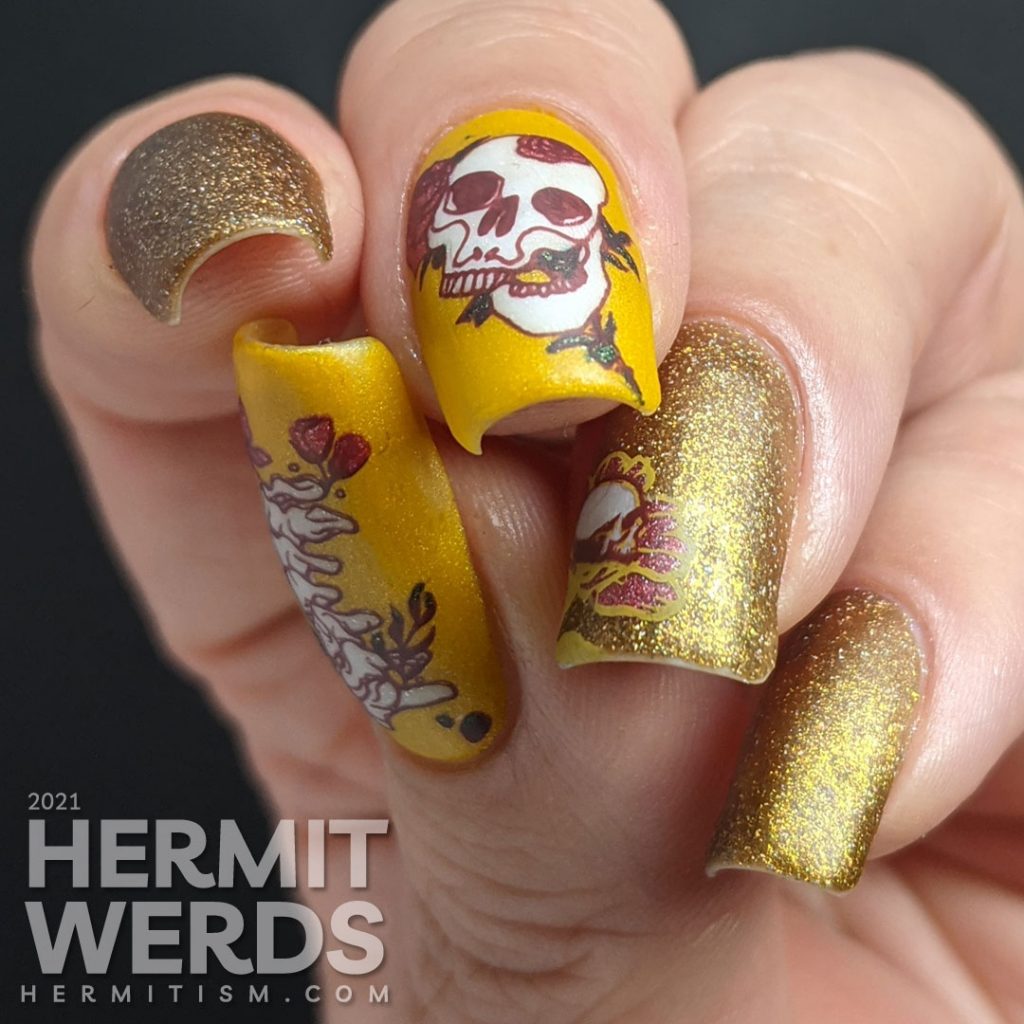 But this is supposed to be holographic, so here's my most holographic and rainbow-y photo. Sadly, I had no bright sunlight to take any photos in, so this is as good as it gets…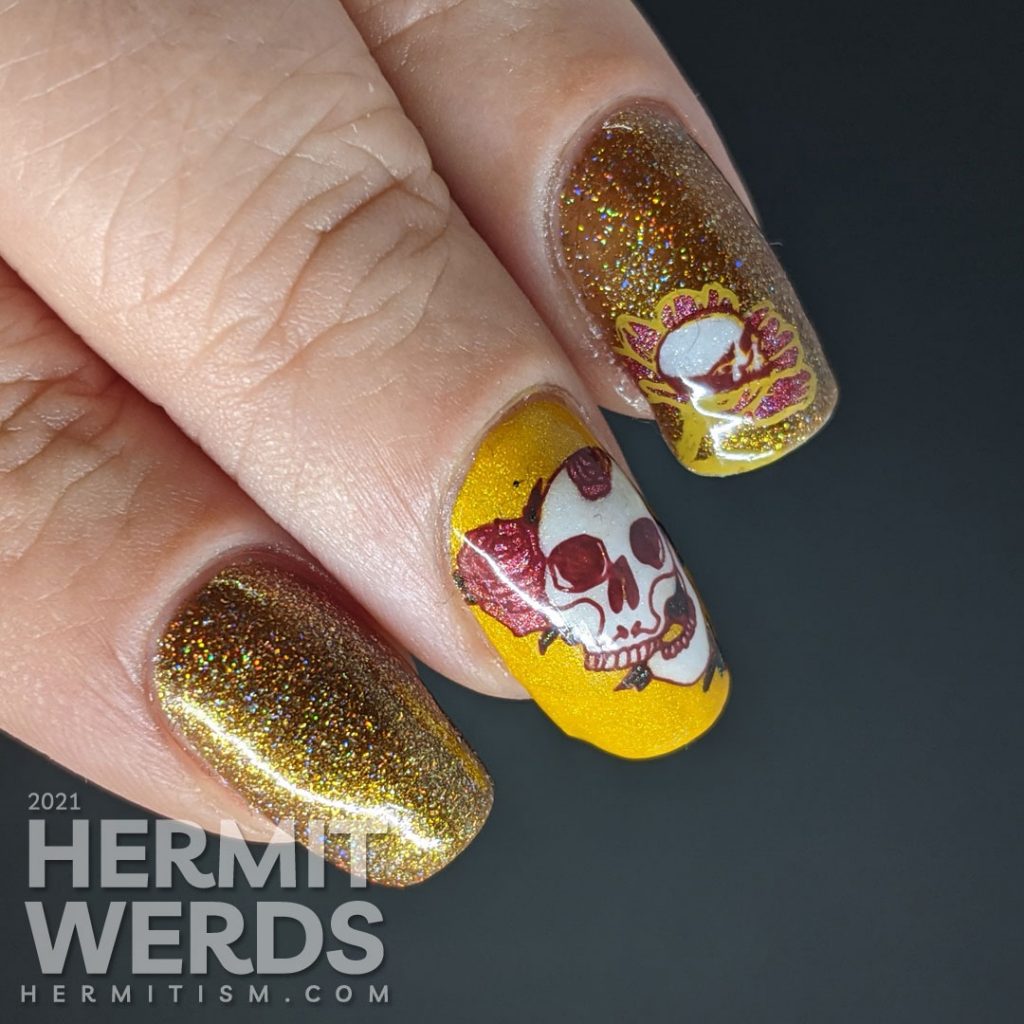 Halloween Forever Collab
There was a lot of participation this time. Holo is an easy theme. You only need one Halloween stamping plate in your collection and some holographic polish to participate and most Instagram nail artists have that. Hence this collage has an amazing number of participants: 49! So check out the group tag to see everyone's manis up close. We have so many themes since the focus was on type of polish!
Back to the nail art photos…
I did take a prop-photo with a bunch of skeletons I had lying around. As you do. I meant to craft with them at some point, but it's already been a year since I bought them. So many projects and so little time…
You might also notice that the skull + flower on my ring finger is a double-layered image. I found the skull was blending in too much with the flower, so I picked up the image again, carefully removed the lines for the flower, and positioned the darker image back over the skull. Yay, contrast!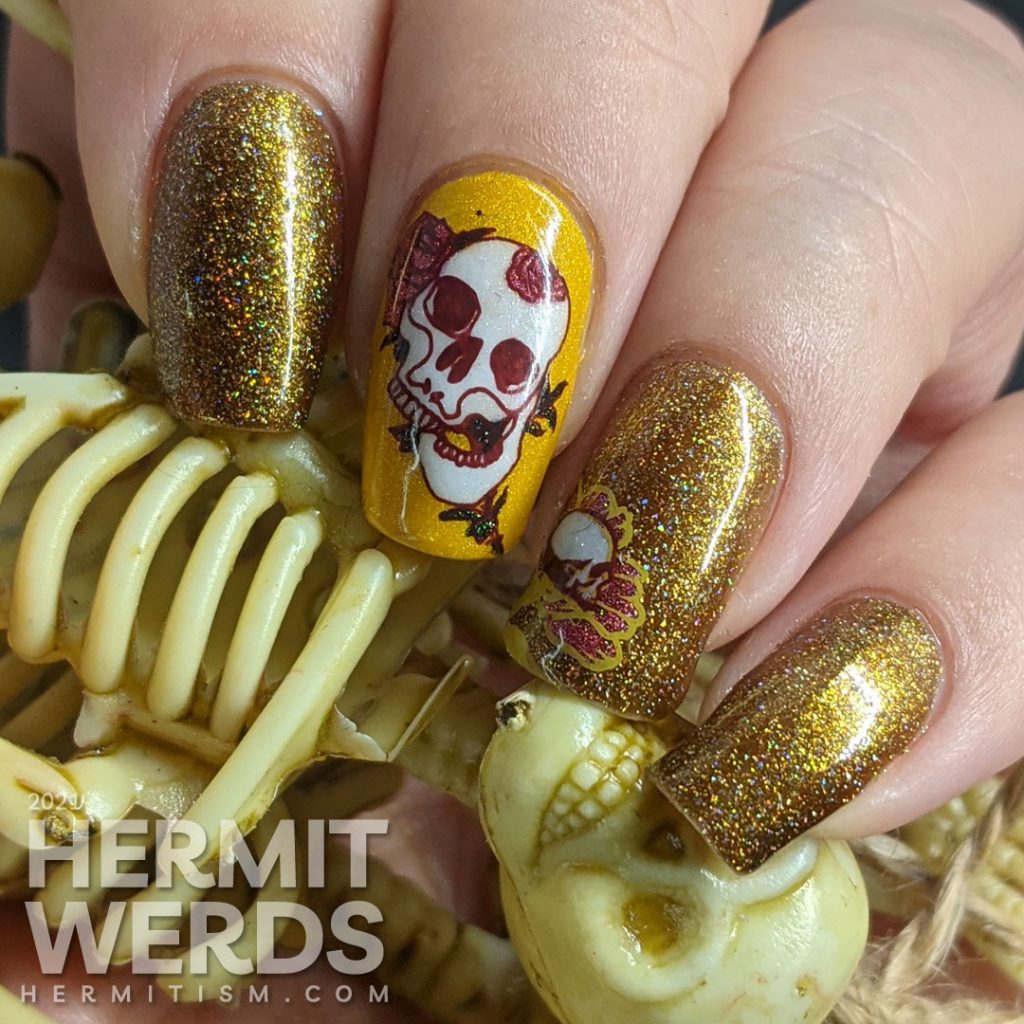 As is typical for me, I ended up loving my thumbnail the best, so here's my last macro photo: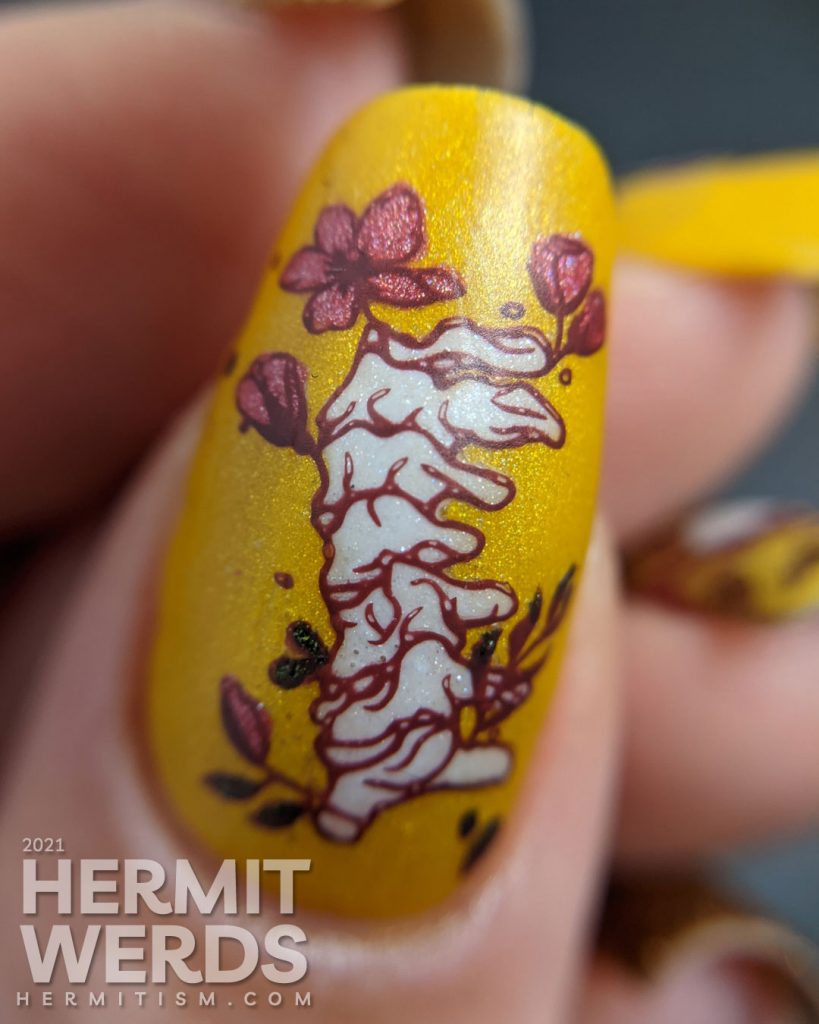 And last but not least, the skull nail art shown at more of a distance…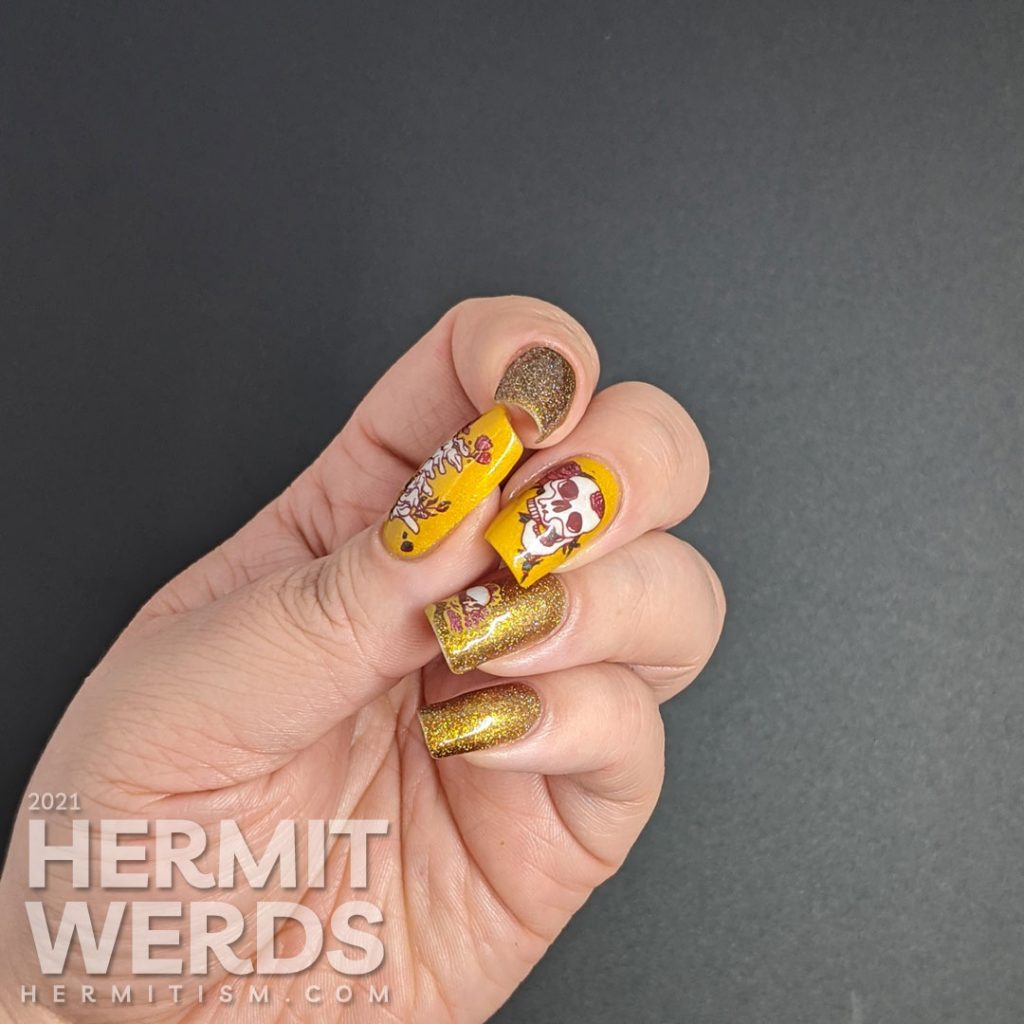 Until next time, friends! May Halloween never end! 🙋‍♀️