Today I've combined two of the nail art challenges I paint for the most: #AZNailArtChallenge and #Pantone2020WinterChallenge. Their themes went together really well because I had 'S' is for Sea and Pantone's Blue Depths, a dusty dark blue. Sounds like deep waters to meeee!
And then there's another challenge I'm doing on Insta this month and I've got a week of favorite animals (which will mostly be too many cats), but I also love jellyfish. They are pretty and I wish I could have a tank of them at my desk but that's expensive and possibly cruel.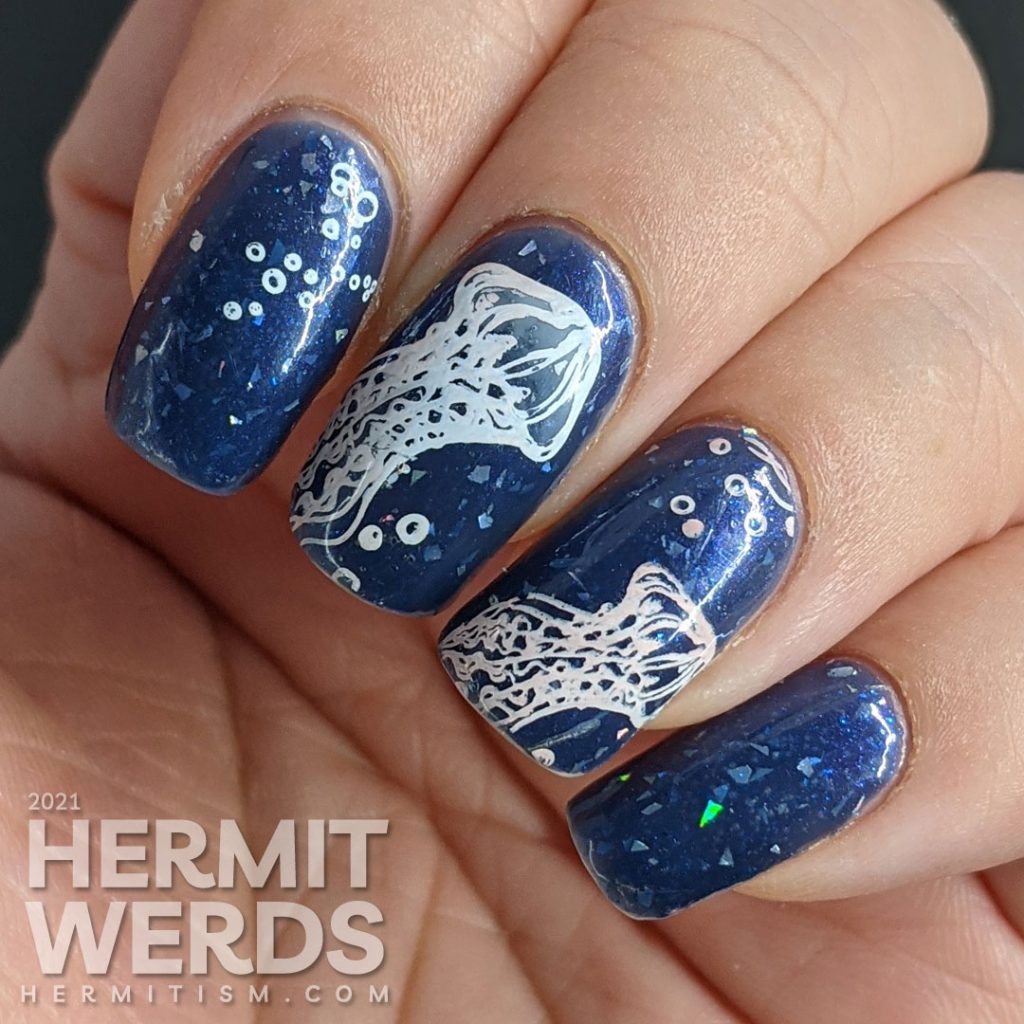 Pantone 2020 Winter Challenge
This is the third round of Pantone's palettes of the season colors that Ine has put together and it's pretty obvious by now that they're always going to stick in several dark blues. Booooring! If it weren't for 2020 retail therapy, I would have run out of dark blues by now.
Instead, I bought What Addiction's "Yennefer of Vengerberg" from Polished Gamer's Witcher box. It's very beautiful–especially in the sun when the purple shimmer pops–but not my favorite formula. Still, those holographic flakes were just perfect for a nail art of the ocean. Made me think of marine snow.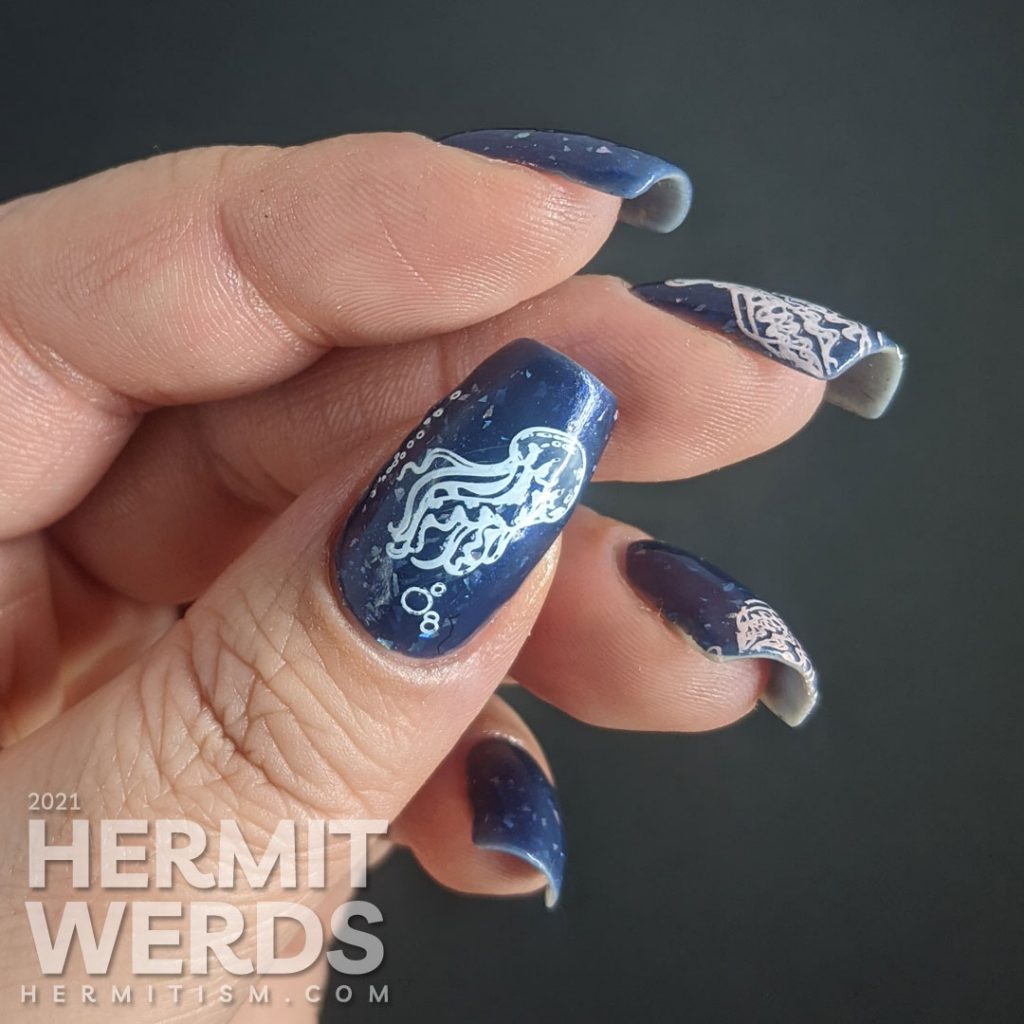 Nail art products used
Base Polish:

Stamping Polishes:

Advanced Stamping Polish:

Stamping Plates:
I really need to paint a proper nail art with the white jelly polish at some point. I have so many ideas for it! But for now it made my jellyfish a little more jelly. Hah!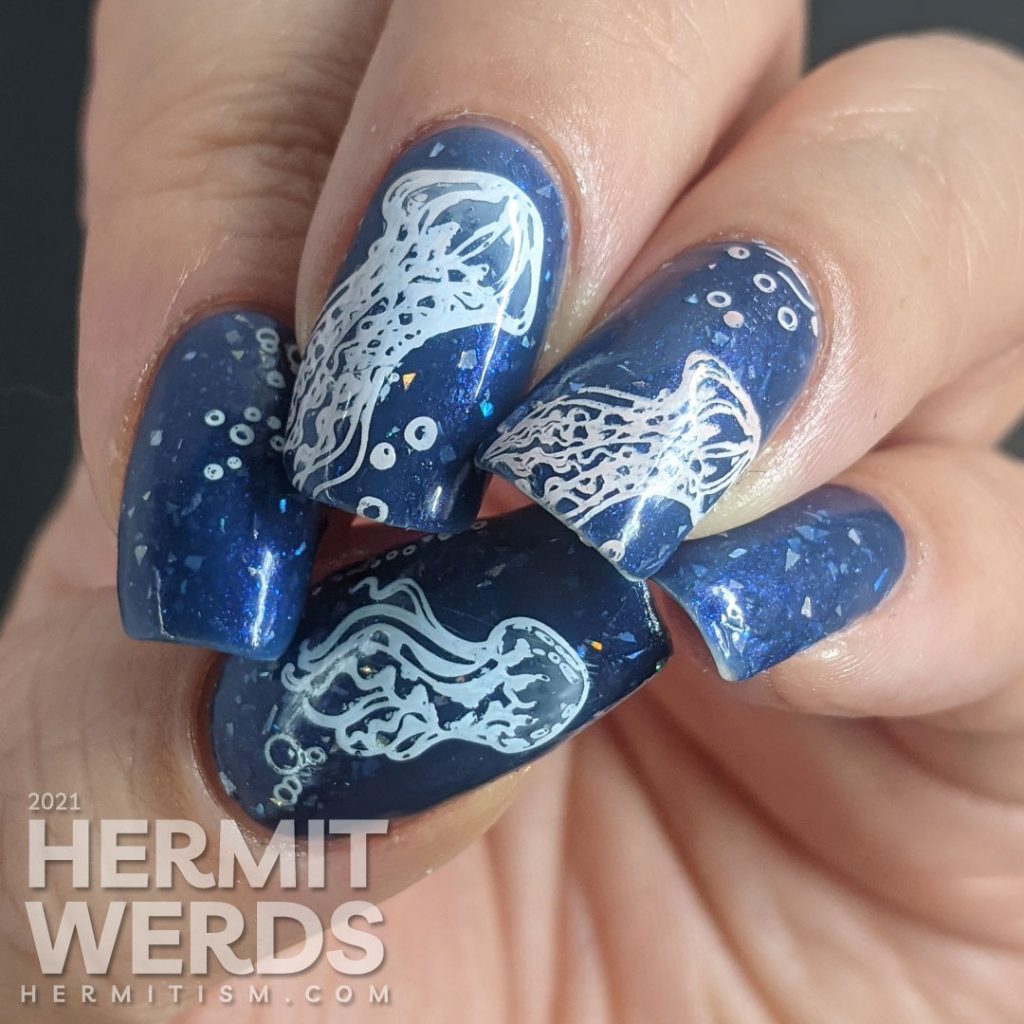 #AZNailArtChallenge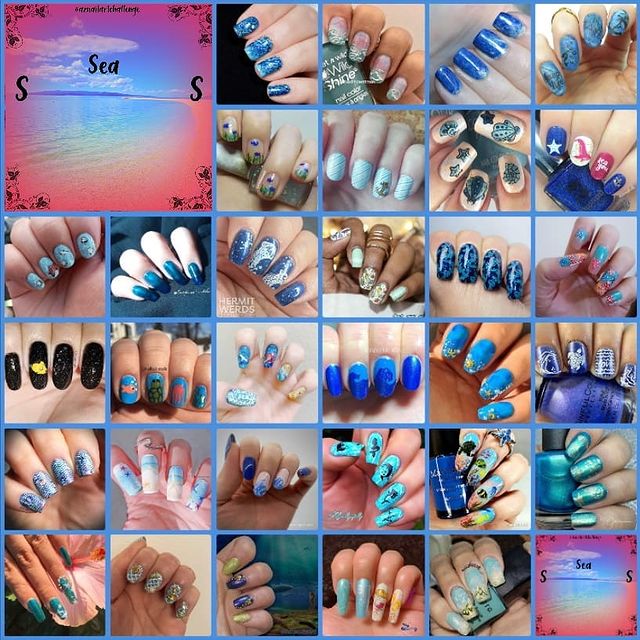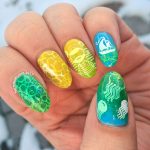 This is the first collage of the year for this challenge and we were at 'S'. Part of me wanted to go wild and choose a non-blue color palette (like I have before with say…Tourist Season), but Pantone had to be predictable. We get it. Dark blue is a neutral and you have to pick colors that people will use if you want people to pay attention to your seasonal color recommendations. 😝
The next prompt is 'T' is for Turtle, which I am super excited for because I've had a mani with that subject on the back burner for a while. Nail art bucket list getting tapped! Meanwhile, check out the group tag for some beautiful Sea-inspired nail art. Lots of variety in there. I think I'm the only one that painted jellyfish nail art.
Last of the jellyfish photos
Well, let's end this party with a predictable near and far: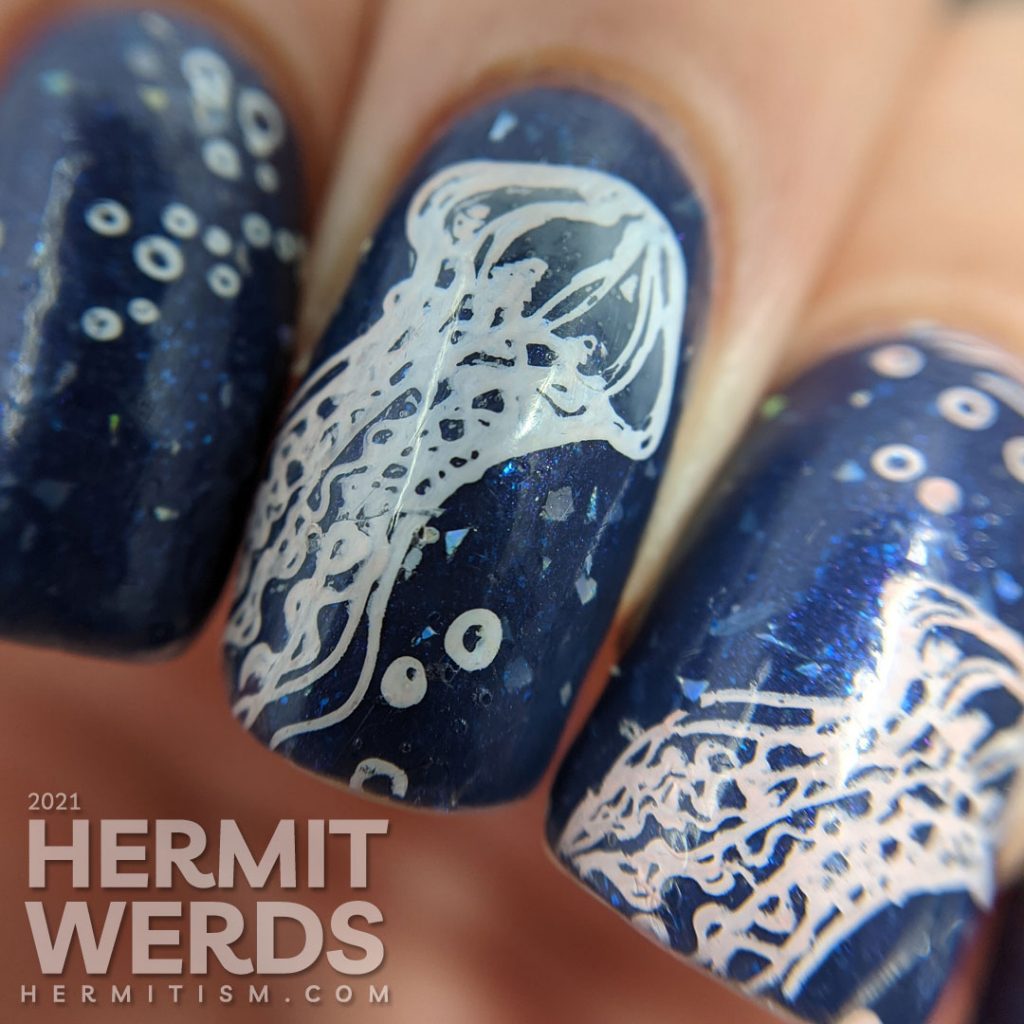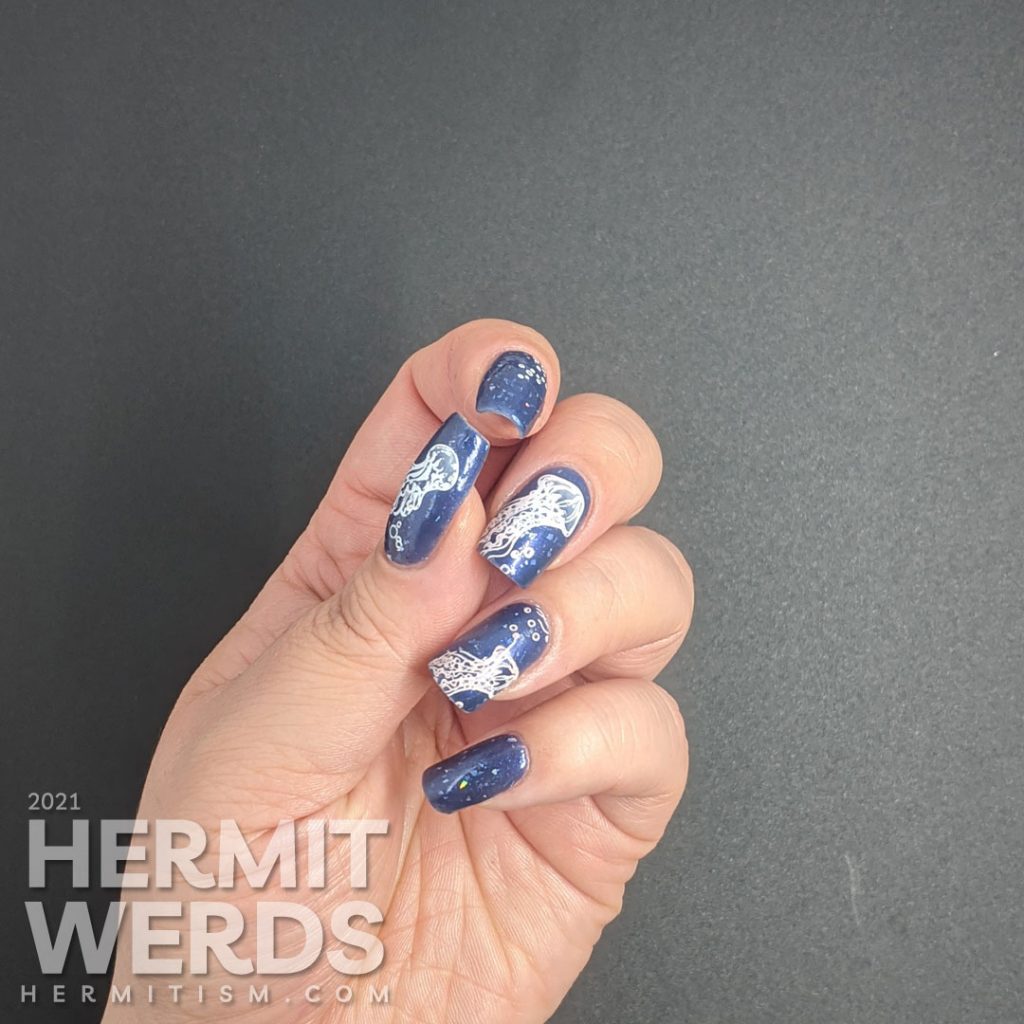 That's it for today, friends. Hang in there! (Or if you're living outside the US, enjoy the popcorn?) 🙋‍♀️