[press sample]
Well, I thought I'd be posting this on Monday, but we're here at last: my last Beauty BigBang review. Today we're looking at a different line of glow in the dark powders with D1635-3A, which has a lovely purple glow, and a stamping plate with cute little landscapes and patterns, Beauty BigBang XL-070.
D1635-3A – purple glow in the dark powder
I really wanted some of the glowy purple stuff so I thought it was time to dive into Beauty BigBang's line of jar gitd powders. In my photos I used a mid-toned purple polish first and then dusted three layers of the powder on top of clear polish.
The purple polish ended up being darker than the powder so you can get a lighter purple shade in normal light by using a lighter base.
I found the texture to be slightly finer than that of the bag powders but it still took two thick coats of my regular Seche Vite top coat to smooth everything out. In addition, it didn't hold a charge as well, which made taking my photos harder. However, I am somewhat certain that this is more due to the shade than the quality of the powder. Purple just doesn't work as well, which is why it's hard to find.
My nails were still glowing in the morning as long as I was working in my workroom for a few hours before bedtime. My lights be bright. 😁
Beauty BigBang XL-070 stamping plate
I have so many ideas for this stamping plate! However, it is a little harder for me to use because most of the patterns and even the styles of the landscapes do not match terribly well. Luckily I have a huge collection of stamping plates and a will to manipulate to offset the difficulties caused by my particular pickiness. Know your own style before you buy.
No problems with pickup. The plate has been well-etched.
Finally, I've been doing some soul searching about what kind of nail art I want to spend my time on so it shouldn't be surprising that I went with a whimsical look for my review design…
Dream Whale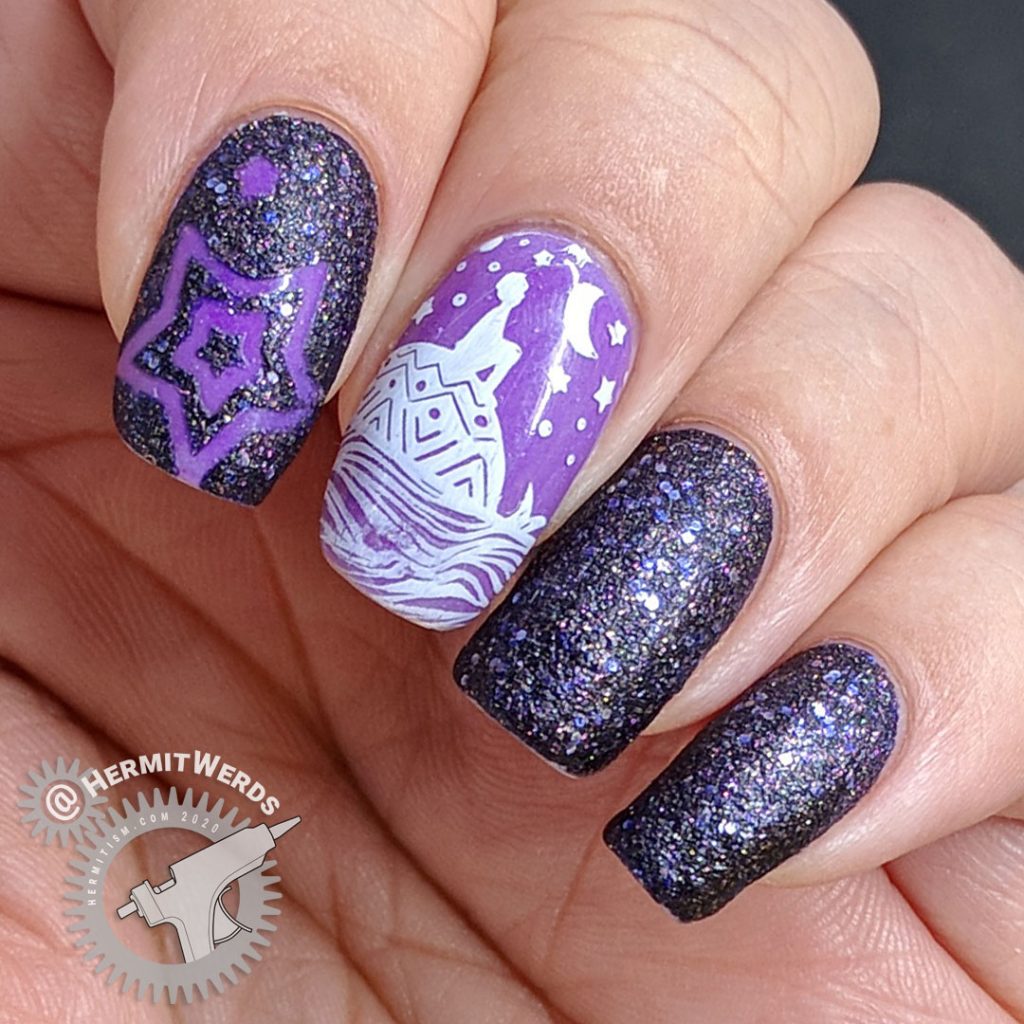 Products used
Base Polishes:

Stamping Polishes:

Advanced Stamping Polishes:

Stamping Plates:
You may notice that some of the waves beneath the whale are a little mangled. That's my fault because I was careless when I was filling in the ocean with more glow in the dark powder! So bright! :😂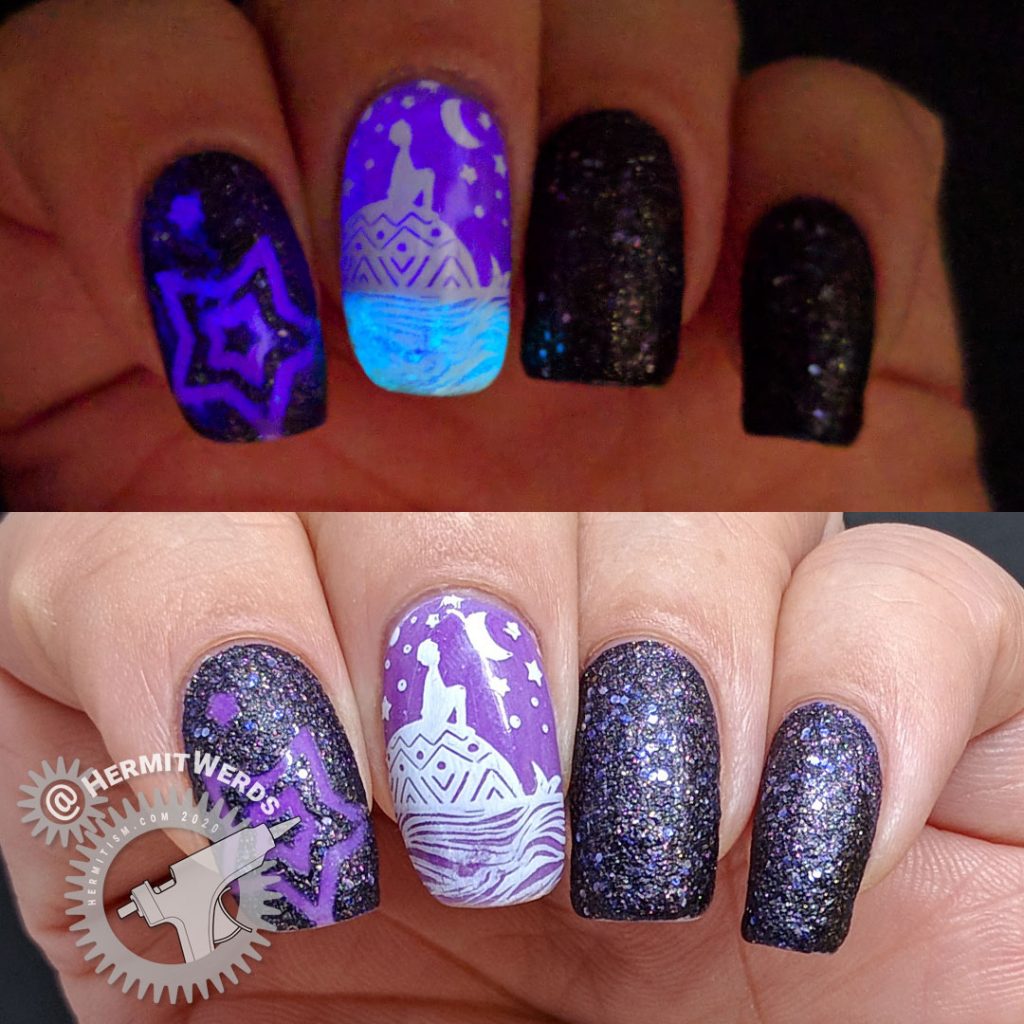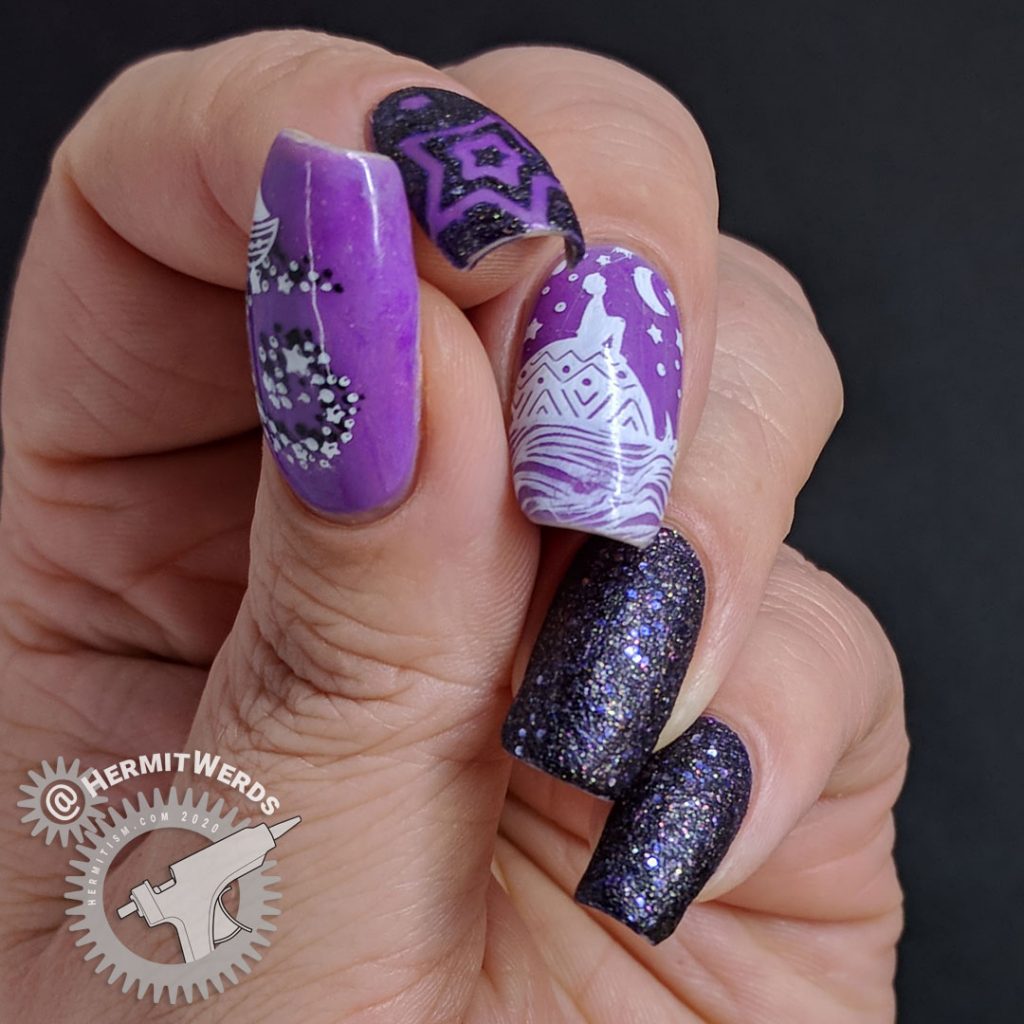 TLDR
I think the jars of glow in the dark powders are slightly nicer in texture than the bagged powders (but I love them both) and I love how around the world the stamping plate is. If you also like the purple (D1635-3A) and the landscape (Beauty BigBang XL-070), feel free to use my discount code hermi for 10% off your order.
Otherwise, I hope you had fun with me today. There will be a post that's already been written and scheduled going live tomorrow so it's not a lie (this time) when I say I'll see you tomorrow, friend! 😘
Finally, thanks so much for entrusting me with these products, Maggie. I am glad that I was finally able to finish my reviews.