The holiday season sapped my blogging energy and so I find myself with two designs that were posted on Instagram in December and one that was not. All three are from the #pantone2019winterchallenge and ended up being monochromatic. I rather like the theme and think I will finish it when Christmas rolls around again: hence the "part 1" in the title.
Strap in! This is going to be a wee bit long (and I hope you're not too tired of Christmas yet). 😅
The Ornaments
I started this design completely ignorant of the theme to come. Instead my focus was on using a stamping plate I'd had for three years and never touched. I love its sketch-like details, but I've noticed stamping plates with these kinds of lines look tacky quickly if you don't pick the right colors and accompanying images. (I admire tacky, but I look terrible in it. 😢)
Luckily, the simplicity of this design made it easy to stay within "tasteful" bounds.
I'm not unhappy with the color I chose–Sinful Colors' "Krushed Velvet" is gorgeous–but one of the polishes I order during the Single's Day sales fit the Pantone shade better. Sadly, it did not arrive in time and I will have to find another occasion to use it.
My life is pain. 🤣
Products Used
Base Polishes:

Essie's Cashmere Matte "Comfy in Cashmere" and Sinful Colors' Kylie "Krushed Velvet"

Stamping Polish:

Nicole Diary's "NS13"

Advanced Stamping Polish:

Sinful Colors' Kylie "Krushed Velvet" mixed with clear and white polish

Stamping Plate: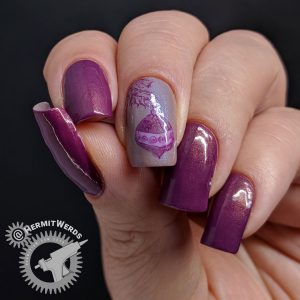 I do so adore polishes with shimmer. They look beautiful both matte and glossy without feeling "noisy" to me and this design ended up showcasing their subtle power so well.
The Toys
This design not only straddled the #pantone2019winterchallenge, it also included the 'T' is for Toys prompt from @AZNailArtChalllenge as well. I was shocked to find I had so few stamping plates with toys on them and I'd already used my favorite toy train stamp last year. Luckily I own sooo many stamping plates so I was able to cobble together something that fit…
(That's lucky until I have to move, right? 😰)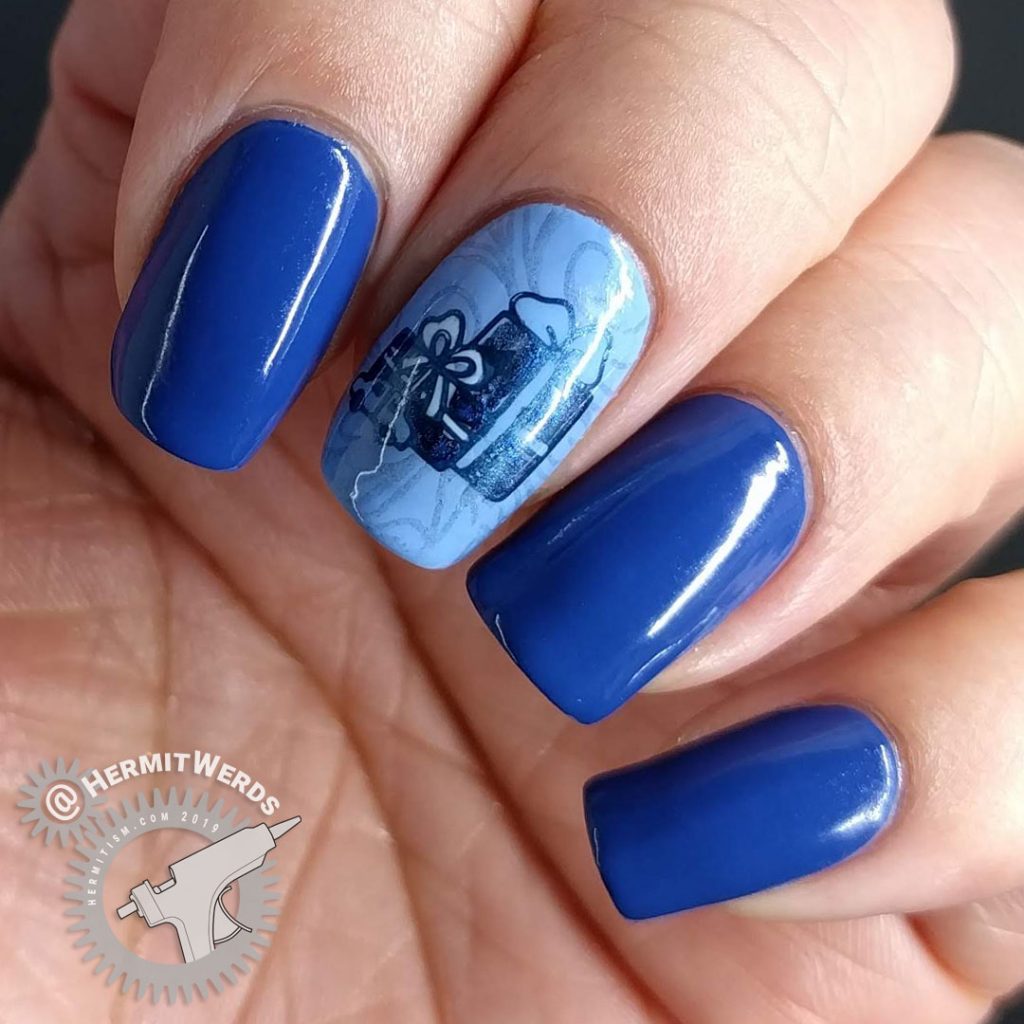 It was much more simple to find a match for Galaxy Blue than it was to find the stamping plate images. I really had only one blue that really fit the bill without tapping into polishes that don't make a good base polish. The shade really feels like a lighter version of Evening Blue, doesn't it?
Products Used
Base Polishes:

Stamping Polishes:

Advanced Stamping Polishes:

Stamping Plates:
Since I was using plain creme polishes for this one, I didn't feel the need to try a matte version.
And let's not forget the collage from the #AZNailArtChallenge. You'll have to scroll to see the individual designs for this prompt since they've already finished another round since then.
The Trees
I'd really been enjoying the #pantone2019winterchallenge a lot, but I'd missed two of the starting prompts: Bluestone and Butterscotch. I decided to go back and paint the missing colors so I'd have a complete set when the challenge finished. Having a yellow nail art to paint during the Christmas season pretty much clinched I'd be making a full monochrome set someday.
And then all of a sudden a bunch of last minute holiday plans popped up and I realized I didn't have the energy to do it all unless I wanted to burn out. So I had to back off from my ambitions and stretch the rainbow across two Christmases instead. Boo, practicality! 😝
As it was, I didn't even post this last design to Instagram. Until now…
Ine's (@inegeek) prompt images have been gorgeous from the start. I really don't know how I resisted them for so long before I started participating.
I had three different orange-leaning yellows to pick from and I decided to go with the lightest shade because it felt like the best match…
Products Used
Base Polishes:

Stamping Polishes:

Advanced Stamping Polishes:

Stamping Plates:
The hardest part about painting a monochromatic yellow design is that if you go too dark it becomes very easy to stop seeing the shade as yellow. I decided to stay in that narrow band of obvious yellows by going lighter and adding a little bit of glitter to create more contrast between the two shades.
And the glitter became my favorite part. Which meant taking glossy and matte photos…
Yum.
Monochromatic takeaway…
Just a quick tip for putting up with me for so long: if you're planning a monochromatic design with advanced stamping decals, it's much easier to color match those shades by mixing white (or other colors) with your base polish than it is to find something else in your collection. Indeed, I found myself mixing one or two shades from the same color by just using more or less white.
Thanks so much for sticking this one out with me, friends! I hope you liked what you saw. I have one more design that I posted and didn't blog about so hopefully there will be time to post that this weekend. Until next time! 👋